Darth Vader and his Stormtroopers will soon invade LEGOLAND California during LEGO Star Wars Days! If you're a fan of the epic film series, you will want to visit for exclusive, limited-time activities and entertainment at the resort!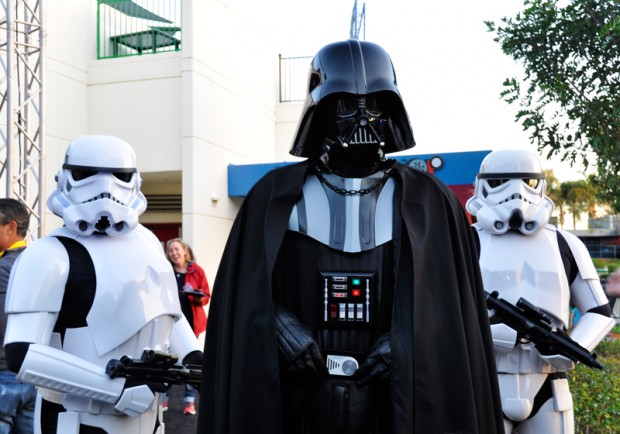 Consideration provided by LEGOLAND California Resort.
LEGO Star Wars Days
If you're a Star Wars fan, you don't want to miss out on two immersive, themed weekends at LEGOLAND California. Included with admission, families will enjoy a Droid Hunt, a family build challenge, Jedi trivia, a Star Wars costume contest, a miniland scavenger hunt and much more. Here is a complete list of activities.
Family Build Challenge: Teams will be given a theme to create a LEGO model. The best team creation wins!
Miniland Scavenger Hunt: Find answers to trivia questions within LEGO Star Wars Miniland.
Star Wars Costume Contest: Dress up as your favorite Star Wars character. Three winners each day will receive a special prize package.
Character Meet & Greets: Meet your favorite characters from a galaxy far, far away!
Droid Hunt: Imperial personnel who see your Droid Hunt badge and ask you "How long have you had these Droids?" will hand you a raffle ticket for a chance to win a prize
WB Games Family Gamespace featuring LEGO Star Wars video games:  Defend the universe in a friendly intergalactic battle.
Use The Force blindfold challenge – Compete in pairs as one team member is blindfolded, and the other describes to them how to build a mystery LEGO Star Wars object!
Landspeeder Build & Test – Design and build your Landspeeder, then race it against everyone else's.
LEGO Star Wars Fan Gallery – Check out the impressive LEGO Star Wars models and photography created by fans.
Speed Build Competition – Watch as LEGO Star Wars fans race against each other to build a LEGO Star Wars scene.
LEGO Star Wars: The Freemaker Adventures – Catch special screenings of season two of LEGO Star Wars: The Freemaker Adventures.
LEGO Star Wars Days exclusive giveaways! – Pick up your collectibles on the Model Shop Rooftop while supplies last.
All activities are included with the price of admission. LEGO Star Wars Days will take place at LEGOLAND California June 2, 3, 9, and 10, 2018.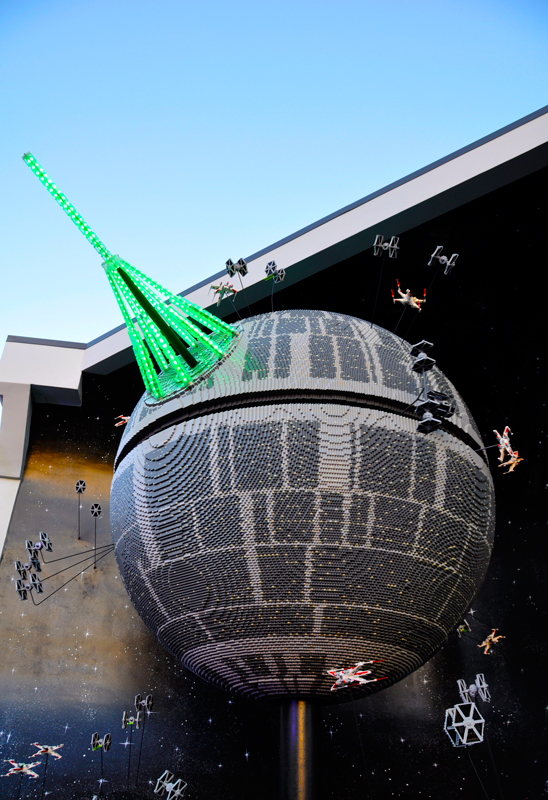 The Largest Addition to LEGO Star Wars Miniland
LEGO Star Wars Miniland has been a long-time favorite of adults and children of all ages, which features LEGO-inspired scenes from 6 live-action Star Wars films and one from the animated series Star Wars: The Clone Wars. Like the spacecraft featured in Star Wars Episode IV: A New Hope, this is the largest addition at 8-feet wide, 13-feet high, and weighing in at more than 1900 pounds.  The model was crafted from over 500,000 LEGO bricks and includes iconic scenes filmed inside the Galactic Empire's space station including the infamous trench run scene where Luke Skywalker maneuvers his X-wing fighter through the combat zone to destroy the Death Star. Additionally, the model features six animated Turbo Laser Turrets and LEGO starship models crafted from more than 20,000 LEGO bricks.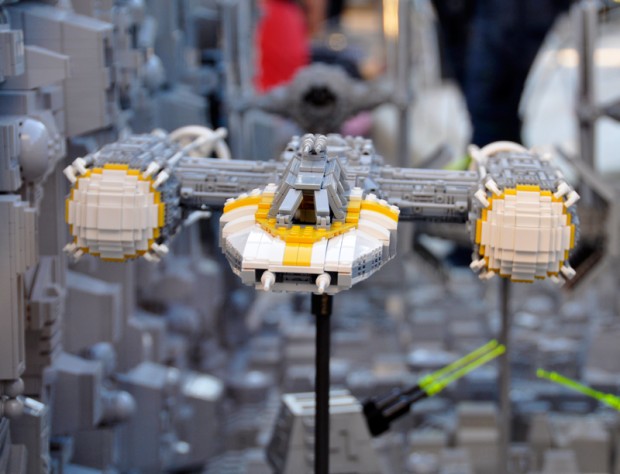 Inspiring Creativity and Imagination
One of my kids' favorite things to do during our visits to LEGOLAND is to build and create with the infamous colored bricks and it didn't take long for my son to find the LEGO building station below the Death Star where he was inspired to create his own starship. This area is filled with a wide and varied selection of gray, white, and black LEGO bricks to inspire creative Star Wars-inspired figures, scenery and vehicles.
Star Wars Fans Unite!
LEGO Star Wars Miniland, which features more than 2,000 LEGO models built from 1.5 million LEGO bricks is where Star Wars fans will converge to re-live some of their favorite, epic scenes and characters from the film series. Additionally, guests can visit LEGO Star Wars Gallery to continue their immersion experience. This gallery features large-scale, 3-foot-tall LEGO minifigures from each episode including Wicket, Princess Leia, R2-D2, Clone Captain Rex, Darth Vader, Han Solo, Luke Skywalker, Anakin Skywalker, Boba Fett, Chewbacca, Yoda and Darth Maul. Lastly, don't forget to visit Empire Emporium to take home your own Star Wars LEGO set!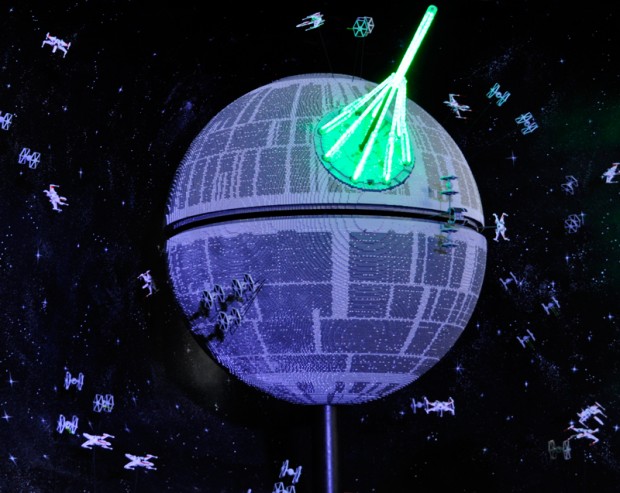 For more information, visit LEGOLAND.com.