Knott's Spooky Farm, Knott's Berry Farm's Halloween celebration, is one of the best ways to celebrate Halloween. Despite the busyness of this season, there is something about Fall that I always find myself drawn to. I love how the evenings provide some reprieve from the warm summer days, and how pumpkin spice can be found in everything from lattes and cheesecake to tortilla chips and pasta sauce. Every year we have a list of must-do's and bucket list experiences, and Knott's Spooky Farm always tops that list. We love this annual, family-friendly event celebrating Fall, Halloween, and our favorite Peanuts Characters.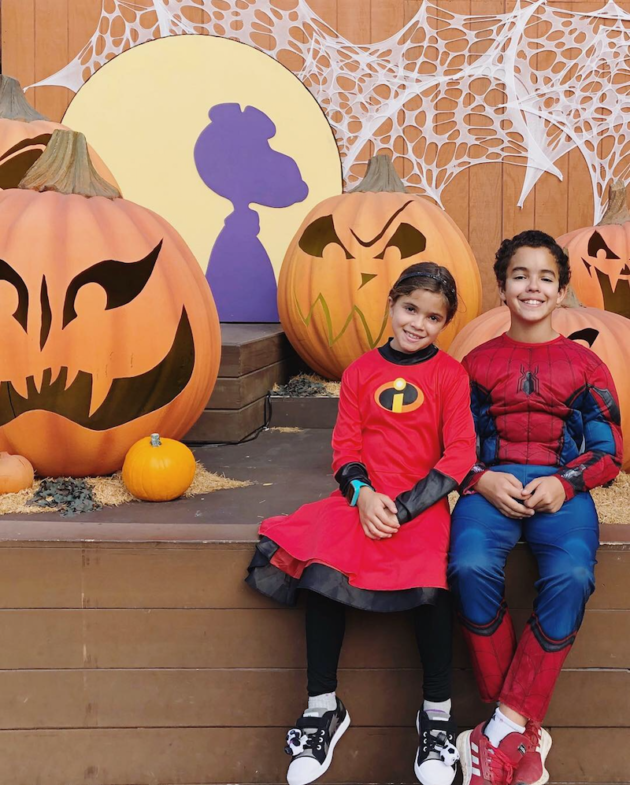 Consideration provided by Knott's Berry Farm.
Knott's Spooky Farm
This Fall, Knott's Spooky Farm celebrates the season with a not-too-spooky Halloween celebration every weekend in October. Throughout Ghost Town, Fiesta Village, Boardwalk Ballroom and Camp Snoopy, kids can get hands-on with a variety of engaging experiences including live entertainment, costume contests, and our personal favorite, trick-or-treating!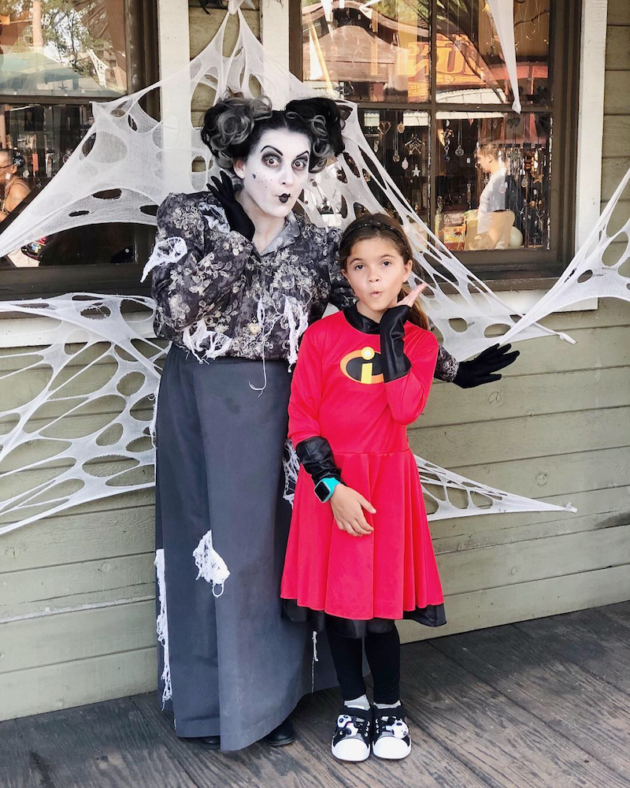 7 Ways to Celebrate Halloween at Knott's Spooky Farm
If you're looking for a fun way to celebrate Halloween without the thrills and chills of some of the scarier, more traditional events, here are 7 Things You Must Do at Knott's Spooky Farm!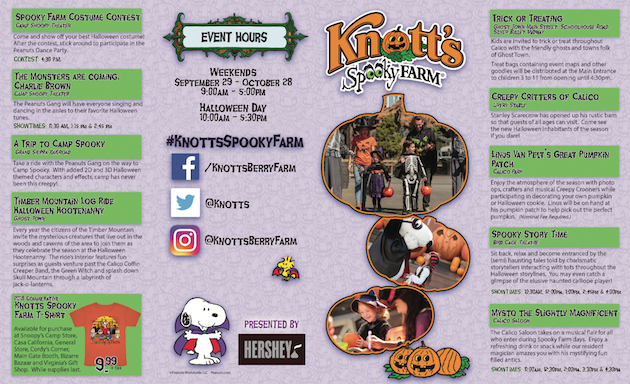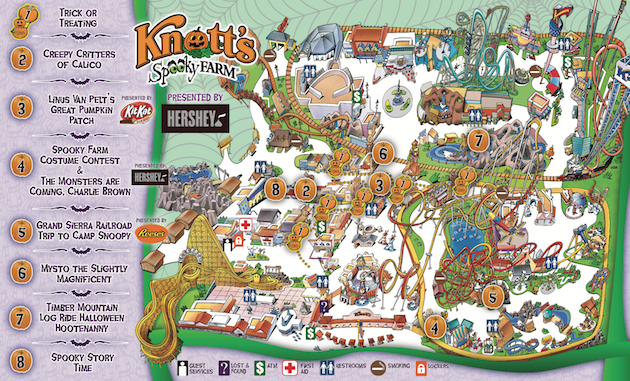 Trick-or-treat Throughout Ghost Town. Don your favorite costume and trick-or-treat with the friendly ghosts of Ghost Town. When you enter Knott's Spooky Farm, you will receive a bag and a map detailing the locations where kids can get sweet treats. Kids are welcomed (and encouraged) to wear Halloween costumes. Insider Tip: Download the Knott's Spooky Farm map to identify the trick or treat locations before your visit.
Take a Photo With Your Favorite Peanuts Character. Throughout the park, you will find the Peanuts gang dressed up in their favorite Halloween costumes. Characters are located at Camp Snoopy and Calico Park. Insider Tip: You can often find several characters right at the main entrance. Additionally, I find that it is easier to get photos right after one of the shows at the Camp Snoopy Theatre.
Get Up and Dance! The monstrously popular show "The Monsters are Coming, Charlie Brown" returns to the Camp Snoopy Theatre during Knott's Spooky Farm. There are three showtimes available, and kids will have an opportunity to sing and dance with their favorite Peanuts characters. Each day during Knott's Spooky Farm, kids can enter the Spooky Farm Costume Contest and then dance with the Peanuts gang after the winners have been announced. Insider Tip: There is only one time for this experience (4:30 pm) so be sure to arrive at least 15 minutes early for the best spot! Additionally, this is an ideal time to take a photo with your favorite characters.
Celebrate Halloween Hootenanny. Once again, guests will join the residents of the Timber Mountain Log Ride to celebrate this seasonal park favorite! Each year, the Timber Mountain Log Ride is transformed for the season with fun surprises like the Calico Coffin Creeper Band, the town's green witch, and the culmination of the event with a splash down Skull Mountain through a labryinth of jack-o-lanterns. This year, the ride features an original song performed by Krazy Kirk and theHillbillies.

Enjoy a Spooky Story and a Magic Trick. New this year, kids can enjoy semi-haunting tales told by storytellers at the Birdcage Theatre. Don't miss the elusive haunted calliope player! Also new this year, is Knott's resident magician, who will bedazzle you with spell-binding magic tricks at the Calico Saloon!  Enjoy a drink or a snack during this new experience with Mysto The Slightly Magnificent.
Meet the Creepy Critters of Calico. This Fall, Stanley Scarecrow has opened up his Livery Stable for guests to learn about the creepiest of critters including rats, spiders, turtles, and more. Insider Tip: This area can get quite busy, so be sure to visit early in the day or later in the afternoon when the crowds have waned.
Bring home your very own pumpkin. Located in Calico Park, kids can color, decorate their own cookie, or participate in a DIY pumpkin craft (nominal fee is required) while the Creepy Crooners play in the background. The festive area also features boutique crafters selling seasonal merchandise. Insider Tip: This is a great location for family photos including a meet and greet with Linus himself.

Family Fun for All at Knott's Spooky Farm
There are so many reasons to visit Knott's Spooky Farm this Fall!  And the best part is that all of these activities are free and included with admission. To save time upon admission into the park, purchase your tickets online at Knotts.com. And if you plan to visit Knott's Berry Farm throughout the year, you might consider purchasing a 2019 Knott's Season Pass, which includes one free admission during 2018 (perfect for visiting Knott's Spooky Farm or Knott's Merry Farm). Knott's Spooky Farm runs every weekend in October from 9 am to 5 pm and Halloween Day from 10 am to 5:30 pm.