This giveaway is now closed.  Thanks for stopping by.  The winner is Donna.  Congrats!
My little boy started preschool earlier this summer, and one of the things his teacher told me to do was to label his clothing, shoes, and anything else he brings with him. Honestly, I had not even thought about doing that, but it makes a lot of sense.  Of course little kids lose things…especially when they're two.  And I can't possibly expect the teacher to keep track of every child's article of clothing, socks, shoes, and jackets.  I also don't want to be replacing these items regularly.  I've seen the spare clothing bin at my son's preschool.  It's filled with all the clothes parents forgot to label.
I've actually told you about Mabel's Label's before.  There are a ton of companies that make labels for the things children lose.  But these are my favorite.  Here is a little more information from the site:
After lots of research and testing we created the perfect fun, durable labels for the stuff kids lose!  Our sticky labels and clothing labels, which are dishwasher, microwave and laundry safe, are not only practical, but also designed to be very special to each child. The labels are customized with a child's name, favourite mix of colours and an icon (animal, symbol, etc.). We have also expanded our product line to include personalized stationery products, ID wristbands and household labels.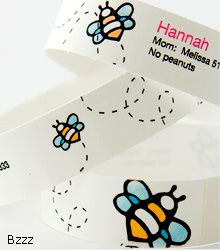 The company actually has a relatively new product called My 411 Wristbands. For safety reasons, I think this product is ingenious.  My son is allergic to an antibiotic, and as he gets older, he'll be doing things like sleepovers, birthday parties, and field trips.  Not only is it important for him to have our contact information readily available (children don't always remember phone numbers, etc. when they're in a different environment), it's important others know about his allergy.  I hope he never has to receive medical care apart from me, but if the situation arose, I'd want everyone to know not to give him that antibiotic. My 411 Wristbands are disposable and include information such as your child's name, your name (as the parent), a contact number, and any allergies or other special needs.  And just like the company's other products, they can be personalized and tailored to your individual needs.  I usually like to include pictures of products I review, but for security reasons, I'm going to post stock photos (forgive me?).
I needed some labels for my son, so I ordered the Camp/School Pack. The pack includes sticky labels (which we use on my son's sippy cups), Tag Mates (peel and stick labels you don't have to iron on), shoe labels, and bag tags.  It's the perfect school starter pack.  I labeled a handful of my son's clothes and shoes and we just rotate them out at his preschool.  I've washed his sippy cups in the dishwasher and I've yet to see a label come off.  I've washed his clothes, and again, they have not come off.  The shoe labels have a clear cover over the actual label to prevent little feet from rubbing them off.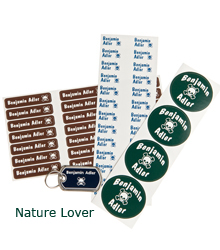 Right now (through September 25th)  you can purchase the Ultimate Back to School Combo ($39) which includes 50 Tag-Mates, 40 Skinny-Minis, 16 Shoe Labels, 2 NEW Teeny Tags.
By the way, I've met these gals in person at various events and they rock!  They also have a really fun blog you might want to check out!
Win It! One of you will win a set of My 411 Wristbands.  Simply head on over to the site and take a look around. Come back here and leave me a comment with a product you love.  Comments will close on September 29, 2009 at 10 PM PST.  One comment per person, please (unless you do the extra credit). US residents only. Duplicates and comments not including the above information will be disqualified. Comments are moderated. If you don't see your comment in a reasonable amount of time, send me an email. Bloggers and non-bloggers may enter. If you don't want to leave your email address, please be sure to check back for my announcement on the winner. Please note that winners must respond within 48 hours of being announced/contacted or another winner will be drawn.
Want an extra entry? Do any or all of the following and receive an extra entry for each one.
Be sure to leave me a separate comment for each additional entry.
Follow me on Twitter AND tweet about the contest.
Enter Tanya and Amanda's giveaways
Subscribe to my feed via email or reader.
Blog about this giveaway. It doesn't have to be a separate post. Just include a blurb about it when you blog about other giveaways.
Click on one of the very cute buttons below and digg, stumble, fav, etc. Just let me know what you did in the comments!
For more fabulous Back to School Ideas, visit Mommy Mandy & Mommy Goggles!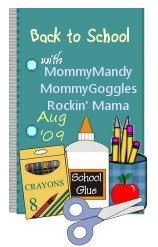 Latest posts by Caryn Bailey
(see all)