From the moment you step inside the former Amoeba Music Building on Sunset boulevard, you are immersed within the wonder of Dutch post-impressionist painter Vincent Van Gogh. A beautiful architectured frame-like entrance leads you to one of Van Gogh's most famous paintings, Starry Night Over the Rhône, thus begins your Immersive Van Gogh experience. Extended through January 2022, the exhibit is a beautiful, poignant introduction to the life and work of Vincent Van Gogh.
Partner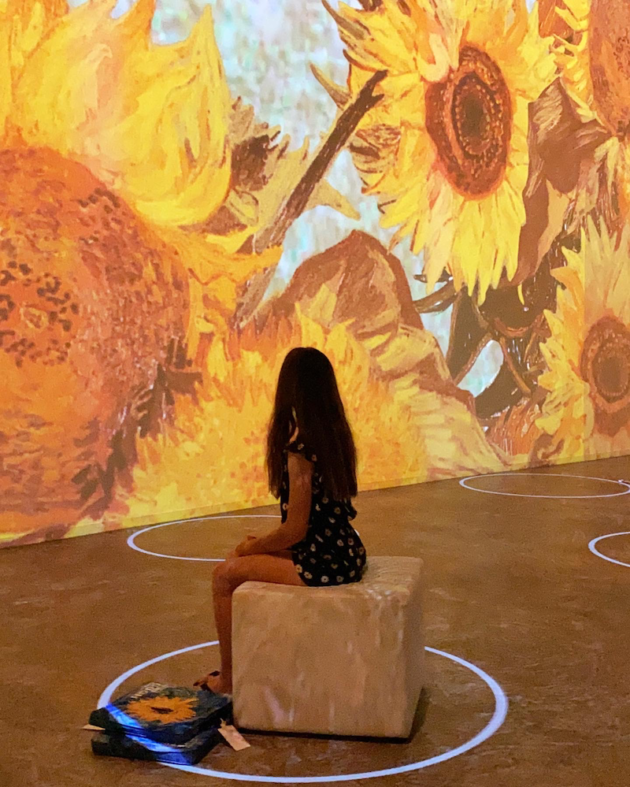 Immersive Van Gogh
From the moment I saw the announcement on Instagram, I vowed to get tickets to Van Gogh LA. These types of immersive exhibits are popular in Europe, and only recently made their debut in the US, inspired in part by the Netflix series Emily in Paris.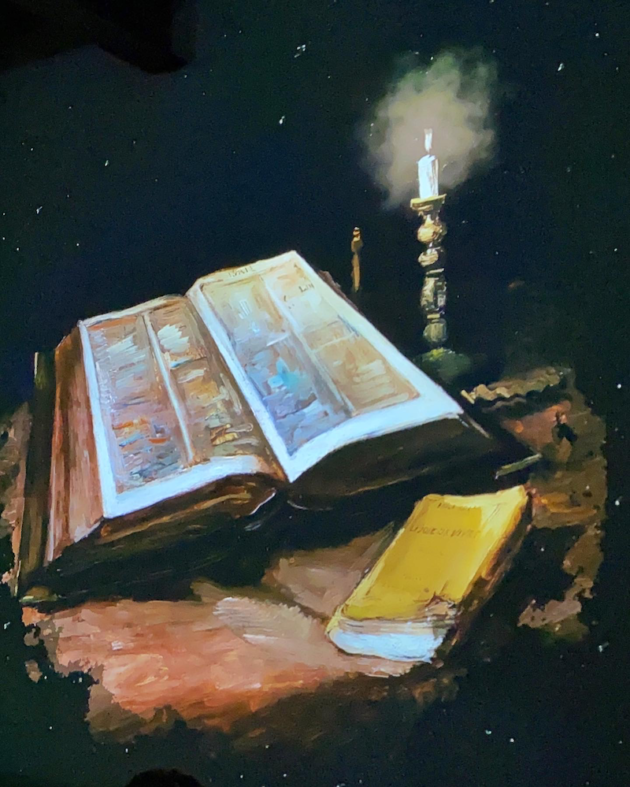 I grew up visiting museums here in the US and abroad, and developed a passion for Impressionism. Van Gogh's paintings are some of my favorites, depicting lush landscapes and pensive portraits. His bold use of color and dramatic brushwork arguably makes him one of the most influential figures in the history of art. Tragically, Van Gogh will never know the impact his artwork left on so many people.
The growing popularity of these immersive exhibits, specifically those inspired by Vincent Van Gogh, has led to varied experiences. Immersive Van Gogh is the original experiential celebration of the work of post-impressionist painter Van Gogh. The collaboration between Lighthouse Immersive and Impact Museums invites audiences to step inside the painter's most beloved works in an experience that fuses art, light, music, movement, and imagination.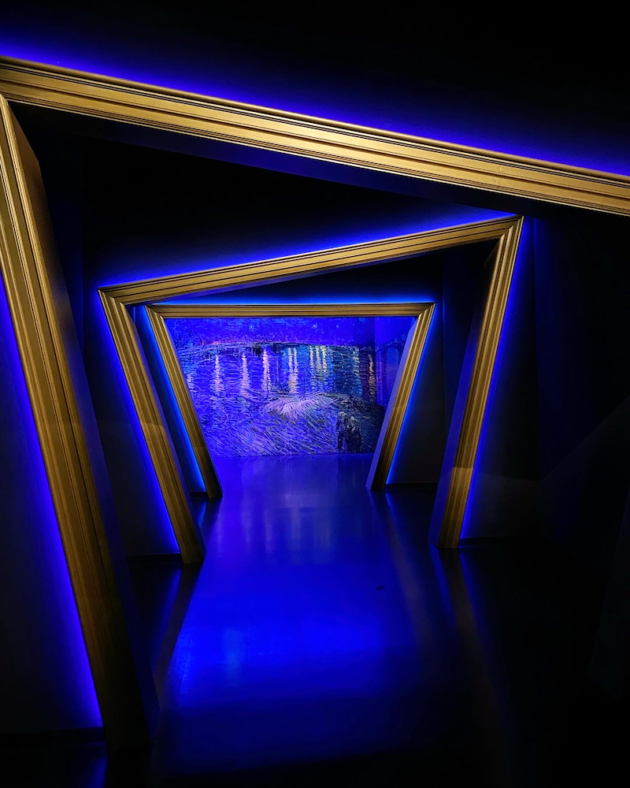 Immersive Van Gogh was designed by creator and Italian film producer Massimiliano Siccardi with music by Italian composer Luca Longobardi. The exhibit space is extraordinary, featuring 400 of Van Gogh's images projected across the walls, floors, and mirrored sculptures. The technical side of this exhibit is impressive:
Sixty five, state-of-the-art projectors
500,000 cubic feet of projections
+60,000 frames of video
90,000,000 pixels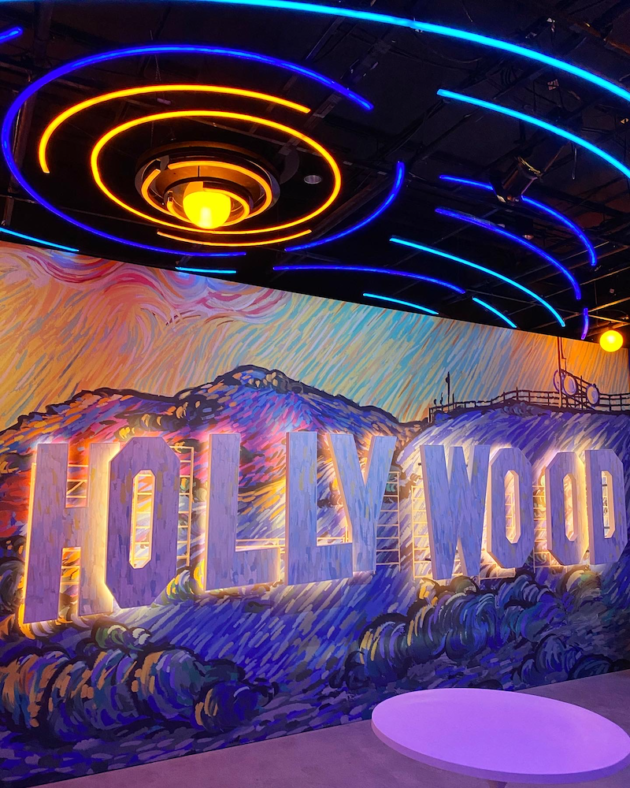 Every aspect of Immersive Van Gogh reflects the painter's life and work. The Neon Starry Night Ceiling was inspired by one of Van Gogh's most notable paintings and fuses the lobby and bar space with an abstract rock vibe as a homage to the former home of Amoeba Music.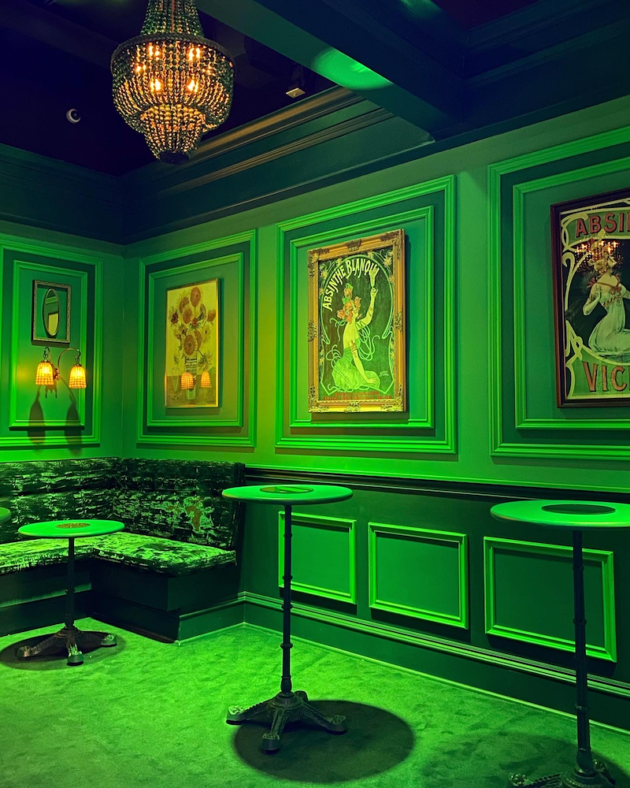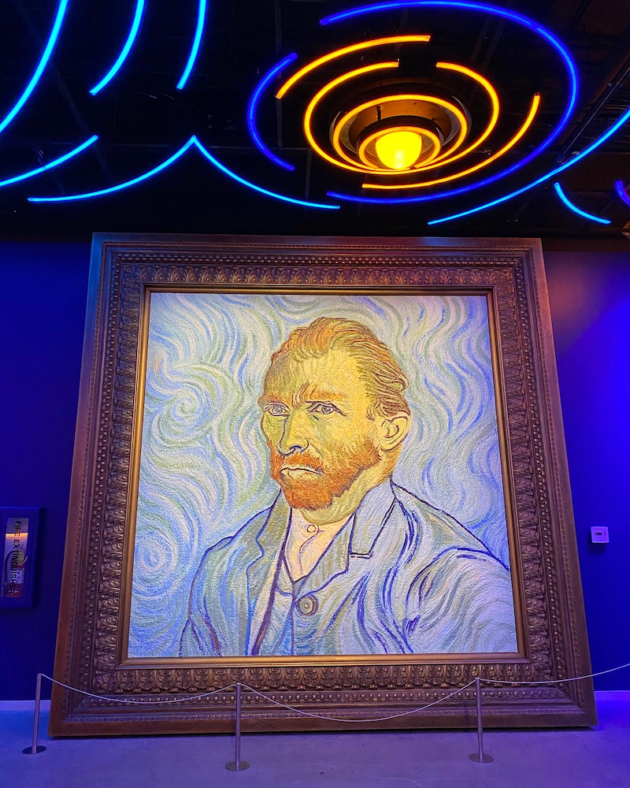 An oversized re-creation of the painter's self-portrait (the original is housed in the Musée d'Orsay) gives audiences a deeper appreciation for Van Gogh's brushstrokes and very specific way of painting. It also makes for an insta-worthy photo.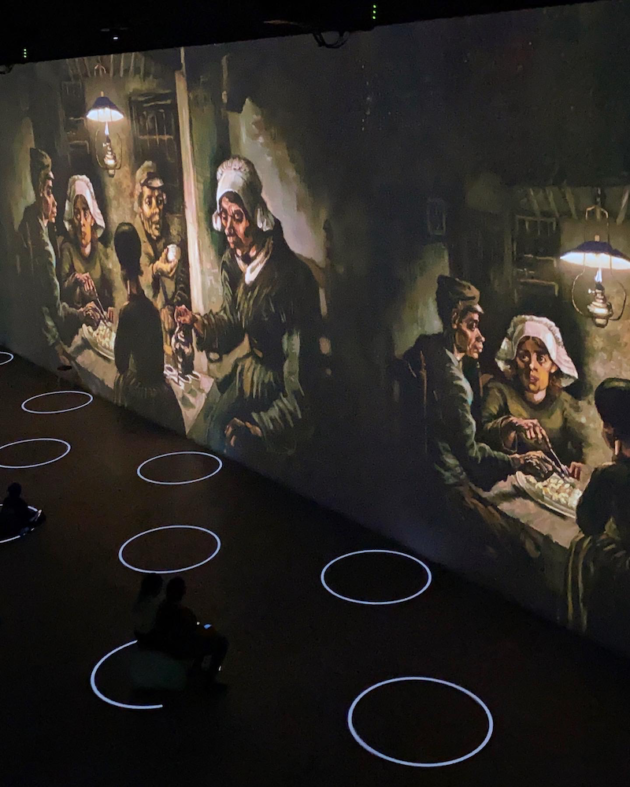 Once inside, sit, stand, or walk around the 25,000 square foot space as you take in Van Gogh's paintings, brought to life through innovation, creativity, and technology. Director David Korins, whose work includes Hamilton and Dear Evan Hansen, custom-designed the elements in Immersive Van Gogh.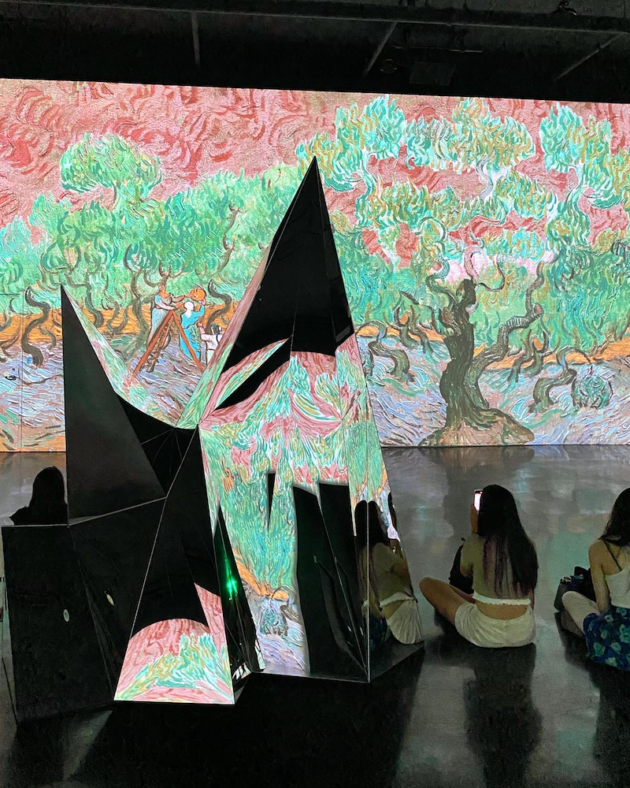 He took the framework of Massimiliano's piece and added new vantage points (such as the ability to view the exhibit from above), mirrored sculptures, and secret spaces to create a unique experience for LA guests.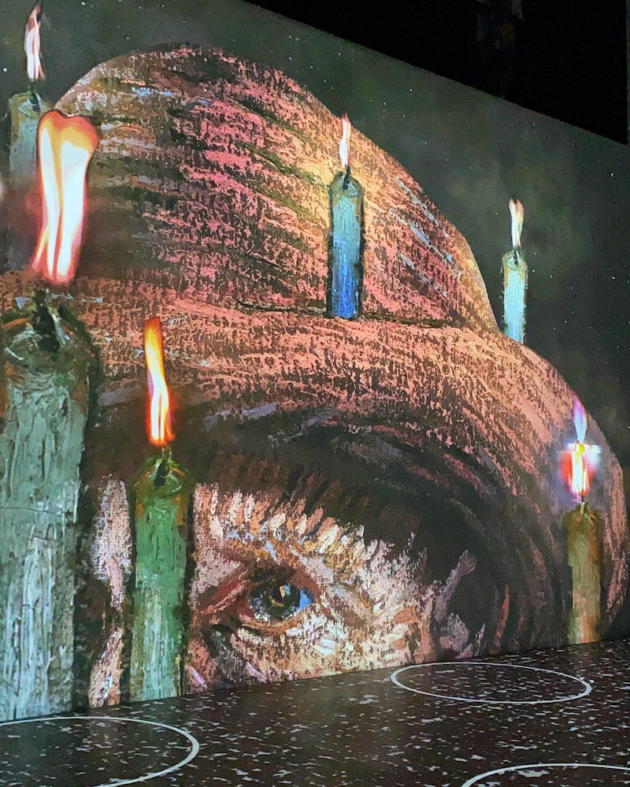 Popular featured works include Self Portrait with Felt Hat (1887), Bedroom in Arles (1888), Irises (1889), and Starry Night (1889). Immersive Van Gogh is the most popular attraction in North America, now in 16 cities across the country.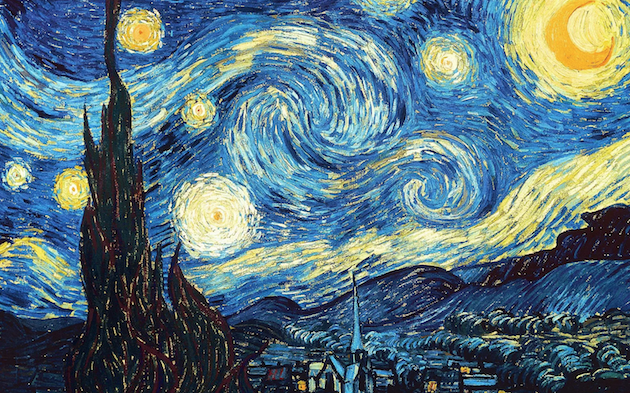 Know Before You "Gogh"
Location: The Former Amoeba Building at 6400 Sunset Blvd, Los Angeles, CA 90028.
Parking: The entrance to the parking garage is located on Cahuenga Blvd. between Sunset Blvd. and DeLongpre Ave.
Tickets: There are a variety of ticket options, the lowest starting at $39.99 for Basic, Off-Peak tickets. Flex tickets give you the option of arriving up to 2 hours before or after your scheduled time. These tickets also allow for date changes 72 hours prior to your scheduled date. It should be noted that there are no refunds of tickets, so I recommend investing in a Flex ticket, given the fluctuating nature of COVID-19. Additionally, it should be noted that admission is limited, so be sure to purchase your tickets online, in advance.
Safety: Due to COVID-19, face coverings are required while inside Immersive Van Gogh. Touchless hand sanitization stations are located throughout the venue and social distancing circles are projected throughout the gallery space.
Download the app: The Lighthouse Immersive app gives you access to audio guides, lobby activations, background information on Van Gogh's paintings, a playlist of the full soundtrack, parking information, nearby restaurants, and more to make the most of your experience at Immersive Van Gogh. You can also listen to the pre-show by clicking on this link: https://bit.ly/3lf3KLR.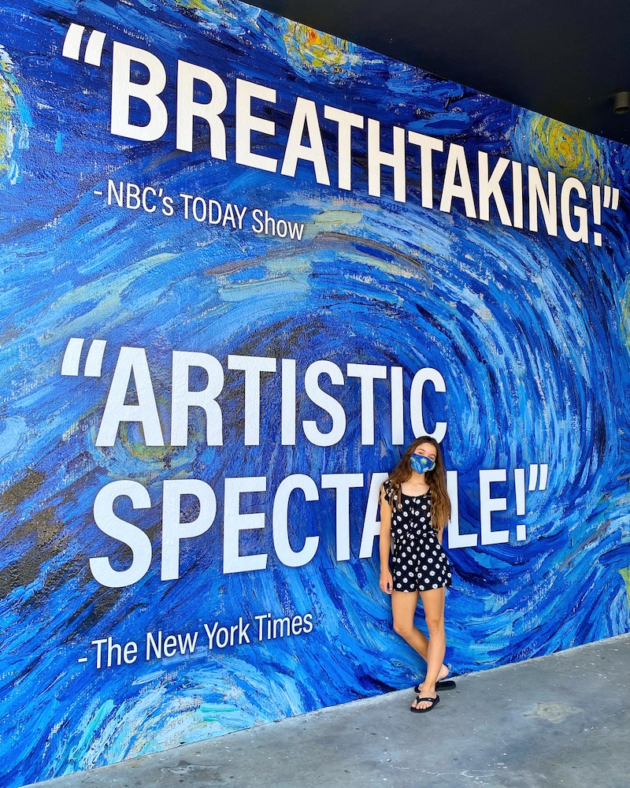 For more information about Immersive Van Gogh VanGoghLA.com.
Latest posts by Caryn Bailey
(see all)