{Sponsored}
As we approach the new school year, we're squeezing in extra swim time and a few last-minute summer adventures before our spontaneity is replaced with routines and schedules.  My work schedule has remained consistent which means my summer has involved countless late nights and/or early mornings to meet deadlines. Coffee has been my go-to for getting it all done, but admittedly, I can't just drink any type of coffee. I prefer the blends I find at my local coffee shop, but time and money don't make it practical to stop there for my regular caffeine fix.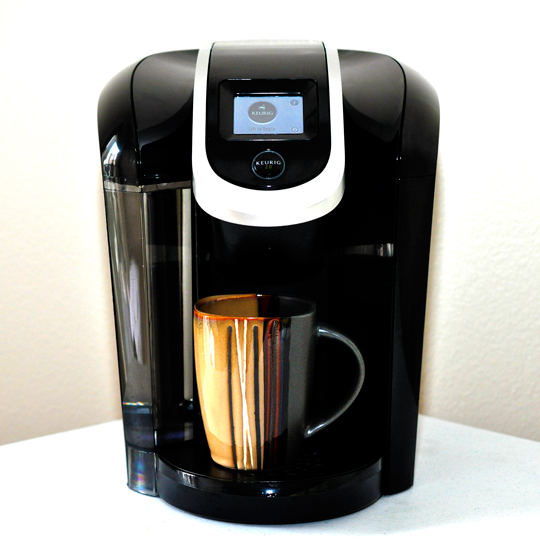 Last year, I upgraded to the Keurig 2.0 Brewing System, which has expanded my options for creating drinks at home. Admittedly, I'm a bit of a coffee snob and the system makes it easy to brew a wide variety of blends depending on my mood. I keep a supply of Organic Half and Half on-hand along with a variety of add-ins like cinnamon, vanilla, and flavored syrups and it feels like I've got my very own specialty drink at a fraction of the cost.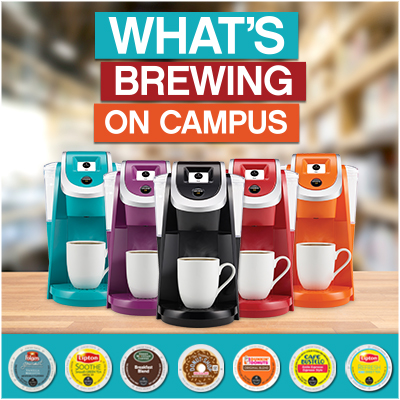 Since we're in the midst of the back-to-school season, I decided to put together a DIY Coffee Bar that would work for a mom on-the-go or the student she's sending off to college. For tight spaces, I recommend the Keurig K200 Brewing System ($89 at Walmart), because it's compact, affordable ($89 at Walmart), and makes the perfect cup of coffee (or tea) every single time. With hundreds of varieties to choose from and an expansive selection from brands you know and love, you can opt to try a new flavor every morning or stick with what you love. This particular model offers the option of 9 different brew sizes including 4, 6, 8, or 10-ounce cups or a full carafe and includes a specialty setting for hot cocoa, chais, and mochas. Your morning cup of coffee has never been easier or more affordable!

The average cost of setting up a dorm room is $1500, but when you visit Walmart, you'll find everything your student needs at prices you can afford. When you visit Keurig at Walmart, you'll find on-trend dorm décor, and tips for creating a stylish coffee bar. Plus, just for visiting the site, you can receive a free K-Cup pod sample pack which includes 4 $1 off coupons to stock up on your favorite blends.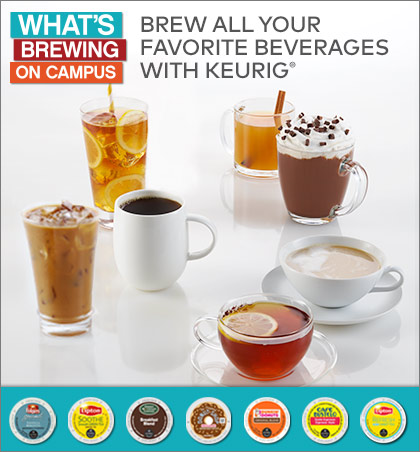 In addition to the Keurig K200 Brewing System, I picked up some of our favorite K-Cup blends including Café Bustelo Espresso and Green Mountain Coffee Breakfast Blend. My father only drank Café Bustelo coffee and admittedly, while I have a can at home, I don't make it as often as I'd like to due to lack of time. I LOVE that Keurig now offers this coffee in a K-Cup. This particular blend smells amazing and has a rich, full-bodied flavor and pairs nicely with cream and milk.  Since sometimes I don't need quite the boost I get from an espresso, I also have Green Mountain Coffee Breakfast Blend on-hand which is a Central American coffee fused with the sweetness of an Indonesian bean. This is a great morning coffee that also pairs nicely with cream or half and half. Lastly, if you prefer a flavored coffee, I recommend Folgers Gourmet Selections Vanilla Biscotti blend.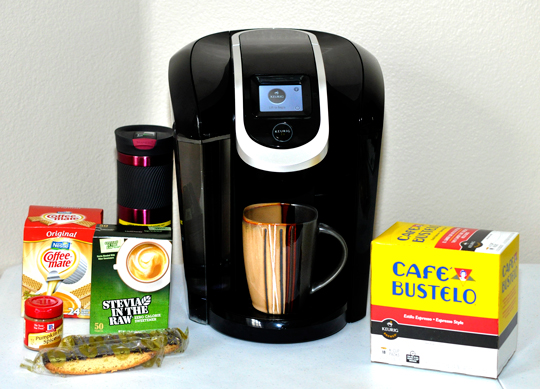 To complete my Dorm Room DIY Coffee Bar, I included Coffee-mate Liquid Coffee Creamer, Stevia in the Raw, Pumpkin Pie Spice, Biscotti, and both a ceramic and travel mug. If you're putting a coffee care package together for your student, remember to choose shelf-stable items to make it easy for him/her to prepare their coffee (or tea) on-the-go. I also recommend including a Walmart Gift Card for additional coffee hacks like cinnamon (and other spices), vanilla, flavored syrups or anything else he/she would like to make their morning cup of coffee special.
Making your own cup of coffee at home is always cheaper than visiting your local coffee shop. With the Keurig K200 Brewing System, your morning caffeine fix can be just as creative and exciting. Visit Keurig at Walmart to begin creating your own DIY Coffee Bar!
Latest posts by Caryn Bailey
(see all)