This giveaway is now closed. Thanks for all the entries! Congrats to the winner, Kristi C!
For some reason, I have "Zip-a-Dee-Doo-Dah" in my head (I can't imagine why!).  This season, some of the BIGGEST names in the toy industry have come out with incredibly interesting, educational, and upbeat toys for kids.  One of my favorite companies is LeapFrog, who designs innovative, educational, and interactive products for children. Rather than simply taking a toy and attempting to make it "educational, "  LeapFrog works to ensure that it's products "provide the most engaging, effective learning experience foal all ages in school or home."  In other words, learning comes first and play is weaved into the product.  This is so important because learning and play should go hand in hand.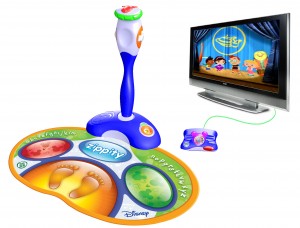 We recently had an opportunity to check out the brand new Zippity Learning System.  Right away my son looked at the box and said, I want to play Mickey Mouse Clubhouse (well, I guess that was the second thing, right after wanting to open the box).  LeapFrog and Disney teamed up together to create this television-based learning system which "combines full-body movement, music, education and fun."  I find that it's very smart for a company to incorporate characters that children already know into products and toys.
The system is very easy to set up (which is VERY important for this busy mom!).  The console plugs into the television and the foldable mat and bopper require C batteries (which the company graciously included for my review). Once it's set up, your child is ready to play!  The nice thing about the system is that it comes pre-loaded with eight learning activities (games).  I think that's one of the things that bothers me about most video game systems…the lack of games when you purchase the system!  (sorry to digress).  Each of the "games" feature two levels of play (so your child won't grow tired or bored easily and will continue to be challenged) and focus on concepts such as numbers and mathematics, letters and language colors, shapes, music, problem solving, memory skills, music, art and culture, and even Spanish language!  Each of the games also feature a favorite Playhouse Disney character including Mickey, Goofy, Handy Manny, and June (from The Little Einsteins which is my son's FAVORITE show!).  AND…unlike MOST game systems, this one will get your child up and moving.  Children will dance, march and jump with their favorite characters.
The Zippity Learning System is designed for children ages 3-5.  I have a 2 1/2 year old who is able to grasp many of the concepts involved with the game.  However, there are definitely some things we are working on together (mainly the speed of doing the things required when they are required).  He really enjoys the active part of this system (he's a boy after all).  I can definitely see him playing with this for a long time since there are many games and levels to experience.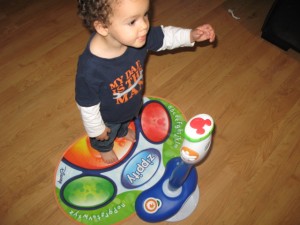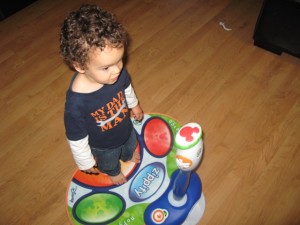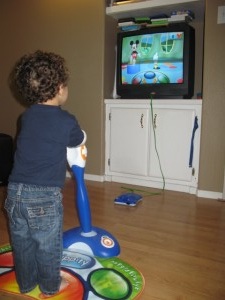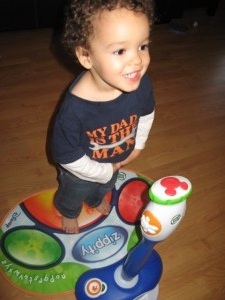 If you've ever purchased a LeapFrog product, then you know that many include a built-in Learning Path that allows parents the opportunity to see the skills their child is exploring as they play via their online website.
I think this would make an incredible gift for a preschooler.  It's educational, interactive, and fun!   The Zippity Learning System retails for $79.99 and additional games can be purchased for $24.99.  You can purchase the system online or at retailers nationwide!

Win It! Yes!  One of you will win a Zippity Learning System!  Simply leave me a comment with another product you'd like to try out from the LeapFrog site!  Comments will close on December 1, 2009 at 10 pm PST. One comment per person, please (unless you do the extra credit). US residents only. Duplicates and comments not including the above information will be disqualified. Comments are moderated. If you don't see your comment in a reasonable amount of time, send me an email. Bloggers and non-bloggers may enter. If you don't want to leave your email address, please be sure to check back for my announcement on the winner. Please note that winners must respond within 48 hours of being announced/contacted or another winner will be drawn.
Want an extra entry? Do any or all of the following and receive an extra entry for each one.
Be sure to leave me a separate comment for each additional entry.

Add the "Holiday Gift Guide" button to your sidebar and leave me a comment (be sure it's up for the duration of the gift guide!)
Check out my Holiday Gift Guide and leave a comment on that site about a product you like! (Maximum of 1 Comment for this).
Follow me on Twitter AND tweet about the contest. Be sure to use the hashtag #holidaysurvivalguide
Enter Shannon's giveaways (Maximum of 1 Comment for this).
Subscribe to my feed via email or reader.
Blog about this giveaway. It doesn't have to be a separate post. Just include a blurb about it when you blog about other giveaways.
Click on one of the very cute buttons below and digg, stumble, fav, etc. Just let me know what you did in the comments!
For more fabulous Holiday Gift Ideas, visit The Mommy-Files
Latest posts by Caryn Bailey
(see all)