This giveaway is now closed. Congrats to Dawn!
As much as I complain about being in the kitchen, I actually only struggle with the "cooking" part of it all.  I enjoy baking and absolutely adore kitchen gadgets.  Some of the items I'd love to own include an espresso maker, an ice cream maker, and a waffle maker.  It's amazing how you can practically find a gadget for nearly every food.
My husband and I primarily drink water, but we do like the occasional sparkling drinks including flavored waters and sodas without high fructose corn syrup.  As a mom concerned about the safety of the products we use in our home and their effect on the environment, I was really excited to learn that we can make soda in the comfort of our own home!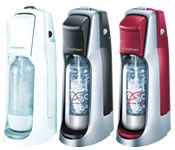 If you've never heard of Sodastream, you must check out the company and the products they offer.  I'm highly impressed with the fact that I can turn regular tap water (although I use filtered water) into sparkling water or soda in minutes with little effort. We received the Fountain Jet to review (there are 3 other models available, each one with a different design…same function) along with several Sodamix flavors.  There are several starter kits available for purchase, but the basic one includes the machine, the carbonator (CO2), and two reusable, BPA-free bottles.
The basic premise of the system is that CO2 carbonates tap water just like a soda fountain. Once you've installed the carbonator into the machine, it's ready to go (you don't have to plug it in and it doesn't require batteries).  It's really as easy as filling the reusable bottle with water, pushing the button on the machine to carbonate the water, and adding the flavor you'd like to your "soda."  Choose from over 30 syrups (including regular, diet, and caffeine free).  The company also offers energy drinks, sparkling iced teas, and flavor essences.  Each bottle of Sodamix (syrup) makes 12 liters (or 33 cans) of soda.  The syrups are free from high fructose corn syrup and aspartame.  And they taste just. like. soda.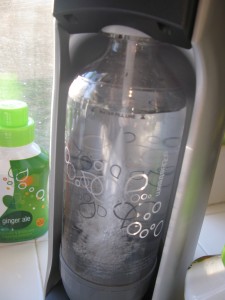 My husband and I do our part to recycle as much as we can, but reusable is really the best eco-friendly option.  According to the site, "the average American consumes nearly 600 bottles and cans of sparkling water and soda every year."  Much of these end up in our landfills (since we're not a society that does a lot of recycling).  Can you imagine not having any plastic bottles or aluminum cans?  And, when you figure out that you could make a liter of sparkling water for 20 cents or a 12 ounce can of soda for 25 cents, it makes eco AND financial sense to use Sodastream.
Here are some of my favorite aspects of Sodastream:
The compactness of the machine fits perfectly with our reduced countertop space
I don't have to plug it in or find/replace batteries
I can sweeten my soda water to my desired taste preference
It takes minutes to complete
I can use the tap or filtered water we have right here in our home
It's fun (giggle…I sound like a little girl).
The only thing I'd love to see are some Sodamix flavors without Splenda.
The Sodastream Fountain Jet retails for $89.95 and is available for purchase on the site, and retailers nationwide.  Right now, save $10 on any new soda maker with the code "ROCKIN" (valid through December 31, 2009).  Be sure to connect with them on Twitter for discounts, promos, and more!

Win It! One of you will win a Sodastream Fountain Jet!  Simply leave me a comment with something you learned on their site (other than what I mentioned above in my review…the site has a ton of information).  Comments will close on December 19, 2009 at 11:59 PM PST. One comment per person, please (unless you do the extra credit). US residents only. Duplicates and comments not including the above information will be disqualified. Comments are moderated. If you don't see your comment in a reasonable amount of time, send me an email. Bloggers and non-bloggers may enter. If you don't want to leave your email address, please be sure to check back for my announcement on the winner. Please note that winners must respond within 48 hours of being announced/contacted or another winner will be drawn.
Want an extra entry? Do any or all of the following and receive an extra entry for each one.
Be sure to leave me a separate comment for each additional entry.

Add the "Holiday Gift Guide" button to your sidebar and leave me a comment (be sure it's up for the duration of the gift guide!)
Check out my Holiday Gift Guide and leave a comment on that site about a product you like! (Maximum of 1 Comment for this).
Follow me on Twitter AND tweet about the contest. Be sure to use the hashtag #holidaysurvivalguide
Enter Shannon's giveaways (Maximum of 1 Comment for this).
Subscribe to my feed via email or reader.
Blog about this giveaway. It doesn't have to be a separate post. Just include a blurb about it when you blog about other giveaways.
Click on one of the very cute buttons below and digg, stumble, fav, etc. Just let me know what you did in the comments!
For more fabulous Holiday Gift Ideas, visit The Mommy-Files
Profuse thanks to the Family Review Network for this opportunity!
Disclosure: I did not receive compensation for this review. I will be receiving a product, courtesy of the company in order to facilitate my review.
Latest posts by Caryn Bailey
(see all)