Thanks for stopping by, this giveaway is now closed. Congrats to Amy P!
The other day I let my son play in his room while I quickly did the dishes (fortunately, there were no mishaps!).  Silence…I quickly run to his room knowing full well that he's either in trouble or deeply engaged in play.  Fortunately, he's playing quietly (a rarity).  "Mommy…I made a tower…it's for you."  And boy did he ever.  I look at him and the "tower" he's created, bewildered and proud.  My 2 year old can stack blocks…well….apparently we did something right!  As a parent, I sometimes wonder if everything we're doing with my son (the reading, the playing, the interacting) is sinking in.  After you've read the same book for the 5th time or played with the same toy repetitively you start to wonder.  But I was filled with so much joy and awe as I saw what my little boy had created…for mommy.
When I to to the toy store with my son, I'm overwhelmed.  Green toys, mean toys (yes…I said it!), toys that sing and dance and bark (yes!), learning toys, stuffed toys, high-tech toys…toys toys toys!  It's great fun when you bring your toddler to the toy store (no sarcasm here…nope!) because he wants EVERY toy on display.  And he will let everyone in the store know about his wants (especially if they're denied).  What do I as a parent look for in a toy? Safety, affordability, long-lasting value, educational value, and so much more.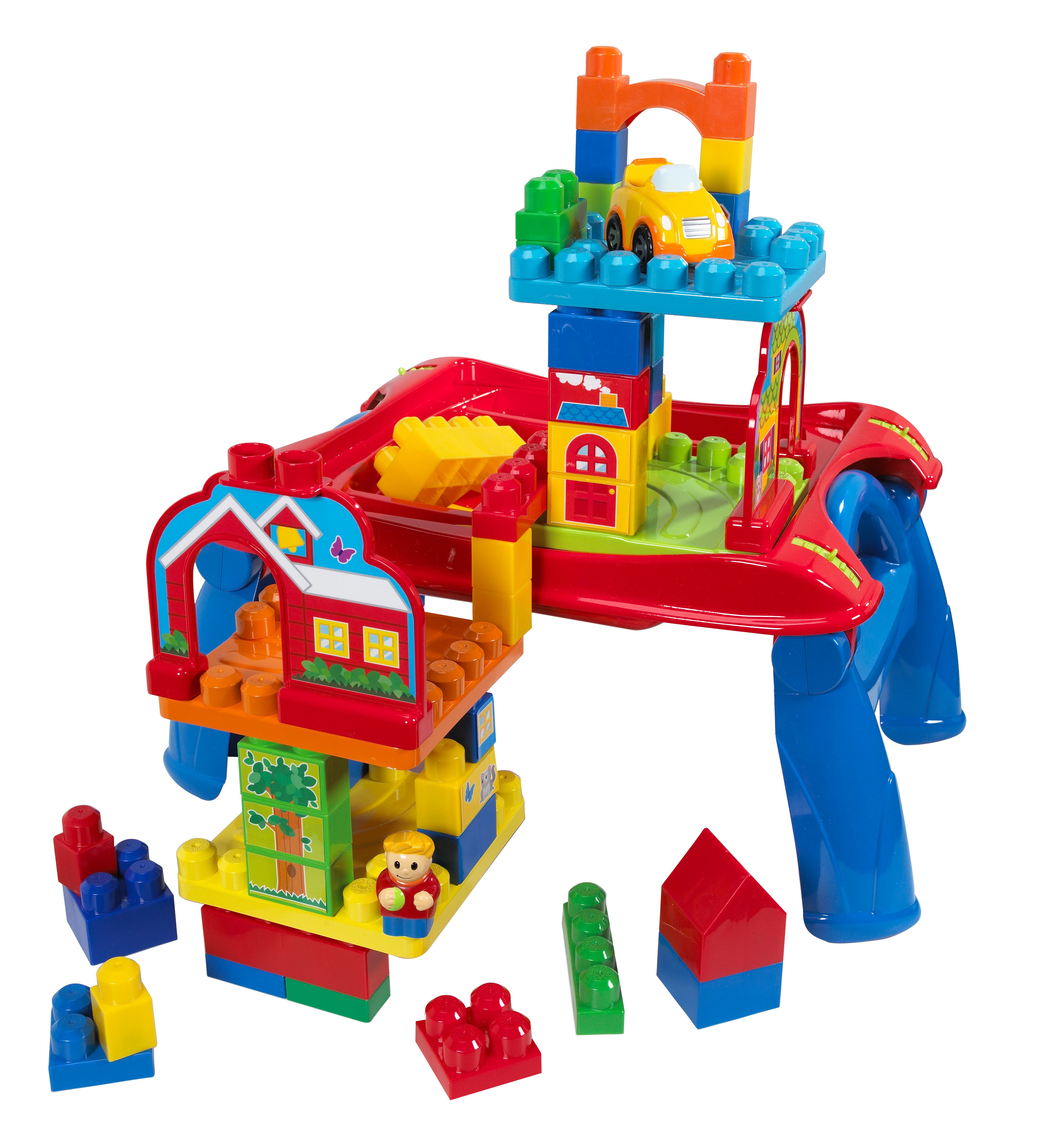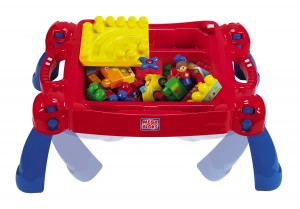 We recently received a Play N Go Table to review, courtesy of Mega Bloks.  Children not only enjoy playing with blocks (the stacking…the building), they learn from playing with blocks.  All of that stacking and building promotes the development of hand-eye coordination, can help children learn shapes and colors, and can be used to teach preschoolers math.  Blocks also encourage children to be creative since their is no right or wrong way to stack and build them.
One of the things that sets this toy apart from others is it's transportability.  My son has a few different types of block sets that we've gotten him and they just end up everywhere.  I like that when we're done playing, my son and I can clean them up and store them neatly away.  The set comes with 20 Maxi Mega Bloks pieces including a little car and boy to add to the fun. And, you can add to this set by purchasing additional blocks, figurines, and animals.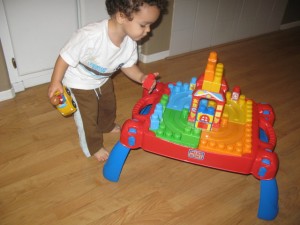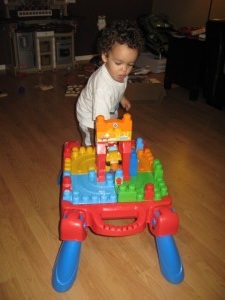 The Play 'N Go Table retails for $39.99 and is available for purchase online.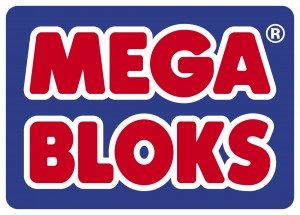 Win It! One of you will win a Play 'N Go Table.  Simply head on over to the site and take a look around.  Come back here and leave me a comment with another toy you'd like for your child from the site.  Comments will close on December 1, 2009 at 10 pm PST. One comment per person, please (unless you do the extra credit). US residents only. Duplicates and comments not including the above information will be disqualified. Comments are moderated. If you don't see your comment in a reasonable amount of time, send me an email. Bloggers and non-bloggers may enter. If you don't want to leave your email address, please be sure to check back for my announcement on the winner. Please note that winners must respond within 48 hours of being announced/contacted or another winner will be drawn.
Want an extra entry? Do any or all of the following and receive an extra entry for each one.
Be sure to leave me a separate comment for each additional entry.

Add the "Holiday Gift Guide" button to your sidebar and leave me a comment (be sure it's up for the duration of the gift guide!)
Check out my Holiday Gift Guide and leave a comment on that site about a product you like! (Maximum of 1 Comment for this).
Follow me on Twitter AND tweet about the contest. Be sure to use the hashtag #holidaysurvivalguide
Enter Shannon's giveaways (Maximum of 1 Comment for this).
Subscribe to my feed via email or reader.
Blog about this giveaway. It doesn't have to be a separate post. Just include a blurb about it when you blog about other giveaways.
Click on one of the very cute buttons below and digg, stumble, fav, etc. Just let me know what you did in the comments!
For more fabulous Holiday Gift Ideas, visit The Mommy-Files