This giveaway is now closed. Thanks for stopping by! Congrats to scottsgal.
For some reason, I have less guilt about indulging around this time of year.  There are so many events and parties filled with delicious gourmet foods.  My favorite, of course, is chocolate…ANYTHING (except chocolate-covered pretzels).  But I digressed.  Many of us will be opening up our homes to family and friends.  When I entertain, I like to have a diverse array of delicious foods.  I also like to give food gifts to many of our friends and family members (particularly the foodies!).
1-800-Flowers.com offers gorgeous bouquets and flower arrangements, gourmet foods, and gift baskets.  But what you might not know is that the company is actually a family and includes brands such as Fannie May Fine Chocolates, Cheryl & Co. and The Popcorn Factory.  If you want an array of gorgeously presented and incredible tasting food gifts, you must check out these three companies.
Being that I am a chocoholic, I had to exercise great discipline when we received samples from the above three companies.  So much so that as soon as I took the pictures, I dived in.  Jason walked inside the house earlier today when we were unloading the car and said, "You couldn't wait, could you?"  Needless to say, I did manage to snap this picture before consuming the entire box two truffles.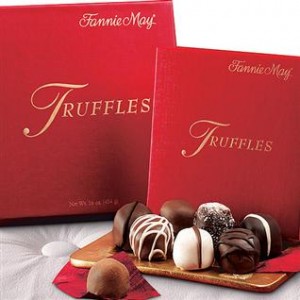 Fannie May Fine Chocolates taste as good as they look.  The company combines quality with distinct and elegant packaging for a gift that is almost too good to eat.  Along with the most delicious truffles, the company offers chocolate, nut, peanut brittle, cheesecake, and popcorn gifts.  You can also find "no sugar added" varieties. We had an opportunity to try out their truffles, which literally melt in your mouth.   They're extremely rich so while I wanted to eat the entire box, I didn't.  I am not a huge fan of chocolates with nuts in them so I usually opt for truffles.  A couple of the truffles include chocolate liqueur so just be aware of that.  My favorite was the mocha.  The only thing I'd love to see the company add is a mini directory of all the flavors so I know exactly what I'm eating (rather than guessing).  A sixteen piece box retails for $17.99 and is available for purchase online.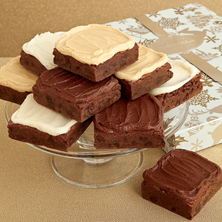 If you don't have time to bake but enjoy giving your friends and family fresh-baked desserts, visit Cheryl & Co.  The company is known for it's delicious cookies, gourmet brownies, and cakes.  They're fresh-baked, using quality ingredients.  I appreciate the fact that no preservatives are used in their baked goods.  Again, there are sugar free options available, if desired.  The Frosted Fudge Brownie is gone delicious.  It's soft and contains chocolate chips and just the right amount of frosting.  We also tried their Frosted Caramel Pecan Chocolate Cookie which was good…but I'm a chocolate girl (hehe).  I always prefer straight chocolate over other desserts.  But again, the cookie was soft and tasted fresh.
Both sites are easy to navigate and I like that there are so many different choices in a ton of different price ranges.  You can get something really nice and not have to spend a ton of money.  I also appreciate the effort both companies make to ensure the gift is packaged elegantly.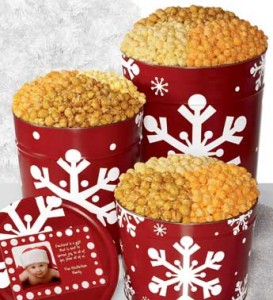 Now, if you prefer crunchy and salty, you may want to check out The Popcorn Factory.  Popcorn is something we snack on regularly in our house (and I don't feel an inkling of guilt about it).  Their holiday tins offer 3 flavors…cheese, caramel, and butter.  The only one I'm not a fan of is the cheese (but I don't like cheese popcorn in general).  The other two flavors are delicious.  What makes the tins such a neat gift idea is the ability to personalize them with a photo or message on the top of the tin.
While the store is called The Popcorn Factory, you'll find more than just popcorn including nuts, pretzels and other snacks.  Pricing runs between $10 to over $100 and you'll find impressive gifts in all price ranges.
If you're looking for gourmet food gifts with excellent presentation, check out the entire 1-800 Flowers.com family of brands.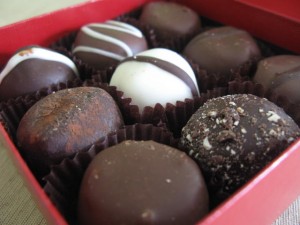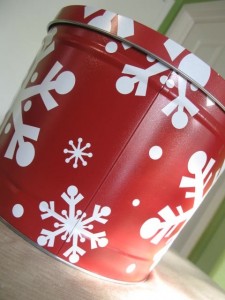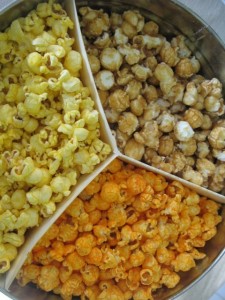 Win It! One of you will win an AWESOME prize pack which will include items from all three companies (Fannie May Truffles, Cheryl & Co. baked goods, and a tin of popcorn from The Popcorn Factory).  Since this is a biggie, please visit each site (I promise it won't take that long) and leave me a comment with one item you like from each site (except anything mentioned above).  Comments will close on December 1, 2009 at 10 PM PST. One comment per person, please (unless you do the extra credit). US residents only. Duplicates and comments not including the above information will be disqualified. Comments are moderated. If you don't see your comment in a reasonable amount of time, send me an email. Bloggers and non-bloggers may enter. If you don't want to leave your email address, please be sure to check back for my announcement on the winner. Please note that winners must respond within 48 hours of being announced/contacted or another winner will be drawn.
Want an extra entry? Do any or all of the following and receive an extra entry for each one.
Be sure to leave me a separate comment for each additional entry.

Add the "Holiday Gift Guide" button to your sidebar and leave me a comment (be sure it's up for the duration of the gift guide!)
Check out my Holiday Gift Guide and leave a comment on that site about a product you like! (Maximum of 1 Comment for this).
Follow me on Twitter AND tweet about the contest. Be sure to use the hashtag #holidaysurvivalguide
Enter Shannon's giveaways (Maximum of 1 Comment for this).
Subscribe to my feed via email or reader.
Blog about this giveaway. It doesn't have to be a separate post. Just include a blurb about it when you blog about other giveaways.
Click on one of the very cute buttons below and digg, stumble, fav, etc. Just let me know what you did in the comments!
For more fabulous Holiday Gift Ideas, visit The Mommy-Files