This giveaway is now closed. Congrats to Laura DeLuca, the winner!
We've got yet ANOTHER Halloween event tomorrow and we're so excited!  By the time Halloween comes we'll be all costumed and trick or treated out!  Well…I've got yet another healthy treat option for you.  I think a balance is really important, so parents and children aren't limited to strictly candy.  That would be my recommendation to all families offering "treats" for trick or treaters this year…offer a variety of treats (including healthy options).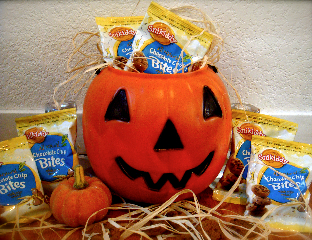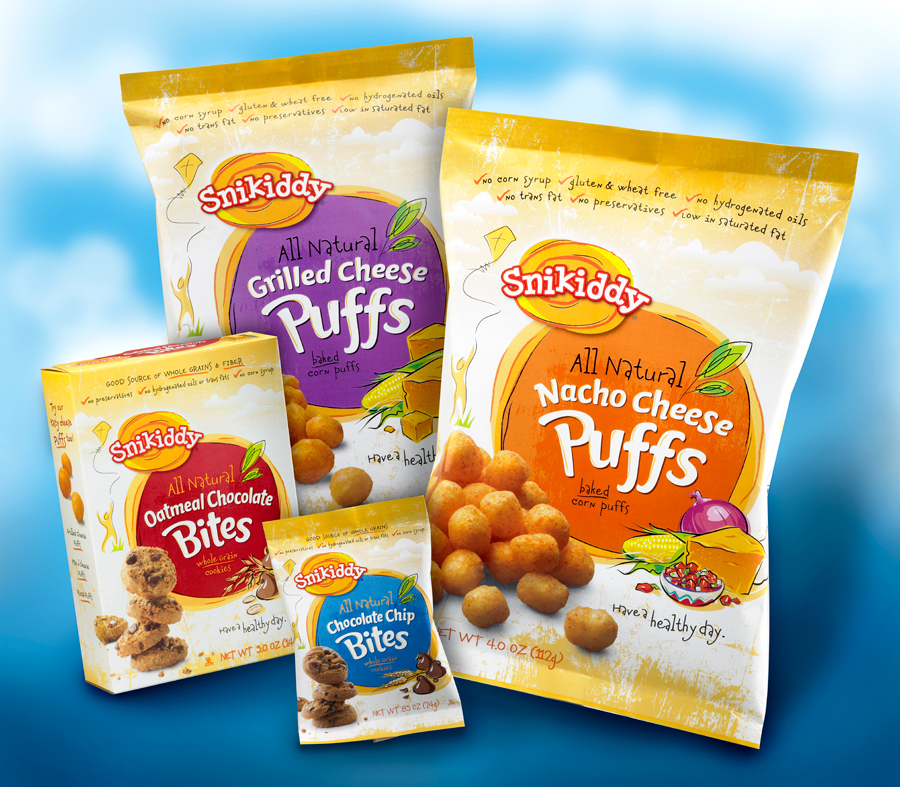 One of my favorite things to do is peruse the aisles at Whole Foods in search of different foods to feed my son (he's picky!). For awhile now, I've passed by Snikiddy Snacks for kids.  I don't know why, to be honest with you, because they're actually really good (I try everything before my son eats it). Thanks to the company, we had an opportunity to try the Chocolate Chip Bites and the Grilled Cheese Puffs. Snikiddy Snacks are all natural snacks that come in handy packs and offer parents and children an alternative to products filled with trans fats, hydrogenated oils, high-fructose corn syrup, artificial colors/flavors, and preservatives.  I'm a label reader, so when I looked at the back of the packaging, I liked that I recognized each ingredient (and the list wasn't that long)!  Snikiddy Snacks are made with ingredients you'll find in your closet like whole wheat flour and unrefined cane sugar.
So, I suppose you're wondering how they taste?  Details!  : )  My son preferred the Chocolate Chip Bites over the Grilled Cheese Puffs (but what child wouldn't prefer sweet over salty?).  I tasted both of them and I found them both good (just not enough!…I'm pregnant you know!).  What a scene…mom eating her child's snacks.  I digressed.  Since I have a toddler who likes to snack, I'll definitely be choosing Snikiddy Snacks over conventional grocery store snacks.  And the fact that they're made with whole grains means that my son will be getting a bit of extra fiber in his diet (I can't complain about that!).  And why not hand out the snack packs instead of all that candy this year?
Snikiddy Snacks are available online and at retailers nationwide (we picked up ours at our local Whole Foods).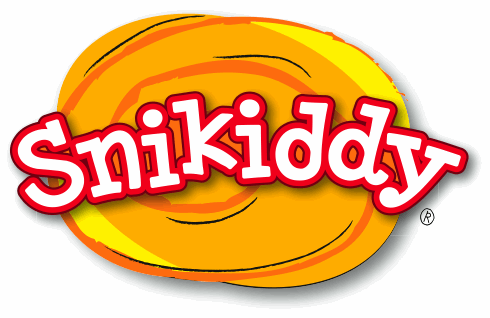 Win It! Want to try Snikiddy Snacks?  One of you will win coupons to try out four of their products.  Simply leave me a comment with ANOTHER variety you'd like to try with your kids!  Comments will close on November 5, 2009 at 10 PM PST.  One comment per person, please (unless you do the extra credit). US residents only. Duplicates and comments not including the above information will be disqualified. Comments are moderated. If you don't see your comment in a reasonable amount of time, send me an email. Bloggers and non-bloggers may enter. If you don't want to leave your email address, please be sure to check back for my announcement on the winner. Please note that winners must respond within 48 hours of being announced/contacted or another winner will be drawn.Want an extra entry? Do any or all of the following and receive an extra entry for each one.
Be sure to leave me a separate comment for each additional entry.
Follow me on Twitter AND tweet about the contest.
Subscribe to my feed via email or reader.
Blog about this giveaway. It doesn't have to be a separate post. Just include a blurb about it when you blog about other giveaways.
Click on one of the very cute buttons below and digg, stumble, fav, etc. Just let me know what you did in the comments!
Latest posts by Caryn Bailey
(see all)