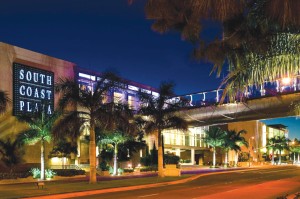 I learned how to shop from my mom. As a former New Yorker, she'd buy a new outfit every week during her time as a single woman.  Shopping was (and still is) our "thing."  I grew up in LA, where there was no shortage of malls.  But on those weekends when we would make the trek down the OC, I had to visit South Coast Plaza.
A couple of weeks ago, I had the privilege of joining some of the most renowned LA and OC Fashion and Beauty Bloggers for a tour de plaza (South Coast, that is).  I have frequented this mall numerous times, but never quite this way.
The mall is unlike any other mall I've frequented (and I've been to malls all over the world).  The mall is actually a tourist destination and draws crowds from all over the world.  With over 250 boutiques, award-winning restaurants, , and spas, South Coast Plaza is internationally recognized as a premier shopping destination.  Where else will you find Oscal de la Renta, Tiffany & Co., and Diesel all under one roof?
Upon arrival, we were greeted with a light lunch and red velvet cupcakes made by Cat Cora in their VIP Access Suite.  VIP members receive free valet parking and free membership into the suite, which provides guests with a place to relax, store packages, and enjoy refreshments.  The suite features a Sports Lounge and a Zen room and is staffed by a Concierge who will provide complimentary refreshments/snacks, and attend to personal requests for restaurant and theater reservations.
After spending some time learning more about what's new at the plaza, we headed over to our first stop…Tumi Boutique.  I'm passionate about travel and have visited nearly 20 countries across the globe.  Children have placed a minor stint in our global travel, but we still manage to take several U.S. vacations every year.
Tumi, "the leading brand of luxury travel, business, and lifestyle accessories," offered several tips on packing like a "jet-setting pro."  I always try to pack way too much with too little space and end up getting bogged down with luggage.  They sent us home with their Just In Case Tote, which will come in handy at BlogHer this year.  This lightweight, foldable tote comes in it's own zip pouch and can be packed and used to bring home swag souvenirs or other items picked up along the way.  Additionally, they offer a variety of accessories like Packing Cubes and and Flat Folding Packs that help maximize space and keep things organized.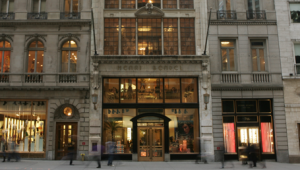 Now that we know how to pack, it's time to figure out what to pack. If you're a hip, New York woman, you shop at Henri Bendel.  This "girls' playground" features chic, fashion-forward accessories, cosmetics, and gifts.  I could have easily taken home one of each!  But a few of their travel products stood out as must-haves.  Their Mini Flat Iron & Travel Pouch can be carried on or packed in your suitcase and comes in a heat-resistant pouch with a magnetic closure (brilliant!).  Their Tweezerman Set includes both fine point and slant tip tweezers in a suede and leather pouch.  This SoCal girl (that never wears socks) adores their Rivet Print Flip Flops.  They come in five fun colors and can be worn for beach days, summer nights out, or at the airport.  And speaking of beach days, I like their Disturbed Stripe Beach Towels.  Not only are they super-soft (I felt one!), they look fabulous.  They're also huge!
While it still doesn't feel like summer (what's up with June gloom in July?), soon the heat will be upon us and I'll be breaking out the tank tops and sundresses.  While I'm still in nursing bras, soon I hope to return back to a time where I could adapt my bra to my outfit (instead of the other way around).  If you're one of the 85% of women who are wearing the wrong size bra, you must check out Intimacy (which just opened at South Coast Plaza in May).  Not only will they help you find a bra that really fits (they have over 90 bra sizes), they'll identify bras that match your body type, wardrobe and style.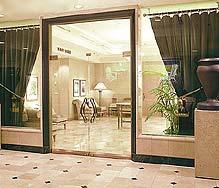 So once you've packed for the occasion, it's time to ensure that you look good.  Our next stop was at Spa Nordstrom for a bronzing session.  With olive-colored skin, I thought it best to sit this one down. I did manage to capture Elizabeth getting her glow-on.  For $55, you can have a healthy glowing tan without sun or UV exposure.  It's airbrushed on, takes seconds, and actually looks quite natural.
Before we ate the most incredible meal at one of the most impressive restaurants I've ever frequented, I browsed a few of their new stores.  Molton Brown, which originated in London, sells plant-based make-up, hair, body, skin and grooming products.  Their bath and body products smell incredible (without being too strong) and leave my skin feeling fresh and vibrant.  With over 100 tea varieties, Teavana tops my list of favorite tea venues.  And while I was there, I had to get my Williams-Sonoma fix. Their South Coast locations is one of the biggest in the LA/OC area.  Although I didn't get an opportunity to visit, Free People (sister to Urban Outfitters) is now open.  The store is known for fresh, feminine fashion with vintage appeal.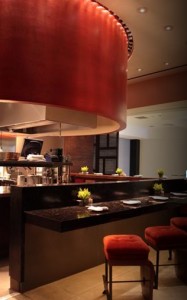 Our day concluded with dinner at AnQi by Crustacean and a fashion show created with La Perla, specifically for the event.  This gourmet bistro and noodle bar features artfully presented Asian fusion cuisine.  They created a special menu for us, and I was very impressed with the taste and presentation of the food.
This summer, South Coast Plaza is offering two specials you may be interested in checking out: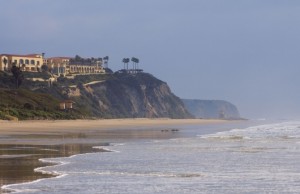 1. Pack Your Bags Shopping Package (Ritz-Carlton Laguna Niguel):  Includes one-night accommodation with welcome amenity, Hotel Valet, $100 South Coast Plaza Gift Certificate, Complimentary Valet Parking, one-hour personal shopper/image consultant, ACCESS VIP Suite, and VIP Savings Passport (rates start at $525).
2.  Shopping Spree Special (Montage Laguna Beach):  Includes two-night, ocean-view accommodations, daily breakfast, VIP shopping excursion, VIP savings passport and passes to ACCESS VIP Suite (rates start at $545).
No compensation was received for this post.  I was invited to a media event and given a gift bag at the event.

Latest posts by Caryn Bailey
(see all)