My kids' new favorite ride at the Disneyland Resort is Guardians of the Galaxy – Mission: BREAKOUT! That is saying a lot, considering up until the ride opened in May at Disney California Adventure Park, they had never braved The Twilight Zone Tower of Terror. Since "Guardians" (as my kids have appropriately nicknamed it) opened, it is the first ride we race to when the park opens. Thrills, surprises, and Rocket's tongue-in-cheek humor create a Guardians of the Galaxy experience unlike any other.
Guardians of the Galaxy Monsters After Dark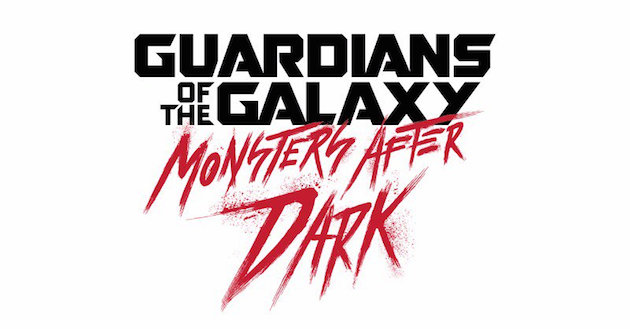 This year, Disney California Adventure Park will undergo a spooky transformation in anticipation of Halloween. Among the Halloween Time experiences that will be available, families will experience a scary treat when the attraction is transformed into Guardians of the Galaxy – Monsters After Dark. You might remember that in Guardians of the Galaxy – Mission: BREAKOUT!, Rocket learns that his friends have been trapped in the Fortress of the Collector, Taneleer Tivan. Guests are recruited to help Rocket break the Guardians of the Galaxy free. Monsters After Dark takes place moments after, where Rocket discovers that in his rush to save his friends, Groot has been left behind. Rocket needs your help distracting the monsters that have been unleashed inside the Fortress so he can rescue Groot. Irreverent, chaotic, and altogether creepy, this is an experience you will not want to miss at the Disneyland Resort this year.
What to Expect
Each night, Guardians of the Galaxy – Mission: BREAKOUT! will transform as the Fortress goes dark. Alarms will sound and brand-new lighting will be reflected on the exterior of the Fortress, alerting guests that something inside has gone awry. Upon entry into the Fortress, flashing alarms and creepy sounds warn guests that creatures have escaped their vitrine cages and chaos is about to ensue. The Collector's assistant Apheta, will seek to calm guests, reassuring them that all is in order and that this is just a temporary setback.
Dark yet humorous, the 1970s-style punk rock song "Monsters After Dark" will enhance the thrill of this brand new experience. The song was written for Guardians of the Galaxy – Monsters After Dark by Tyler Bates, who you may know was the composer for the Guardians of the Galaxy films. Remember that this experience is only offered for a limited time at the Disneyland Resort during Halloween Time (September 15 – October 31, 2017).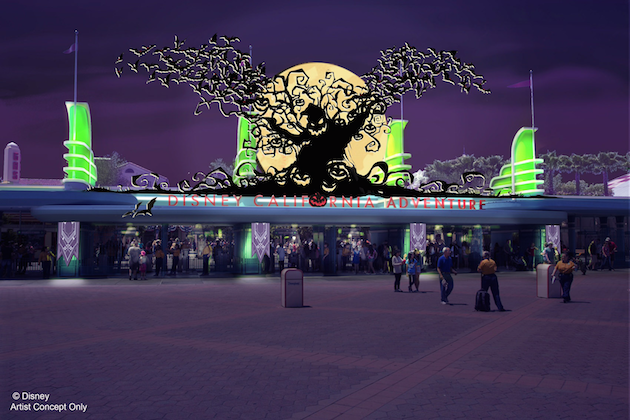 Halloween Time at Disneyland 2017
For the first time, Halloween Time will also take place at Disney California Adventure Park. Buena Vista Street and Cars Land are dressing up for the occasion and families will be able to enjoy Halloween decor, themed food and beverages, and spooky merchandise. Upon entry into Disney California Adventure Park, guests will see an oversized, shadowy silhouette of Oogie Boogie. You may remember this villain from Tim Burton's The Nightmare Before Christmas.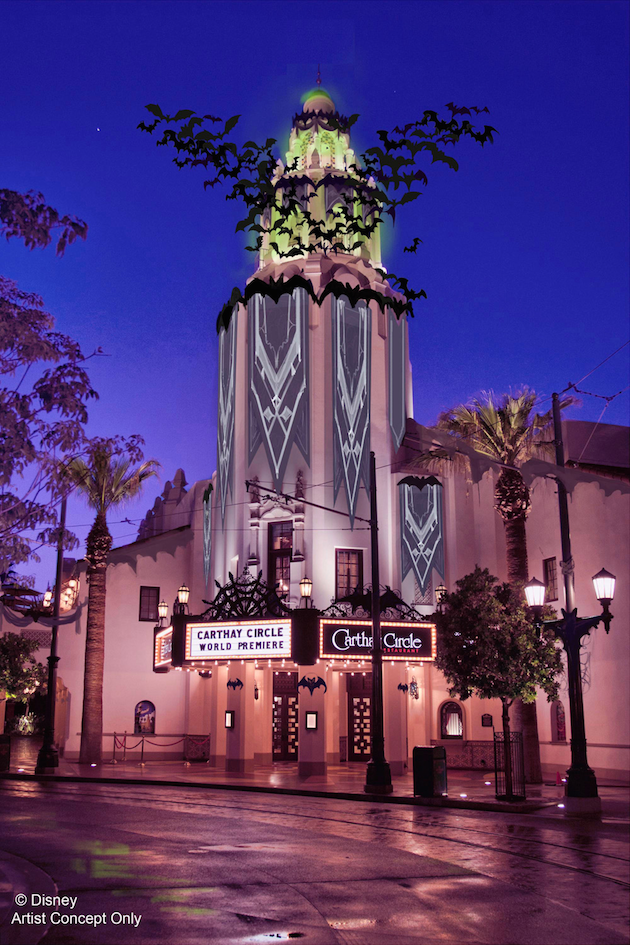 Oogie appears to unleash a swarm of bats which sound as if they are flying down Buena Vista Street. Look closely at Carthay Circle Theatre…you may see bats circling the tower!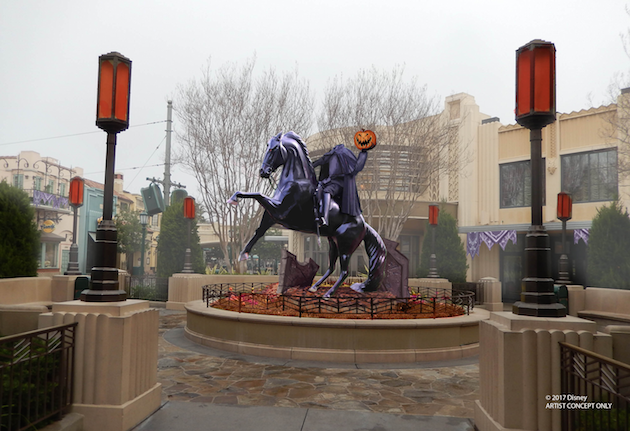 Halloween on Buena Vista Street
As you walk down Buena Vista Street at Disney California Adventure Park, be sure to browse the Halloween decoration in store windows. In Carthay Circle, you'll see a brand new statue of the Headless Horseman, holding up his jack-o'-lantern. New themed music will also help create a fun, spooky ambiance. Before you head into Cars Land, be sure to take a photo with Mickey, Goofy and Daisy Duck, dressed in their favorite Halloween costumes.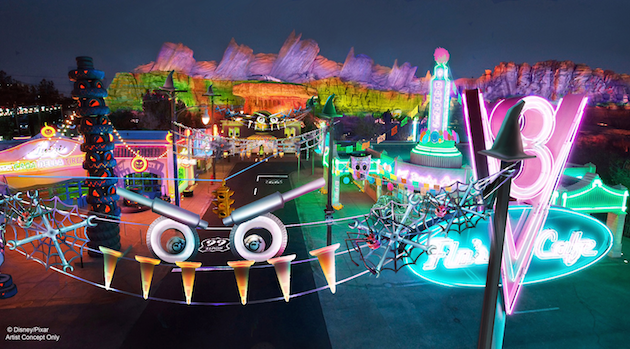 Cars Land Haul-O-Ween
One of the most beautiful places at Disney California Adventure Park is Cars Land, particularly at night. This Fall, Cars Land will be transformed for the season during their Haul-O-Ween celebration. As you enter Cars Land at Route 66, be sure to snap a photo with Scary the "Scare-car." Additionally, each of the Cars have decorated their "home" for the season with Fillmore showing off his Jack-Oil-Lanterns and ghostly folk art, Sarge displaying his "pump-kins" and Spider Car spinning webs over Flo's V8 Café. The Cars characters will also don their Halloween "car-stumes" for the first time as they greet families and prepare to go "trunk-or-treating."  Don't miss "Van-pire" Mater, Super Lightning McQueen and the rest of the gang as they celebrate Halloween!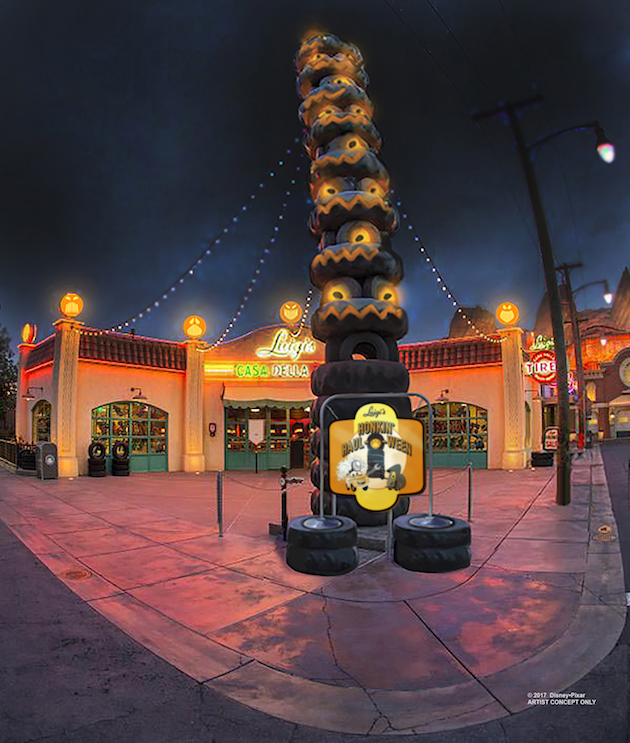 In addition to the eerie transformation of Radiator "Screams," Mater's Junkyard Jamboree will become Mater's Graveyard JamBOOree and Luigi's Rollickin' Roadsters will become Luigi's Honkin' Haul-O-Ween. At Mater's Graveyard JamBOOree, you'll hear fun, creepy songs like "Monster Truck Smash" and "Welcome to Radiator Screams" as you whirl around the graveyard. At Luigi's Honkin' Haul-O-Ween, Luigi and Guido will entertain the cugini (cousins) with Halloween versions of traditional Italian festival songs like the "Terror-antella," "The Chop Top of Carsoli" and more.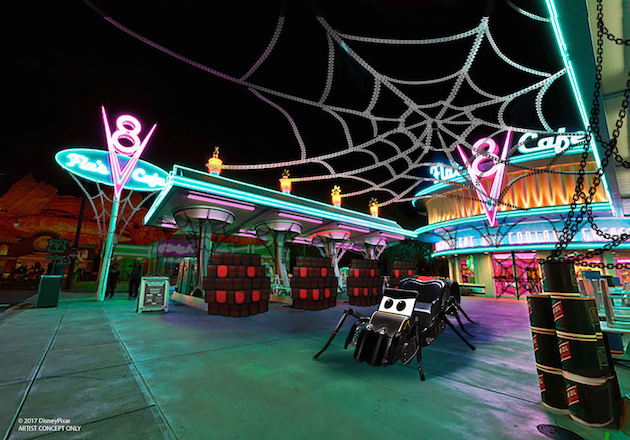 Stay tuned for live coverage of Halloween Time at the Disneyland Resort in the coming weeks. And for more information, visit Disneyland.com/Halloween or the Disney Parks Blog.
Images: The Disneyland Resort
Latest posts by Caryn Bailey
(see all)