This giveaway is now closed. Congrats to the winners Carol #13 and Amanda #18!
Two years ago, when I started my blog (on blogspot), I had no idea that it would evolve into the site it is today.  I started a blog to keep my family members across the country in the know and up to date with the happenings of our family.  I had no idea I would meet celebrities or serve as a spokesperson for a major company.
Do you know how I started doing product reviews?  It began with a little (not!) company called Mom Central.  I even remember my first blog tour…  Needless to say, I never imagined I would have to keep track of the products I reviewed because I honestly never imagined I'd be reviewing them regularly.  But I've come to a point in my blog, where I must decide…is this a business or a hobby?  Now for all practical purposes, my blog started as a hobby.  While I absolutely love running this blog, I do have a part-time nursing job that I don't anticipate giving up anytime soon.  But when it comes to taxes, the question begs…Is my blog a business? It has truly turned into one over the past couple years.
Today's post is brought to you by H&R Block Tax Institute and written by Brenda Schafer.  If you have further questions on the matter, be sure to tune into their webinar on Tuesday March 30th from 8pm to 9pm. More details can be found on their Facebook page.
Special Rules Surrounding the Business of Blogging:
A) Is it a business?
The determination of whether your blogging activity is a business or a hobby is an important one. Whether your blog is a business or hobby directly affects how you report income and expenses from the activity.
Your blog may be directly related to a business activity, and that case, the decision is easy. All blog-related income and expenses should be reported along with the other business income and expenses.
If you're blogging as a separate activity, though, things can get a little murky. As a general rule, to be a business, the blog should be done regularly and continuously (not just when you feel like it) with the intention and possibility of making a profit. It's important to note, however, that you don't have to actually make a profit to be in a business. It's also important to note that even though you may be making some money, that blog of yours may still be considered a hobby in the IRS's eyes.
You can find more information on hobby vs. business on the IRS website. The next section gives you some pointers about the kinds of things that help distinguish a "real" business from something you just do for kicks.
B) Operating like a business
There are some pretty straightforward things you can do to demonstrate you mean business – literally. Here are some of them.
Contact other successful bloggers for tips on how to increase your blog's exposure and get site sponsors. As successful as you may be, there's always someone out there doing it better.
Set up a separate business account at the bank

Use this account for all business transactions
Keep records of what makes up each deposit and  keep receipts and invoices for each check that you write

Get a separate credit card for your business if you find that you prefer using a credit card to pay expenses
Store your records in the order that the transactions occur
Store paper records in a safe place such as a safe deposit box or a fireproof record box/cabinet
Back up and firewall your computer records
Complete and accurate records are necessary
For financial statements and tax returns
For proof of income and expenses if audited by the IRS
C) Income
Money you receive in your business or hobby is taxable. Period. Generally, the fair market value of a product or service you receive related to your activity is taxable as well.
1. Fees – If another website pays you include your blog on its website or you sell a blog article to another website or publication, that income is taxable.
2. Advertising income – Other websites may pay you to include a partner link on your blog page. Taxable!
3. Product trials/endorsements – Manufacturers and service providers may ask you to try their product or service in the hopes that you will blog favorably about your experience. Even though they may give you the product or service for free, the value of what you receive is taxable. This is because the company expects something in return (the endorsement).
Isn't there such thing as a gift? Yes, but not of a vendor's product. Gifts are along the lines of a box of chocolates or a cute calendar that are sent as more of a warm and fuzzy for the vendor than a product push.
So what if you chuck the product in the trash instead of using it or kindly decline the offer of a free oil change? No worries. This time it's not taxable.
What if you use the product or take advantage of the service and hate it? This time, it's taxable. You got benefit of whatever was offered, as lame as it may have been.
D) Expenses
Every business (or hobby) has its expenses. Here's a discussion of some of yours.
Blog hosting fee – Unless you use a free blog hosting site, you may be paying upwards of $100 month to your site host for such things as storage and/or data bandwidth. Fees are generally paid monthly and are deductible when paid. If you pay for several months ahead, you can only deduct the fees paid for the months during the year. In other words, assume you pay $300 for a one-year hosting contract from May 1, 2010 through April 30, 2011. Two hundred dollars (8 months/12 months x $300) is deductible for 2010. The remaining $100 is deductible on your 2011 return.
2. Computer equipment – Here's a sticky wicket. Chances are pretty good that you use your computer for non-blog-related things. A computer is an example of equipment that is expected to last longer than a year, so it generally has to be depreciated. If you're using your computer for business and personal reasons, I hate to say it, but you should be keeping a log of the use. Come tax time, you'll need those records to determine the depreciable business use percentage.
3. Internet access – More bad news, I'm afraid. It's likely that you are paying any more for Internet access than you would be if you weren't blogging, so forget about writing off your Internet bill. You may, however, carry a separate data plan that you wouldn't otherwise have. Now that we can talk about.
Other expenses – There's no end to the kind of expenses you may incur. Keep track of them. Claim every deduction to which you're entitled!
Marketing and advertising – maybe you're the one sending out the chocolates or the cute calendars!
Books and magazines – More blog know how!
Bank fees – for that separate bank account
Legal fees – It could happen.
Accounting fees – when things really get rolling
Tax preparation – let the experts answer your questions and prepare your tax return that got a lot more complex when you started bringing money in
5. Office in home? – If you have an office in home, it can mean a pretty nice deduction, but the rules are very strict, and the IRS tends to scrutinize home office claims. To qualify for a deduction, the office must, in a nutshell, be:
In a room in your house
Your principal place of business
Used regularly and

exclusively

for business.
If you blog in a separate room, but use your computer for personal purposes, no office in home deduction. If you sit on your couch, your deck, and your bed to blog, it would be very hard to say you used anyone place in your home exclusively to blog. You get the picture. Check out IRS Publication 587, Business Use of Your Home or talk to your favorite tax professional.
E) Your Tax Return – It had to happen. We had to get to the tax return. I won't bore your with a lot of detail, but here are the basics.
If your blog is a hobby, you'll report any income you receive on Form 1040, line 21, as other income. Just the income. The expenses you get to report are limited to the amount of income you have – and to top it off they are reported on Schedule A as miscellaneous itemized deductions subject to a 2% of adjusted gross income limitation. Wowsers! Special rules apply to depreciation and a home office deduction, too.
If your blog is a business, things are different. Assuming it's a one person venture and you didn't incorporate or form an S corporation, you report your income and expenses on Schedule C. Good news is that your expenses directly offset your income and you can show a loss. Bad news is that if you make more than $400 net profit, you'll be paying self-employment SE tax.
The SE tax equals 15.3% of net earnings, but it's credited to your Social Security account and can help you get more $$ from Social Security when you retire. Also, you can deduct half of your SE from your taxable income even if you don't itemize. Hey, it's something.
Because you're getting income that doesn't have any withholding, you may want to consider making estimated payments. You can pay with Form 1040-ES or make electronic payments. Sure, it's tough to part with the cash, but you'll have it pay it in eventually, and if it means avoiding an underpayment penalty, it's worth it. Your tax professional can help you determine if you need to make estimates and how much you should pay in.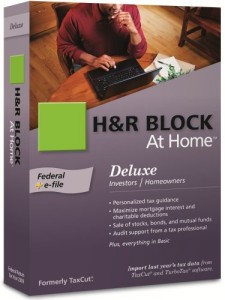 Win It! I've already filed my taxes with an accountant, but I would like to offer two readers the opportunity to win a copy of H&R Block At Home Deluxe Software ($59 value).  Simply leave me a comment with something you learned on the site or something you learned from this post.  Comments will close on April 2, 2010 at 11:59 PM PST (please note the short duration of this giveaway).  One comment per person, please (unless you do the extra credit). US residents only. Duplicates and comments not including the above information will be disqualified. Comments are moderated. If you don't see your comment in a reasonable amount of time, send me an email. Bloggers and non-bloggers may enter. If you don't want to leave your email address, please be sure to check back for my announcement on the winner. Please note that winners must respond within 48 hours of being announced/contacted or another winner will be drawn.Want an extra entry? Do any or all of the following and receive an extra entry for each one.
Be sure to leave me a separate comment for each additional entry.
Follow me on Twitter AND tweet about the contest.
Subscribe to my feed via email or reader.
Blog about this giveaway. It doesn't have to be a separate post. Just include a blurb about it when you blog about other giveaways.
Click on one of the very cute buttons below and digg, stumble, fav, etc. Just let me know what you did in the comments!
I did not receive compensation for this post.