This has been the worst year for illness in our household. I've been vigilant about handwashing and hand gels when we don't have access to soap and water. I've avoided crowds and sick people. But we've still managed to get sick…all four of us!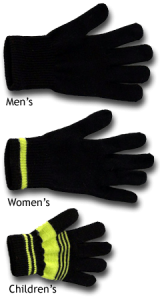 I recently received an adorable pair of gloves to review. Surprisingly, they're more than just a fashion statement. GetGlovd "is the new alternative to providing an effective defense against germs and bacteria, anywhere you travel." When I think about conventional gloves, I think about the potential to house germs…not protect against them. These gloves are unique in that they're made using 100% mechanically processed, naturally anti-bacterial, anti-microbial bamboo yarn.
To be honest, you'd never know that these gloves do more than look pretty and keep your hands warm. They look like conventional gloves (fortunately…I wouldn't want anyone to know how much of a germ-a-phobe I am!). I really like how soft they are. They're on the thinner side (which makes them breathable) but still keep my hands warm. The temperature has been all over the place here in Southern California but in many parts of the country, it's still very cold. I can't imagine wearing these gloves in the summer (for obvious reasons) but I'd definitely wear them in place of conventional gloves for that added protection against germs. They keep my hands warm, look adorable, and protect against germs. I'd like to put a pair on my 2 year old until winter is over. But they won't likely stay on his hands for more than 15 minutes. Toddlers!
Here are some facts about GetGlovd from the site:
100% natural, sustainable fabric

Naturally antimicrobial and antibacterial

Inhibits the growth of bacteria and fungi that cause odor

Hypoallergenic for even the most sensitive skin

Keeps you cooler is summer and warmer in winter

Breathable, provides excellent comfort through moisture wicking

Provides UV protection

Maintains these properties even through multiple washings
GetGlovd are available for children ($14.99) and adults ($19.99) on their website.
I did not receive compensation for this post. A product sample was provided to facilitate this review.