This giveaway is now closed!  Thanks so much for stopping by!  The winner is Jackie.  Congrats!

Cleaning, in and of itself, is not high up on my list of "fun things to do," and when you add in the smells and the chemicals, I just find myself despising the entire process.  That's not to say that I don't like a clean house…it's just the process of getting there that has me frazzled at times.  The other thing that overwhelms me is all of the products available to clean this, that and the other.  Don't you just wish you could buy a few products and clean the entire house with them?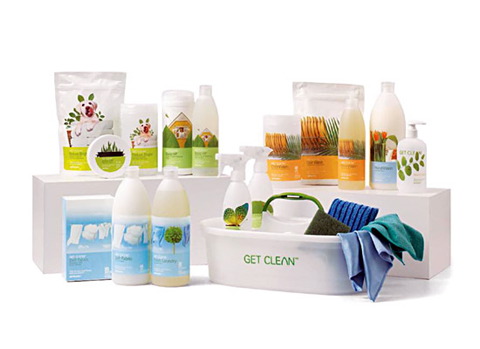 I recently had the opportunity to try out Shaklee's Get Clean Starter Kit.  Maybe you've heard the buzz about Shaklee…I know I have.  I was really curious about how one little bottle of concentrate could get my entire house clean.  If you're not familiar with the company, here is a little information to get you started (and because I think the website does a great job of summarizing the philosophy concisely):
For over 50 years, generations of families have counted on us to do what no other company can do quite like Shaklee—make products that are naturally safe AND proven effective.  Our mission at Shaklee is to provide a healthier life for everyone and a better life for anyone. Every product that goes into every Shaklee bottle is designed to improve health, work without compromise, and be gentle on the planet.  When you pick Shaklee, you will know three things to be true. It is always safe. It always works. And it is always green.
A healthy home is just one of the areas Shaklee wants to make an eco-difference.  The company offers an array of natural products that range from nutrition and weight management to skin care.  When I received the Get Clean Starter Kit, I was honestly a little shocked.  It's actually a HUGE box of concentrates, bottles, and cloths designed to help you achieve and maintain a clean, healthy home.  You literally don't need anything else to get your home clean.  From your kitchen to your bathroom to your laundry room you'll find a product designed to get it clean.  The products are amazing.  They're natural and effective with really wonderful, light aromas.  It's funny because when you start using them, they feel so gentle and natural that you're wondering if they're actually going to work.  But they do.  I was most impressed with the Basic H2 Organic Super Cleaning Concentrate.  If you get one product…this is the one to get!  It's a 16 ounce bottle of SUPER concentrated, BIODEGRADABLE solution that makes 48 gallons of cleaning solution.  Depending on how you dilute it, you can make an all-purpose cleaner, a degreaser, and a window cleaner.  The Get Clean Starter Kit comes with the bottles and measuring spoons you'll need to make the cleaners.  Ok…so I said the word "make" and you're probably ready to hit the backspace button because you don't want to buy anything you're going to have to "make."  But wait…all you do is add a bit of concentrate to 16 ounces of water and you have your desired cleaning solution.  Easy peasy!  This 16 ounce bottle will probably last us until forever!  I love all of the products but my favorites, by far, are the microfiber cloths which eliminate the need for paper towels and the cleaning and disinfecting wipes because I have this neurotic need to wipe everything down all of the time.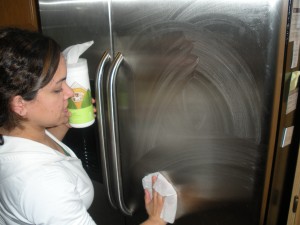 I really want to tell about each and every product individually, but that might get boring (and it's on the website!).  And you probably just want to know if they work…right?  They do!  I've cleaned my mirrors, my refrigerator, my son's highchair, the countertops, the toilet, the floor, the ottoman (that's another story for another day)…the list goes on and on. I should mention that the kit contains "green" versions of products I had written off awhile back due to their chemical hazards.  For example, I was always told not to use dryer sheets and fabric softener because it was safer to do without.  Well, hubby likes to wear clothes that don't crinkle and now he can!  The fabric softener is non-toxic and does not contain phosphates.  The dryer sheets are fragrance-free, recyclable, and biodegradable.
Here is a little video I made, in true infomercial style…I'm hoping to be on the HSN soon (hehe)!
Vlogging with the Vado HD!
Shaklee's Get Clean Starter Kit retails for $176.00 and is available for purchase on the site.  Be sure to download the Get Clean Surface Cleaning Guide to learn how to clean every nook and cranny of your home!
Win It! One of you is going to get to experience the greatness of Shaklee with your very own Get Clean Starter Kit (I hear the oohs and aahs right now).  Head on over to the site and spend some time looking around.  Please read:  Come back and leave me a comment with something you learned that I didn't mention in my written or video review.  I'm going to make you work for this one!  Comments will close on March 19, 2009 at 10 PM PST.  One comment per person, please. US residents only. Duplicates and comments not including the above information will be disqualified. Comments are moderated. If you don't see your comment in a reasonable amount of time, send me an email. Bloggers and non-bloggers may enter. If you don't want to leave your email address, please be sure to check back for my announcement on the winner. Please note that winners must respond within 48 hours of being announced/contacted or another winner will be drawn.
Want an extra entry? Do any or all of the following and receive an extra entry for each one.
Be sure to leave me a separate comment for each additional entry.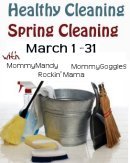 Add the Spring Cleaning button to your sidebar and obtain two extra entries (but please comment on this post so I can keep track of who is to receive two extra entries.  If you comment here that you've placed the button, it won't count…this is for my sanity!).
Enter Amanda and Tanya's giveaways
Follow me on Twitter AND tweet about the contest.
Subscribe to my feed via email or reader.
Blog about this giveaway. It doesn't have to be a separate post. Just include a blurb about it when you blog about other giveaways.
Place my button on your site. If you have difficulty, please let me know.
Click on one of the very cute buttons below and digg, stumble, fav, etc. Just let me know what you did in the comments!

Latest posts by Caryn Bailey
(see all)