How do you keep up your workout routine, when gyms are closed in the middle of a pandemic? Nintendo has the answer with its brand new Ring Fit Adventure. This adventure game invites you to explore an imaginative, fantastical world to defeat enemies using exercise.
Post created in collaboration with Nintendo.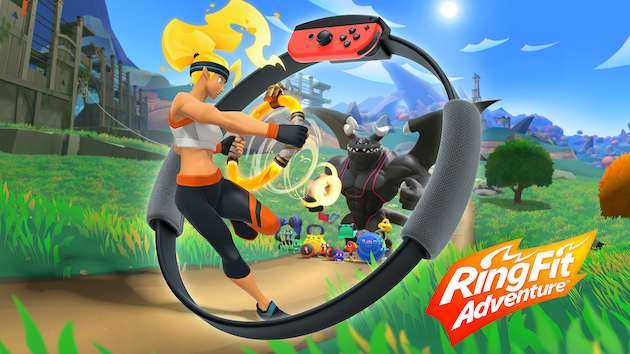 Ring Fit Adventure
Available exclusively for Nintendo Switch, Ring Fit Adventure fuses adventure and role play with exercise where players explore more than 100 levels in more than 20 vibrant worlds to defeat a bodybuilding dragon and his minions.
The player takes the role of a young athlete who meets a sentient Ring. Together, they team up to take down the evil, bodybuilding dragon named Dragaux. The player moves across the game's world into various dungeons and encounters monsters to fight. The player attacks those monsters by performing one of thirty exercises. The amount of damage done is based on how effectively the exercise is completed. Exercises are classified by color with each color corresponding to a general part of the body the exercise is geared towards. The monsters are also classified by colors and exercises of the same color are more effective against them.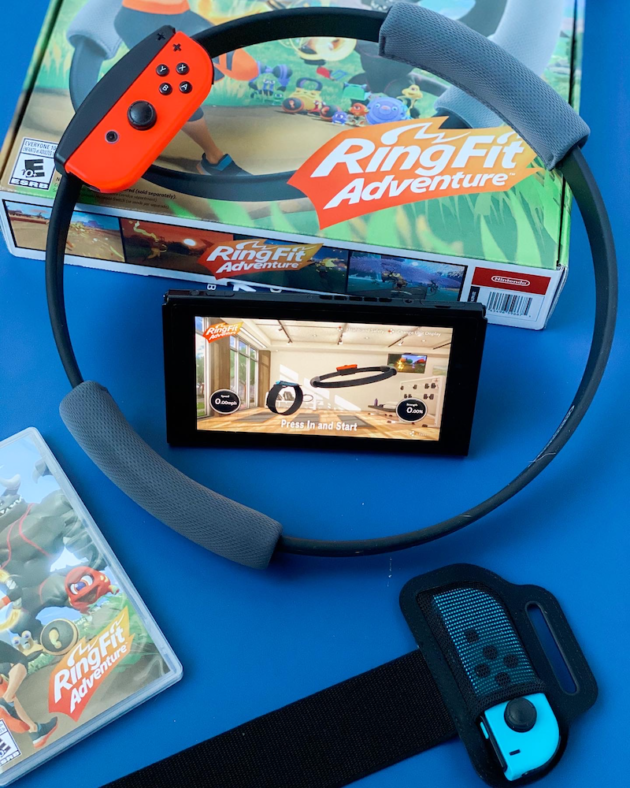 Ring Fit Adventure includes the Ring-Con, Leg Strap, and game. The Ring-Con is a Pilates ring that houses one Joy-Con. the Leg Strap is a piece of fabric that is attached to the user's leg and houses the second Joy-Con. These accessories measure gamers' real-world actions and help turn them into in-game movements, thus allowing players to move their character through the fantasy world. Once situated, players will travel across grass-swept plains by jogging in place, attack enemies with overhead shoulder presses, and refill the health meter by striking yoga poses.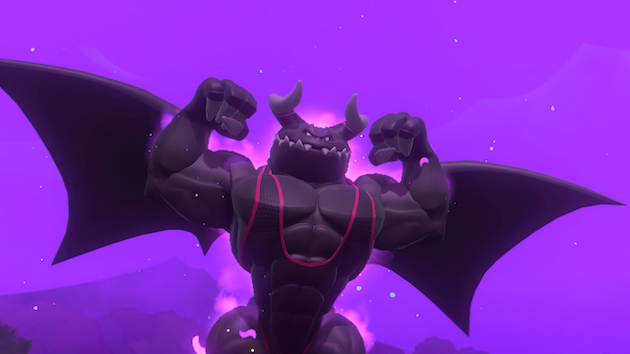 Gamer Guide to Ring Fit Adventure
There are two modes of play available in Ring Fit Adventure. In the Adventure mode, players defeat enemies with attacks based on real-world exercises. Jog, sprint, and high knee through dozens of levels while using the Ring-Con to battle enemies. As you progress through each level, you will earn experience points and collect ingredients to create in-game restoring smoothies. Between battles, you may encounter unusual methods of transportation, such as squat-powered launch pads and waterfalls to paddleboard up.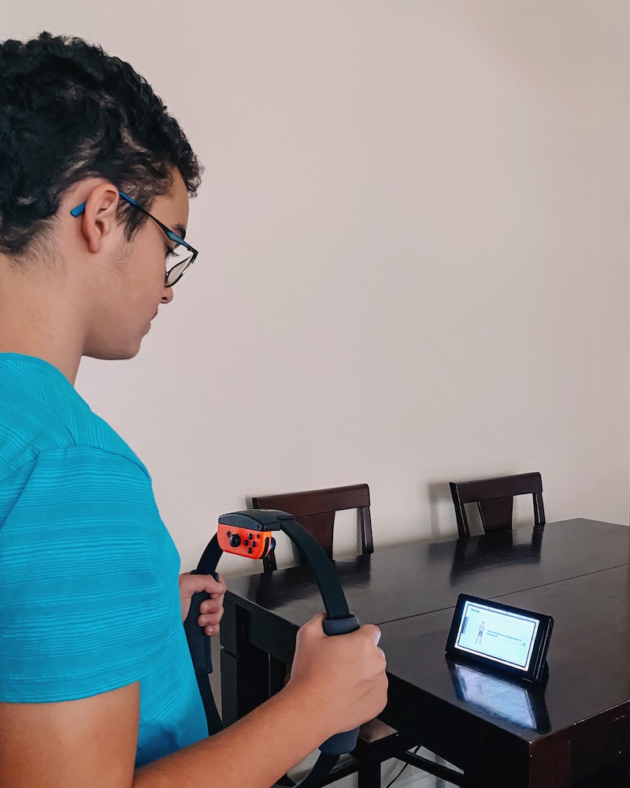 Customize your style by visiting the General Store to get workout clothes that may increase your attack and defense stats. You can also complete special requests for townspeople to earn special rewards.
Explore a huge fantasy world and defeat enemies using real-life exercise
Jog, Sprint, and high knee through over 100 levels in more than 20 worlds
Control in-game movements with the new Ring-Con and Leg Strap accessories
Play a long-form adventure or shorter minigames suitable for most skill levels and schedules
Check your estimated pulse rate with the built-in IR Motion Sensor
The Quick Play mode offers challenges and 12 minigames that are ready when the game starts, so players can immediately jump into a quick workout. This general fitness mode allows players to perform the exercises without the game play elements. The minigames are based on certain exercises and can be performed as a single player or with multiple players (i.e. breaking boxes with gusts of air, crafting pottery using squats). The Rhythm Mode allows the player to move along to soundtrack from the game and includes music from other Nintendo games including Super Mario Odyssey, The Legend of Zelda: Breath of the Wild, Splatoon 2, and Wii Fit. Players who prefer quieter exercises to avoid disturbing others can enable quiet mode, where exercises like running in place can be replaced with squats.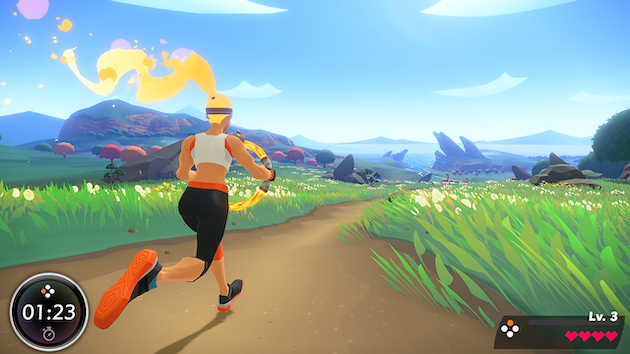 Tween Review of Ring Fit Adventure
Dive into a new exercise adventure with Ring Fit aAdventure. In this game, you use the Ring-Con to complete various exercises while making your way through the game.
An evil creature named Dragaux is trying to take over the world with his dark influence, while you and your trusty pal Ring are there to save the day. You use exercise to do things like complete battles against bosses or minions or you exercise for things like moving in the game.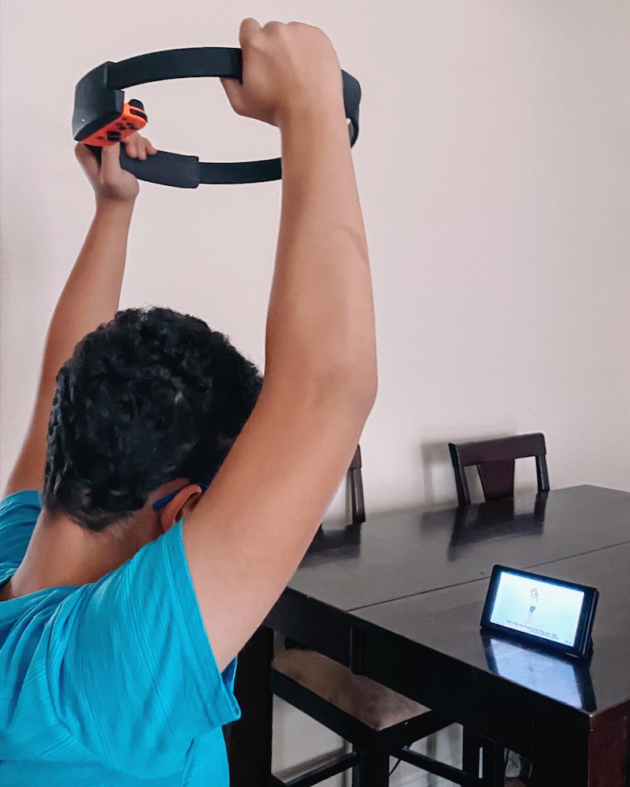 The most difficult thing about this game when you first start is learning the different types of exercises. This isn't a big issue because they teach you how to do the movements.
Something I like about this game is that it can scale the difficulty level based on your height, weight, and preferred exercise intensity. I really enjoy this game and I can't think of anything to change for it. Overall, this is a really great game and I totally recommend it. This could be a good Christmas or birthday gift as well.
Ring Fit Adventure is now available for Nintendo Switch for $79.99.
Latest posts by Caryn Bailey
(see all)