No compensation was received for this post.
One of the things I want to do more of is explore off the beaten path activities in my own city.  We've only lived in Orange County for approximately 6 years and I'm constantly learning of unique, engaging activities I traditionally thought I could only experience in cosmopolitan cities like New York. Since we're total foodies, I was excited to experience Flavors of Newport Beach, a food tasting and historical tour of Balboa.
As much as I love the experience of food, this was my first tasting tour and I have to admit I am already wanting to do another.  Flavors of Newport Beach was created earlier this year by Christa Luther in partnership with Lorraine Jones, creator of Flavors of Laguna.  This unique food tasting tour fuses food, wine, and history into an engaging walking tour through Balboa Peninsula and Balboa Island.  What I personally loved about the experience was the opportunity to learn more about the area and sample authentic, local-centric eateries that I might not otherwise have ventured out to try.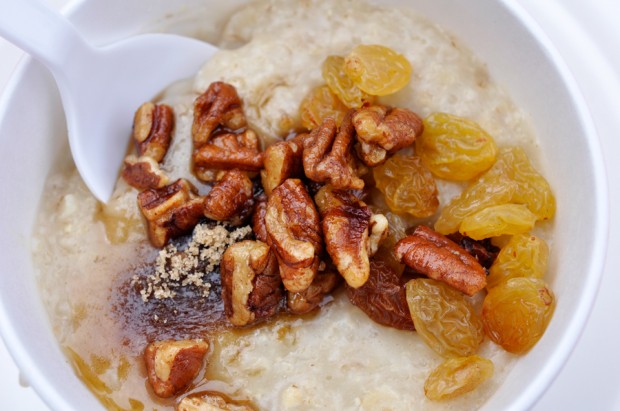 We started at the original Ruby's Diner on Balboa Pier. Originally a bait shop, it was transformed into a 50's style diner that quickly drew the attention of LA locals, who would often take the train down for a visit. While Ruby's embodies the traditional American Diner (and the fare that is associated with it), you might be surprised that it is a very popular breakfast spot. Our first tasting was a bowl of 3 Bears Oatmeal.  This creamy steel cut oatmeal is served with raisins, candied pecans, and low-fat Organic milk and was a delightfully warm start to the morning.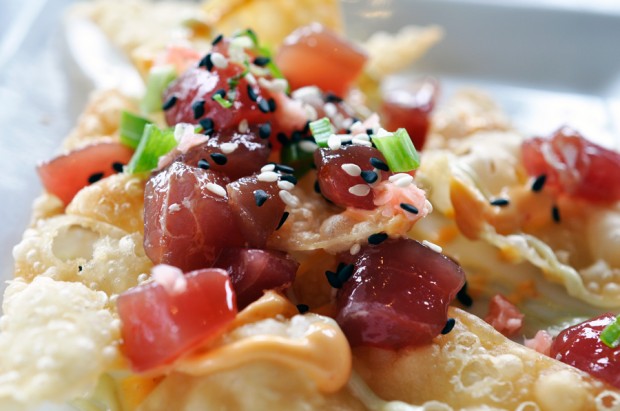 Our next stop along the tour brought us to the Harborside Restaurant inside the Balboa Pavilion.  Located inside the oldest establishment in Newport Beach, the restaurant is known for it's scenic views, award-winning menu, and the longest happy hour in town (from 12-7!).  In the spirit of Happy Hour, we sampled the venue's Ahi Nachos which feature fresh yellowfin tuna, wasabi aioli on top of crispy wonton chips. With just a mild kick, these Nachos were an upscale take on the traditional dish with an Asian flare. I'm not usually a fan of raw fish but the Ahi used was fresh and mild in flavor.
Once we'd walked along the peninsula, taking in the sites, the local shops, and a bit of Newport Beach history, we boarded the Balboa Island Ferry where are tasting tour continued.  Once we reached the island, we walked along the bay front, admiring the quaint, eclectic, historic houses, many of which housed their own unique story.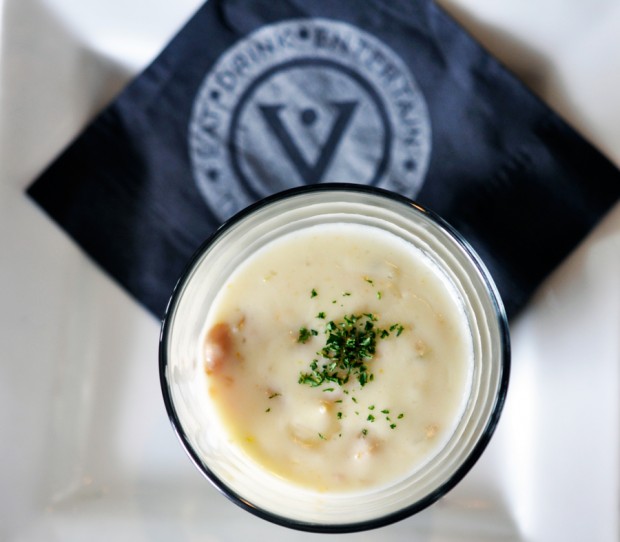 After the refreshing walk, we ended up at The Village Inn, a restaurant with origins in the 1930s.  As the only venue on the island with a liquor license, locals often frequent the establishment for casual dining and evening entertainment. The restaurant has since rebranded, but the owner still keeps one special dish on the menu…the clam chowder which is the sole remaining original menu item. Their traditional New England style clam chowder is rich and creamy without being overly seasoned or "fishy." I honestly could have been content eating that warm, delicious soup as my main dish!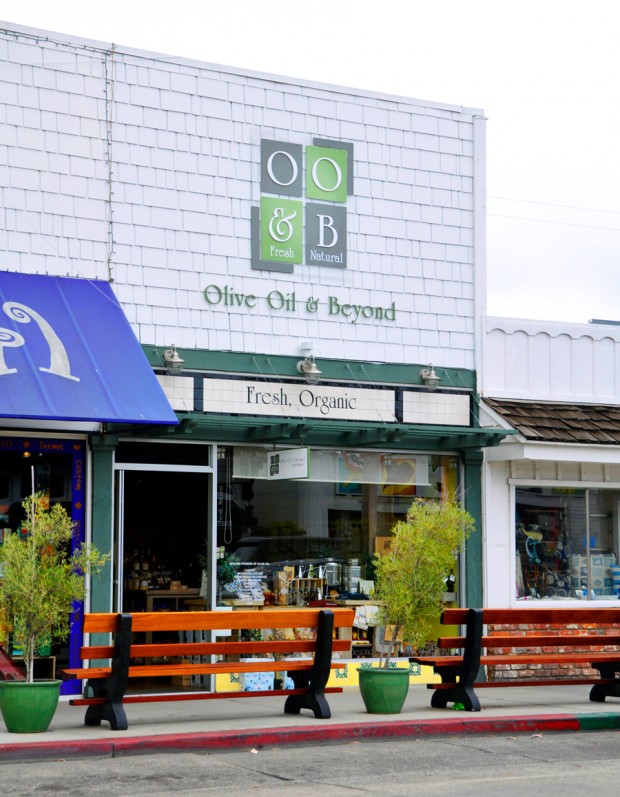 Perhaps one of the most unique and unexpected experiences on this tour was an olive oil tasting at Olive Oil & Beyond. I equate the experience to wine tasting, except more filling! I learned a ton about the various types of olive oil, including its potential healing properties. The shop carries a wide variety of specialty oils, infused olive oils, specialty aged flavored balsamic vinegars and artisan pastas. We couldn't wait to get home to try our newly purchased Dark Chocolate Balsamic Vinegar!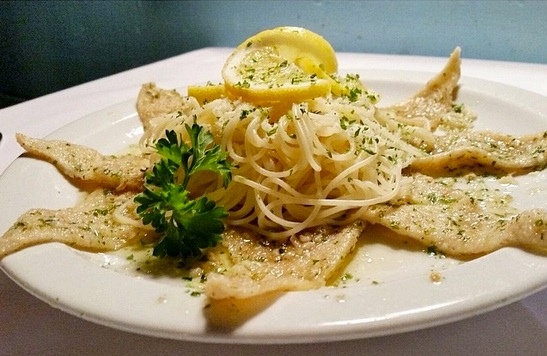 At this point, I was starting to feel full…until they brought out Amelia's Calamari!  Unlike traditional fried calamari, Amelia's sautés their triangles in lemon, garlic, olive oil and butter and pairs it with a simple spaghetti for a delectable appetizer.  As one of Orange County's oldest family-owned restaurants, Amelia's on Balboa Island serves traditional Italian Fare and Fresh Seafood in a cozy venue.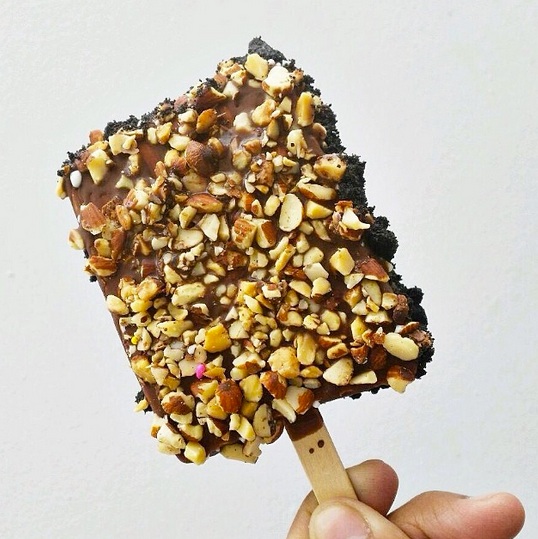 As we strolled back through town, we finally concluded our leisurely, immersive, historic walking tour at Dad's Donut & Bakery Shop. Known for their hand-dipped Balboa Bars, this was the most incredibly decadent frozen treat I've had to date!  You can choose from a variety of toppings but I opted for crumbled cookies and pecans!
Concluding the tour was bittersweet.  We made several new foodie friends (some of whom were traveling out of state) and had an amazing day of food, culture, and history. Flavors of Newport Beach offers a new tour every 4 months, so I'm definitely planning on going again to see what new foodie adventures I can embark on.
Logistics:
Flavors of Newport Beach offers tours every Friday and Saturday, all of which begin on the Peninsula at Ruby's Diner.  Bottled water and small tastings of food and wine/beer are included as well as return fare on the Balboa Island Ferry.  Much of the dishes include shellfish, so be sure to make a note upon booking or call to inquire about accommodations. I recommend wearing comfortable shoes and bringing a light jacket and a camera, since June gloom has already set in and often the fog doesn't burn off until mid-afternoon. All-day parking is available adjacent to Balboa Pier for $15.00. For more FAQs, visit their website.
Night of a Thousand Dreams Sweepstakes!
Remember, you still have time to enter to win your very own VIP vacation to Newport Beach. For details, visit my Guide to a Foodies' Staycation at the Fairmont Newport Beach Hotel.
Images: Rockin' Mama