If you are a Cheetos fan you do not want to miss these Flamin' Hot Cheetos Recipes! Created in partnership with Chef Roy Choi, these recipes go outside of the box and include everything from burritos and meatballs to churros and a shake.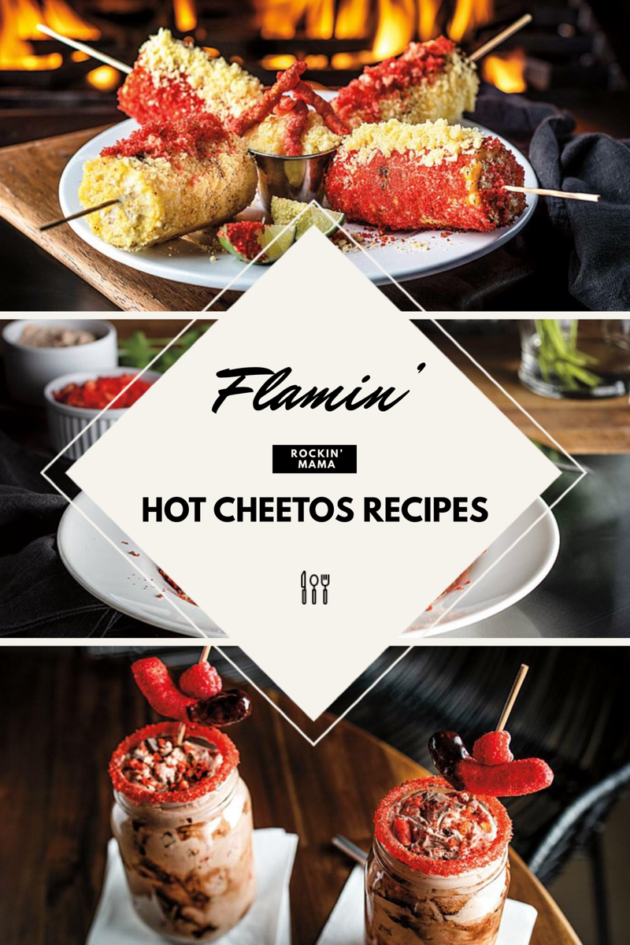 Chef Roy Choi
After graduating from the Culinary Institute of America, Choi worked at Le Bernardin in New York. In 2008, he opened Kogi BBQ in LA, which became known as America's First Viral Restaurant by Newsweek. His restaurant LocoL was named L.A. Times Restaurant of the Year. At present, he oversees a number of restaurants in LA and will open Best Friend at Park MGM in Vegas.
Most recently, he oversaw Cheetos' second pop-up restaurant in LA called The Flamin' Hot Spot. Inspired by his love of Cheetos Flamin' Hot, he created a menu inspired by the flaming hot snack. Every dish reflects the theme of flamin' and hot, and now you can make these recipes at home! All of the recipes are available here and the ingredients can be purchased online at Amazon Fresh.
Flamin' Hot Cheetos Recipes
AP-PAW-TIZERS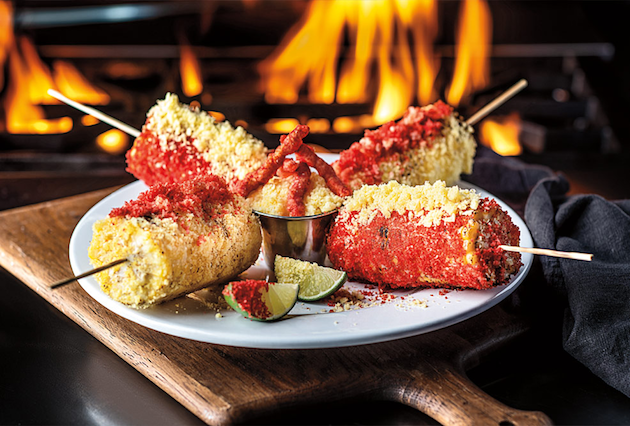 Flamin' Hot Elotes (V): Classic street corn is buttered and covered with white cheddar and Flamin' Hot Puffs.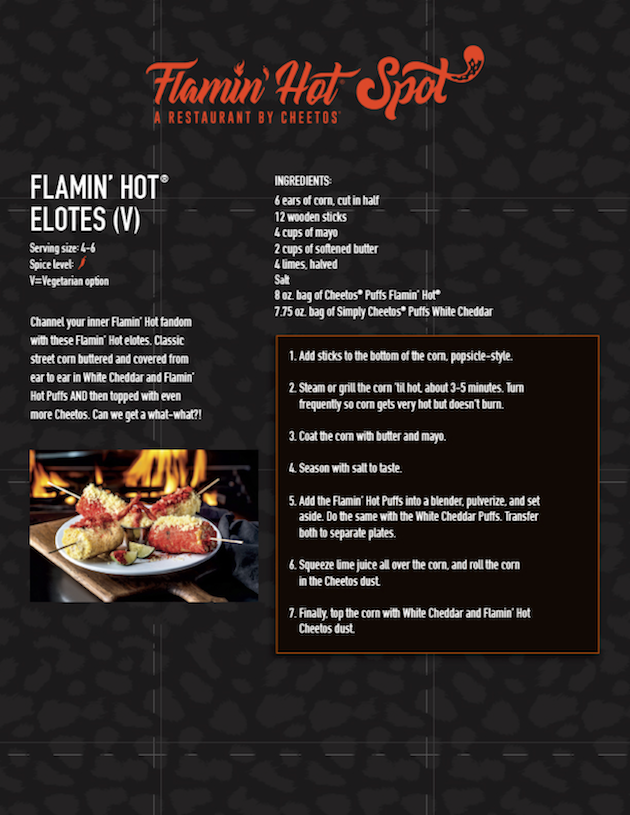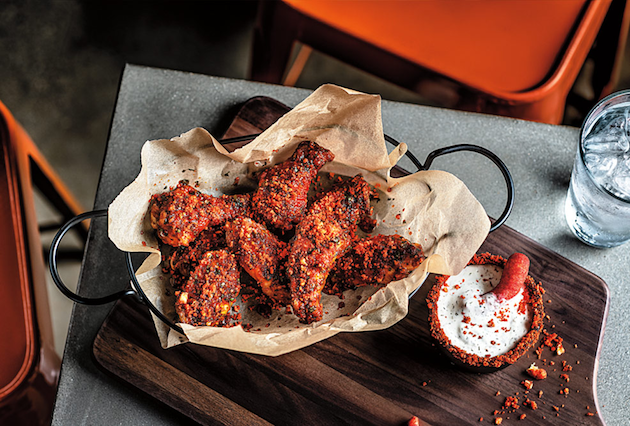 Flamin' Hot Chipotle Ranch Wings: Wings are covered in chili sauce then covered in Flamin' Hot Chipotle Ranch Cheetos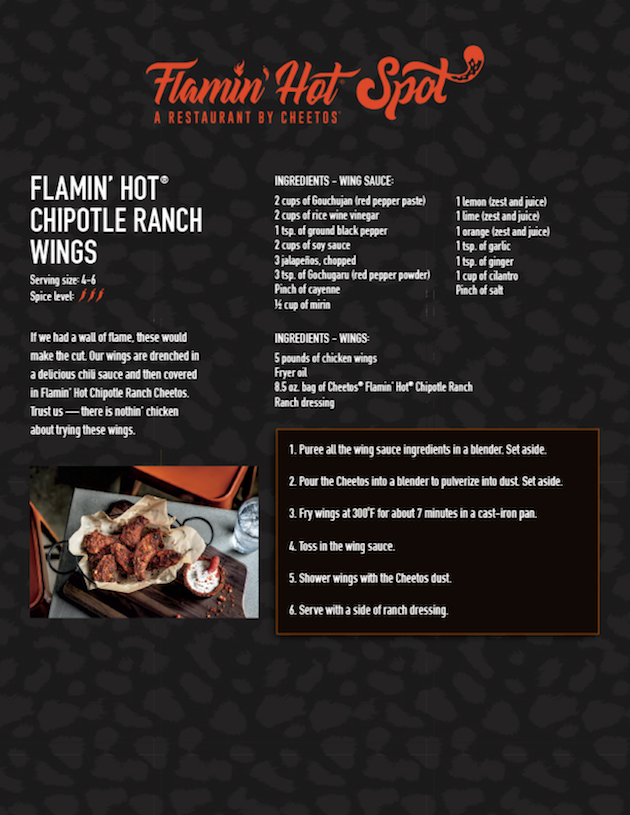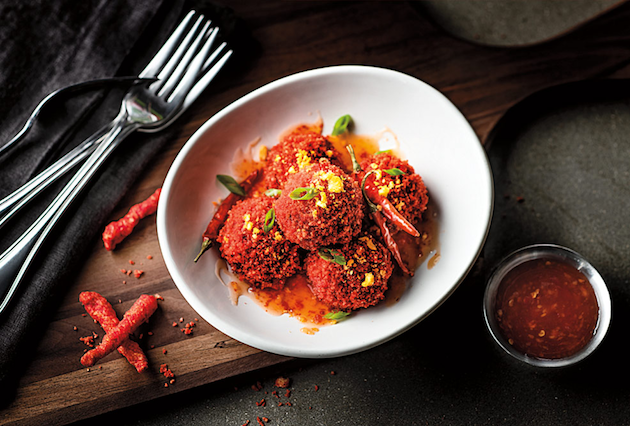 Cheetos Sweet n' Spicy Chili Meatballs: Xxtra Flamin' Hot Cheetos, beef, and pork meatballs are served in a sweet and spicy chili sauce.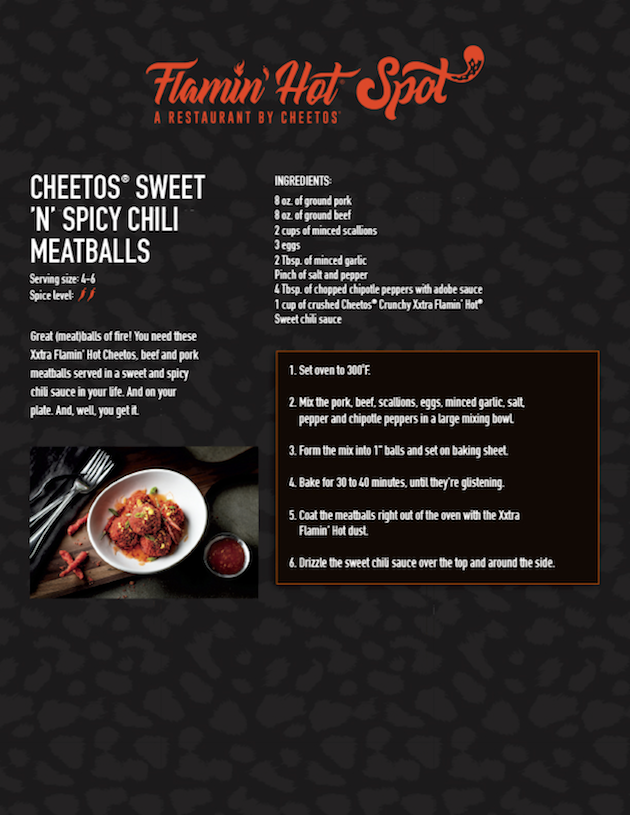 FLAMIN' EATS: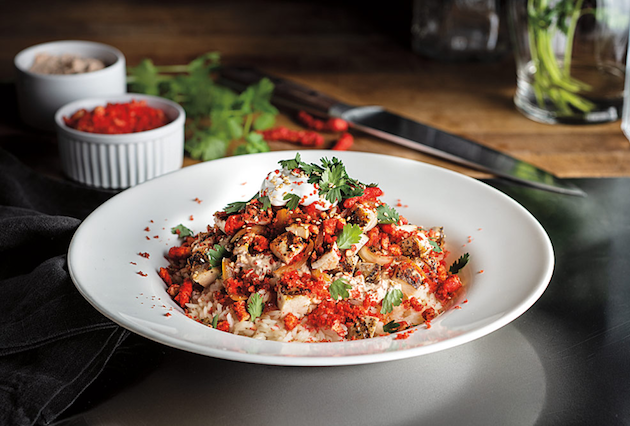 XXTRA Flamin' Hot Rice Bowl (V): This bowl can be made with grilled chicken or broccoli (vegetarian) and includes layers of rice, Xxtra Flamin' Hot Cheetos, chili sour cream sauce, cilantro, and toasted sesame seeds.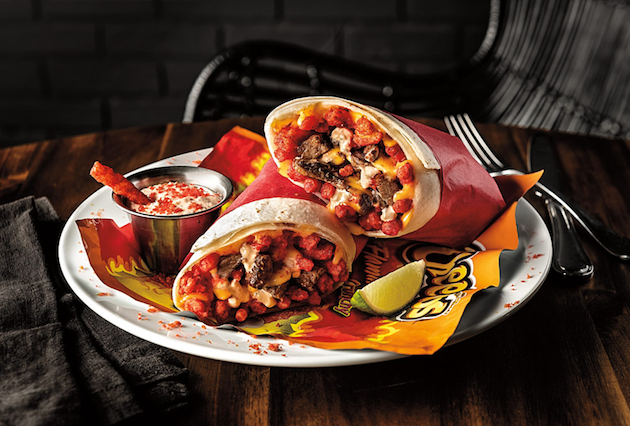 Hot Cheetos Burrito (V): This extra spicy burrito is stuffed with Flamin' Hot Cheetos, short rib or avocado (vegetarian), cheese, and chili sour cream.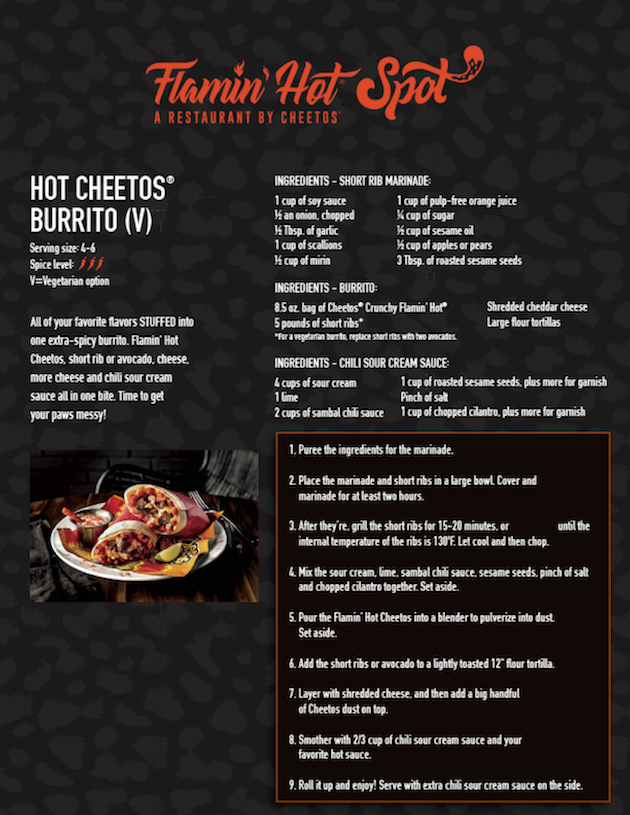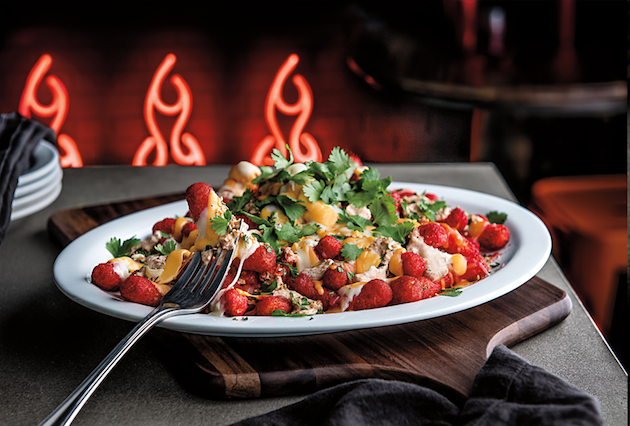 Flamin' Hot Fries (V): These "fries" are actually Cheesy or Flamin' Hot Puffs covered in melted cheese and a chili sour cream, then topped with cilantro and sesame seeds.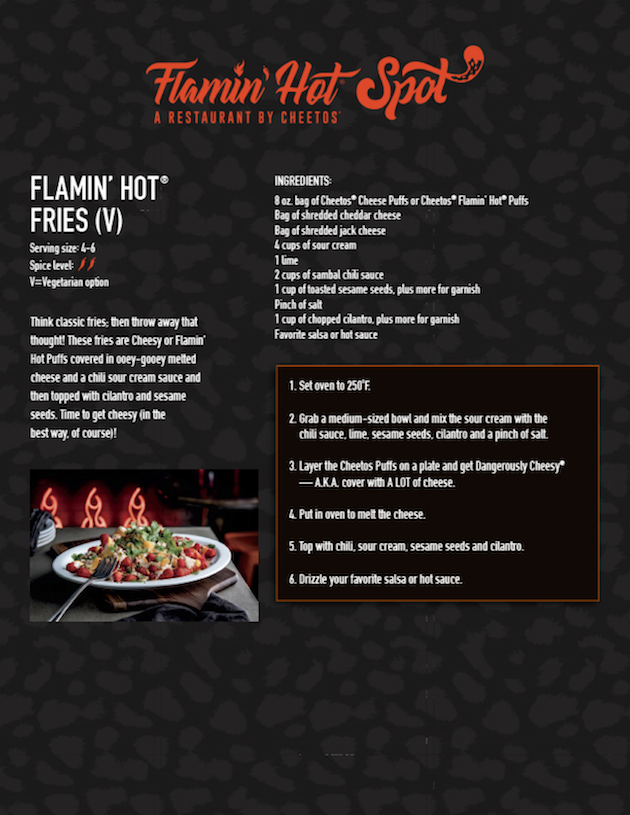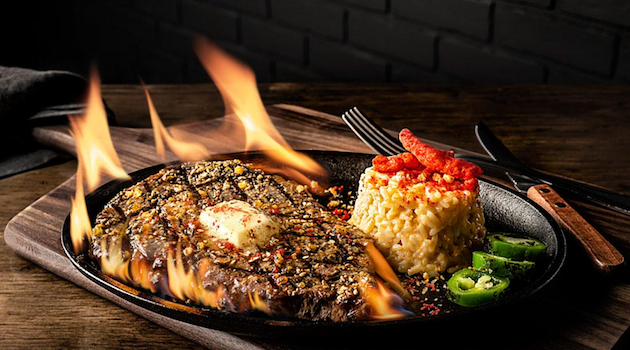 Five-Alarm Cheetos Steak: This 8-ounce rib eye steak is seasoned with Cheddar Jalapeño Cheetos and a side of cheesy rice.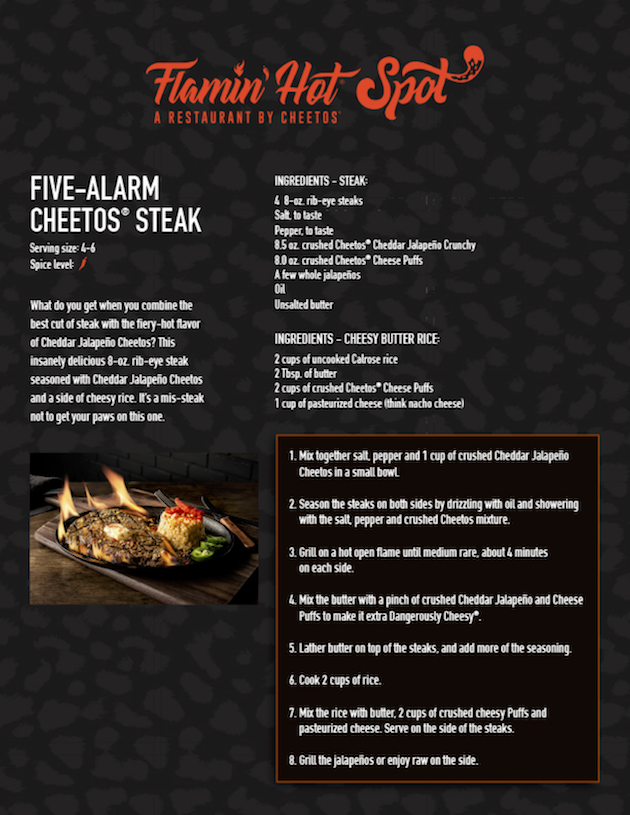 SWEET TREATS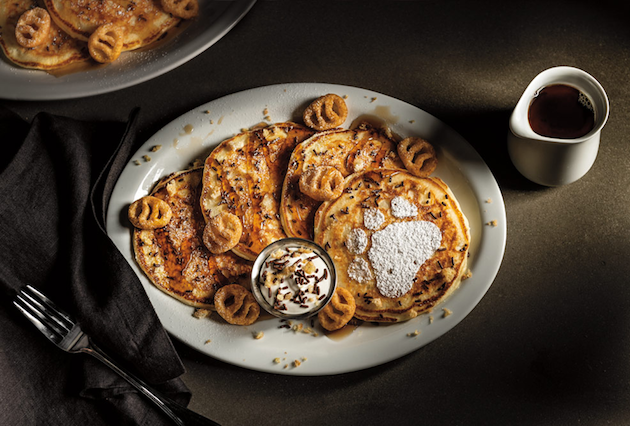 Cheetos Sweetos Hot Cake (V): Caramel Sweetos Pancakes are topped with crumbled Caramel Sweetos, sweet whipped cream, and chocolate sprinkles.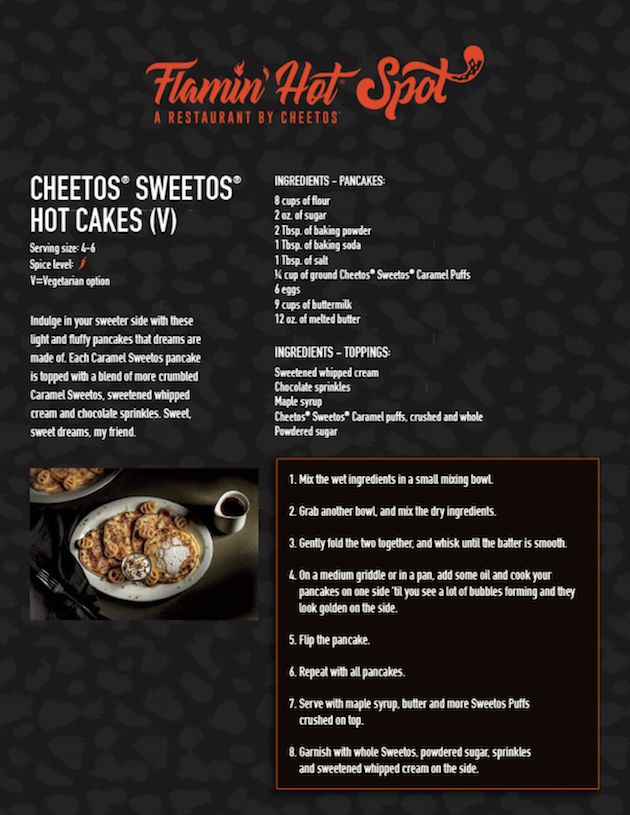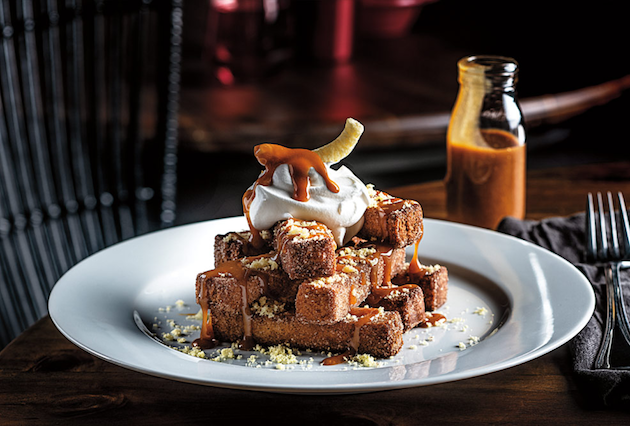 Chester's Cheetos Churros (V): Fried pound cake churros are tossed in sugar and Simply White Cheddar Cheetos Puffs, then served with sweet whipped cream and caramel sauce.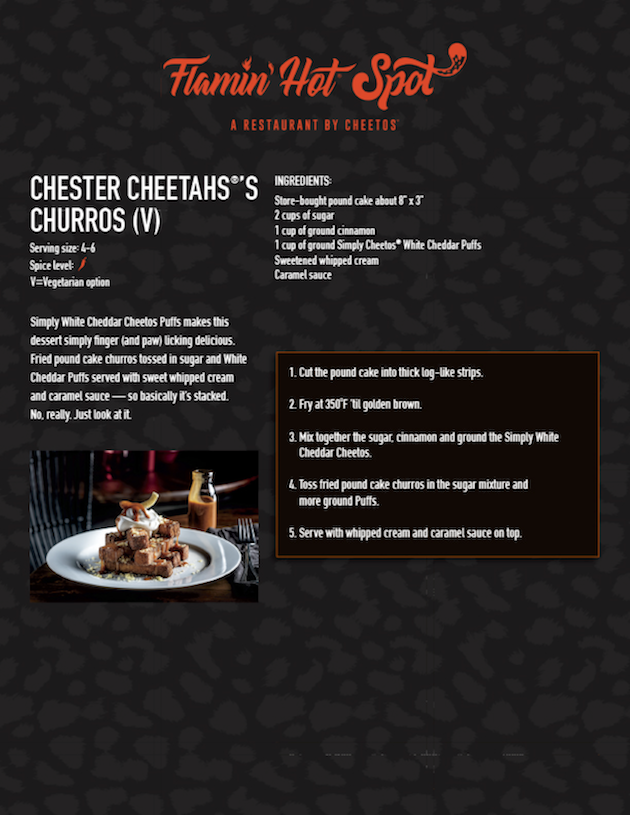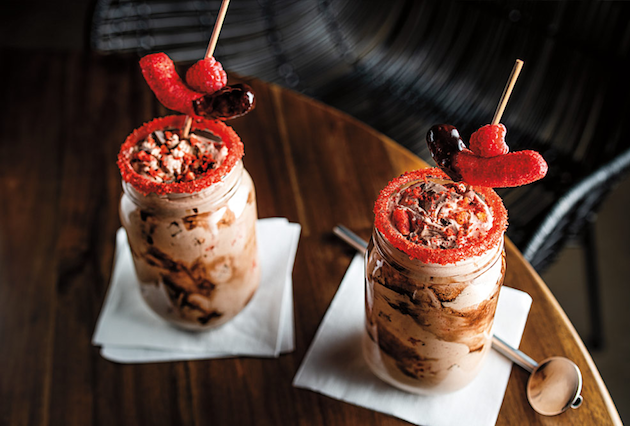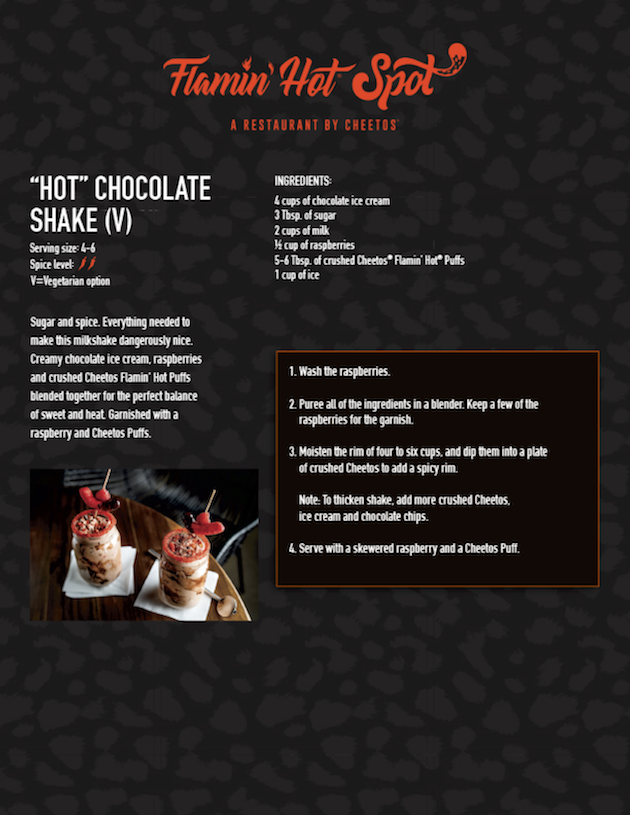 "Hot" Chocolate Shake (V): Chocolate ice cream, raspberries, and crushed Cheetos Flamin' Hot Puffs are blended together, then topped with a raspberry and Cheetos Puffs.
Which Flamin' Hot Cheetos Recipe is your favorite?