Two seconds into the park, and my daughter already has her hands inside SeaWorld San Diego's touch pools. It's Christmas at SeaWorld, and I have cinnamon rolls to eat (theirs are one of the best!), but my agenda can wait. My kids' love and wonder for sea life mirrors my own. Living in Southern California means that our winters are warm (just ask anyone who lives on the East Coast right now!) and sun-filled. We got an early start to our Christmas celebrations with a visit to SeaWorld San Diego over the weekend. With a brand new whimsical ice show, a Sesame Street Christmas Village, and a Cirque-inspired take on the classic Nutcracker, SeaWorld Christmas Celebration is not to be missed! Check out our complete Family Guide to Christmas at SeaWorld.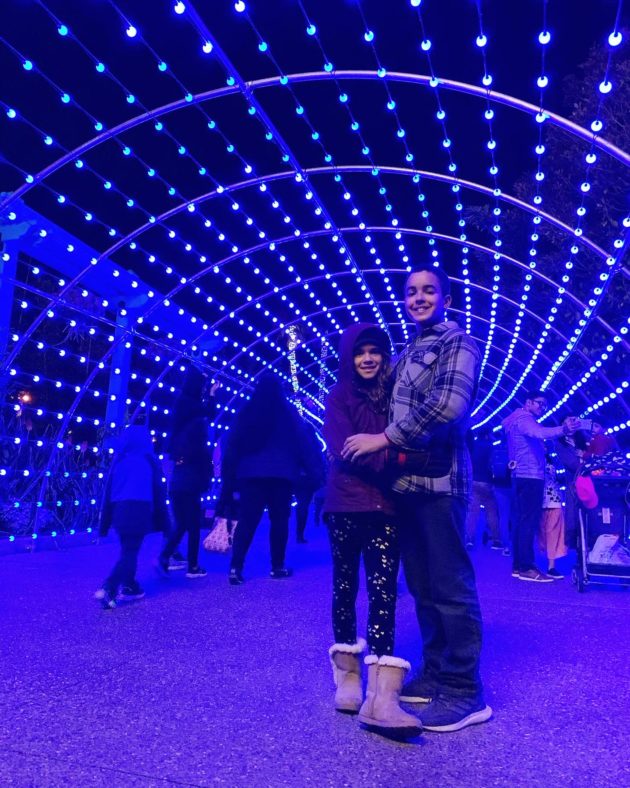 Consideration provided by SeaWorld San Diego.
SeaWorld San Diego
My father loved the ocean and aquatic life. We had an enormous fish tank for many years that he filled with a variety of sea life. The Discovery Channel was regularly watched in our home, and as a young girl, he took me to SeaWorld during our school breaks.
SeaWorld is one of the most well-known marine parks in the world with a commitment as a leader to marine animal care and welfare, education, conservation, research, and rescue. While the park has undergone much transformation since I was a child, their commitment to creating meaningful family experiences is unwavering. Go behind the scenes, and you will see how passionate the staff is about caring for animals, raising awareness about their efforts, and inspiring families to help protect these incredible beings.
If you have never gone behind-the-scenes at SeaWorld, I highly recommend this engaging experience.
Family Guide to SeaWorld's Christmas Celebration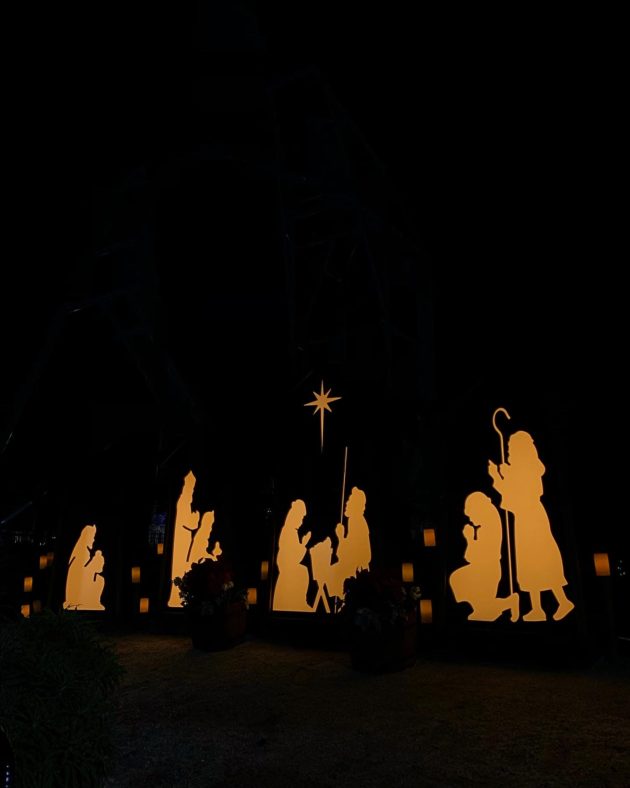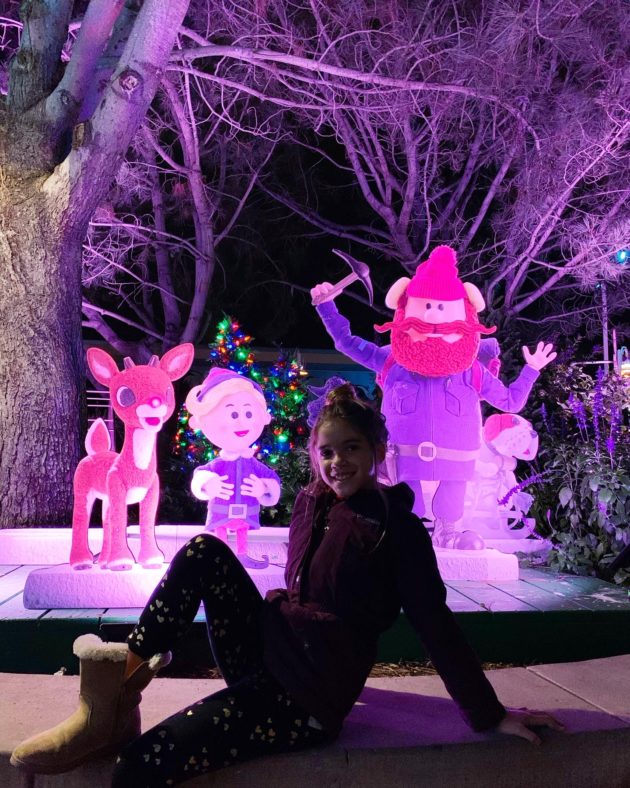 My kids have grown up at SeaWorld, and yet visiting over the weekend felt like an entirely new experience. Ironically, the park can feel as familiar as home while simultaneously evoking that warm feeling of wonder. There are several new experiences you do not want to miss this season at SeaWorld, so I'll share my best tips for visiting the park during the holidays
Sesame Street Christmas Village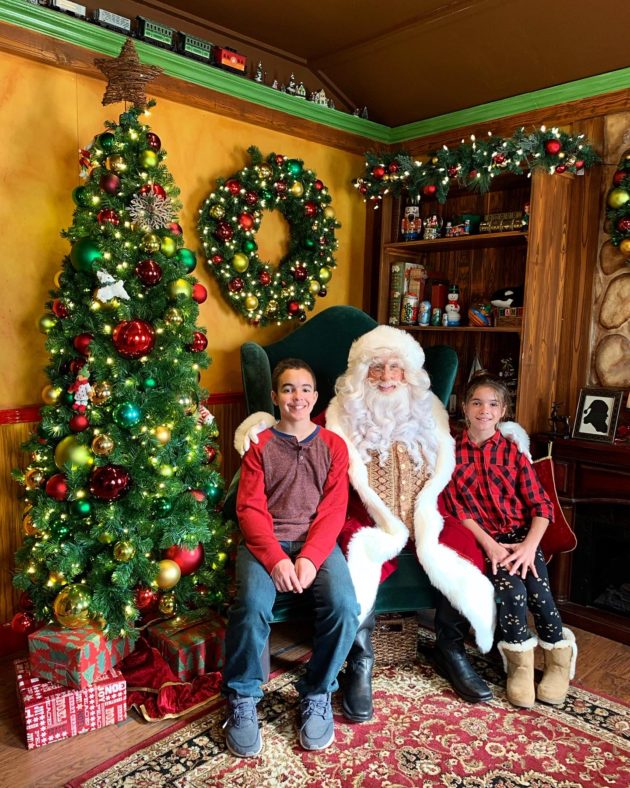 As we walked into the village over the weekend, my kids stopped me mid-cinnamon roll (more on that below!). Mrs. Claus and Cookie Monster were front and center for a Holiday Storytime. But this is no ordinary storytime, and when your tween is cracking up at Cookie Monster's storytime interjections, you see how these characters transcend generations.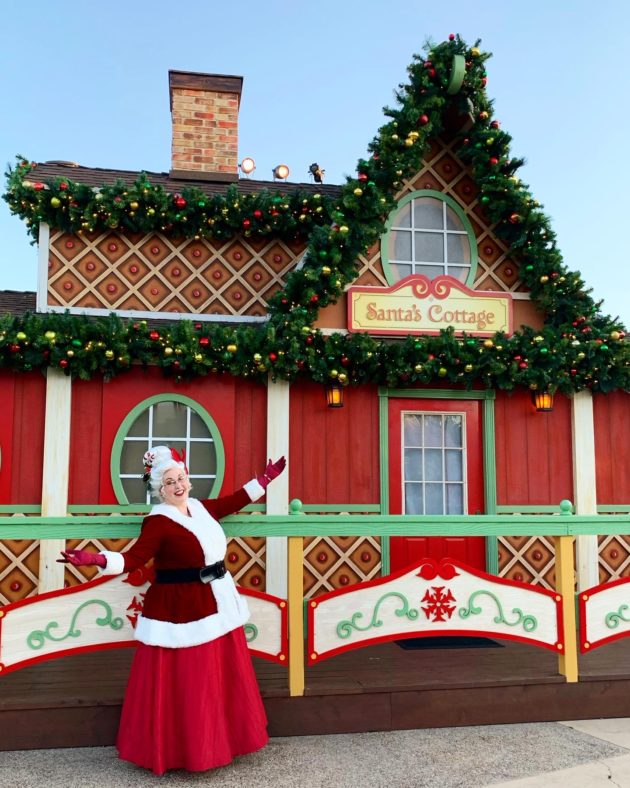 Along with offering a Merry, Magical Christmas Sing-a-Long, Story Time with Mrs. Claus, and Rock Around the Christmas Tree, this is where families can take a photo with Santa Claus. TIP: Visit Santa's Priority Access Check-In to hold your place in line while you enjoy the park's shows and attractions. When Santa is ready to meet your family, you will receive a text message to notify you.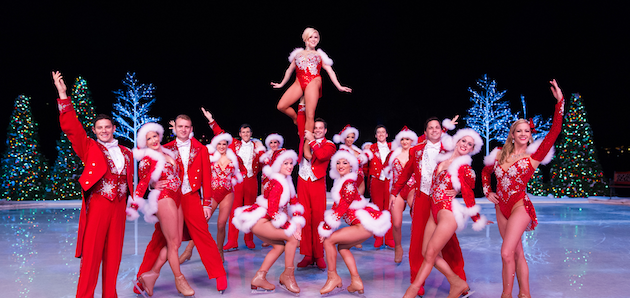 Winter Wonderland on Ice
Winter Wonderland on Ice is a beautiful, nostalgic ice skating show featuring original Christmas songs. We ended our day at SeaWorld with this show, which really set the tone for our upcoming family celebration. The costumes are stunning and the skaters perform with precision and grace. TIP: Consider purchasing reserved seating as the first show of the night was completely full.

Cirque Christmas
This acrobatic take on the classic Nutcracker is absolutely brilliant. I am an avid Cirque fan and see every show that comes to Southern California, and this one did not disappoint. The show features acrobats from the San Diego Circus Center and NexGen of Cirque Du Soleil and tells the classic story with a Cirque twist. Be amazed by the amazing acts of feat performed on the Teeter Board, Lyra, and Russian Bar by the Sugar Plum Fairy, the soldiers, and the Nutcracker. TIP: I highly recommend purchasing reserved seating. This show is performed inside the Mission Bay Theater and each show was filled to capacity.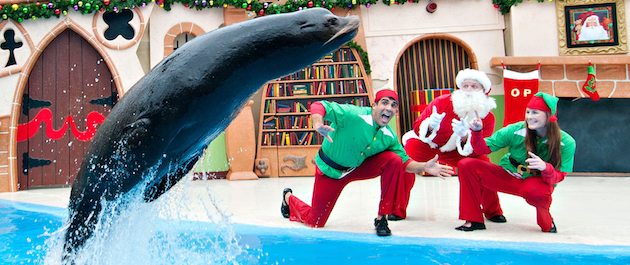 Clyde and Seamore's Christmas Special
Do not miss this show! Filled with humor and heart, the show stars Clyde & Seamore as the host a nighttime TV Christmas Special. With two sea lions and a mischievous otter, what could go wrong? The show performs twice nightly at SeaWorld during the holidays. TIP: Arrive early for hilarious pre-show entertainment.

Dolphin Island Christmas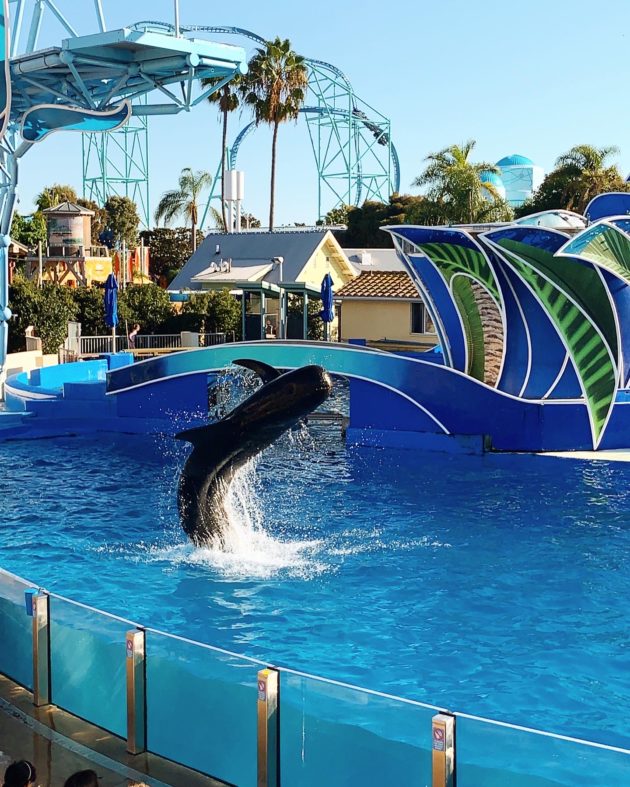 This island-style celebration celebrates the beauty and sheer skill and capabilities of SeaWorld's dolphins and pilot whales. Right now, SeaWorld is celebrating the arrival of two babies so you may be in for a special holiday treat! TIP: Arrive early for an island-style Christmas sing-a-long.
Rudolph's Christmastown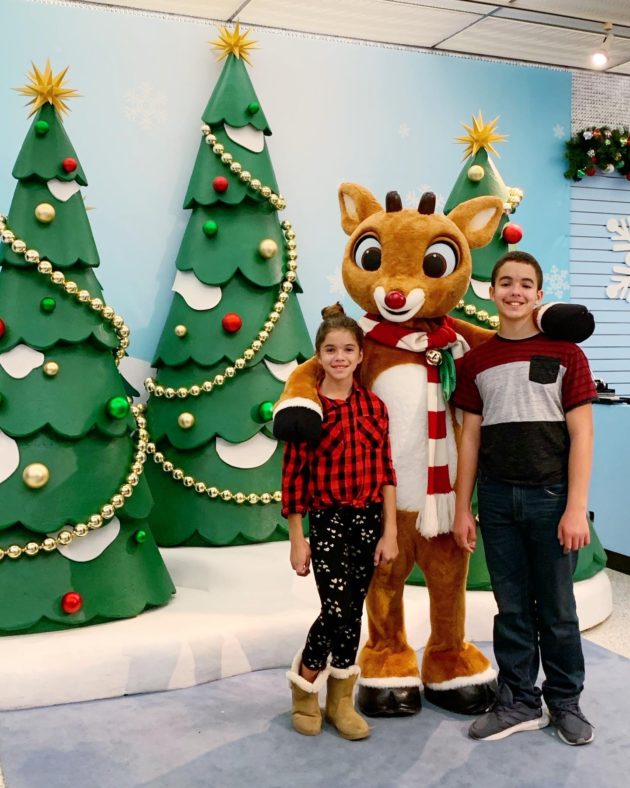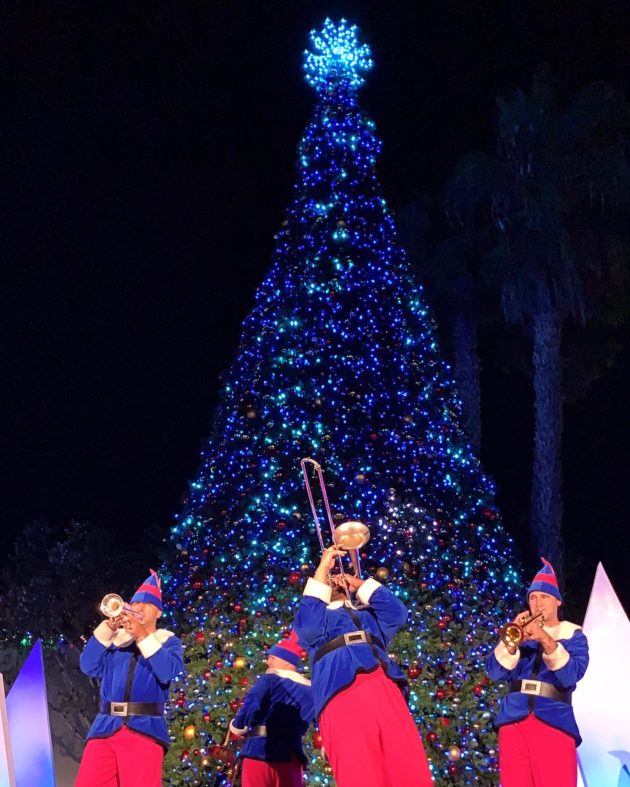 Rudolph's Christmastown returns this year and features your favorite characters from the traditional story. Each night, Rudolph and his friends help light the 40-foot Christmas tree at 5 p.m. You can also take photos with Rudolph and his friends, try your luck at one of the themed games, and enjoy a holiday crepe!
Merry Manta
Manta is hands-down my kids' favorite ride! Through the holiday season, Merry Manta is SeaWorld's holiday twist on this thrilling coaster.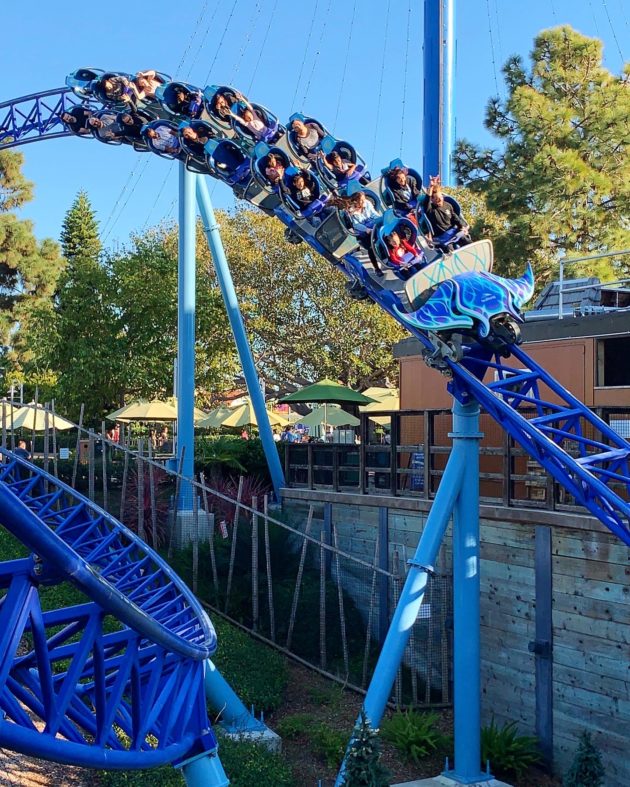 Orca Encounter Christmas Prelude
If you plan to visit SeaWorld San Diego anytime between December 26th and December 29th, do not miss this brand new experience. Grab a warm drink and join the vocalist and brass band for a sing-a-long to your favorite holiday carols. This takes place 20 minutes prior to the last Orca Encounter.
Holiday Eats and Treats at SeaWorld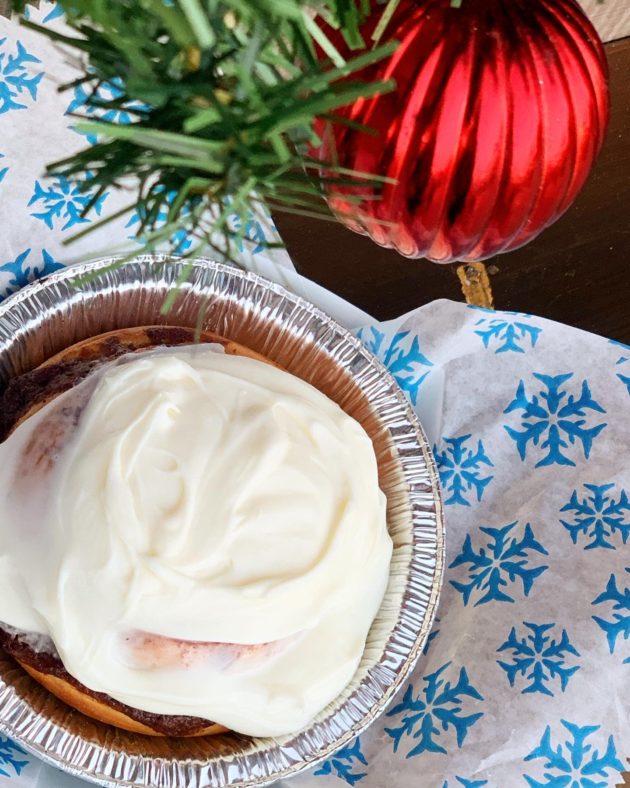 Remember those cinnamon rolls I mentioned earlier? You can grab one (or 3) at the pop-up inside Sesame Street Christmas Village. The are served warm with lots of icing, just like I like my cinnamon rolls! Additional holiday eats throughout the park include Holiday Mac & Cheese, Holiday Crepes, Decorated Apples, Hot Apple Cider, Mini Donuts, and Gourmet Cupcakes.
Holiday Upgraded Experiences at SeaWorld
We visited during opening weekend, so the park was buzzing with visitors. My best tip is to arrive early (approximately 30 minutes before opening), download the SeaWorld San Diego app, and devise a plan for the day. There are so many Christmas experiences that you will want to visit again during the season. If there are shows/experiences you absolutely do not want to miss, you might consider one of the following upgrades.
Reserved Seating
For $5 per show, you can enjoy one-time reserved seating for Cirque Christmas and Winter Wonderland on Ice.
Santa Priority Access + Photo Bundle
The line for Santa was already 1 1/2 hours by the time we arrived at Sesame Street Christmas Village. Skip the line and get a photo package which includes a 5 minute meet and greet with Santa Claus, (1) 6×8 Photo, (1) Souvenir Frame, (1) Photo Ornament, (2) Photo Magnets, (2) Photo Keychains, (1) Digital Copy and (1) Free Small Reusable Bag for $65.
Dine With Orcas and Santa
My kids always ask if we are going to dine with the orcas when we visit SeaWorld. Apparently that has become the norm! During the holidays, SeaWorld offers a special experience which includes a chef crafted meal on a private poolside patio next to the Orca Whales and a special visit from Santa! The experience takes place select dates in December and must be reserved in advance. If space is available on the day you visit, you can book the experience at the ticket booth or at Guest Services inside the park.
SeaWorld Ticket Discounts
Visit SeaWorld.com for their latest promotions and discounts. Right now, they are running a Black Friday deal (through December 2, 2019) where you can buy one ticket, and get one free.
Christmas at SeaWorld is the perfect fusion of your favorite holiday experiences and the aquatic life. Experiences, unless otherwise noted, are included with park admission. Visit SeaWorld through January 5, 2020 to enjoy SeaWorld's Christmas Celebration.