My husband always teases me about the fact that I bake a TON during the Fall and Winter seasons but never actually eat what I create. As opposed to cooking which can be stressful and time-consuming, baking is cathartic and relaxing for me.  I love the ability to get creative and bake dishes that typically delight the palates of my friends and family.
During this time of year, pumpkins abound. Everything from desserts and coffees to soups and main dishes are infused with pumpkin. I actually got a little giddy last week when my local coffee shop still had a few slices of their divine pumpkin chocolate bread still available.  The day before they had run out, which got me thinking about how I could duplicate that bread at home.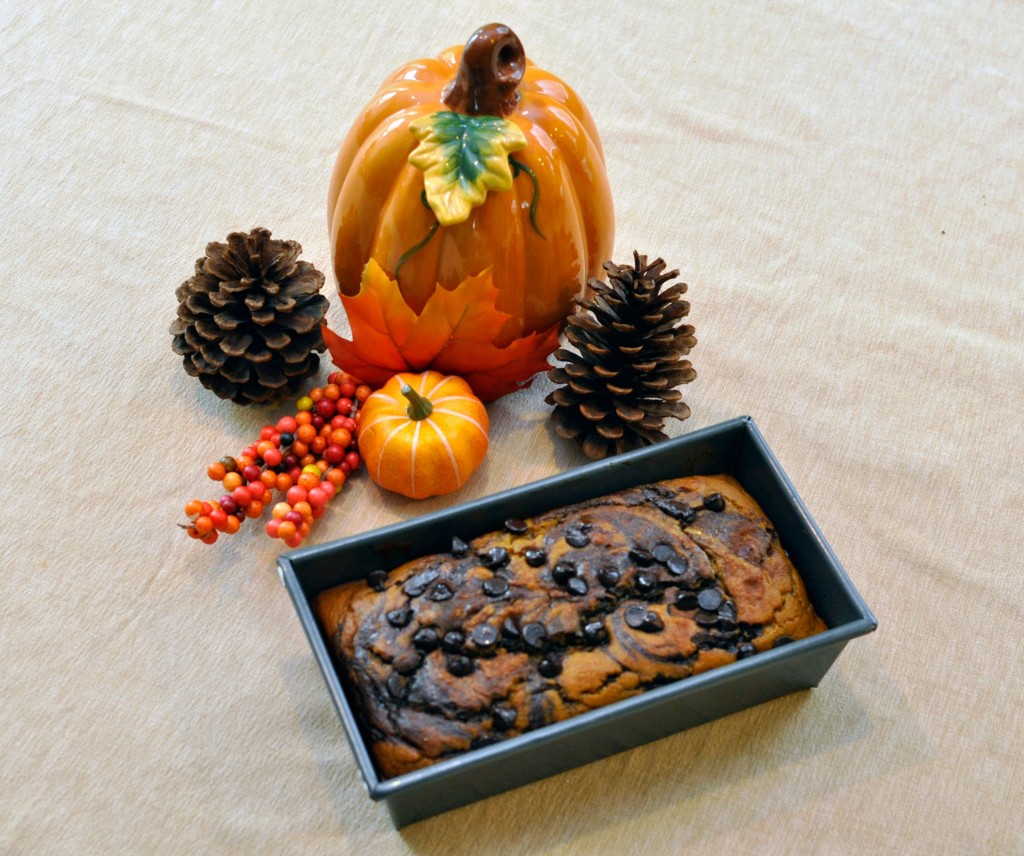 Whenever I create a recipe, I research to ensure the ingredients and measurements work together to create the perfect dish.  Inspired by Mazola's Pumpkin Nut Bread, I decided to change it up by adding chocolate to the mix! Here is my recipe for Pumpkin Chocolate Bread:

Fall Recipe: Pumpkin Chocolate Bread
Ingredients
2

cups

white whole wheat flour

2-1/2

teaspoons

Baking Powder

1/2

teaspoon

baking soda

1/2

teaspoon

salt

1

teaspoon

Cinnamon

1/4

teaspoon

Ground Ginger

1/4

teaspoon

Ground Nutmeg

1/8

teaspoon

Ground Cloves

2

large eggs

1 15

ounces

can of pumpkin

3/4

cup

brown sugar

1/2

cup

milk

2

tablespoons

Mazola Oil

1

teaspoon

Vanilla Extract

1

cup

semi-sweet chocolate chips

melted in a double boiler
Instructions
Combine flour, baking powder, baking soda, salt, and spices in a medium bowl and set aside

Whisk eggs until light and fluffy

Add pumpkin, brown sugar, milk, oil, and vanilla

Add flour mixture to the pumpkin mixture to combine, but do not overmix

Separate the batter into 2 bowls

Add melted chocolate to one of the bowls and combine

Spread a layer of pumpkin batter into a loaf pan prepared with cooking spray

Spread a layer of chocolate batter

Continue alternating batters but be sure to finish with the pumpkin batter

Use a knife to swirl the chocolate into the pumpkin batter but do not mix

Sprinkle with cinnamon and chocolate chips

Bake in an oven preheated to 350 degrees for 1 hour, or until a toothpick inserted into the middle of the bread comes out clean.
I brought this bread to a Dia de los Muertos celebration at Nicole's house and the people in attendance commented on how rich and moist it was. I personally love the merging of pumpkin and chocolate with a subtle hint of spice. This is an easy recipe to recreate and tastes very similar to the one I get at my local coffee shop.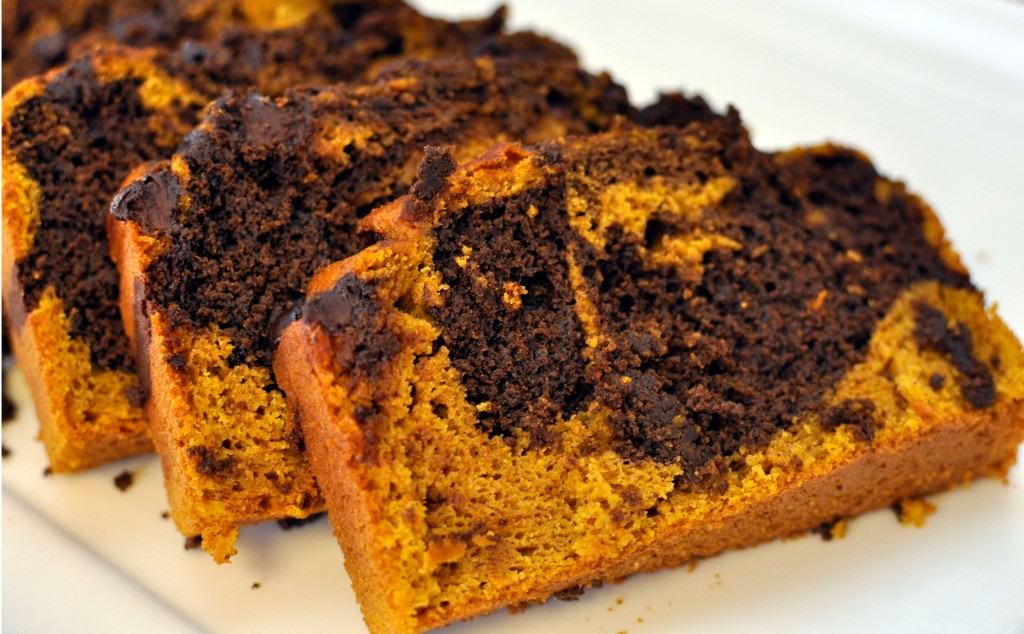 In the recipe, I used Mazola Corn Oil, which I learned helps accentuate the natural flavor in foods.  Additionally, this particular oil has four times the amount of cholesterol-lowering nutrients that olive oil has and 40 percent more than canola oil. I wasn't sure how a corn oil would taste in a bread but to be honest, it complimented the dish nicely. For recipes and special offers, just visit Mazola's Facebook page.
*Note* If you would like to make a vegan version of this recipe, simply substitute applesauce for the eggs and almond milk for the cow's milk.
 This is part of a sponsored campaign with Latina Mom Bloggers and Mazola. However, all opinions
expressed are my own.
Recipe & Images: Rockin' Mama
Latest posts by Caryn Bailey
(see all)