No compensation was received for this post. . I participated in TV interviews for the film which facilitated the crafting of this post.
Sony's delicious new sequel to Cloudy With a Chance of Meatballs is setting off a frenzy amongst families…a foodimal frenzy!  Barry, Leek, Watermelophant and the crew of foodimals that have taken over the Island of Swallow Falls have captivated the hearts of families across the country (including my own two small people!).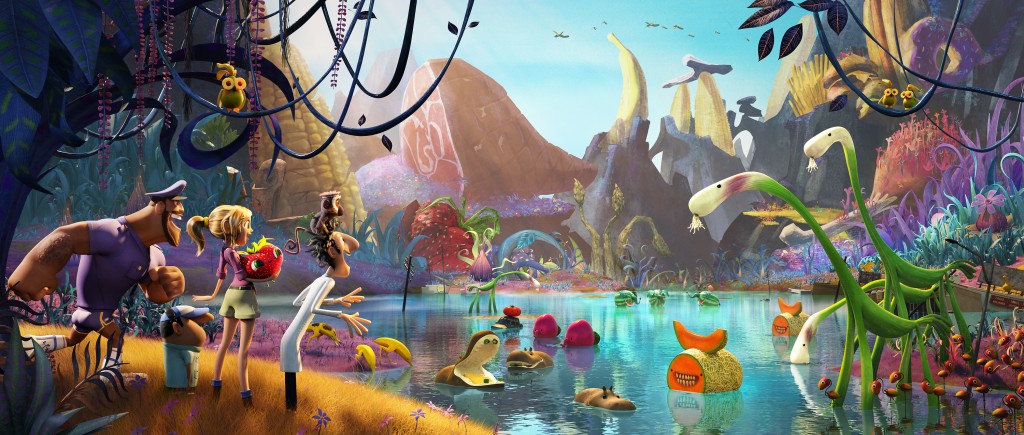 Last month, I got an early look at the film and spent a sunny afternoon chatting with the directors and some of the voice actors from the film. In the original film, aspiring inventor Flint Lockwood's infamous FLDSMDFR machine sets off an epic food storm, threatening to destroy their world.  Cloudy With a Chance of Meatballs 2 picks up 60 seconds after the first film ends along with the destruction of Flint's machine.  But if you watch closely during the original, you might notice that during one of the final scenes, sentient food is being sent to attack Flint and his friends…a hint at what's to come in the sequel.  It will be up to Flint and his friends in this next chapter to find his greatest invention and stop these foodimals from taking over their world. If you've yet to see the original, what are you waiting for? : ) Here are 5 Facts You Didn't Know About Cloudy With a Chance of Meatballs 2 to get you up to speed before you see the film!
[nggallery id=19]
Cloudy with a Chance of Meatballs 2 is as charming as the original, filled with creativity, wit, humor, and heart.  The island, now it's own ecosystem, is vibrant and immersive…the result of Flint's inventive imagination. If you've yet to see the film, here are 5 Reasons Why Your Family Will Love Cloudy With a Chance of Meatballs 2!
One of the resounding themes in the film is the value and importance of friendships.  During a recent press junket, I sat down for an exclusive interview with Andy Samberg and Terry Crews, who voice Brent and Earl respectively, to talk about how they prepared for their roles, what semblances they identified with their characters, and which foodimal they'd most like to take home with them as a pet.  In the sequel, Brent and Earl have joined Flint on his quest to find the FLDSMDFR and audiences will notice as the film progresses, that each of these characters are more fully developed.
Much like the original, Cloudy With a Chance of Meatballs 2 will delight and surprise audiences.  See it in theaters now!
Images: Sony Pictures Animation
Latest posts by Caryn Bailey
(see all)