We walked into SeaWorld San Diego last week, the park transformed into a sea of color and vibrance. The park hosts an oceanic summer nighttime event, which features dance music, lights, entertainment, and more. Electric Ocean offers families a new way to experience SeaWorld, culminating each night with a spectacular fireworks display.
Partner.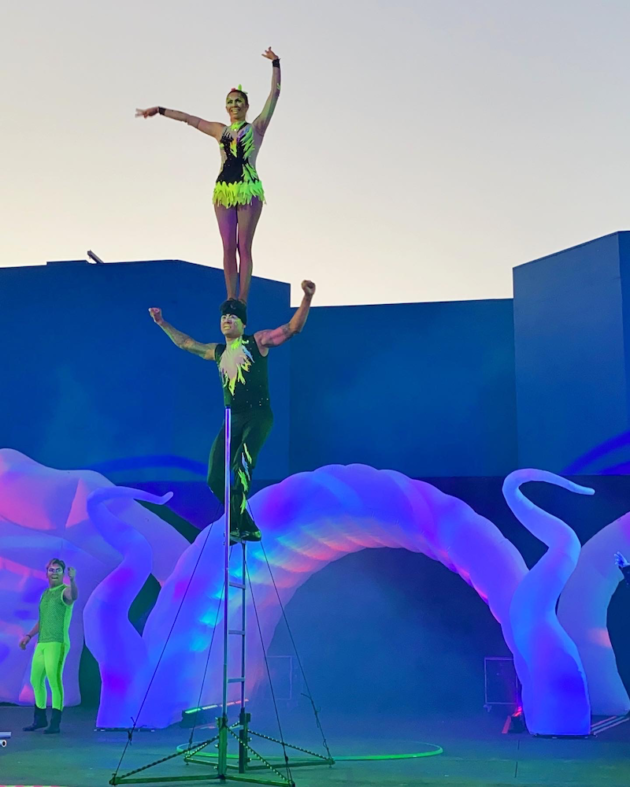 Electric Ocean at SeaWorld San Diego
Electric Ocean is SeaWorld's summer spectacular, which includes classic daytime experiences, new entertainment, and exciting new nighttime activities. SeaWorld San Diego transforms the park into a sea of glowing color, as families journey into a fascinating underwater world complete with sparkling lights, energizing dance music, and more. Electric Ocean is included with admission to SeaWorld and runs select days and nights (4 pm to 10 pm) through September 6, 2021. Here is our complete guide to Electric Ocean at SeaWorld San Diego.
Day and Nighttime Entertainment Guide
Nearly all of SeaWorld's day and nighttime entertainment is new for 2021 including Cirque Neon World, Club Sea Glow, and Ignite Fireworks. Be sure to check the park schedule online or on their mobile app for showtimes.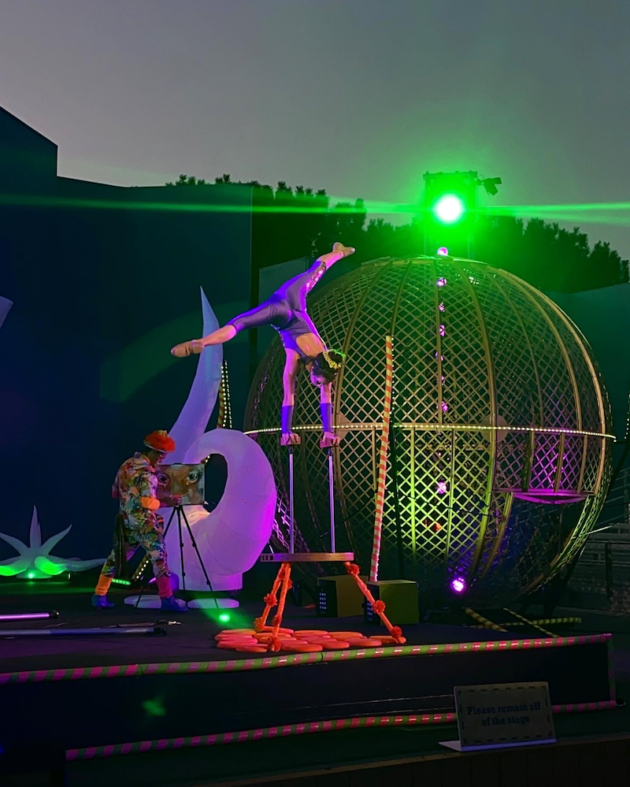 Cirque Neon World
One of the things I really missed during the pandemic was our local Cirque du Soleil performances. I absolutely love the fact that this incredible show is performing at SeaWorld, and is included with admission. Cirque Neon World fuses acrobatics, dance, and athletic stage performance to the sounds of world-beat music. The show is thrilling with heartstopping performances that kept us on the edge of our seats. With elaborate, beautifully designed sets, radiant costumes, and artistic makeup, this is a show you do not want to miss. Tip: There are two nightly showtimes at the Nautilus Amphitheater. Be sure to line up early for the best seat.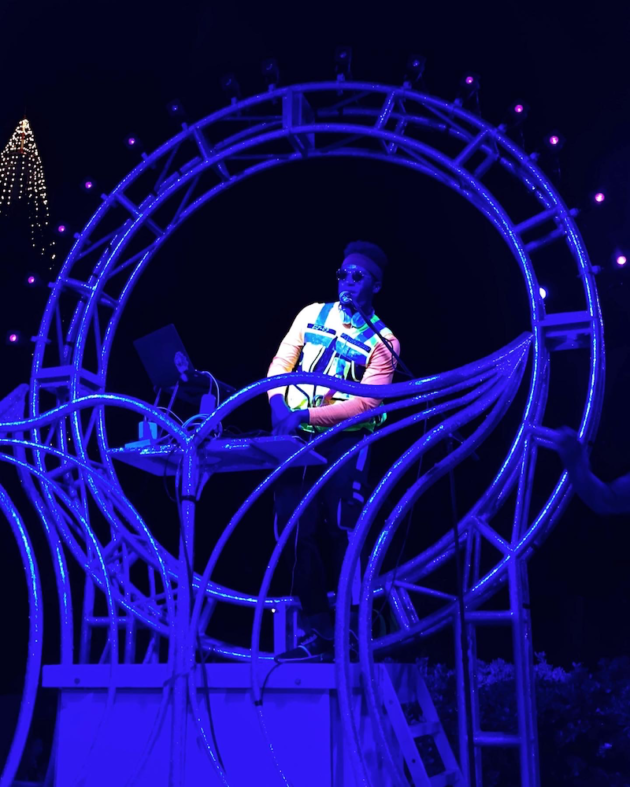 Club Sea Glow
Show off your favorite dance moves while SeaWorld San Diego's own DJ keeps you moving with high-energy music. This all-ages dance party starts at 4 pm and takes place at the Explorer's Cafe Garden Gate.
Electric Floating Acts
Be sure to keep an eye out for SeaWorld's own imaginative characters, artists, acrobats, and entertainers roaming throughout the park as they dazzle and entertain you.
Stephen Fishwick's Art Attack!
Stephen Fishwick is a world-renowned artist and entertainer who will take you take you into the world of live performance painting. This high-energy and fascinating display of art, music, and storytelling exudes creativity. Join him in a celebration of life, as he masterfully creates his vibrant work under the stars. Tip: There are two nightly performances at the Skytower Lawn.
Let's Play Together
SeaWorld San Diego introduced a new daytime show, which features your favorite Sesame Street Friends. Join Elmo, Abby, Rosita, Grover, and Cookie Monster as they dance, play, and sing while sharing their wonderful experiences about friendship. Tip: Performs at the Mission Bay Theater.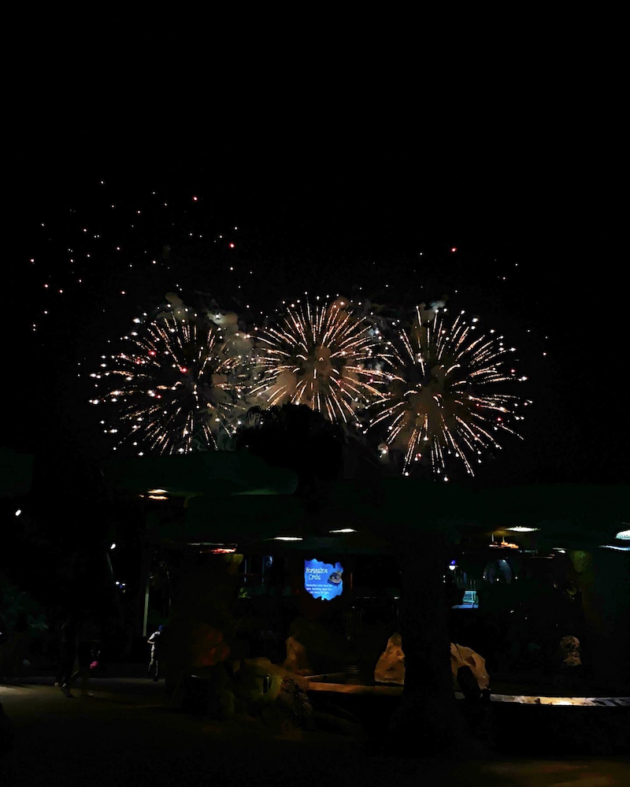 Ignite Fireworks
Ignite is the best fireworks display I've seen to date! The nighttime spectacular brings the skies above the park to life with the ocean's brilliant colors. The display is massive and can be seen from the entire 100+ acre park. Tip: We loved seeing this show towards the front of the park. Immediately after the show, enjoy the Laser Reef Light Show.
Live Music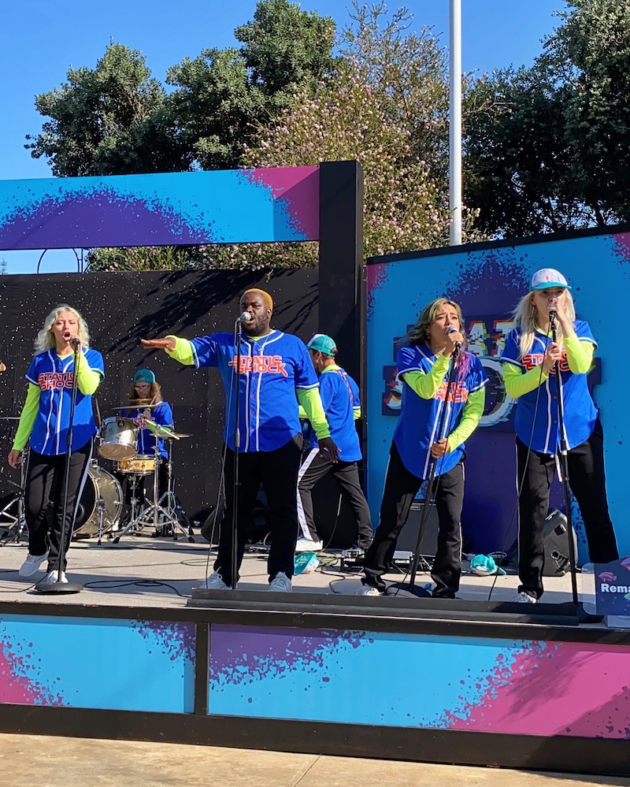 Static Shock Rock Show
Grab a drink or a snack and sit down to watch the band perform popular covers from pop, rock, Latin and R&B hits through the decades. The band is captivating with their high-energy performance and captivating vocals. Tip: Performs at the Skytower Lawn.
High Voltage Brass Band
High Voltage Brass Band immerses you in music and motion including techno-pop, rock, and jazz. The band performs in the style of Stomp and Blast and performs at the Skytower Lawn.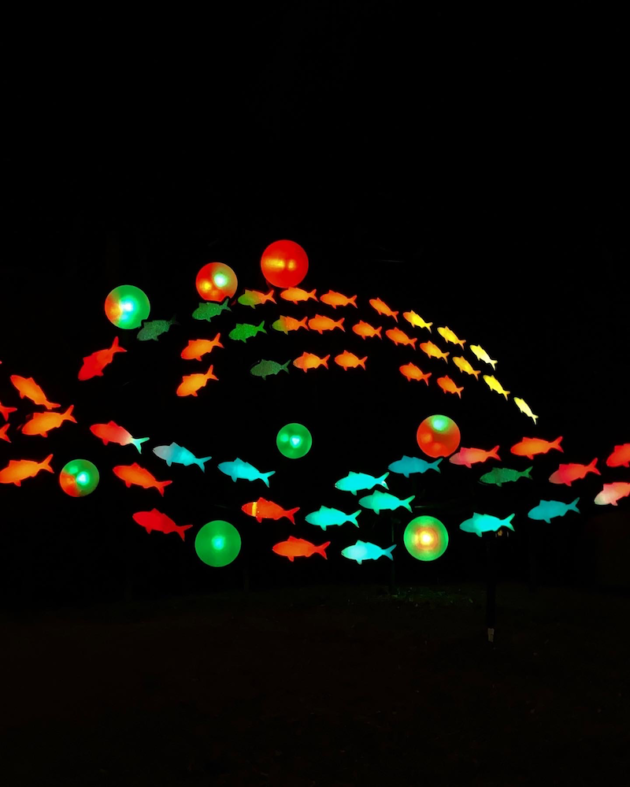 Glowing Iluminations
Be sure to walk the park at night to see a vibrant display of lights and figures, all symbolic and reminiscent of the ocean.
Anemone Avenue
Be sure to see these vibrant inflatable anemones glimmer and shimmer as you head towards Club Sea Glow.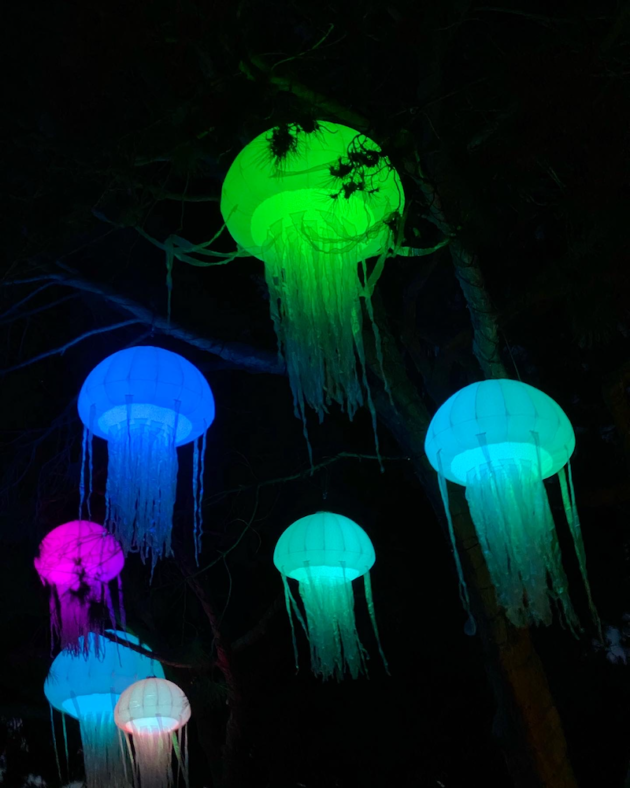 Moon Jellyfish Canopy
This is an absolutely beautiful display located when you exit the theater for Cirque Neon World. Look up and admire the playful moon jellyfish with their magical tentacles.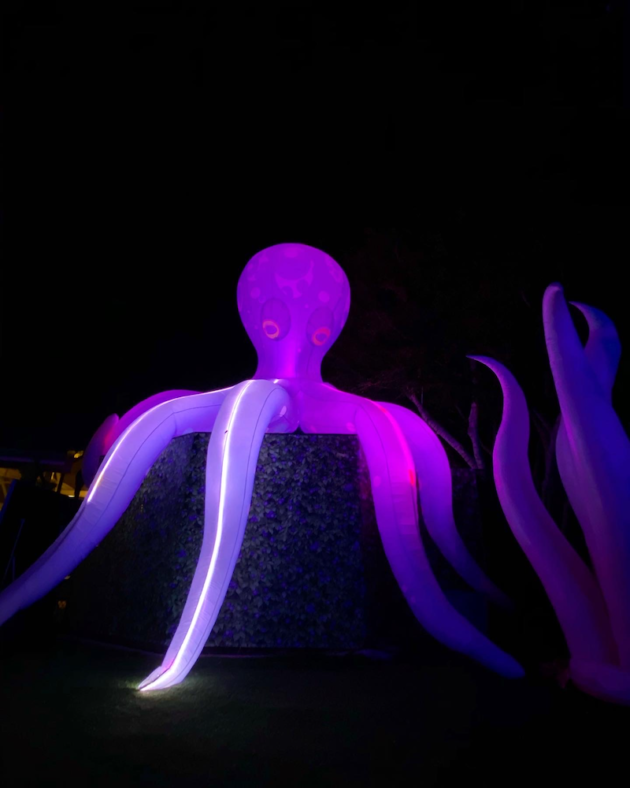 Giants of the Deep
Find these remarkable, larger-than-life animal installations swimming throughout the park.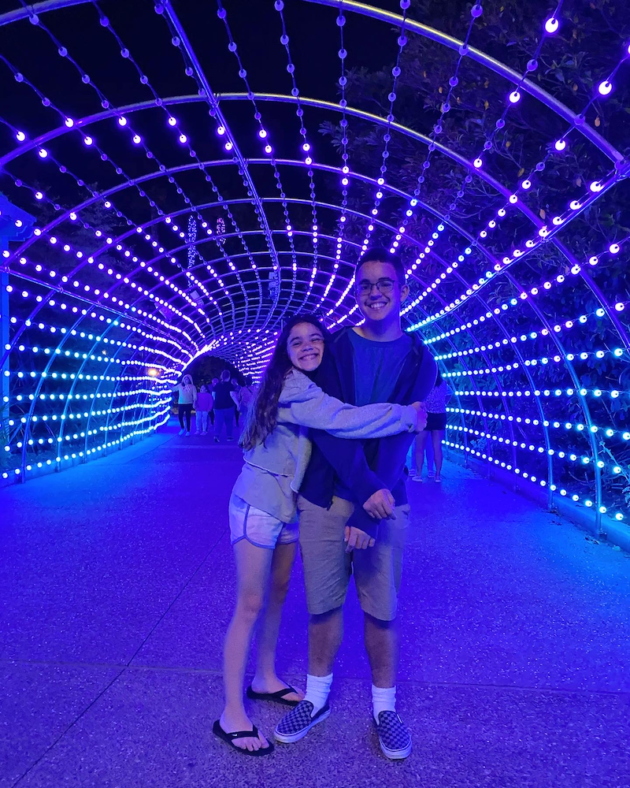 Time-Surf Tunnel
One of our favorite displays is the Time-Surf Tunnel, aglow with lights and music. This cosmic light tunnel features a soundtrack of SeaWorld shows past. Tip: This makes for an awesome photo opp!
Laser Reef Light Show
End the night with SeaWorld's canopy of colors, which submerges guests below the ocean in a dazzling display of color and sound. Tip: The show follows Ignite Fireworks and can be seen at the front of the park.
Summer Eats
Glow Bar
This vibrant outdoor lounge is for the 21+ crowd and features luminous cocktails, alcohol-infused fruit sorbet, and other treats to get your taste buds dancing. Located adjacent to Club Sea Glow.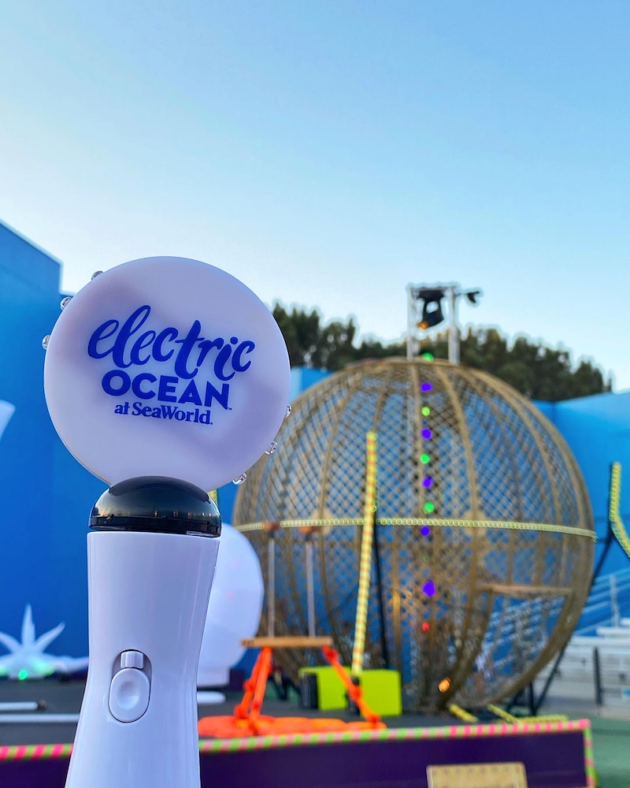 Be sure to visit SeaWorld.com/San-Diego for showtimes, park hours, and tickets. You can also follow SeaWorld San Diego on Facebook and Instagram for up-to-date park information.