This giveaway is now closed. Thanks for stopping by. The winner is susan s. Congrats!
I love to grill and barbeque. In fact, these days that's the only way I can eat chicken (I'm having some type of strange meat aversion this pregnancy). But we don't use charcoal anymore (but I can remember the days growing up where my parents did!). The U.S. Consumer Product Safety Commission issued a warning about the use of charcoal and gas grills because they have been linked to carbon monoxide poisoning and fires (respectively). And for an informative article on how barbequed meats (and other types of well-done meats) may be linked to cancer, check out this article from the National Cancer Insitute.
A healthier, safer, more eco-friendly way to enjoy your grilled chicken can be achieved with a FlameDisk. This one-time use device allows you to grill safely in most conventional grills. It's easy to use (just drop it in where you'd normally put charcoal) and light it with a match. It will be ready to cook food immediately. It's clean, easy to use, and actually gives your food the grilled flavor you enjoy without the hazards of gas or charcoal.
Here is how it works:
Utilizing solidified ethanol technology, FlameDisk provides at least 40 minutes of grilling time and is cool to the touch five minutes after the fuel is spent. The FlameDisk is much more eco-friendly than charcoal and lighter fluid because it features renewable ethanol. Ethanol is extremely clean burning and generates 90% fewer pollutants than charcoal. The FlameDisk's aluminum casing is also recyclable.

Grilling with the FlameDisk easy, safe(r), and less messy than charcoal. When you're done, pour some water over it to eliminate the flame and toss it in the recycle bin (please!). It's also safer for children since it cools quickly and can be taken on picnics, beach trips. and camping trips.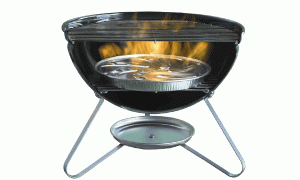 The FlameDisk retails for $14.99 and includes 3 one-time use disks. You can purchase the FlameDisk online or at retailers nationwide.
Win It! One of you will win a FlameDisk. Simply leave me a comment with something you liked or learned on the site. Comments will close on October 31, 2009 at 10 PM PST. One comment per person, please (unless you do the extra credit). US residents only. Duplicates and comments not including the above information will be disqualified. Comments are moderated. If you don't see your comment in a reasonable amount of time, send me an email. Bloggers and non-bloggers may enter. If you don't want to leave your email address, please be sure to check back for my announcement on the winner. Please note that winners must respond within 48 hours of being announced/contacted or another winner will be drawn.Want an extra entry? Do any or all of the following and receive an extra entry for each one.
Be sure to leave me a separate comment for each additional entry.
Follow me on Twitter AND tweet about the contest.
Subscribe to my feed via email or reader.
Blog about this giveaway. It doesn't have to be a separate post. Just include a blurb about it when you blog about other giveaways.
Click on one of the very cute buttons below and digg, stumble, fav, etc. Just let me know what you did in the comments!