{Sponsored}
It was the summer I graduated from UCLA, and my parents and I celebrated that accomplishment with a trip to Europe. My love for travel began that day when I stepped off the plane into Rome's International Airport.  Everything they say about traveling is true…the memories and experiences…the adventures and perspective…the culture and the food.  Food is so intricately tied to travel, that many of my recipes are in some way inspired by those trips both near and far. Today's Caprese Salad recipe is a simple dish…light, colorful, and refreshing. The most memorable Caprese Salad I had was in Italy… vine-ripened tomatoes, fresh mozzarella cheese, aromatic basil leaves, and a drizzle of authentic Italian Olive Oil with a drizzle of Balsamic Glaze. Here is my easy, five-ingredient Caprese Salad Recipe:

Easy Five-Ingredient Caprese Salad Recipe
Ingredients
2-3

vine-ripe tomatoes

Fresh mozzarella cheese

Fresh basil

Olive oil and balsamic glaze

for drizzling

Salt and Pepper to taste
Instructions
Slice tomatoes (approximately 1/4 inch thick)

Slice mozzarella cheese, (approximately 1/4 inch thick)

Layer mozzarella cheese on top of tomatoes and basil leaves

Drizzle olive oil and balsamic glaze

Season with salt and pepper to taste
Caprese Salad has its origins in Italy and was originally intended to resemble the colors of the Italian flag (red, white and green).  As you can see, the recipe is easy to put together and can be modified to include garlic, parsley, sauces, and dressings.  If you're planning on having summer parties or get-togethers, this is a salad that can easily be prepared to tide your guests over until the main course (plus it looks pretty).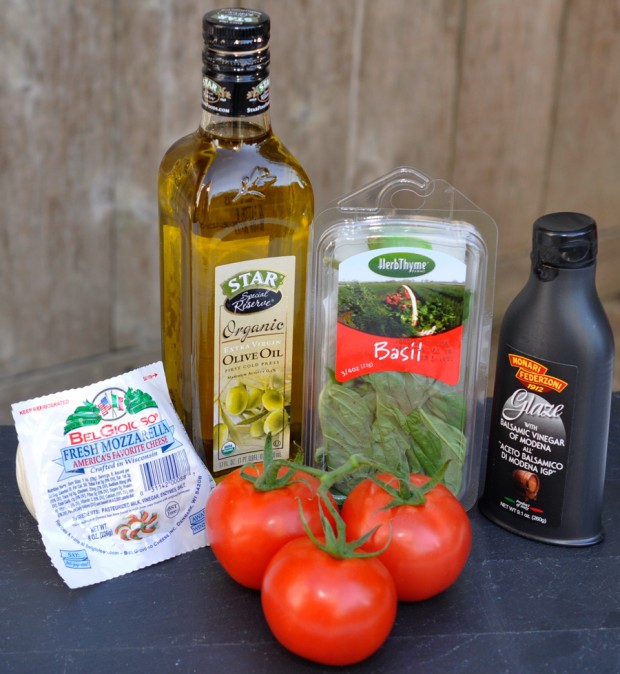 We purchased our vine-ripe tomatoes at our local Walmart, along with Organic Olive Oil, Balsamic Glaze, fresh Mozzarella Cheese, and a fresh Marketside French Baguette for our Caprese Salad. Tomatoes are in season, so I picked up a bag from a grower called Windset Farms. While they aren't local, I did like that the growers don't use GMO's. We tend to eat a lot of tomatoes throughout the year because they contain important vitamins, nutrients, and the anti-oxidant Lycopene.  Because we buy tomatoes every week, I've become accustomed to picking them out easily, but for those who aren't sure if a tomato is "ripe" or fresh and ready-to-eat, here are a few tips for picking out and storing tomatoes:
1. Look for tomatoes that feel heavy for their size, smell fresh, and are soft but not mushy.  Avoid purchasing refrigerated tomatoes as they lose their flavor when chilled for prolonged periods of time.
2. Once home, store tomatoes in a bowl or basket at room temperature, away from other fruits that may hasten the ripening process (i.e. bananas).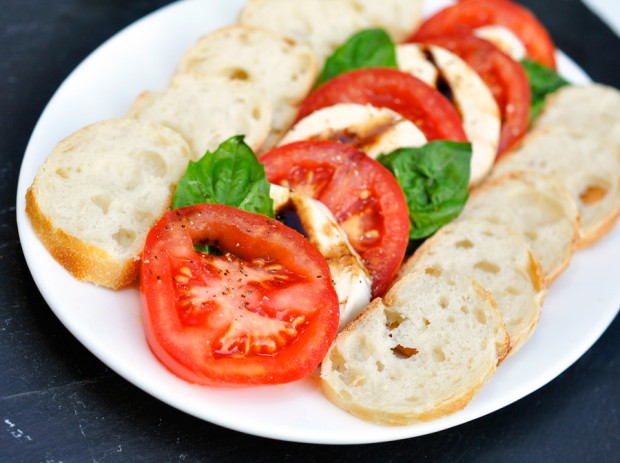 We're in the midst of tomato season so be sure to pick up your favorite variety at your local Walmart!  The bag I purchased was just $2.24 which was a great deal.
Do you have a favorite tomato recipe? I'd love to share it.

Latest posts by Caryn Bailey
(see all)