With Easter approximately one week away, we're starting to think about how we'll celebrate the holiday.  Traditionally, we've attended church and then enjoyed brunch out as a family.  Dining at any restaurant on Easter Sunday can be quite expensive (and a little hectic with two small children), if you can manage to get a reservation.  To save money and our sanity, we've decided that we'll simply enjoy a gourmet brunch at home.  My husband and I are already dreaming up the menu…He wants bacon…I want a Veggie Quiche or a Frittata. He wants orange juice…I want fruit smoothies.  At least we both agreed that french toast has to be on the menu!
I absolutely love the Pain Perdu dish at Mimi's Cafe, so the hubby and I decided to recreate it this morning…to practice for the upcoming holiday (of course).  I gave him the recipe, he executed it!  After all, this mama deserves a little weekend break, right?
Initially, I wanted to use Brioche because it's a bread that's made with eggs and butter and has a rich, full flavor.  But for some reason everyone here in the county had the same idea, so I opted for a sweet Hawaiian bread.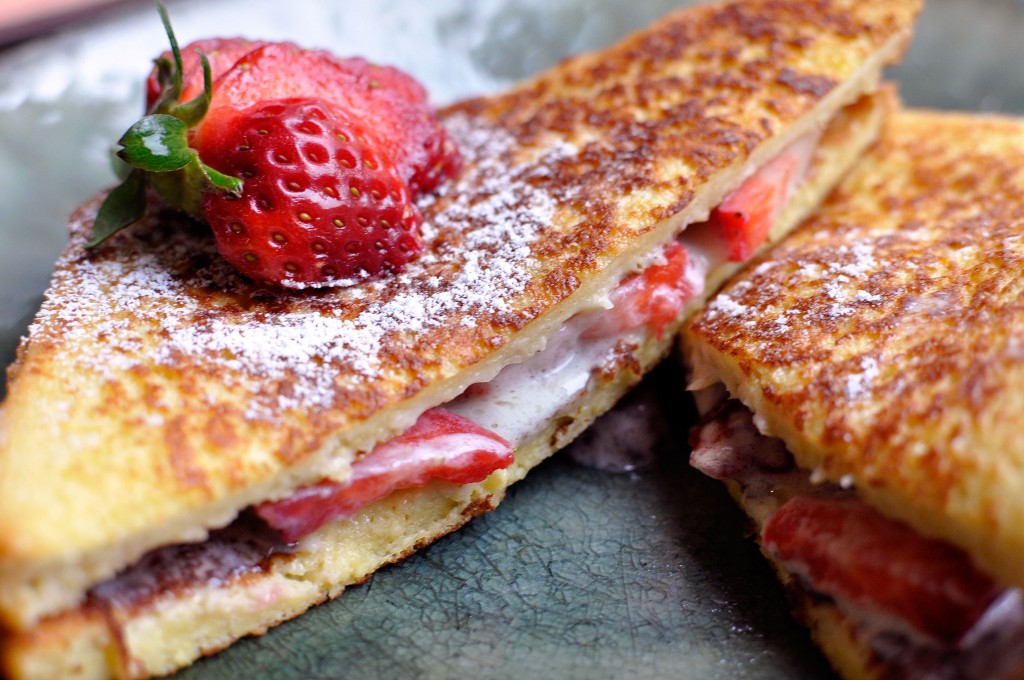 Stuffed French Toast
8 slices Brioche, Challah, or your favorite sweet bread
3 Eggs
3/4 cup half and half
1 teaspoon Vanilla extract
Dash of cinnamon, nutmeg, and salt
Fresh Strawberries, sliced
Mascarpone Cream Cheese
Powdered Sugar
Whisk together eggs, half and half, vanilla, and spices until combined. Dip each slice of bread into the egg mixture and coat each side thoroughly.
Cook over medium heat on an oiled skillet until lightly browned.
Spread a layer of Mascarpone on the inside of two cooked slices of bread and add fresh strawberry slices to make a "sandwich."
Cut in triangles, garnish with fresh sliced strawberries and powdered sugar.
This recipe is incredibly easy and doesn't take a lot of time.  After my husband and I inhaled them, we talked about how perhaps it might even be that much better if the Marscapone was just a bit sweet. So…you could add a bit of sugar to the Marscapone before spreading it on the bread.  Either way, the finished creation was incredible…it literally melted in our mouths.
What are your favorite Easter recipes?  I'd love to hear your fresh ideas!
 Disclosure: I participate in the Walmart Moms program and am compensated for my time and honest opinions.
Recipe, images Rockin' Mama.
Ingredients can be found in the grocery section of  your local Walmart.
Latest posts by Caryn Bailey
(see all)