This giveaway is now closed.  Thanks for stopping by.  The winners are Nancy and Claire.  Congrats!
My mother reminds me that as a baby, I was very fussy.  It wasn't until her and my pediatrician switched me to soy formula that the "colic" went away.  I've never been able to tolerate milk.  Up until I got pregnant with my son 2 1/2 years ago, I never worried about the soy products I was consuming.  Now I'm faced with a toddler who we suspect may have an allergy to dairy products.  And I'm nursing a baby girl and am concerned about the potential hormonal effects of soy consumption.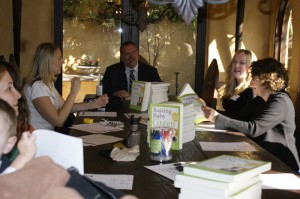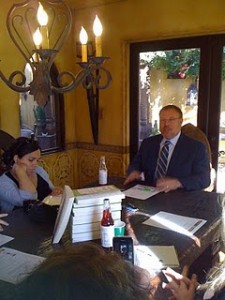 Last week I had an opportunity to speak with Dr. Alan Greene.  I had an opportunity to meet him in person last year at a Los Angeles Spa Event for Episencial and Sprout Baby.  Dr. Greene has an incredible repertoire of knowledge and experience as a physician, professor, and father.  Here is a brief bio:
Dr. Alan Greene is a Clinical Professor of Pediatrics at Stanford University School of Medicine, an Attending Pediatrician at Packard Children's Hospital, Senior Fellow at the University California San Francisco Center for the Health Professions, and a father of four.  Dr. Greene is a regular columnist for Kiwi Magazine, and is the online Pediatric Expert for Healthy Kids, and American Baby.  He also runs Dr. Greene.com, a source for parents, family members, students, and healthcare professionals to find answers and engage in discussions related to children's health. He is also the Pediatric Expert for The People's Pharmacy on NPR and Healing Quest on PBS. DrGreene.com teamed up with Silk soymilk in September of 2009 to help teach families about important issues concerning nutrition and soy.  In addition, Dr. Greene is the author of a number of books, including Feeding Baby Green, Raising Baby Green, and From First Kicks to First Steps.
[Hellos and Greetings]
Thank you so much for taking the time to speak with me and answer a few questions I have about soy.
There is a lot of controversy about soy.  We think my son has an allergy to dairy.  We've tried rice and almond milk without any success.  I grew up drinking soy milk because I have a lactose intolerance.  What is your opinion about estrogens and hormones in soy and their effect?
There has been a lot of controversy in the past couple years stating that plant nutrients resemble estrogens called phytoestrogens.  Some studies have shown wonderful health benefits including the prevention of cancer. Interestingly enough, phytoestrogens are not just in soy.  In fact, flaxseeds contain the highest levels.
Can soy trigger premature puberty in children and can children have too much soy?  If so, is there a limit to how much they should consume?
I can't find any evidence of that coming from soy. It is true that the age of puberty is falling. In terms of the influence of estrogen, I'm much more concerned about the estrogens in plastics and skin care products and pesticides.  Children can consume 2 cups of soy milk a day, just like they would if they were consuming cow's milk.
Are there any benefits of soy consumption for children?
Soy is a wonderful whole food with health benefits. It is a complete protein and serves as a source of Calcium and Vitamin D.
What should I be looking for in a soy product?
I prefer organic, non-GMO soy products made from whole soybeans.
Can you tell me a little more about GMO's?
Genetic modifications are pretty common now in soy. They insert DNA into soy that makes [the plant] more resistant, rather than spraying more pesticides. I prefer not to consume products with this type of soy, but there is not any solid evidence that this is a problem.
Is soy an effective alternative (nutritionally) to dairy for a child who is allergic?
Many of the soy milks on the market are fortified with Calicum and Vitamin D and thus can be used as an alternative to cow's milk.
I'm nursing a baby girl.  Should I avoid soy?
There should be no reason to avoid soy and I would recommend no more than 2-3 cups of soy milk day.
What about soy consumption in women at risk for breast cancer?
Soy consumption (as part of a balanced diet) is safe for women at risk and has actully shown to decrease the risk by 20%.
I definitely learned a lot about the positive benefits of soy.  Here is a brief recap on soy:
Childhood Development
Soyfoods provide families choices for children who have allergies to dairy, nuts, fish, peanuts, or other protein sources and who want to eat more plant-based diets.
The prevalence of soy allergies in the pediatric population is extremely low (estimated to be less than 1%).
There are no medical reports finding any negative association between consuming a diet including soyfoods and growth and development of children.
Soyfoods do not cause early puberty in kids.
Great tasting soyfoods naturally provide high-quality complete protein, iron, essential fatty acids, magnesium, calcium, potassium, fiber, and other nutrients required by growing kids and adolescents.
How to Incorporate Soyfoods into Your Child's Diet
Replace or blend the high calories of meat with soy meat alternatives
For kids who don't drink cow's milk, you can get the calcium, protein and Vitamin D in the many flavors of soy milk
For a snack, make soy nut trail mix, soy smoothies, soy chips
Breast Cancer
Soy is not only safe for women at risk of developing breast cancer, but it may prevent breast cancer, especially when consumed early in life.
Five significant recent studies on women have found women who are at risk for developing breast cancer or who are breast cancer survivors can safely consume moderate amounts of soyfoods.
The National Cancer Institute and the American Cancer Society recommend that breast cancer survivors can safely consume moderate amounts of soyfoods.
Testosterone
A recent comprehensive review of the evidence to-date on soyfoods and testosterone levels concludes soyfoods do not affect men's testosterone levels (http://www.ncbi.nlm.nih.gov/pubmed/19524224

).

Research has pointed to everything from milk, processed meat, and possibly soy; however, urologists say the major risk factors are actually body weight, prescription drugs, smoking, intake of alcohol, and certain disease states.
Bone Growth
Just like cow's milk, most soymilks provide 300mg or more of calcium per cup.
The majority of soymilks are fortified with vitamin D, A, and B12 at the same levels found in dairy milk.
Win It! Two of you will each win two coupons for a half gallon of Silk Heart Health.  Simply leave me a topic-related comment or question.  Comments will close on February 24, 2010 at 11:59 PM PST. One comment per person, please (unless you do the extra credit). US residents only. Duplicates and comments not including the above information will be disqualified. Comments are moderated. If you don't see your comment in a reasonable amount of time, send me an email. Bloggers and non-bloggers may enter. If you don't want to leave your email address, please be sure to check back for my announcement on the winner. Please note that winners must respond within 48 hours of being announced/contacted or another winner will be drawn.Want an extra entry? Do any or all of the following and receive an extra entry for each one.Be sure to leave me a separate comment for each additional entry.
Follow me on Twitter AND tweet about the contest.
Subscribe to my feed via email or reader.
Blog about this giveaway. It doesn't have to be a separate post. Just include a blurb about it when you blog about other giveaways.
Click on one of the very cute buttons below and digg, stumble, fav, etc. Just let me know what you did in the comments!
I did not receive compensation for this post.  I had the honor of interviewing Dr. Greene, who provided the information (along with the PR company) and coupons for Silk products.