{Sponsored}
As a young girl, I loved trying on my mother's jewelry.  Her penchant has always been simple elegance and when I reached the age where I could accent my outfits, I mirrored her jewelry style. Sometimes, she'd receive a handmade bracelet or hair accessory from one of her craftier friends and those were the pieces she would celebrate and wear most often. There is something uniquely meaningful about all-things handmade, but particularly when it comes to jewelry because very often, the person making the gift is personalizing it to reflect the recipient's personal style and preferences.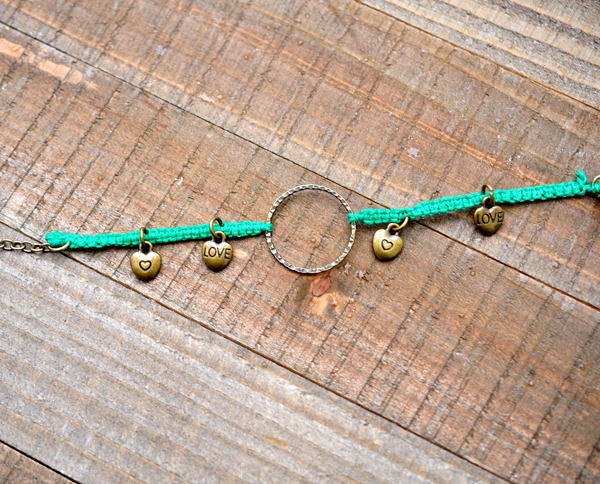 To celebrate my own mother, I decided to make her a simple Macrame Charm Bracelet. I absolutely love how simple and elegant appearance of this "knotted" bracelet and once you've mastered the square knot, you can easily personalize the bracelet to your liking.  This particular bracelet can be made in one sitting and likely in an hour or two once you've mastered the technique, making it the ideal project for those just beginning DIY jewelry making. I used this tutorial as an inspiration but changed it by adding charms and adapting the closure so that it's easy and adjustable.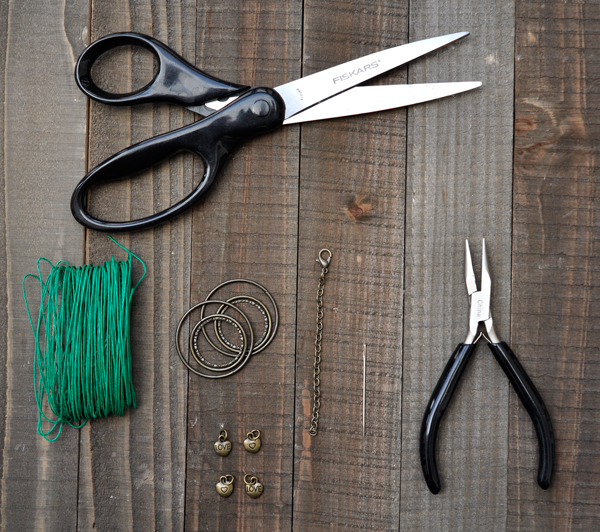 Everything you'll need for this project can be found at your local Michael's including the following:
Hemp Cord (in the color of your choice)
Chain finding (I opted for rings)
Charms
Fine Pliers
Scissors
Embroidery Needle
Lobster clasp and chain extension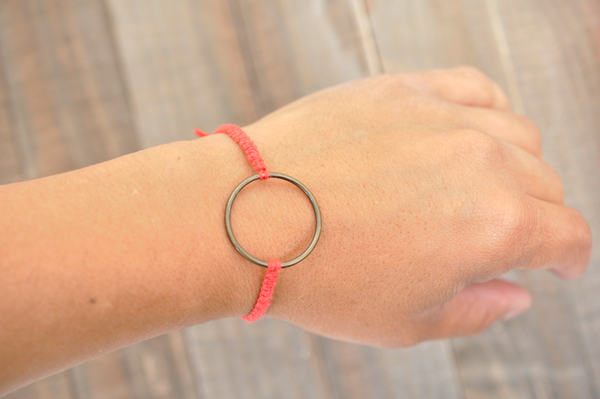 Before you begin, I highly recommend watching a square knot tutorial on YouTube. This will help familiarize you with the easy, two-step process.
Instructions
Cut 2 30-inch pieces of hemp cord and 2 20-inch pieces of hemp cord.
Fold the 20-inch piece piece of hemp cord in half and pull the loop through the ring, folding it over.
Pull the remaining cord through the loop
Repeat this process on the other side of the ring
Secure the top part of your hemp cord with tape

Begin by centering the 30-inch piece of hemp cord under the two middle strands
Fold the right cord over the middle strands and under the left cord
Pull the left cord under the right and middle strands through the loop on the right side
Slide the securely tightened knot to the top
To complete the square knot, fold the left cord under the middle strands and under the right cord (the reverse of step #2)
Pull the right cord under the left and middle strands and through the loop on the left side (the reverse of step #3)
Pull tightly and repeat for 5 complete square knots
Thread the first charm through the two middle strands and complete a full square knot
Continue until you've reached the 10th and thread the next charm
To close the bracelet, thread the two middle strands through the end of the lobster clasp and secure with 2-3 knots.
Trim excess hemp cord and repeat with the chain extension.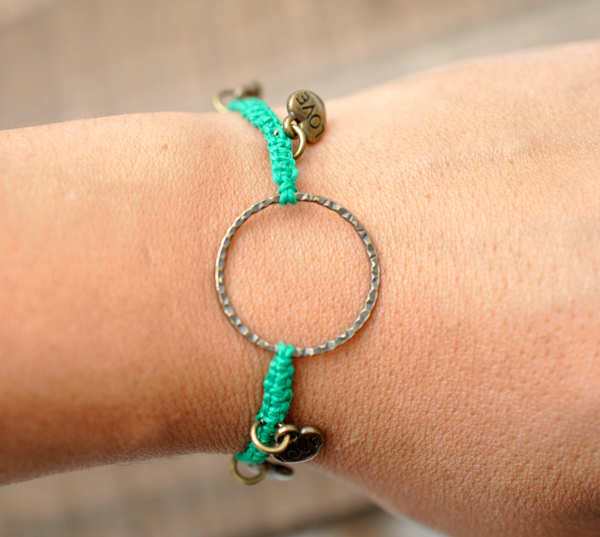 Despite the lengthy instructions, this bracelet is incredibly easy to make, particularly once you've mastered the Square Knot. The results look amazing and you can alter the types of findings and charms you use to create unique bracelets.
Because we're celebrating moms all month long and we really don't need occasion to do so, why not give that special mom in your life a personalized Macrame Charm Bracelet to show her how special she is? And, This Mother's Day and beyond, Pampers is celebrating moms and the precious moments of love with their little ones by giving the Pampers Gift of Love (#RegaloDeAmorPampers) to help families capture and cherish those loving moments with baby. We know that babies experience a mother's love in many different ways. Those precious moments between a mother and her little one make every day special and worth remembering.
Pampers Swaddlers are the number 1 choice at local Los Angeles hospitals and across the country, and it's been a privilege for the brand to be part of those precious moments shared between moms, abuelas, tias and the rest of the family. Now available through size 6, Pampers knows that when babies feel comforted and protected, they feel covered in love.
To celebrate moms everywhere, Pampers has created a #RegaloDeAmorPampers gift basket to help celebrate and capture those special moments of love with their babies.
Win It!  One of you will win a #RegaloDeAmorPampers gift basket which will include Pampers Swaddlers, Pampers Wipes, a $25 Michael's Gift Card to create  your own DIY Macrame Charm Bracelet or gift and a $100 SpaFinder gift card to pamper that special mom in your life. Simply complete the Rafflecopter form and leave me a comment with the DIY gift you'll make if you win. Comments will close on May 31st, 2015 at 11:59 PM PST.
US Residents only. Duplicates and comments not including the above information will be disqualified. Comments are moderated. If you don't see your comment in a reasonable amount of time, send me an email. Bloggers and non-bloggers may enter. If you don't want to leave your email address, please be sure to check back for my announcement on the winner. Please note that winners must respond within 48 hours of being announced/contacted or another winner will be drawn.
Latest posts by Caryn Bailey
(see all)