Food is an integral part of my culture, and every holiday, birthday, celebration, or gathering includes a variety of dishes that represent who we are. Many of the memories I shared with my family as a child involve recipes passed down by my grandparents, and I can appreciate the dynamic interplay between food and culture. As the Disneyland Resort continues to diversify and grow its experiences for families, food has increasingly become an integral part, particularly during seasonal celebrations like Lunar New Year. Now expanded to 24 days, families can celebrate the Year of the Dog with multicultural performances, activities, decor, themed merchandise and authentic cuisine.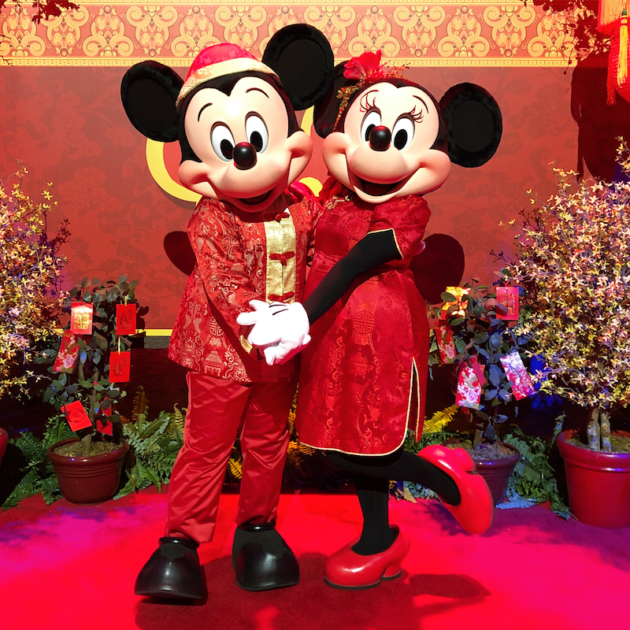 Consideration provided by the Disneyland Resort.
Lunar New Year (aka Chinese New Year)
Many East Asian cultures celebrate Lunar New Year, and traditionally, they were based on the Chinese lunisolar calendar. This is the moment when the son and moon begin their journey together for another year.
In many communities, this is the most important and festive holiday of the year, designed to usher out the old year and welcome the new one. The Year of the Dog begins on February 16, 2018, and traditionally, this Spring Festival was a time to honor ancestors. This is also a time to participate in a range of activities designed to usher in prosperity while sweeping away bad luck. Customs include a thorough house clean, red-colored decor, the lighting of firecrackers, and gifting red envelopes with money. And as is tradition in many cultures, food is central to these celebrations.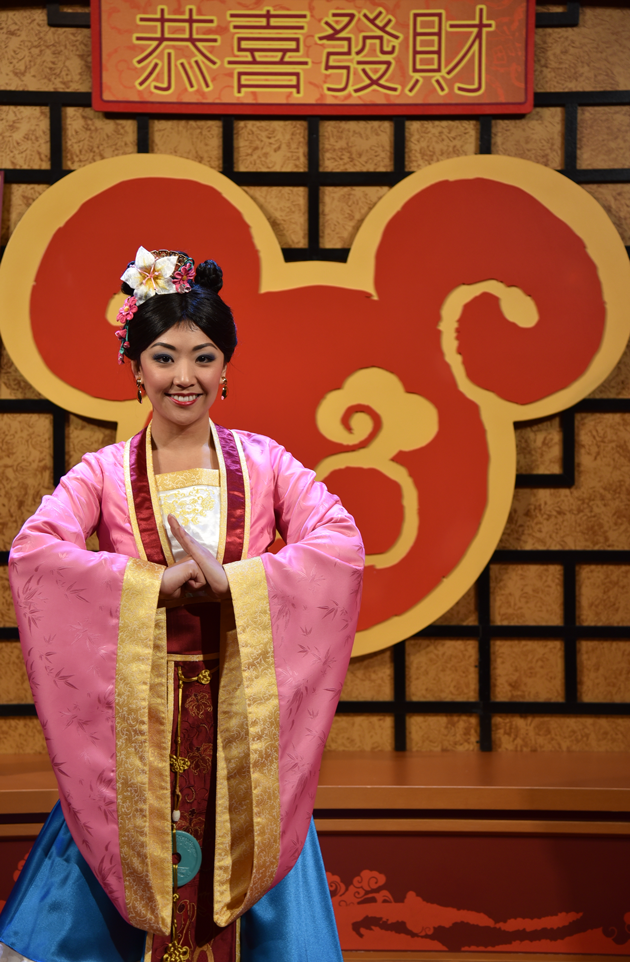 Lunar New Year Celebration – Disneyland Resort
This year marks the most expansive Lunar New Year celebration to date at the Disneyland Resort. Spanning 24 days, families and guests visiting the resort will learn about and experience Asian culture through food, music, crafts, and more. Cultures represented during Lunar New Year include Chinese, Korean, and Vietnamese.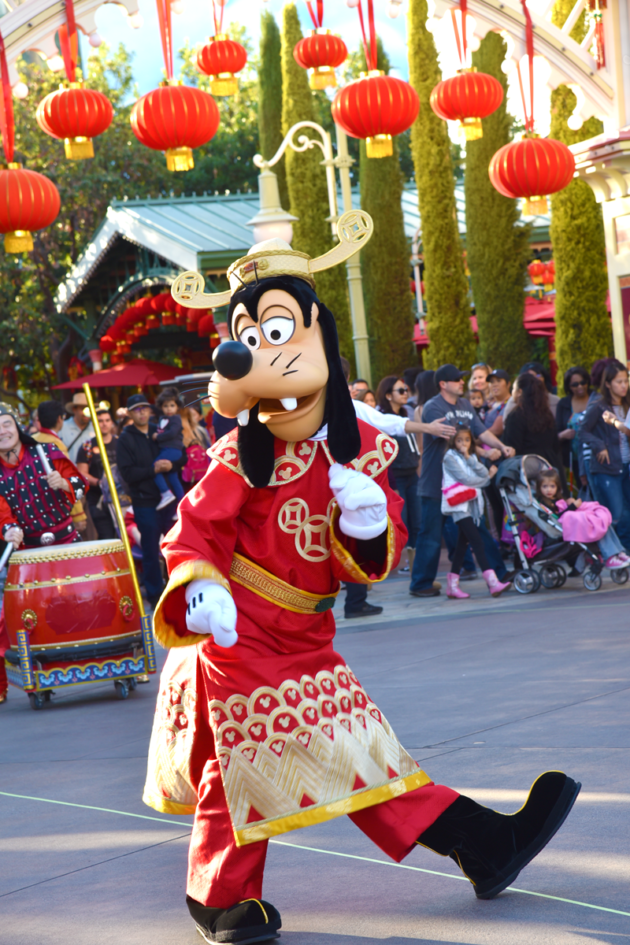 7 Ways to Celebrate Lunar New Year at the Disneyland Resort
Usher in the Year of the Dog With Pluto and Friends: During Lunar New Year Celebration, Pluto, Mickey Mouse, Minnie Mouse, Chip 'n Dale, Mulan, and Mushu are all dressed up for the season, sporting their Lunar New Year attire. You can find Mickey and friends in Paradise Gardens at Disney California Adventure Park. Bring your camera and your autograph book for a beautiful photo opp under the decorated pavilion complete with bamboo, peach blossoms, golden flowers, and multilingual banners bearing holiday wishes. For character appearance times, download the Disneyland Mobile app.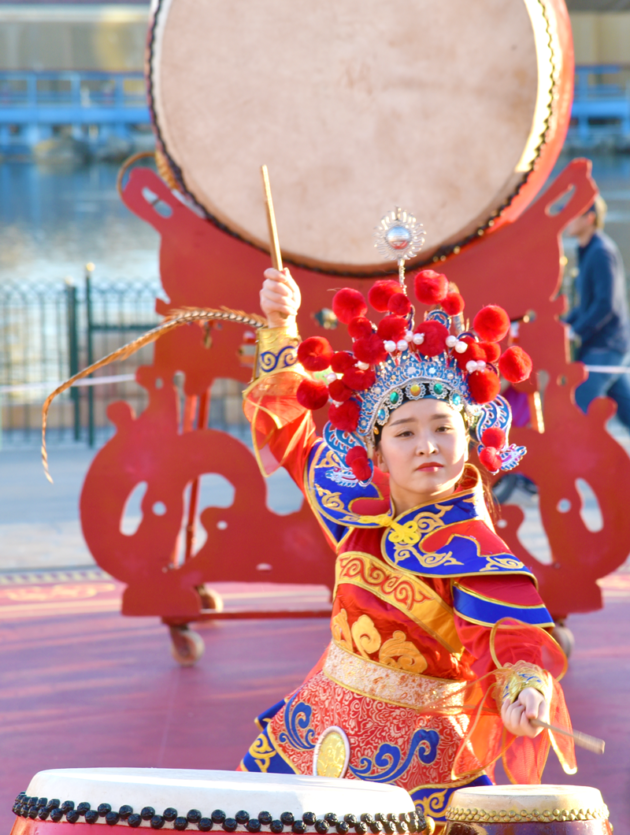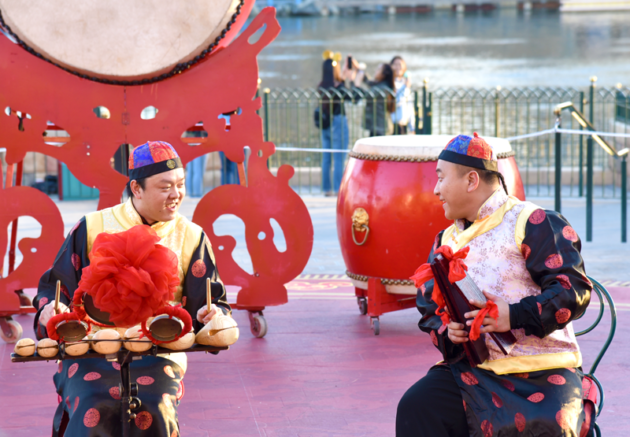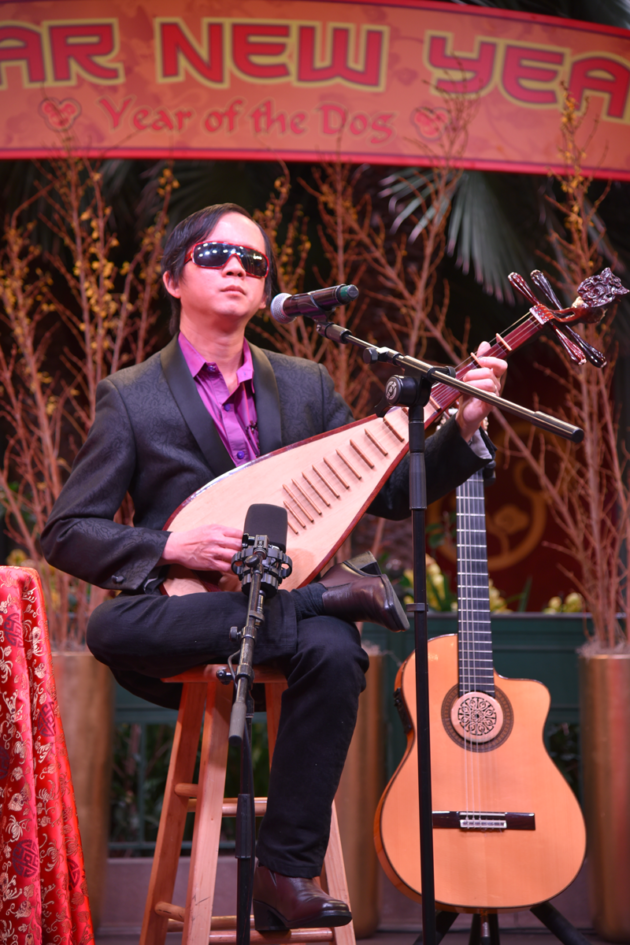 Be Immersed in Asian Culture Through Authentic Music and Dance: Each day during Lunar New Year Celebration, musicians and dancers share their culture through mesmerizing performances. The Gugu Drum Group from Shanghai China features a troupe of drummers, storytellers and athletes who perform traditional movements and ancient percussive rhythms as they bring Chinese proverbs, fables, and fairy tales to life. Their performance is absolutely breathtaking and gives audiences a peek into the history and culture of China. The resort also welcomes back Dat Nguyen, who plays traditional and original compositions on a classical guitar, lute, flute, and melodica. His music is beautiful and piercing. Luna Lee brings the sounds of Korea to the resort with her gayageum, an ancient Korean instrument that resembles a zither. Her music fuses contemporary with blues, rock, and pop for a sound that is electrifying. And families looking to delve deeper into Asian culture can enjoy performances by Korean drummers, Vietnamese hat dancers, Vietnamese flower dancers, and Korean fan dancers each day during Lunar New Year.
Explore Your Creative Side: Whether you are a skilled artist or looking to explore your crafty side, celebrate Lunar New Year with traditional arts and crafts. Activities include paper lantern making, complimentary face painting, and custom-drawn Chinese calligraphy by local artisans from the Chinese Cerritos School.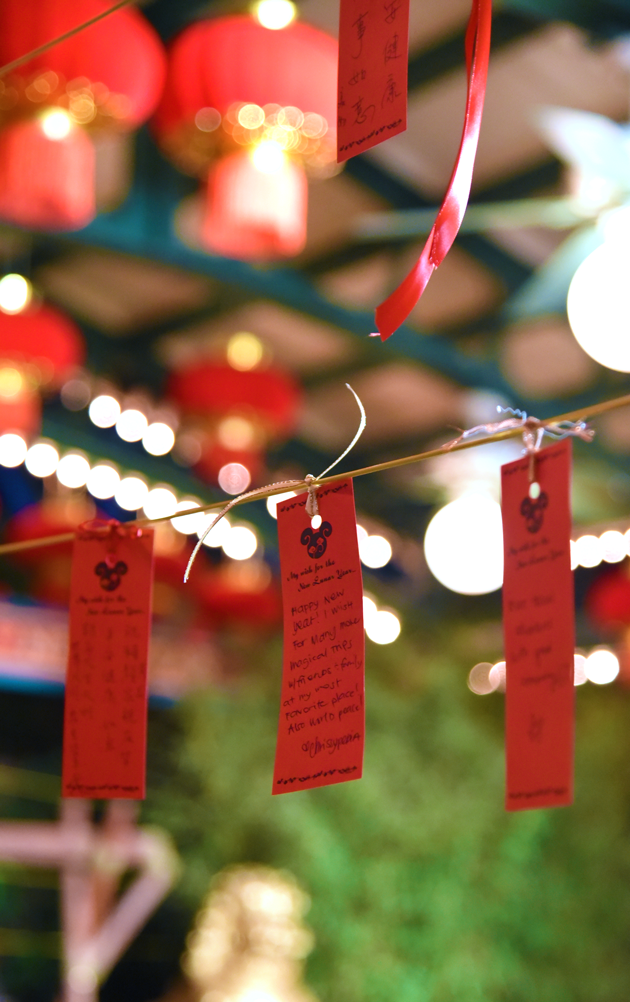 Share Your Wish for the New Year: During your visit, be sure to share your message of hope, health, and happiness for the coming year at the Lucky Wishing Wall, in Paradise Gardens.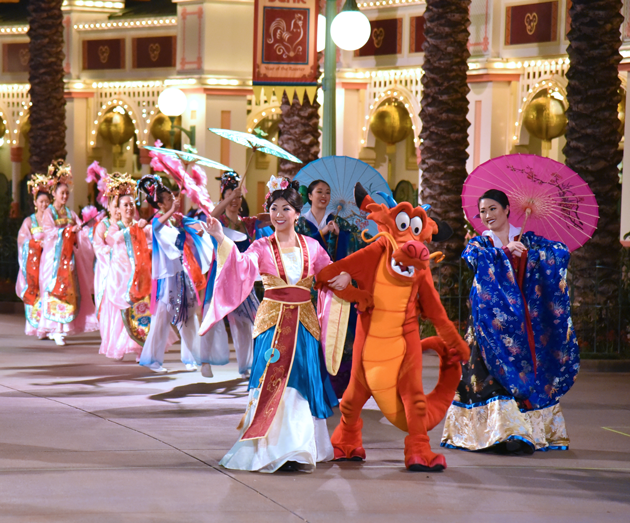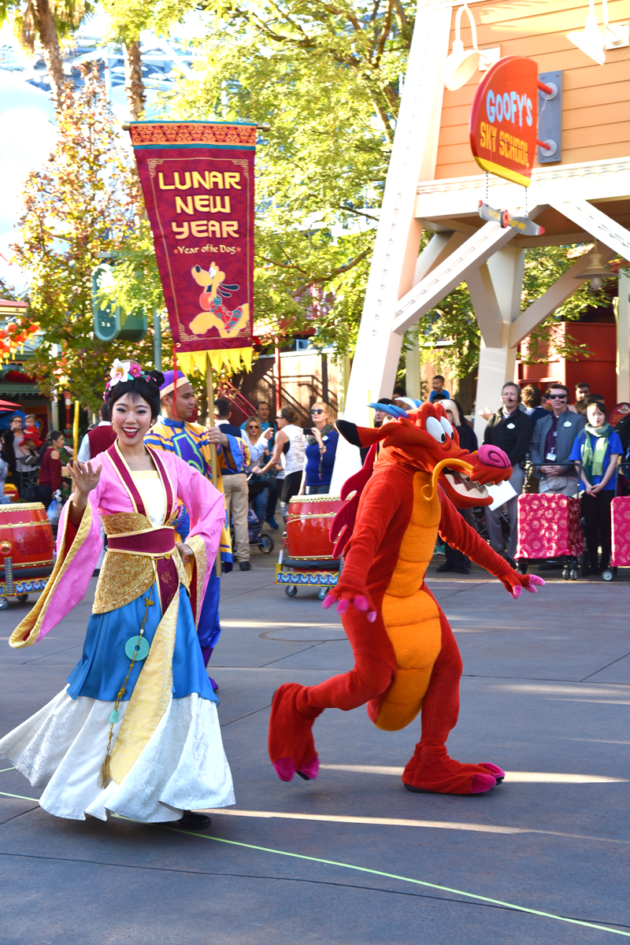 Join Mulan and Mushu for a Lunar New Year Procession: Goofy, the god of Good Fortune joins this traditional celebration which features Chinese umbrella dancers, ribbon twirlers, martial artists, dancing Chinese dragons and more. This celebration of family and friendship is set to the tune of Disney's Mulan.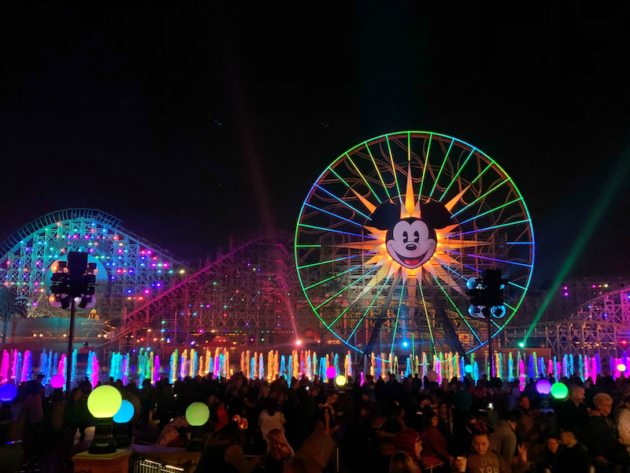 Follow the Little Lantern's Journey Home: Hurry Home – Lunar New Year Celebration is the story of Mulan, Mushu, and their friend the little lantern, who seeks to reunite with family for the celebration fo luck and fortune. Depicted across a beautiful mist screen at Paradise Bay, the story is told through 2 styles of animation while fountains and light effects propel the story. The score was created for the opening ceremony of Shanghai Disney Resort by composer Tan Dun, effecting emotion during this preview to World of Color.
Enjoy authentic Asian cuisine: This year, Disney California Adventure Park hosts 3 distinct marketplaces offering food inspired by Korean, Chinese, and Vietnamese cultures. Paradise Garden Grill also boasts a special Lunar New Year menu.
Complete Guide to Dining at Disneyland During Lunar New Year
Dining at the Disneyland Resort is a culinary adventure. I absolutely love the diversity and variety of food offerings. During Lunar New Year Celebration, families have the unique opportunity of experiencing culture through food. Here is your complete guide to dining at Disneyland during Lunar New Year:
Korea Marketplace (located in front of The Little Mermaid):
Kimchi Bokkeumbap – Vegetable fried rice ($6)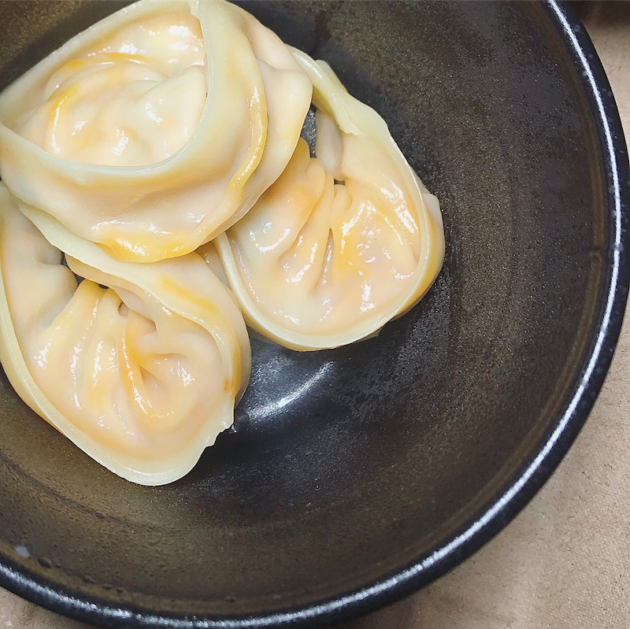 Yachae Mandu – Steamed vegetable dumpling with sesame-garlic soy sauce ($6.50)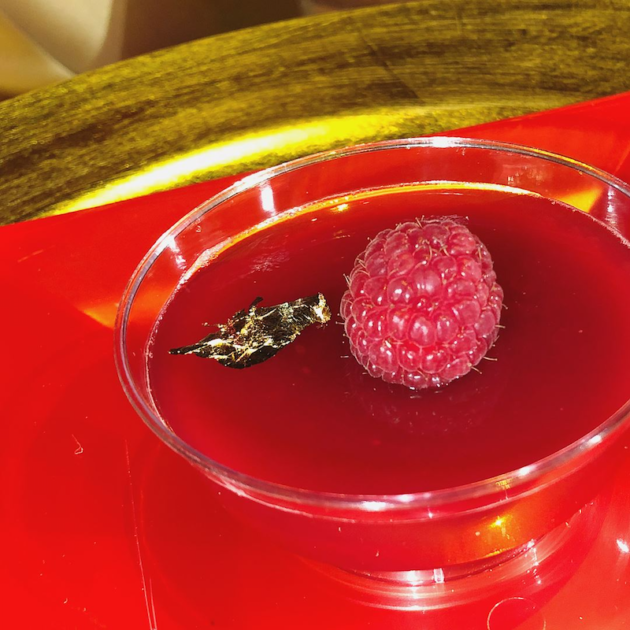 Yang Gaeng – Sweet red bean and raspberry jelly ($4.50)
Banana Ooyu – Non-alcoholic banana milk
Mae Shil Ju – Plum wine cocktail
Hite Pale Lager
China Marketplace (located in front of Golden Zephyr)
Xiao Long Bao – Pork soup dumplings with black vinegar and ginger ($7)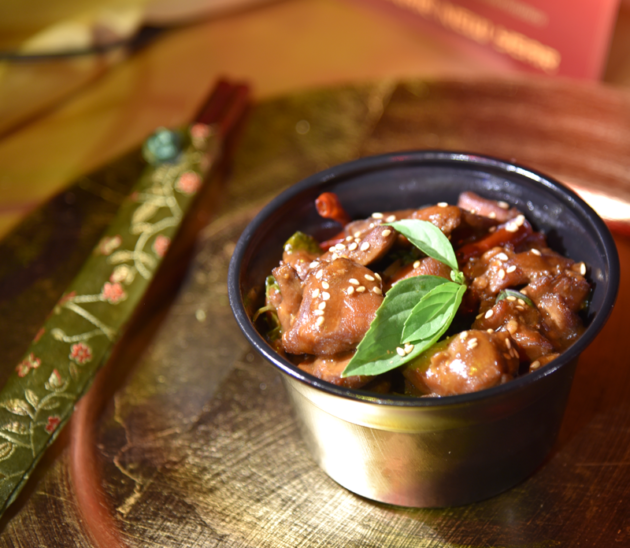 Sanbeiji – Three-cup chicken ($6.75)
Dan Ta – Egg tart dessert ($4.25)
Wuxiang Huasheng Tang – Five-spiced peanut brittle ($4.50)
Baixiangguo Lucha – Passion fruit green iced tea with lychee popping pearls
Tsingtao Lager
Vietname Marketplace (located in front of Golden Zephyr)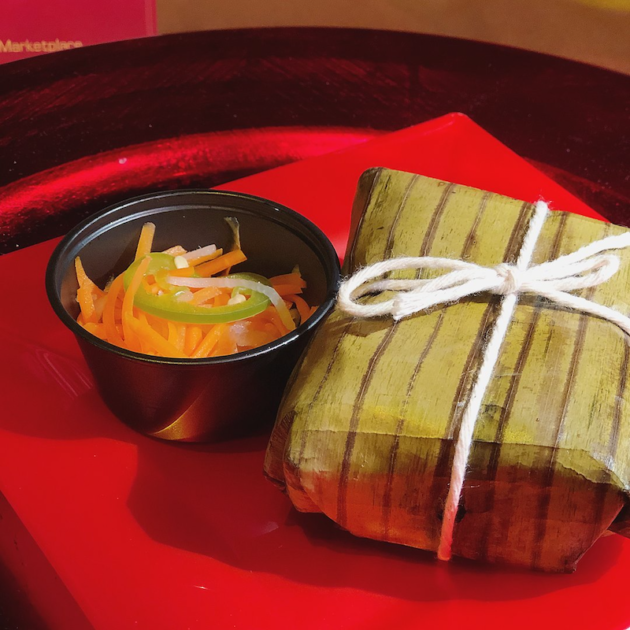 Banh Chu'ng – Sticky rice cake with pork ($6.50)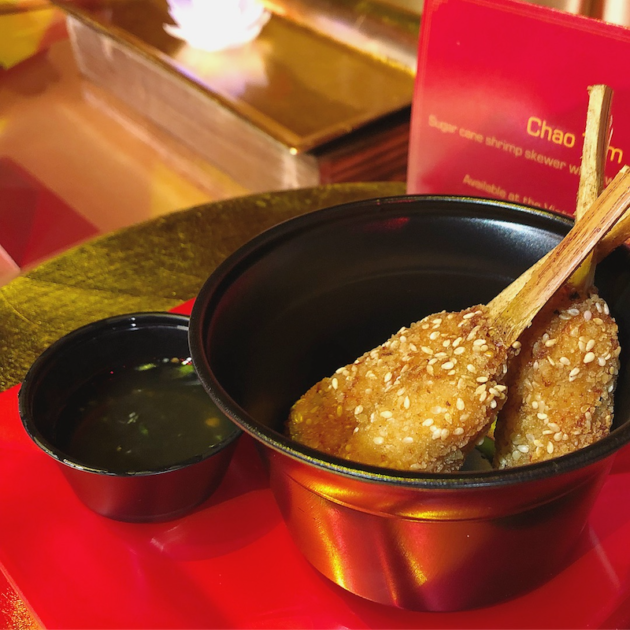 Chao Tom – Sugar cane shrimp skewer with sweet and sour sauce ($7.00)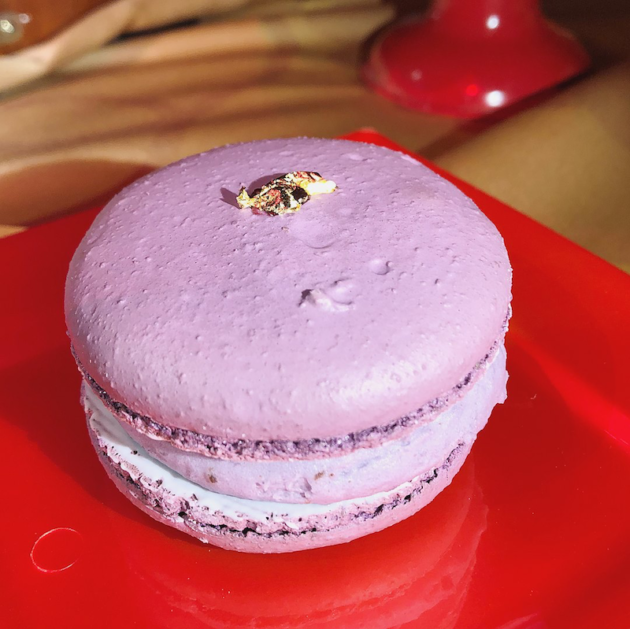 Banh Khoai Lang Tim – Purple sweet potato macaron ($5.25)
Ca Phe Sua Da – Vietnamese iced coffee
Paradise Garden Grill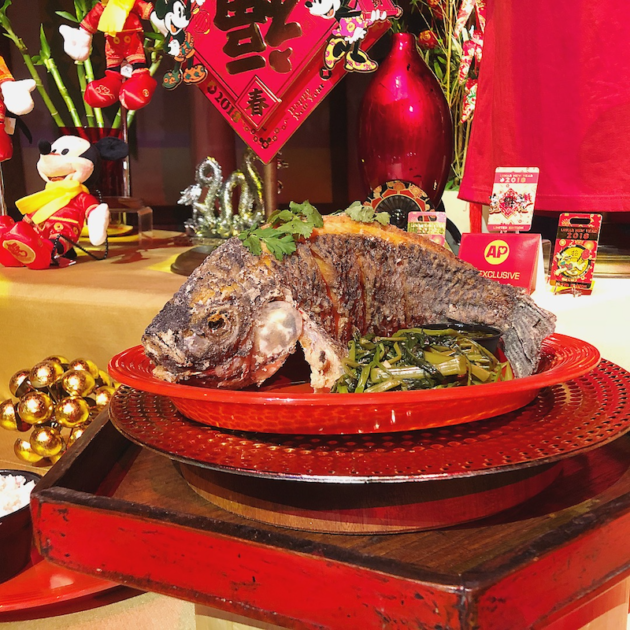 Ca Ro Phi Chien Gion – Whole crispy tilapia with chili-lime vinaigrette served family-style with soup, vegetables and rice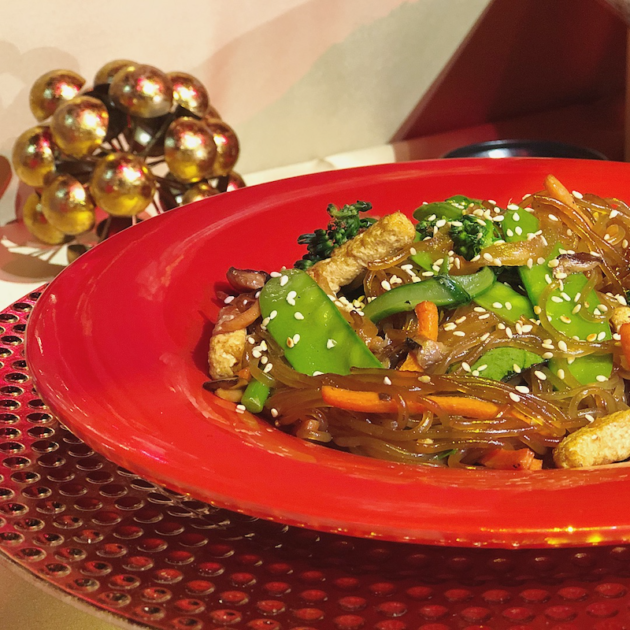 Japchae – Sweet potato noodles, onions, shiitake mushrooms, carrots, spinach, snow peas, broccolini and lightly sauteed tofu tossed with sesame oil and sweet and spicy sauce and topped with toasted sesame seeds
Galbi – Short ribs marinated and grilled Korean-style and served with steamed rice and kimchi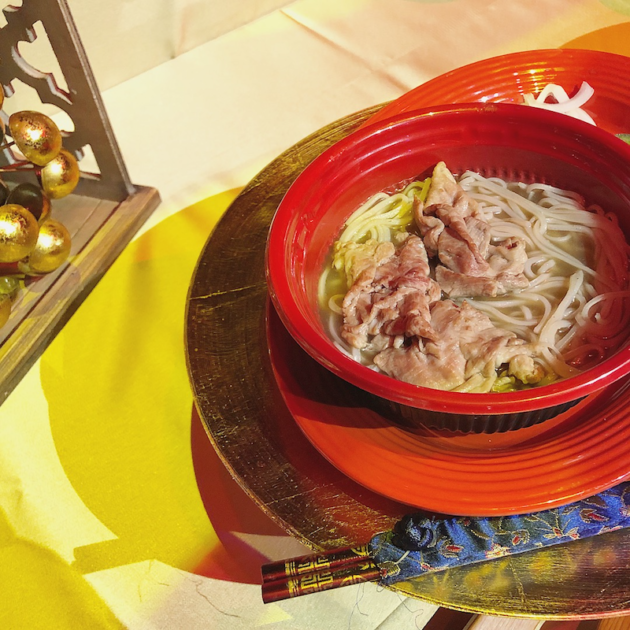 Pho Bo: Beef noodle soup with seasoned beef stock, thinly sliced tri-tip and rice noodles with classic accompaniments of onion, jalapeno, basil-lime and hot sauce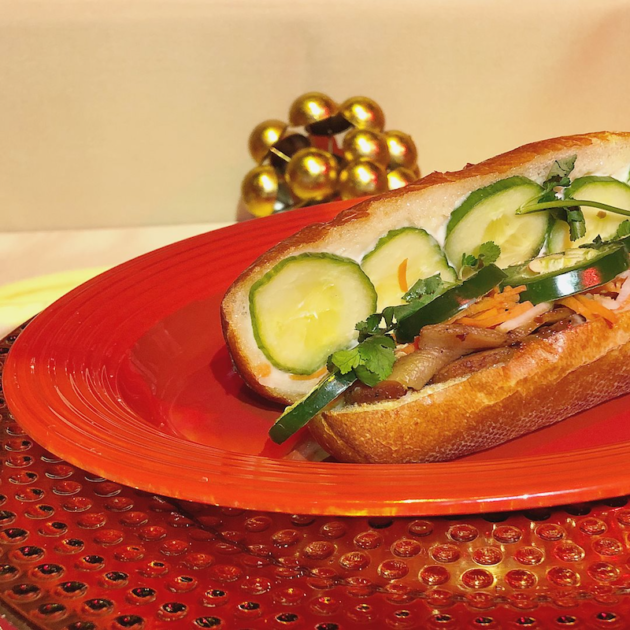 Banh Mi Thit Nuong – Marinated pork belly, pickled carrots and daikon with cucumber, cilantro, seasoned mayonnaise and jalapeno on a crispy baguette
Mango Pudding
Almond Milk Black Iced Tea with Pudding (non-alcoholic)
Black Beer Stout
Paradise Gardens Cart
Zhurou Bao – Steamed bao filled with pork and served with sweet chili dipping sauce
Xìngren Qu Qi – Three Mini Almond Cookies

Lunar New Year Keepsakes
To commemorate your time at the Disneyland Resort during Lunar New Year, shop for specialty items from the Shanghai Disney Resort including red envelopes, Mickey Mouse Plush, Minnie Mouse snow globes, and limited-edition pins. Special Lunar New Year merchandise inspired by the cultures of East Asia also includes tees and hoodies.

Annual Passholder Corner – Lunar New Year Celebration
Disneyland Annual Passholders can enjoy exclusive experiences during Lunar New Year Celebration beginning at 10:30 am daily. The Annual Passholder corner is located between Paradise Garden Grill and Boardwalk Pizza and Pasta.
A special photo opportunity
Interactive activities, including a wishing wall
A complimentary collectible art button (limit one per Passholder while supplies last)
Display of special Lunar New Year items available for purchase at Elias & Co. and the Marketplace cart
Celebrate Lunar New Year at Disney California Adventure Park through February 18, 2018. For more information, visit Disneyland.com.