A winter storm and a child under the weather…what's a mom to do?  After a batch of gluten-free, vegan chocolate chip cookies, a stack of books, and a little bit of Dora, we decided to get our craft on.  I really shouldn't complain, since other parts of the country experience a lot worse with regards to weather, and I'm in awe of how those moms keep their children engaged and active indoors.  Since I'm not terribly crafty, I often resort to baking, reading and board games, however, over the next few months I'll be dabbling in some projects, inspired by Walmart's new Craft Group on Facebook.
As a mom, I would love to craft more with my children, particularly if I was guided step-by-step and the projects weren't terribly difficult, messy, or time-consuming.  If you've been inside your local Walmart store recently, you might have noticed a Kids Crafts section, which contains a variety of kid-friendly products to get started.  Since I definitely need some guidance, I decided to try and replicate these adorable Mini Wooden Easter Baskets utilizing Horizon's craft supplies. The total cost of the supplies, minus the glue and scissors, was just under $20 and I can use much of what I purchased on future projects. Here is a quick list of the items you'll need, all of which can be found at your local Walmart:
Scissors with a point
Paper Cups (I used Dixie's 3 ounce paper cups)
Craft Glue
Here is a visual step-by-step guide to making these adorable mini baskets.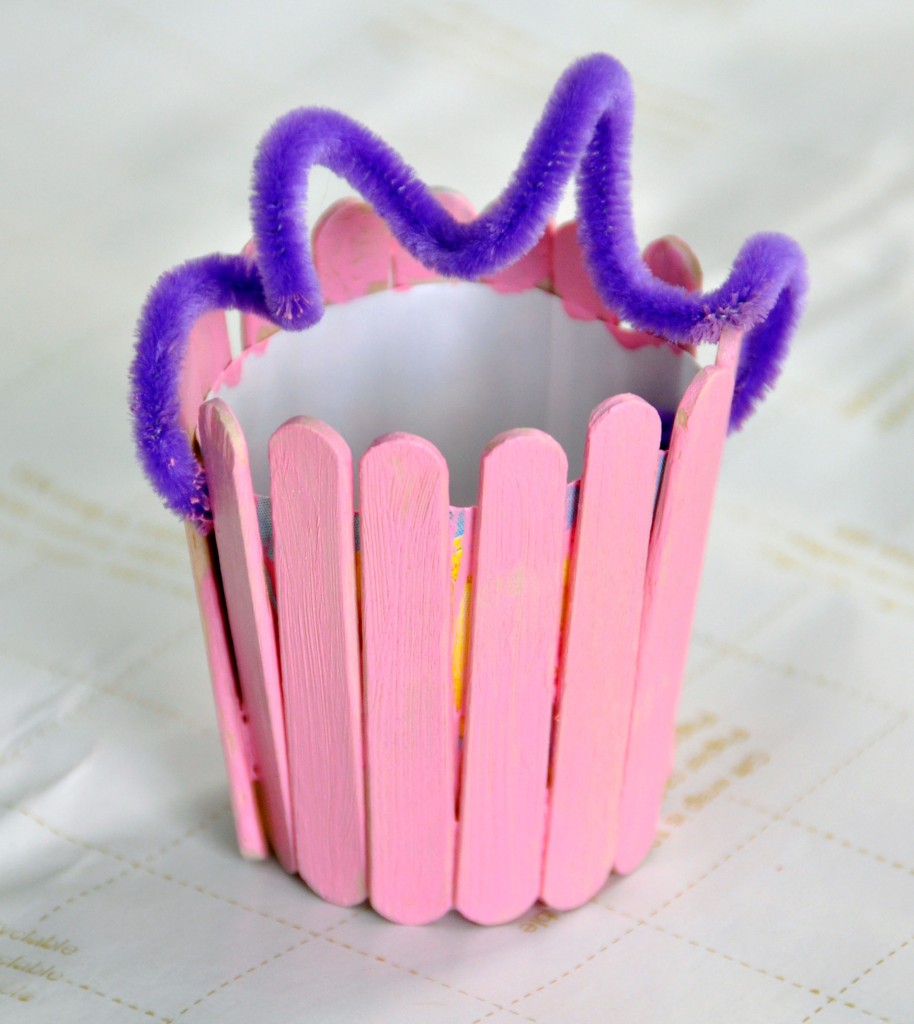 Once you've gathered your supplies, measure the height of your cup against the Mini Craft Sticks and cut the top off if necessary.
Use the end of a pointed pair of scissors to poke a hole on each side of the cup, then thread the fuzzy stick through and tie a small knot.  This is definitely something a parent should either do or supervise.
Wrap the fuzzy stick around your finger to give it a swirl design.  Then thread the other end and tie another knot.
Now it's time to glue the mini craft sticks in place.
Ensure the sticks are straight.  There will be gaps but that is ok because if you use dark paint, it won't really show.
Make sure the glue is dry before attempting to paint.
Be sure to paint the inside of the sticks as well.
We could definitely use a second coat of paint.
I filled the basket with paper grass I found at Walmart.
For beginners, this was an engaging craft that wasn't overly time consuming.  Both of my children (particularly my daughter) definitely required assistance, but really enjoyed using the glue to attach the mini craft sticks and painting their baskets.  While they don't look perfect, we're quite happy with how they turned out.
I am not certain what age group this particular craft is geared towards but I think 6-7 is a good starting age.  Children will require the dexterity and patience to attach the wooden sticks and paint them once in place.
For additional craft ideas and inspiration, visit Walmart's Craft Page, Facebook Craft Group and Pinterest page.
Latest posts by Caryn Bailey
(see all)