This giveaway is now closed.  Thanks for stopping by.  The winner is Lina.  Congrats!
This post was previously written and republished.
Up until Christmas Eve, my beauty regimen consisted of washing my face with soap and water. (period) But that wasn't always my routine.  When I was single I spent a lot of time buying and using the proper skin care products so that I would age "gracefully."  I enjoyed facials and made sure I found time for masks and exfoliation.  Somewhere between "I do" and "It's a boy" I found it difficult to get in a shower, let alone a 45 minute skin care regimen.  I can't believe I'm saying this but I often go to bed without removing my makeup.  And that sometimes results in breakouts even a teenager would shudder at.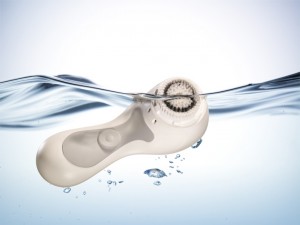 What if I told you that you could achieve healthier, smoother skin in just sixty seconds a day?  I recently had the opportunity to test out the Clarisonic Skin Care System.  I cannot imagine NOT having this system now that I've been using it every day for two weeks now.
What is it?  Clarisonic is an innovative new product that is revolutionizing the definition of clean, healthy skin.  Developed by the creators of Sonicare, Clarisonic Skin Care System is the first oscillating face brush that deep cleanses, stimulates, and clarifies skin.  The brush creates over 300 movements per second (wow!) to elicit a gentle sonic micro-massage action which help to loosen sebum and dirt. It works with the skin's natural elasticity to unclog pores for deeper cleansing without stripping the skin.  Clarisonic cleans your skin so thoroughly that it actually helps prepare your skin to absorb other skin care products like moisturizers.
How does it work?  Before you begin using the system, it must be charged 24 hours.  But…you only have to recharge it after 30 uses (or 30 minutes), which is excellent.  It is super easy to use and can even be used in the shower.  Just wet your face (or whatever part of the body you'd like to use the system on), rub on the cleanser of your choice (it comes with three sample sizes of varying cleanser types), turn on the power button, and move the brush gently using small, circular motions.  You can customize the settings on your system to achieve the best results for your skin type. The company also offers three different brush heads for varying skin types.  It is recommended that you replace the brush head every 3-4 months.
Does it REALLY work?  Studies have shown that Clarisonic cleanses twice as effectively and removes makeup six times more effectively than your daily soap and washcloth routine.  Some of the other benefits include healthier skin, fewer blemishes, fewer dry patches, decreased pore size, and softer skin.  In just eight weeks you'll notice an improvement (and a reduction) in the appearnace of fine lines and wrinkles.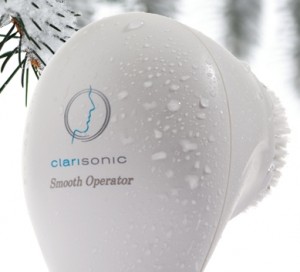 My Thoughts:  I have to admit that I was a tad bit nervous to use Clarisonic.  Would it hurt?  Would my skin be too sensitive?  Not only is Clarisonic safe to use on all skin types, it's so gentle that it can be used on a daily basis (twice a day if necessary).  Even those who suffer from skin conditions such as acne, seborheic dermatitis, and rosacea can use Clarisonic.  I have been using this every day and one of the very first things I noticed is that when I dry my face after using it, there is no makeup residue on the towel.  My face feels a lot smoother and the pores on the bridge of my nose have gotten smaller (some have even disappeared).  I also haven't had as many breakouts.  Every time I use it I feel like I'm getting a mini-facial.
The Clarisonic Skin Care System retails for $195 and can be purchased from the site or through retailers nationwide.  If you purchase the system directly through the site, you'll receive a free gift which includes a 0.5 ounce Daily Renewal Serum, travel bag, and headband AND you will receive free personalization (either a name or short message)

Win It! One of you will win a Clarisonic Mia Sonic Skin Cleansing System (ARV $149).  Simply leave me a comment with one main difference between the MIA and the other Clarisonic units. Comments will close on December 1, 2009 at 10 pm PST. One comment per person, please (unless you do the extra credit). US residents only. Duplicates and comments not including the above information will be disqualified. Comments are moderated. If you don't see your comment in a reasonable amount of time, send me an email. Bloggers and non-bloggers may enter. If you don't want to leave your email address, please be sure to check back for my announcement on the winner. Please note that winners must respond within 48 hours of being announced/contacted or another winner will be drawn.
Want an extra entry? Do any or all of the following and receive an extra entry for each one.
Be sure to leave me a separate comment for each additional entry.

Add the "Holiday Gift Guide" button to your sidebar and leave me a comment (be sure it's up for the duration of the gift guide!)
Check out my Holiday Gift Guide and leave a comment on that site about a product you like! (Maximum of 1 Comment for this).
Follow me on Twitter AND tweet about the contest. Be sure to use the hashtag #holidaysurvivalguide
Enter Shannon's giveaways (Maximum of 1 Comment for this).
Subscribe to my feed via email or reader.
Blog about this giveaway. It doesn't have to be a separate post. Just include a blurb about it when you blog about other giveaways.
Click on one of the very cute buttons below and digg, stumble, fav, etc. Just let me know what you did in the comments!
For more fabulous Holiday Gift Ideas, visit The Mommy-Files


Latest posts by Caryn Bailey
(see all)