This giveaway is now closed.  Thanks for stopping by.  The winner is SmT. Congrats!
Chocolate is my weakness.  I blame chocolate for those last 10 pounds I still had left to lose before getting pregnant with baby number 2.  And self -control goes out the window when chocolate is in the house.  Now there's nothing inherently wrong with chocolate.  In fact, it has some pretty amazing health benefits, particularly the dark chocolate variety.  Anti oxidants (which attack free radicals) are one of the many benefits inherent in dark chocolate.  So while I definitely don't need to indulge in it, a little bit here and there may just be good for me!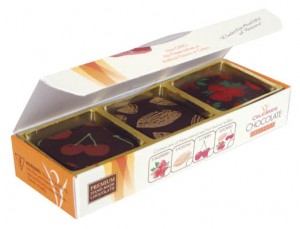 Before I found out I was pregnant for the second time, I jumped at the opportunity volunteered to try out some chocolate samples from Celebrate Chocolate Truffles.  These chocolates are unlike anything I've ever seen or heard of and they're brand new!  These dark chocolate truffles are designed to help you control your appetite.  You'll find ingredients in these truffles that you won't find in others…like exotic fruits, oils, and nuts.  These truffles pack a lot into one bite (or a few).  Here is a bit more information from the site:
The delicate Celebrate chocolate blend is created from rare, 100+ year old Venezuelan highland cocoa trees, and rich coastal Guatemalan cocoa. The old plantations were cultivated organically before there was any other way. The ancient recipe enchants with exquisite honey from flowering banana trees, coupled to a touch of chile. Delivering powerful nutrition to your body with a sensationally unique taste, Celebrate Chocolate is accented with 59 concentrated whole foods – fruits, nuts, grains, and herbs. Cultivated sustainably, all are freshly harvested from pristine fields in southwestern Brazil.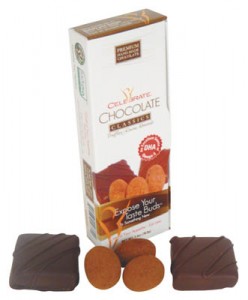 I will be completely honest in saying that my husband was the one to try these.  Because of the sheer number of somewhat exotic ingredients and the appetite suppression that go along with the chocolate, I decided it might be better to hold off until after the baby is born.  All of the ingredients are natural, but many were new or unfamiliar to me so I thought I'd play it safe.  My husband readily volunteered (actually, I had to stop him from eating them long enough to look at them and smell them).  His opinion was that they were smooth and rich with an intense flavor.  He also said they practically melted in his mouth.  He prefers the taste of Celebrate Classics over Celebrate Creations because he's not particularly fond of fruit and chocolate in combination.  Just smelling them made me want to go out and buy a box of dark chocolate truffles!  I also love the way they look.  Each chocolate has an imprint of the fruit or nut that it is supposed to taste like!
Regarding appetite suppression…the company claims that eating 1-2 20 minutes before a meal will help curb your appetite, causing you to eat less.  Honestly, my husband did not use these chocolates in that way.  He used them more as a dessert, so of course he was full right after eating dinner and a couple of chocolates.  So while I can't comment on it's effectiveness in suppressing appetite, I will say that losing weight is a very difficult process.  In the past I've lost weight with programs that basically utilize the philosophy of portion control.  Unfortunately, things that I would crave (like chocolate) would end up having more calories or fat then were allowed in the "plan."  When someone is trying to lose weight, the focus can easily shift to those foods that are considered "off limits."  I like the idea of allowing a bit of an indulgence (like chocolate) into one's weight loss plan so that there is no feeling of deprivation (and subsequent diet failures when cravings are given into).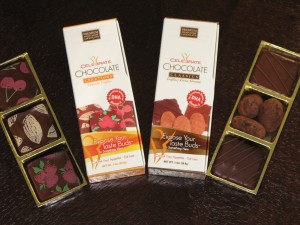 There truly is a "science" on how the chocolates work to suppress appetite, including the numerous health benefits.  I'll let you read all about it on the site!  A 12-piece box retails for $19.95 and can be purchased directly from the site.
Win It! One of you will receive 2 mini boxes of Celebrate Chocolate Truffles.  Simply leave me a comment with a flavor that sounds yummy and something you learned on the site (which is packed with information).  Comments will close June 23, 2009 at 10 PM PST.  One comment per person, please (unless you do the extra credit). US residents only. Duplicates and comments not including the above information will be disqualified. Comments are moderated. If you don't see your comment in a reasonable amount of time, send me an email. Bloggers and non-bloggers may enter. If you don't want to leave your email address, please be sure to check back for my announcement on the winner. Please note that winners must respond within 48 hours of being announced/contacted or another winner will be drawn.
Want an extra entry? Do any or all of the following and receive an extra entry for each one.
Be sure to leave me a separate comment for each additional entry.
Follow me on Twitter AND tweet about the contest.
Subscribe to my feed via email or reader.
Blog about this giveaway. It doesn't have to be a separate post. Just include a blurb about it when you blog about other giveaways.
Place my button on your site. If you have difficulty, please let me know.
Click on one of the very cute buttons below and digg, stumble, fav, etc. Just let me know what you did in the comments!
Profuse thanks to the Family Review Network for this review opportunity.

Latest posts by Caryn Bailey
(see all)