As a kid, I looked forward to our family's camping adventures along the coasts of California. My dad specifically loved the outdoors, and those trips were spent tent camping under the stars with campfires, disconnected from our busy suburban life. I have continued these outdoor adventures with my own kids, and while tent camping has always been my mainstay, my introduction to glamping, thanks to KOA (Kampgrounds of America), has me a bit spoiled. Since we are part of the KOA Rewards program, I could not pass up the opportunity to book a stay at the Ventura Ranch KOA. This family-friendly campground is located at the foot of Ventura County's highest mountain, Topa Topa in between Santa Paula and Ojai. Find out why Ventura Ranch KOA is our new favorite campground!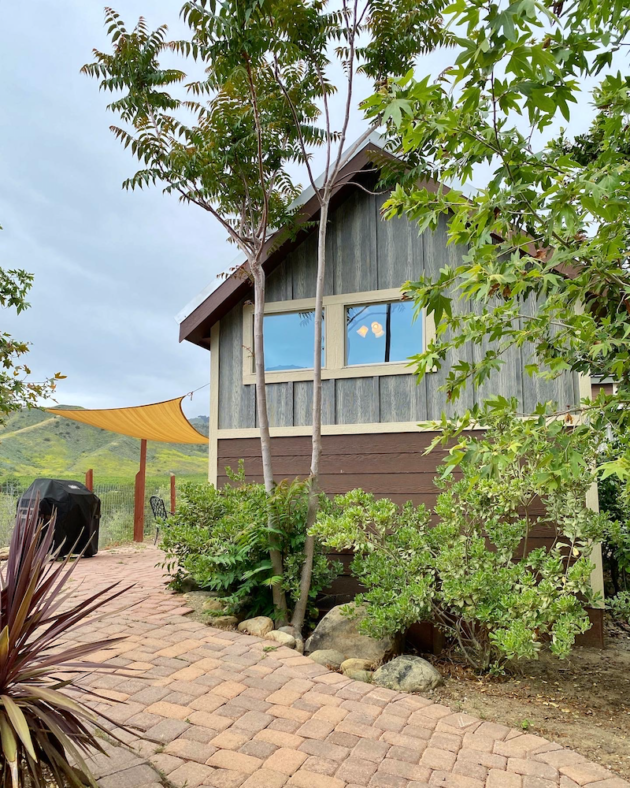 Ventura Ranch KOA
Every KOA campground is unique, and Ventura Ranch KOA really sets itself apart from others with its deluxe cabins, teepees, Conestoga Wagons, climbing walls, and zip lines. Spanning 76 acres, this lush, spacious campground places you right in the middle of nature. One of my favorite features of this campground is the fact that you don't have to leave to enjoy a relaxing, adventure-filled vacation.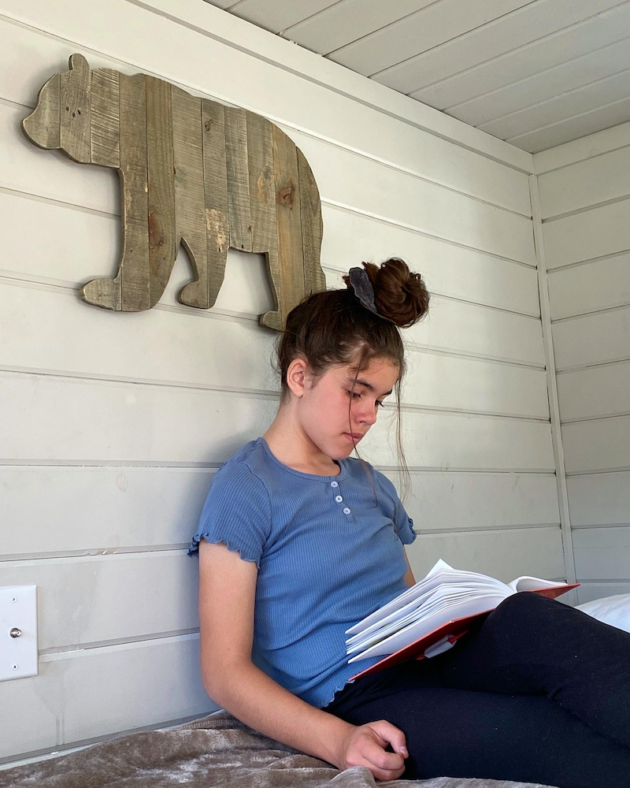 Five Ways to Camp at Ventura Ranch KOA
Camping is one of our favorite ways to vacation. I love the way camping brings us closer together as a family as we explore and enjoy the beauty of nature. On this latest adventure, we played games, explored the nature that surrounds the Ventura Ranch KOA campground, and roasted marshmallows. We all agreed it was the most relaxed we have been in a very long time.
There are five ways to camp at Ventura Ranch KOA from rustic camping to luxury glamping.
Tent sites (no electricity)
RV sites (Full and partial hook ups, no cable for TV)
Teepee's (no electricity)
Conestoga Wagons 
Safari Tents
Cabins (No cable or TVs)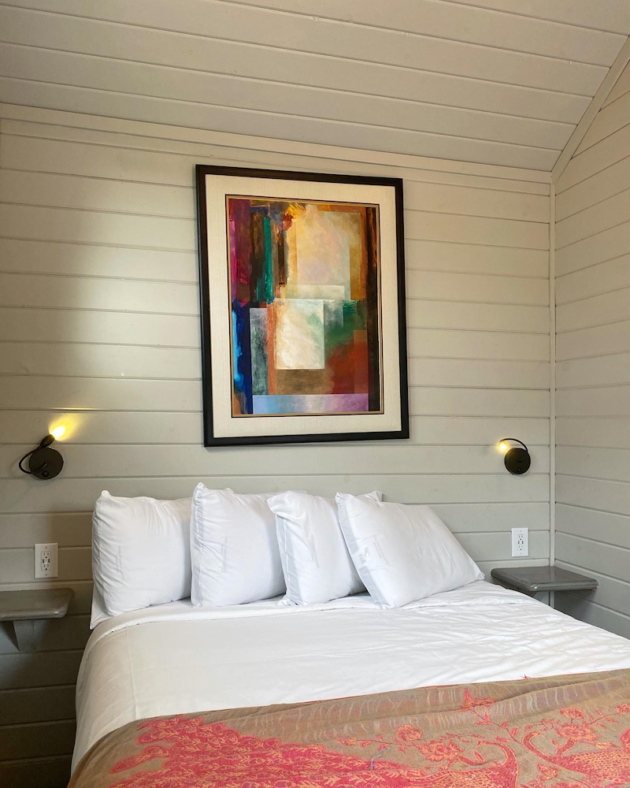 Deluxe Cabins
Our "home" for a few nights was a deluxe cabin, fully equipped with electricity, a full or partial kitchen, beds with linens, and a bathroom. The best thing about staying in a deluxe cabin is enjoying the best things about camping while having all of the modern luxuries from home.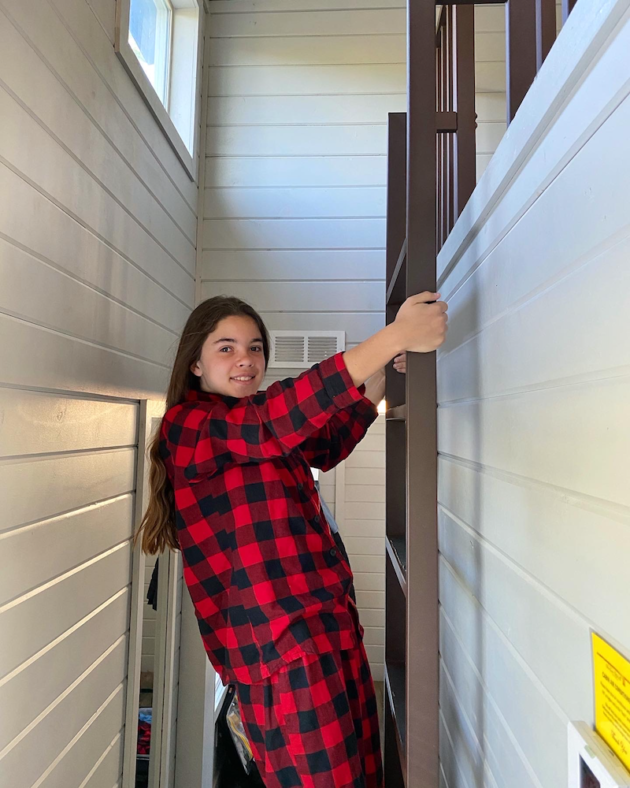 Ventura Ranch KOA offers three different deluxe cabins and each varies slightly in size and amenities. The spacious patio was perfect for stargazing, dining al fresco, and enjoying the beauty of the Topa Topa mountains. The kitchen and outdoor grill make it easy to prepare meals. And we loved having an outdoor fire pit to roast marshmallows and warm up at night. Tip: You can purchase firewood at the general store when you check-in.
It should also be noted that pets are only allowed in one of the three deluxe cabins (for an additional fee), so be sure to inquire during booking if you want to bring your pet.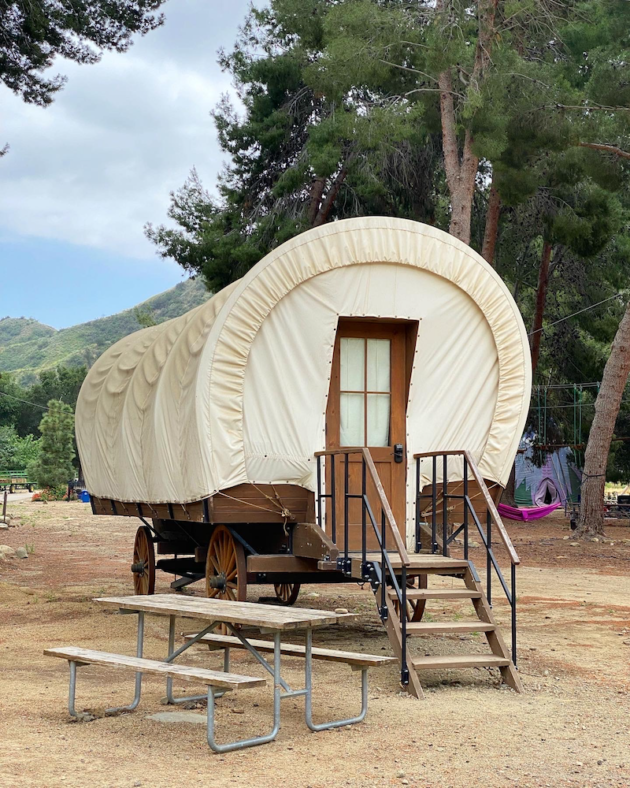 Conestoga Covered Wagons 
One of the most unique ways to camp at Ventura Ranch KOA is inside a Conestoga Covered Wagon, just like our early settlers lived. Each covered wagon includes a king-sized bed and 1 or 2 bunk beds (4-6 occupants). The wagons include battery powered lights but do not include a kitchen or bathroom.
Safari (Glamping) Tents
If you enjoy tent camping but prefer not to have to bring and set up a tent, you might consider the safari glamping tents at Ventura Ranch KOA. Each tent includes a queen bed and a futon and sleeps up to four people. The tents also include a microwave, mini-fridge, heater, a fan, bedding, towels, and toiletries. It should be noted that the tents do not include a kitchen or a bathroom.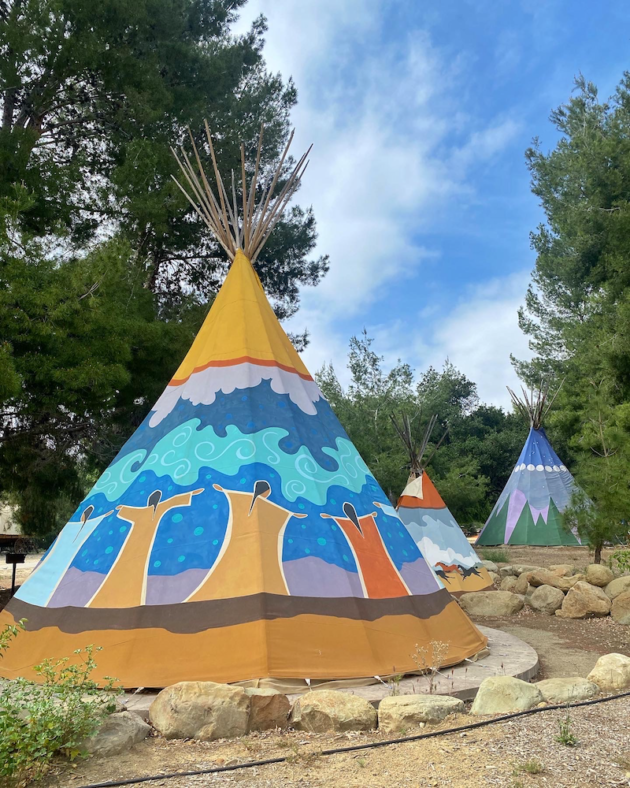 Teepee's
Ventura Ranch KOA offers replicas of Indian Teepees in 3 different sizes (20′, 22′, and 26′). All of the teepees include a queen bed and a twin bed and can accommodate 4-8 people, depending on the size you select. None of the teepees include a bathroom or kitchen, however, some sites offer a fire ring, a charcoal grill, a table, and chairs. It should also be noted that there is no electricity inside the teepees.
Ventura Ranch KOA Campground Amenities
Ventura Ranch KOA is a KOA Holiday, which means it includes a number of amenities and services for the most memorable stay. This particularly campground is ideal for kids and includes a number of recreational activities including a Jumping Pillow, a rock climbing tower, the Eagles Nest Zip Line, and the Soar Over Ventura Adventure Course.
Soar Over Ventura Aventure Course
For an additional (and well worth it) fee, families (kids AND adults) can experience the challenge and thrill of their new ropes course and zip line. Be sure to check with the front office for available days and times and book early, as this course sells out.
Eagles Nest Zip Line
Do you prefer the thrill of zip lining? Ventura Ranch KOA offers a new zip line course through the trees. You can sign up for this adventure at the front office.
Ventura Ranch KOA World Labyrinth
Relax, reflect, and enjoy the outdoors at this peaceful rock labyrinth. Free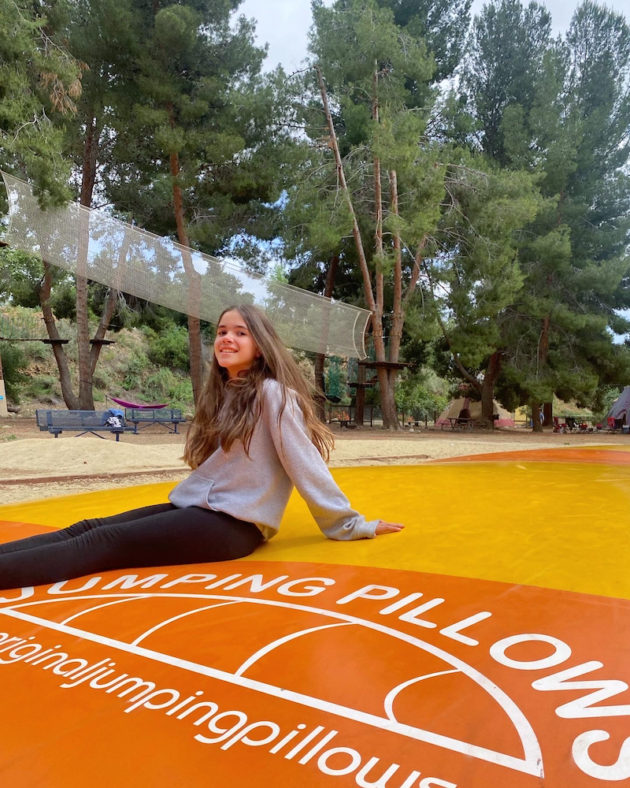 Jumping Pillow
This tied as my kids' favorite activity at Ventura Ranch KOA. Ideal for kids under the age of 16, this huge jumping pillow is great for getting their energy out. The jumping pillow is open daily from 10 am to 6 pm (depending on weather) and is free.
Rock Climbing Tower
For a nominal fee, kids can climb the tower. Be sure to check the office for days/times.
Gem Mining
Find semi-precious gemstones, arrowheads, or fossils using a screen in a traditional water sluice. Prices range between $8-25 and can be arranged at the front office on select days.
Ventura Ranch KOA also has an on-site pool which is open Memorial Day weekend through November. Additional activities, including t-shirt tie dye ($) and cornhole (free) can be booked by visiting the front office.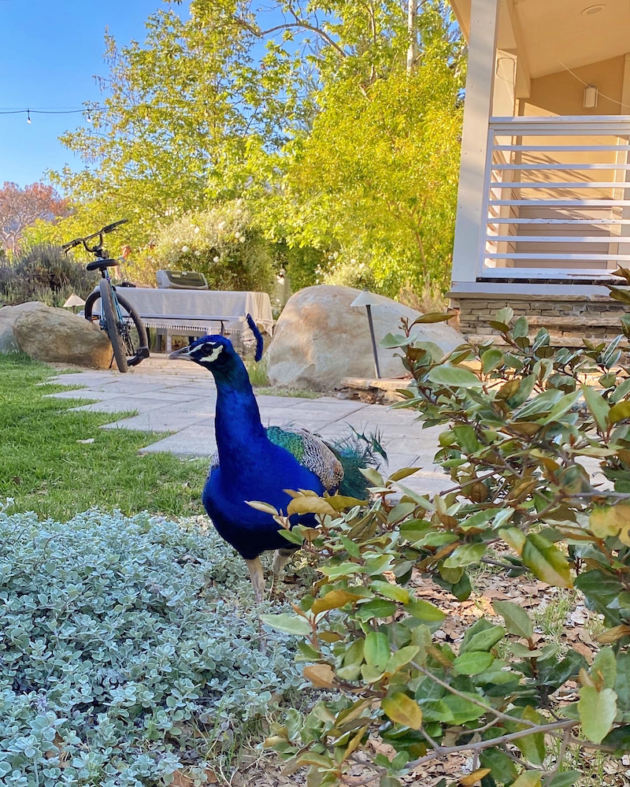 Know Before You Go
We have now stayed at 5 different KOA campgrounds, and hands-down Ventura Ranch KOA is our favorite. While this campground is situated within driving distance of Ventura, Santa Paula, and Ojai, you don't really have to leave because there is so much to do onsite.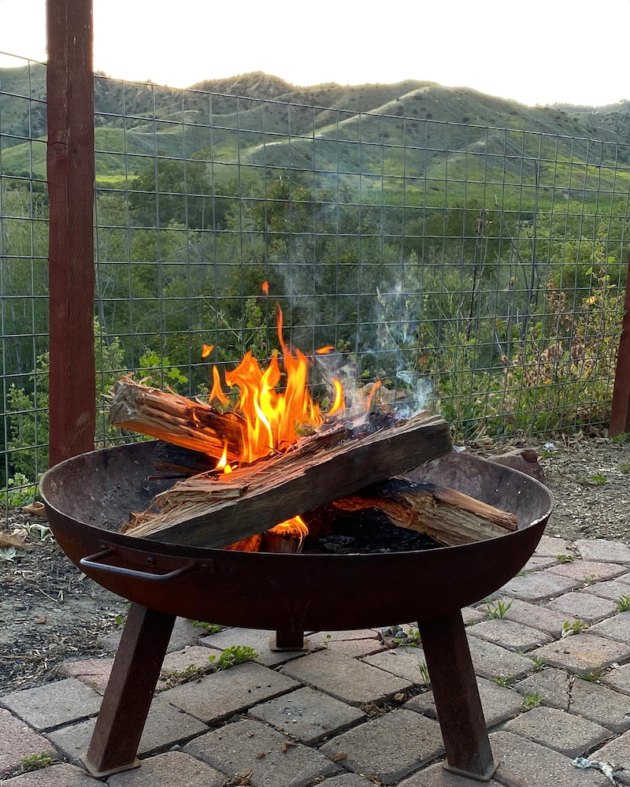 In order to make your trip memorable, I suggest the following tips:
Book your preferred RV site, tent site, or lodging accommodation early. Ventura Ranch KOA is a very popular campground and for good reason and the most sought-out accommodations and sites are often reserved months in advance.
Be mindful of where pets are allowed and be sure to notify the campground of your plans to bring your pet.
There is a small on-site store that sells everything from food and drinks to firewood and souvenirs. I highly recommend bringing your own food and any other essentials, since the campground is several miles from the nearest town.
There are wild peacocks on site! You will find these beautiful birds roaming the campground so do not be alarmed. My only suggestion is to consider brining a blanket to cover your car and prevent the peacocks from pecking at the windshield.
At present, there is no cable or TV due to the Thomas Fire that caused significant damage in 2017-2018. While there is no physical evidence of the fire, they are still working on establishing cable. WiFi is available throughout the campground.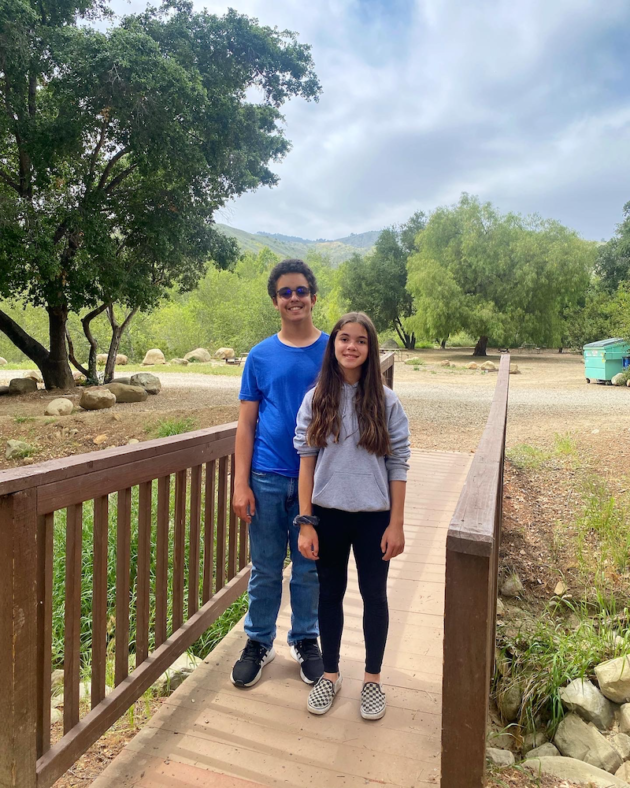 KOA Rewards
If you love camping at KOA, I recommend signing up for their camping loyalty program. The program is $33 per year and gives you access to special discounts, program-only perks, and rewards for each reserved stay at KOA. Here is an overview of what you will receive when you join the program:
10% discount on the daily registration rate at 500+ KOA locations
A free night of camping during KOA Rewards Weekend at participating KOA Campgrounds
Exclusive offers and special discounts from KOA partners
Ready to book your next adventure at Ventura Ranch KOA? Just visit Koa.com/campgrounds/ventura-ranch.
Latest posts by Caryn Bailey
(see all)