In the past several years, I've noticed a trend in the automotive industry.  Owning a vehicle is no longer just a means to getting around…it is a lifestyle, and automotive brands like Buick are recognizing the consumer's demand for a vehicle that fits into that lifestyle.
Buick, in partnership with Food & Wine Magazine, recently hosted it's third annual luxury food and wine event at the Four Seasons Hotel and Resort in Westlake Village.  Open to invited guests and media, the Buick Discovery Tour is an opportunity to showcase the best in food and wine, while experiencing the latest in the brands' luxury vehicle fleet.  The concept for the event is innovative and progressive, and if nothing else, it is an opportunity for Buick to engage a small group of people in an intimate setting to perhaps change their perception of the brand.
After a brief welcome, we were divided into groups for smaller food demonstrations by some of the most renowned chefs in the industry.  What I was most impressed with was how each of the chefs took a rather simple dish (save Ben Roche's elaborate dessert) and elevated it.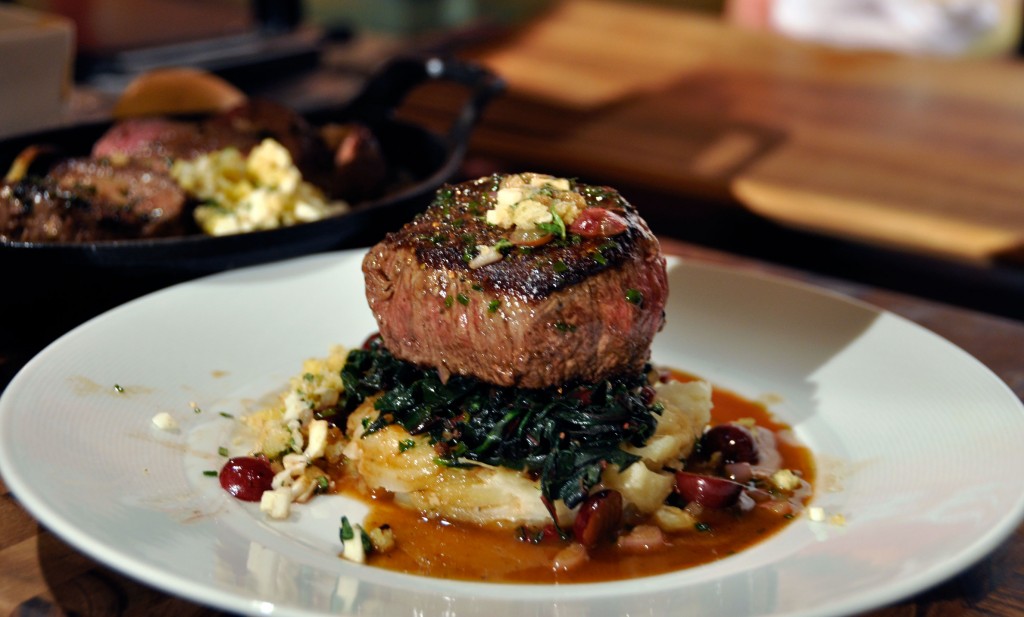 The first dish was presented by Chef Raphael Lunetta:  A Filet of Beef complimented by a Yukon Potato and Pear Gratin, Red Flame Grapes, Sauteed Swiss Chard, Julienned Hearts of Palm, and a Madeira Reduction.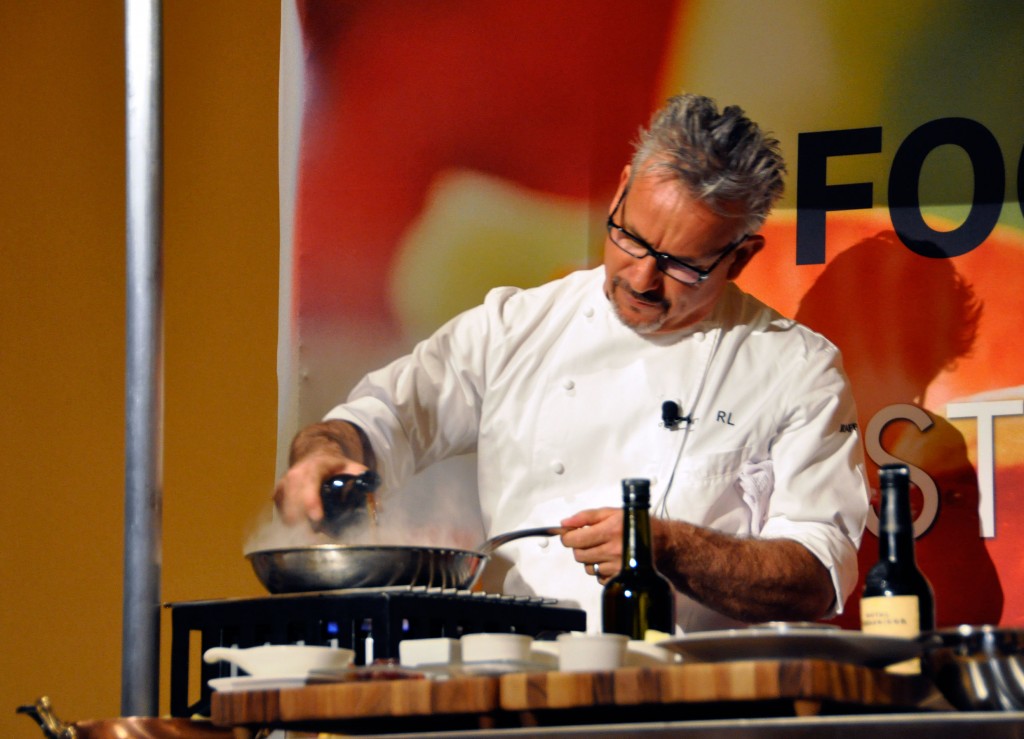 There are not many instances when I wish I ate meat, but this was one of those times. It looked absolutely divine!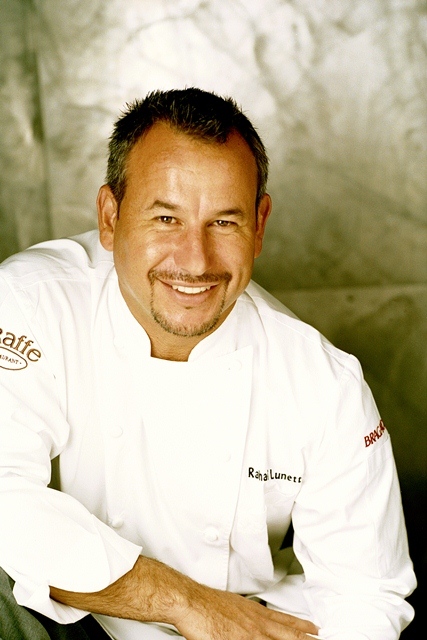 You might know Chef Raphael Lunetta from the popular BRAVO-TV series Top Chef, where he served as a celebrity guest judge.  But locals likely know him as the culinary brilliance behind JiRaffe in Santa Monica, California.  The restaurant merges rustic American and French cuisine and celebrated it's 15th anniversary last year.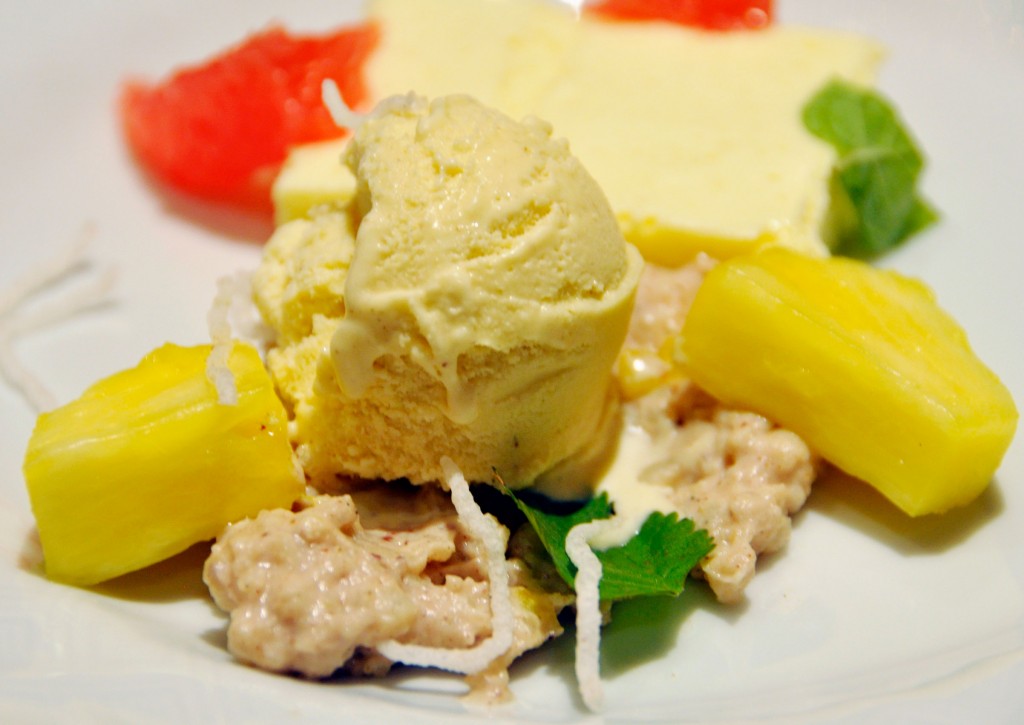 Given my serious sweet tooth, I had no reservations about sampling Chef Ben Roche's Yuzu Chiboust, despite the fact that at the time, I had no idea what it was. Yuzu is an East Asian citrus fruit believed to be a hybrid of a sour mandarin and an Ichang papeda (thanks Wikipedia!).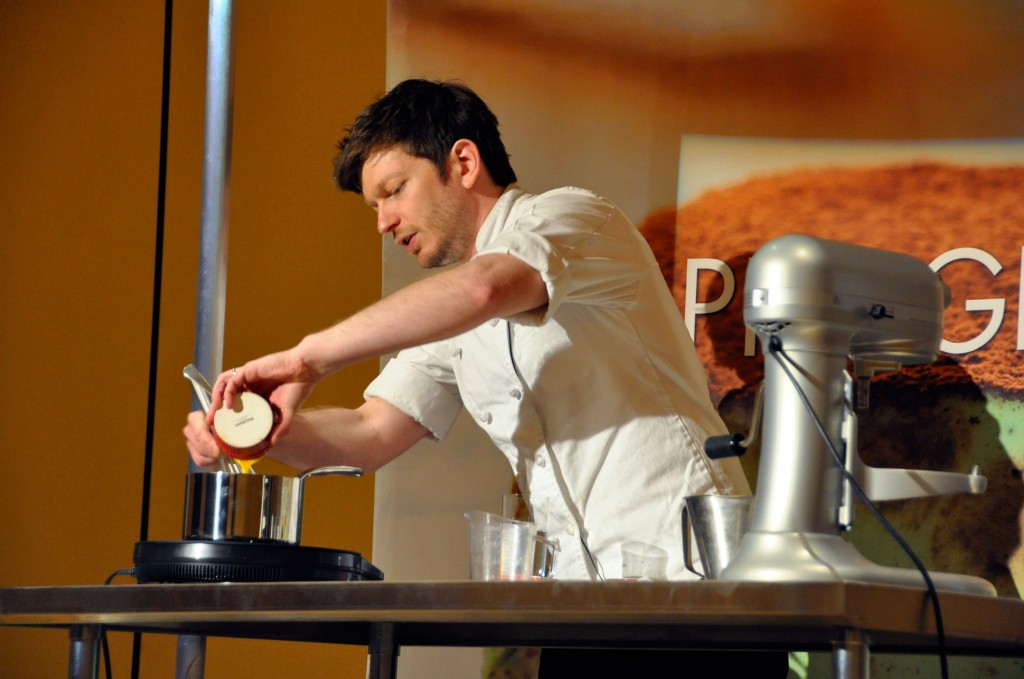 Chef Roche took this fruit and created a rich, creamy Chiboust (crème pâtissière or pastry cream).  He then complimented it with a homemade Caraway ice cream and a coconut rice pudding.  This was a tropical culinary delight!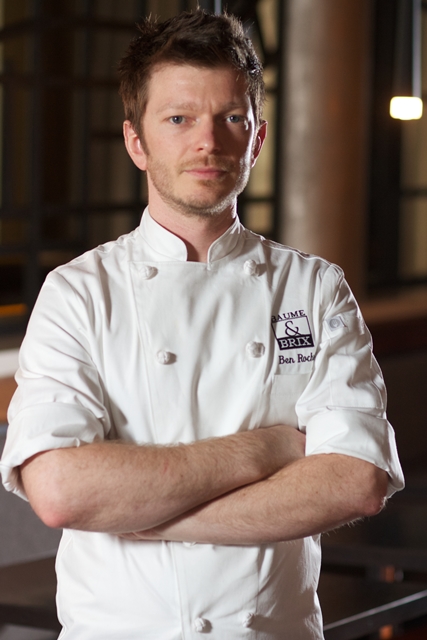 Pastry Chef Ben Roche has worked in some of the most prestigious restaurants, utilizing cutting edge technology to create exciting dishes.  You may have seen Chef Roche on Future Food and is currently serving as co-executive chef at Baume & Brix in Chicago.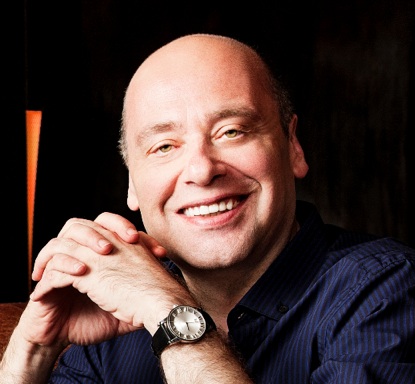 After test-driving Buick's latest vehicle, the Encore (more on that below), we converged in a larger room for an informational "Wine 101" of sorts with wine and spirits expert Michael Green.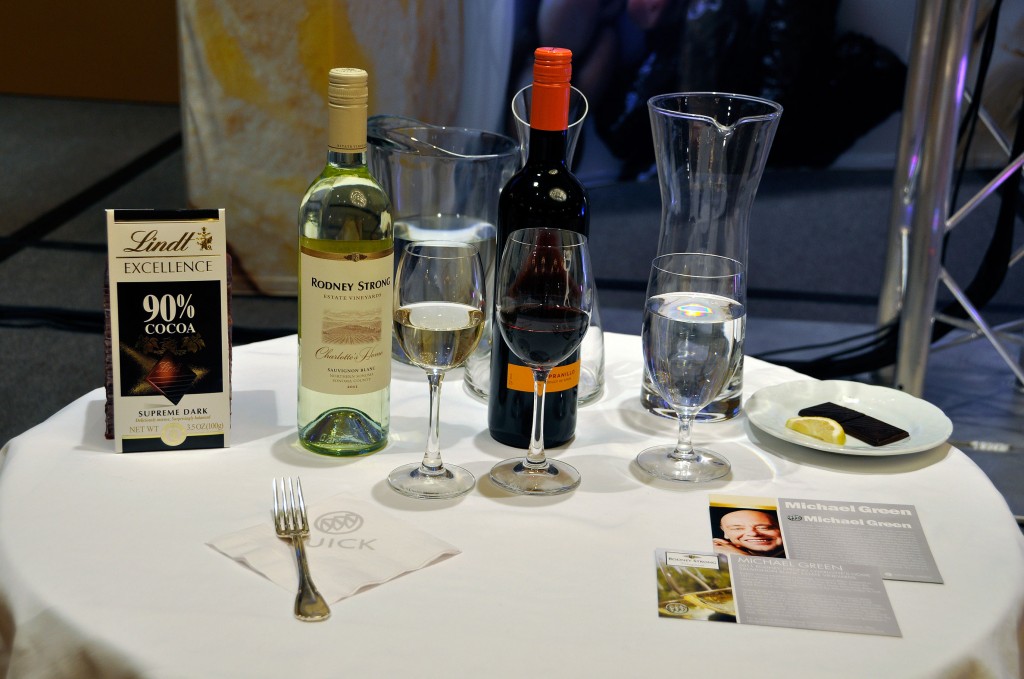 I'll have a more detail-focused article on OC Menus but in essence, he walked us through two tastings and demonstrated how different a wine can taste when paired with the right food.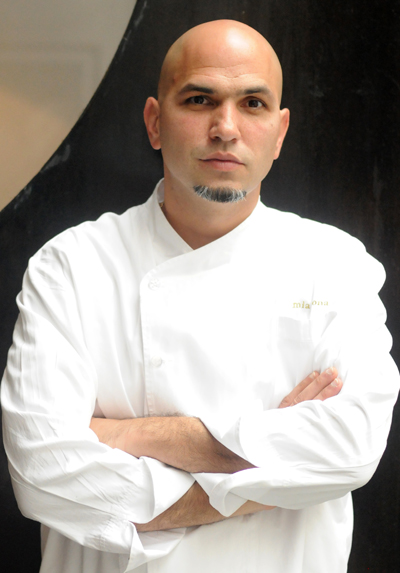 Our session ended with an inspirational discussion with esteemed chef Michael Psilakis, who shared his passion for food and how it unites people.  Psilakis has received numerous accolations including Chef of the Year by both Esquire Magazine and Bon Appetit and Best New Chef by Food & Wine.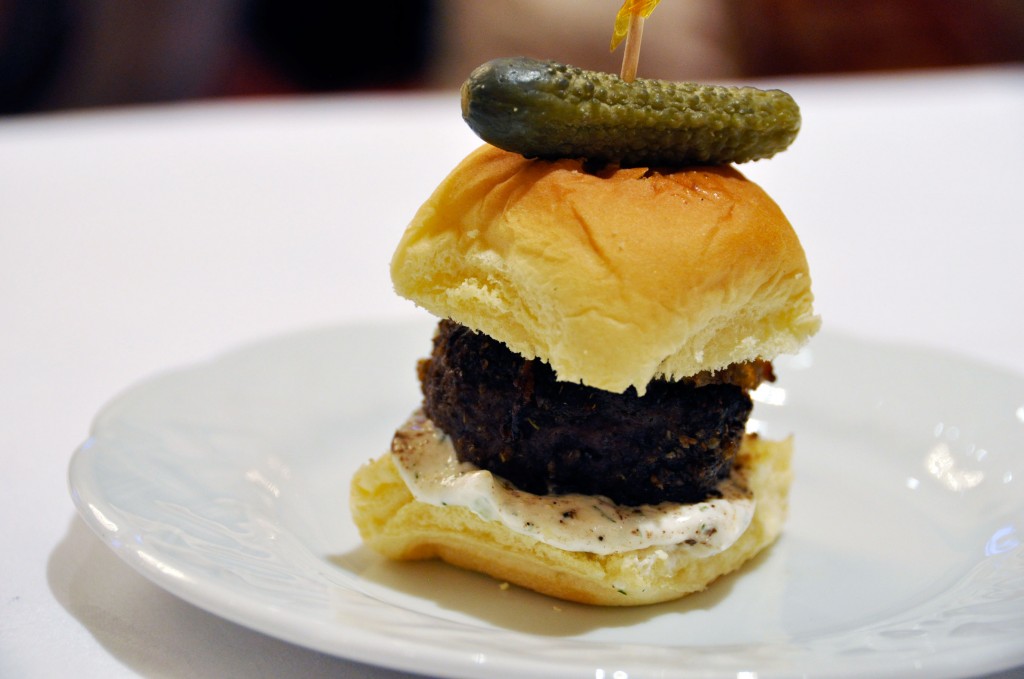 The last dish presented was a Greek take on the traditional slider.  His Gyro Spiced Sliders feature a homemade Tsatziki sauce and while I obviously didn't taste them, the overall response from the audience was positive.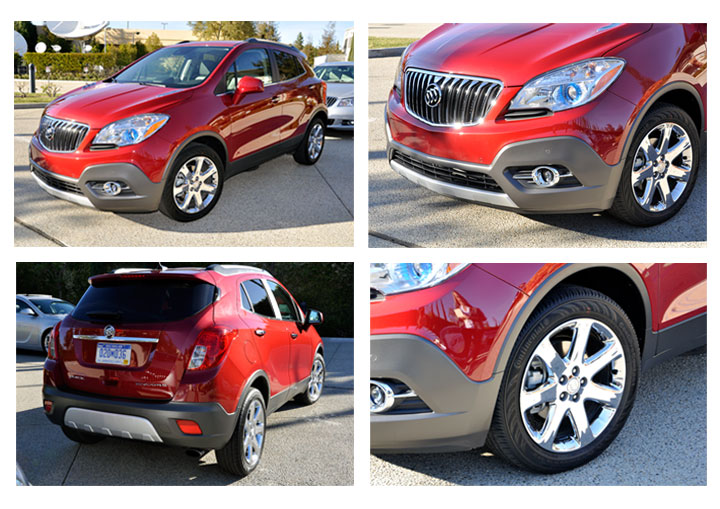 While the majority of our time was spent gnoshing and learning about the art of food and wine, each participant was given the opportunity to test drive Buick's latest line of vehicles in a safe, no-pressure setting. I opted to test drive the LaCrosse with eAssist Technology and the Encore. I have always been drawn to SUVs, so I wasn't surprised how much I enjoyed driving the Encore.  It is sleek and exudes luxury both with its exterior and interior styling and sophisticated technologies.  As a 5 passenger crossover vehicle, it is as fuel efficient as most comparable vehicles in its class at 25 mpg city and 33 mpg highway.  And with a starting price of just $24,200, it is a vehicle most families will be surprised that they can afford.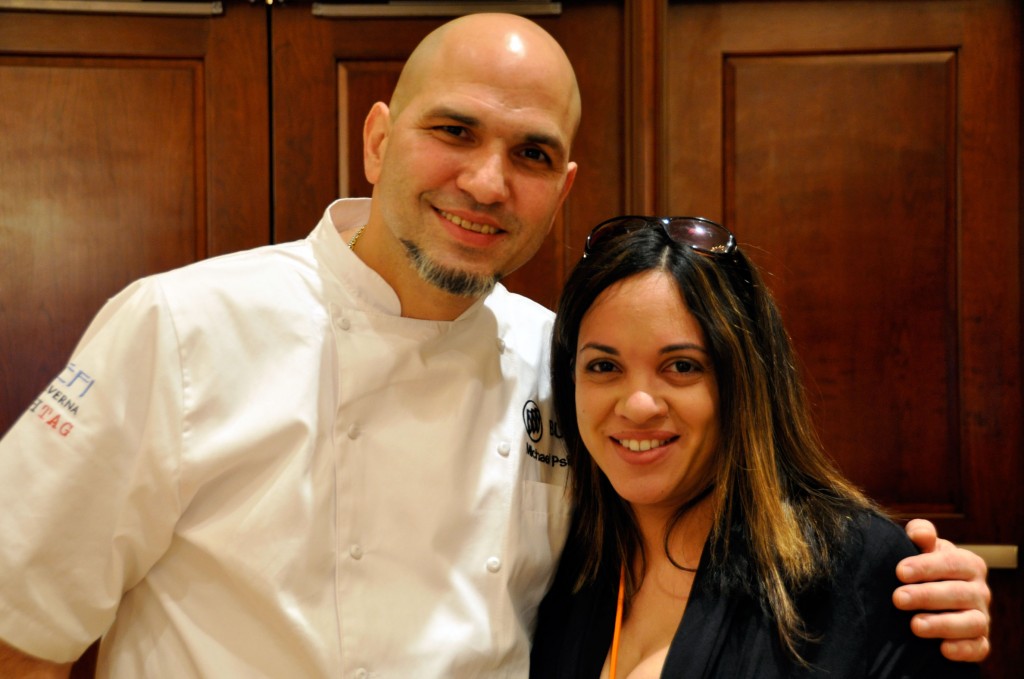 Overall, I walked away inspired to continue exploring the foodie within me, with a new perspective on Buick as a brand.
No compensation was received for this post. I was invited as press to cover the event which helped facilitate the writing of this post.
Images: Rockin' Mama unless noted.
Latest posts by Caryn Bailey
(see all)