We strolled through Hogsmeade at dusk, taking in the gorgeous snow-covered rooftops and dazzling lights. It was wonderful to be back at Universal Studios Hollywood to celebrate the holidays complete with Butterbeer, a lively retelling of How the Grinch Stole Christmas, and a dusting of snow. All of your holiday favorites, including Grinchmas and Christmas in The Wizarding World of Harry Potter. Included with the price of admissions, families can celebrate the holidays at Universal Studios Hollywood through January 2, 2022.
Partner.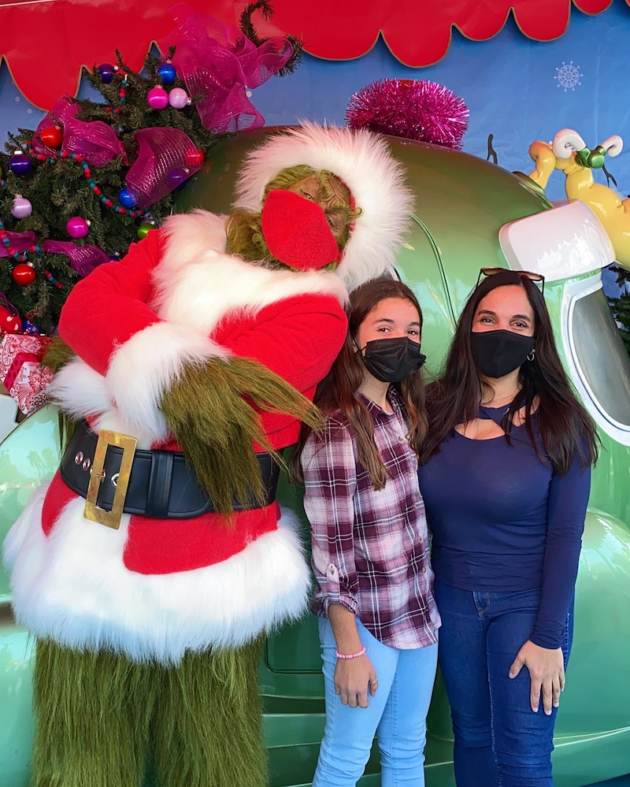 Grinchmas at Universal Studios Hollywood
We walked into the town of Who-ville and were captivated by the unique grandeur of the park's signature 65-foot topsy-turvy, Dr. Seuss-inspired Christmas Tree. Univeral's Grinchmas Who-lebration is as if the pages of Dr. Seuss's classic children's book have come to life. The simple story details how a Grinch tries to cancel Christmas by stealing gifts and decorations from the homes of the town of Whoville on Christmas Eve.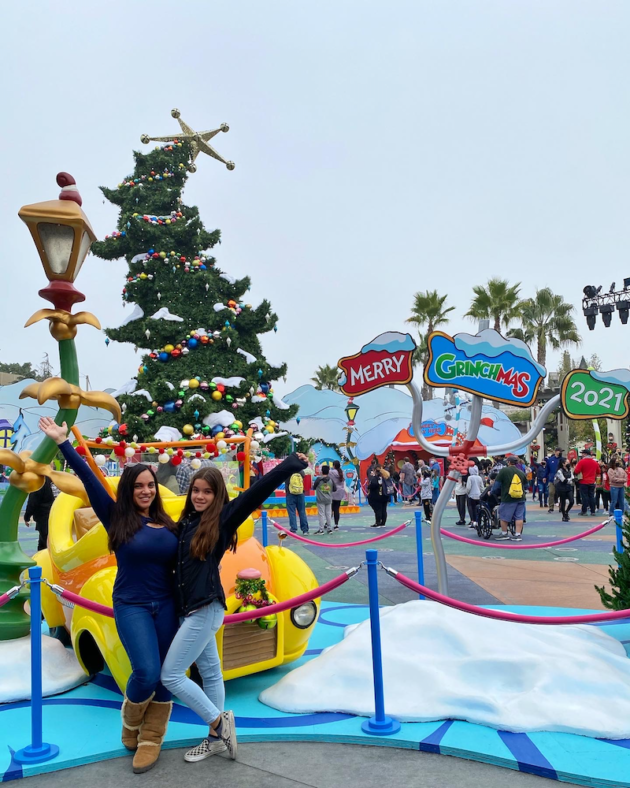 Taking place inside Universal Plaza, Grinchmas invites families to meet the residents of Who-ville, send a postcard to the Grinch, and watch the lighting of the iconic Grinchmass Christmas tree. All of the Grinchmas events and activities are free, so be sure to check the schedule for information about character meet and greets, story time, and the Wholiday tree lighting ceremony.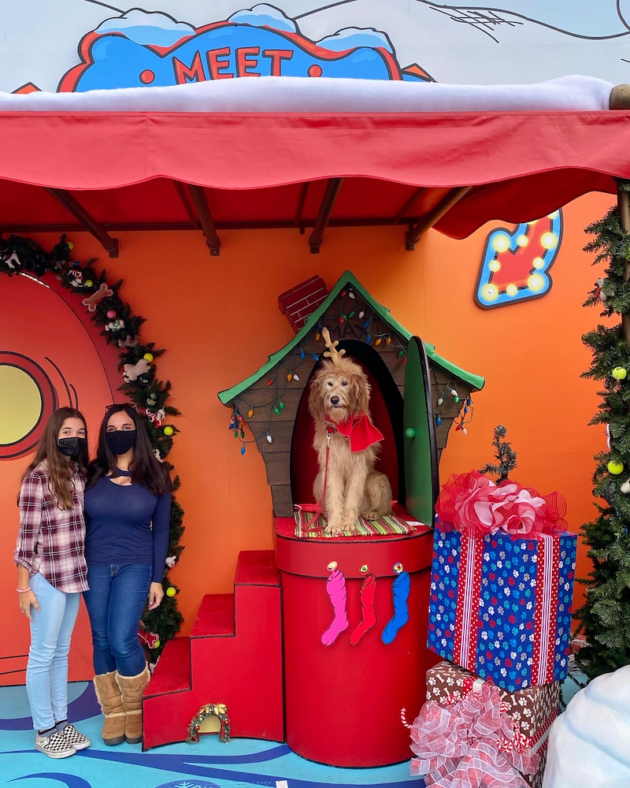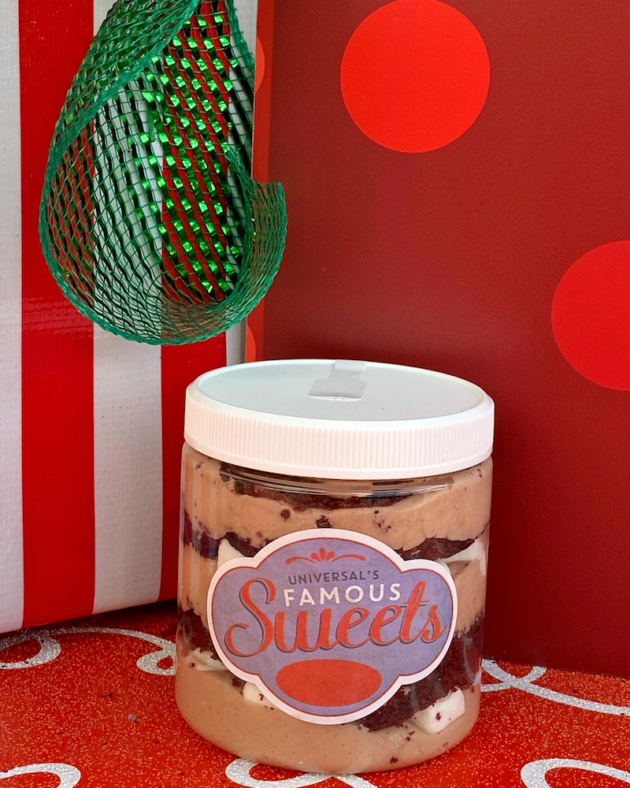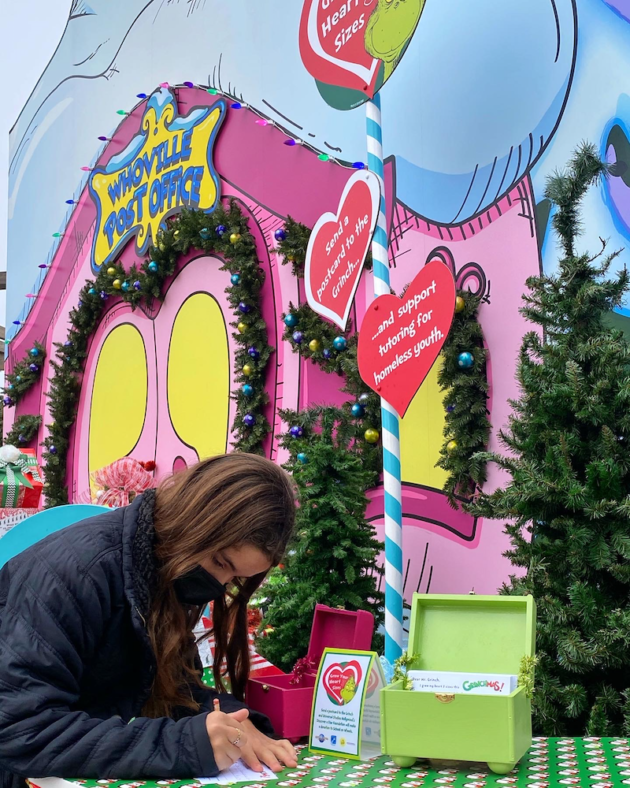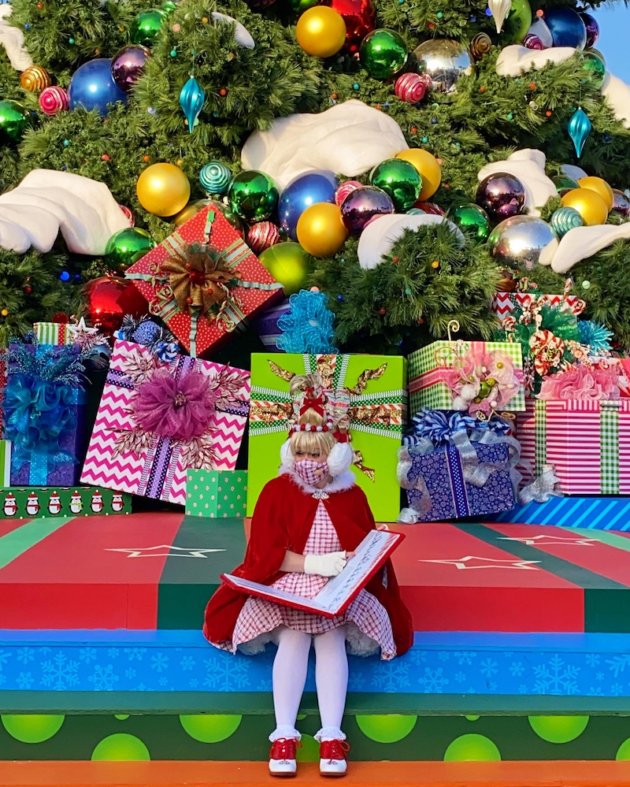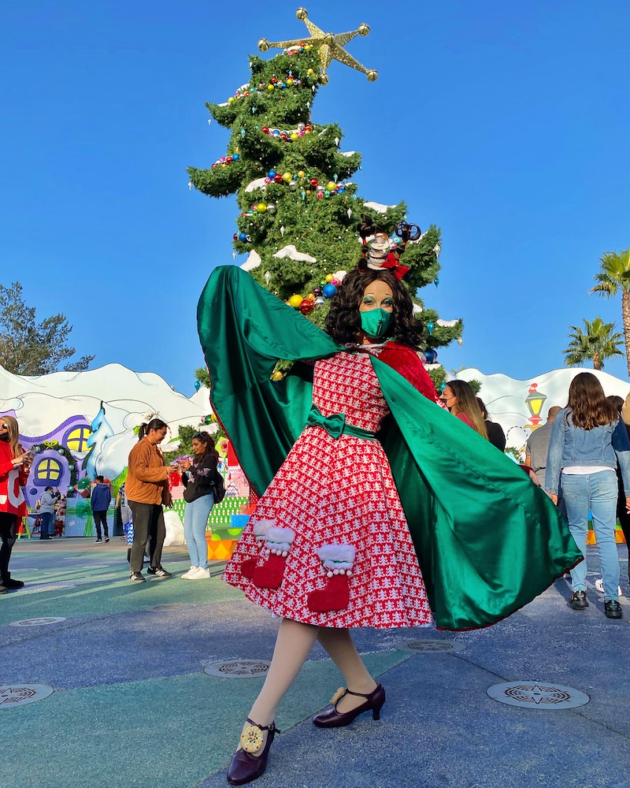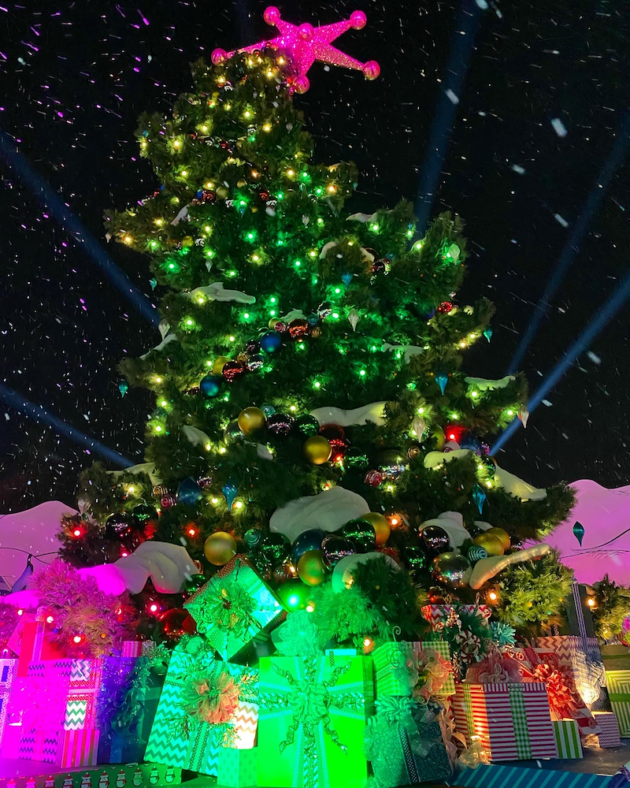 Take a photo with the Grinch, Max and the Who-ville Whos: If you want that inconic photo with the Grinch be sure to line up at least 30 minutes prior to his arrival to ensure your spot in line.
Send a postcard to The Grinch: For every postcard sent, Universal Studios Hollywood will make a donation to School on Wheels which seeks to enhance education opportunities for children experiencing homelessness.
Indulge in a Who-bilicious treat: Choose from a selection of donuts, cookies, cupcakes, and more, all inspired by The Grinch.
Sit down for storytime with Cindy-Lou
Celebrate the season with a festive Wholiday Tree Lighting: Be sure to arrive at least 30 minutes prior to showtime as capacity for each tree lighting ceremony is limited.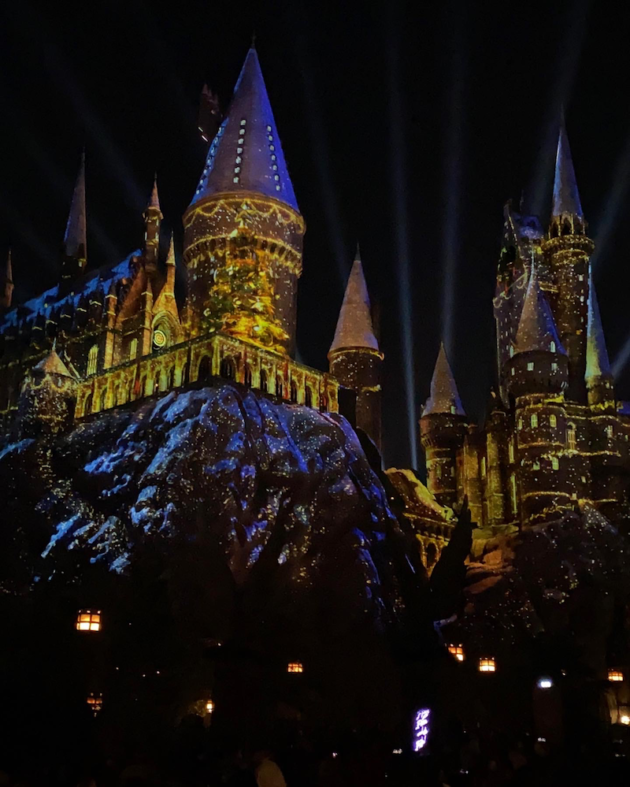 Christmas in the Wizarding World Of Harry Potter
Even on a regular day at Universal Studios Hollywood, the Wizarding World of Harry Potter is a site to see. The studio is accustomed to bringing stories to life, and walking through Hogsmeade feels like the pages of J. K. Rowling's books have come to life. During the holidays, the village undergoes a magical transformation complete with festive decor and lights. My favorite way to enjoy Christmas at Hogwarts is to enter an hour or so before dusk, grab a cup of hot or cold butterbeer, and stroll up to the castle.
Sample the festive fare at Three Broomsticks: Their English Holiday Dinner includes roasted turkey, sourdough stuffing, ginger glazed carrots, Brussel sprouts, bacon-wrapped sausage, turkey gravy, cranberry sauce. Pair it with a hot butterbeer to warm up this season.
SIng along with the Howgarts Frog Choir: Throughout the day, the Hogwarts Frog Choir entertains with special holiday acappella performances on the stage across from the castle.
Be dazzled by the Magic of Christmas at Hogwarts Castle: This spectacular show features incredible imagery and animation projected across Hogwarts Castle to the sounds of an arrangement of music from the Harry Potter film series. My favorite place to watch the show is on the stage where the Hogwarts Frog Choir performs. Be sure to check the app for up-to-date showtimes. And, if you happen to be in the area around dusk, sometimes you can catch an early show around 5:30 pm, which typically has fewer crowds.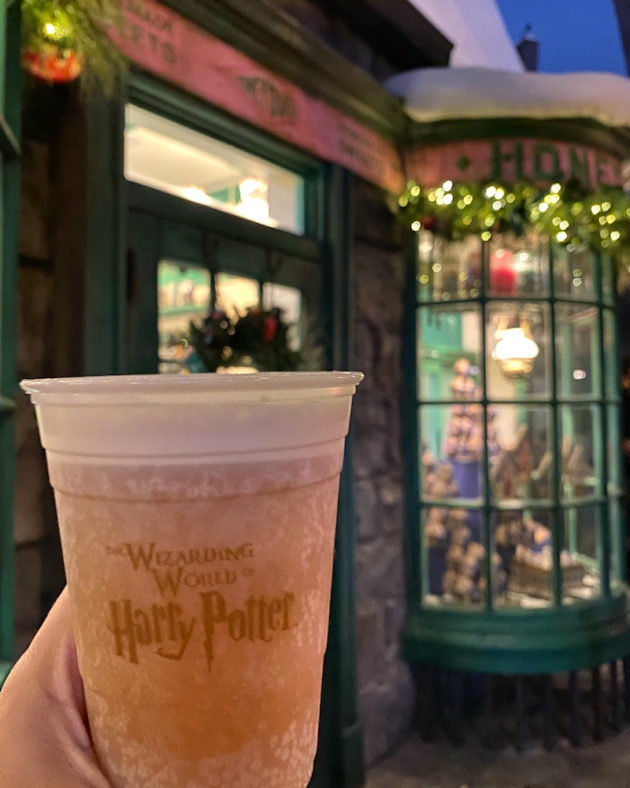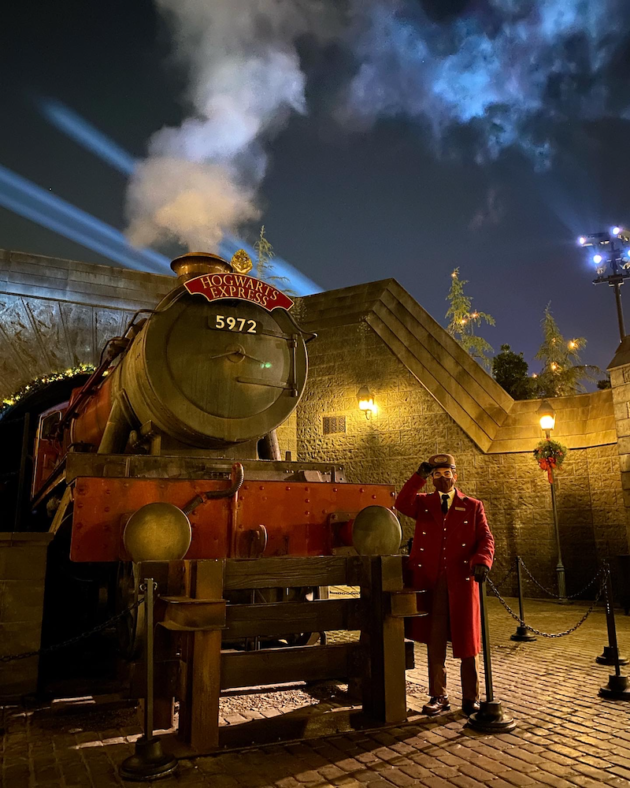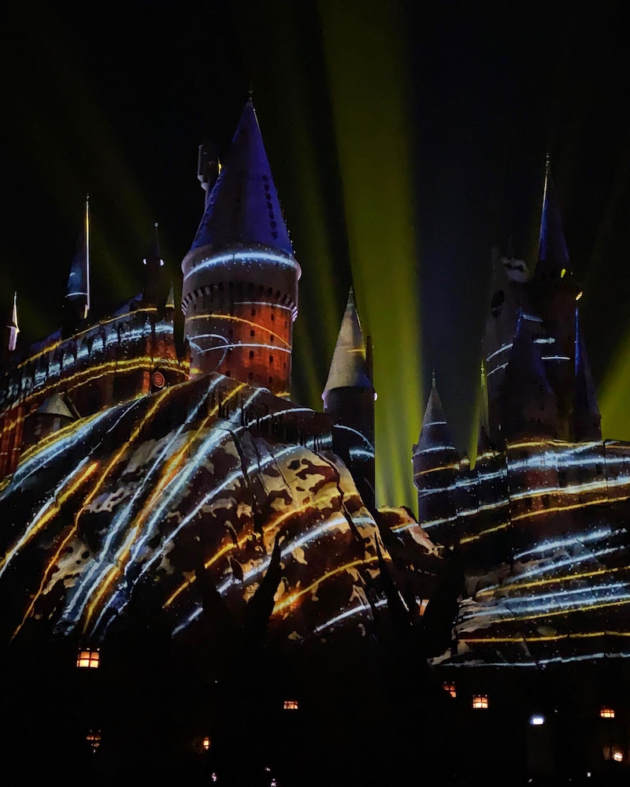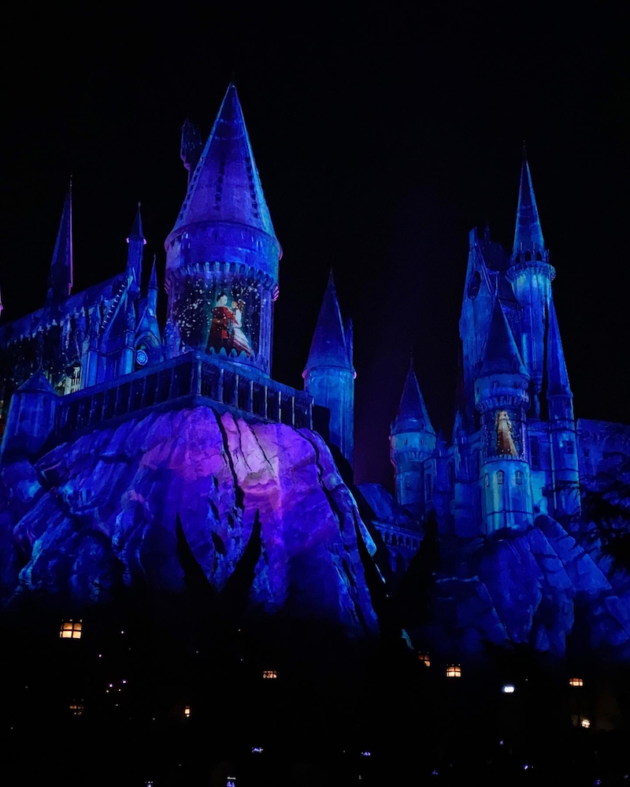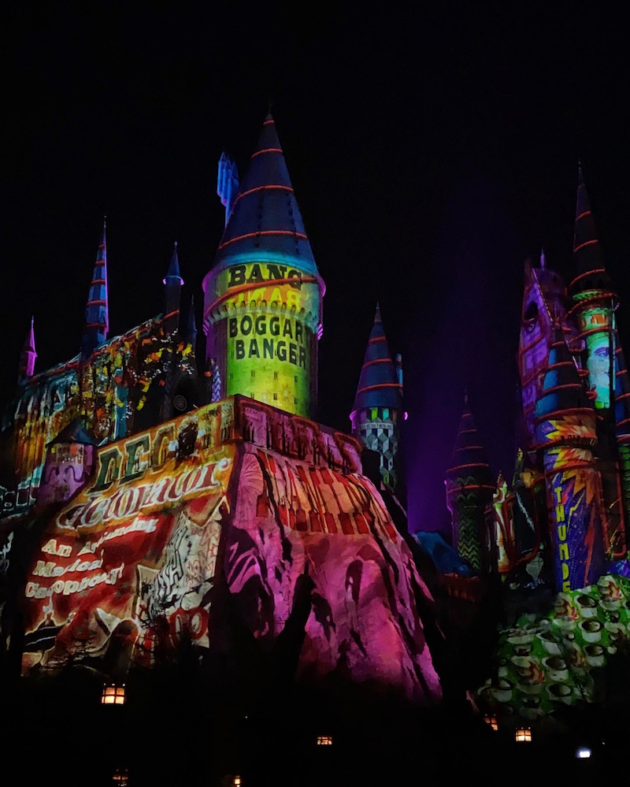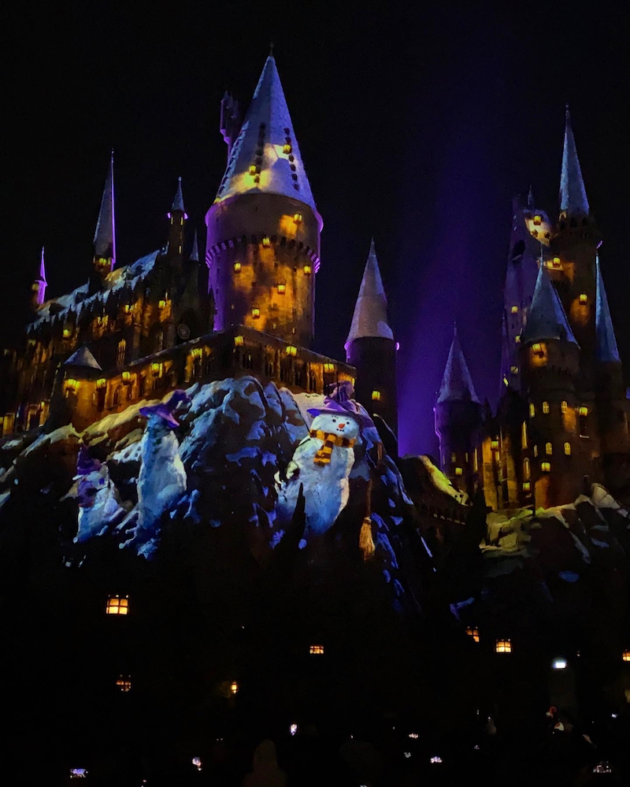 Universal Studios Hollywood is all dressed up for the season and you'll find holiday-themed food and merchandise throughout the park. Be sure to head over to Universal CityWalk for a beautiful photo opp in front of their 40-foot tall Christmas tree aglow with more than 200,000 LED lights.
Best Tips for Visiting Universal Studios Hollywood During the Holidays
With so much to see and do at Universal Studios Hollywood during the holidays, you'll want to make the most of your day at the park. Here are my best tips for visiting Universal Studios Hollywood during the holidays.
Download the Universal Studios Hollywood app: View ride wait times, showtimes, menus, and more. This is a great way to plan your day.
Plan to arrive early: We like to arrive at park opening to enjoy fewer crowds and lines. You will want to plan extra time to park, go through security, and enter the park. Be sure to visit Universalstudioshollywood.com for up-to-date information on COVID-19 protocols.
Dress in layers: During the winter, temperatures can vary significantly throughout the day. I pack warm clothes and store them in a locker for evening shows and rides.
Dress in your holiday best: The park is absolutely picture-perfect during the holidays with a number of photo backdrops. Ideas include holiday dress-up, ugly sweaters or Christmas PJs.
Dine during off-peak times: You'll enjoy fewer lines and more available seating if you opt to dine before or after traditional lunch and dinner times.
Consider purchasing Universal Express: Universal Express is the only way we visit the park! For an additional fee, you can enjoy one-time express access to every ride, attraction and seated show at the park, making it absolutely feasible to see and do everything on your list.
Celebrate the holidays at Universal Studios Hollywood through January 2, 2022. Remember that Grinchmas and Christmas in the Wizarding World Of Harry Potter are included in admission. For more information visit UniversalStudiosHollywood.com.