Here you leave today and enter the world of yesterday, tomorrow, and fantasy – Walt Disney
 The magic of Disney lies in the ability to draw you in visually and emotionally.  Disney films in particular, inspire and connect people on multiple levels with their relatable characters and compelling stories.  Whether I'm watching the latest CG-animated film, or something simpler, I'm always fascinated by the creativity and passion that fueled the completed work.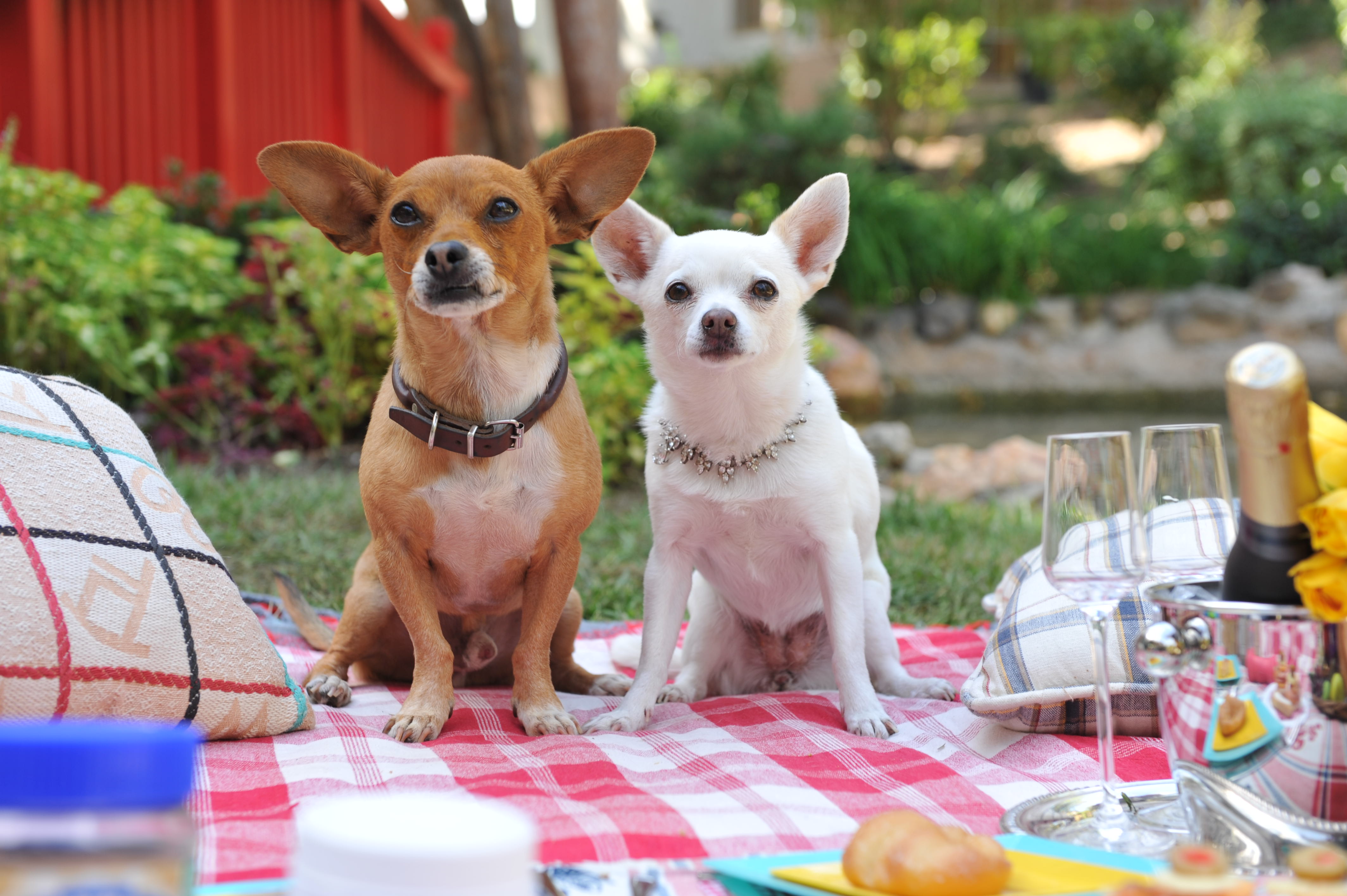 When I told my mother I had yet to see a film in the Beverly Hills Chihuahua trilogy, she was surprised. Her and my father absolutely loved the first two films, sharing laughs and memories as they watched them in the comfort of their home. The live action film series follows the stories of Chihuahuas Papi and Chloe from their perspective, and as such, they speak along with their pup friends.
While in LA, I had an opportunity to speak with Director Lev L. Spiro, Producer Sara E. White, and animal trainer Mathilde de Cagny.  With a cast of 27 dogs how did they manage to keep the dogs focused…or at the very least how did they avoid the potential chaos that could ensue from such a scenario?  Where did they get the dogs used in the film? And how did they manage to film in such a way that when the dogs spoke, it was believable?
Shot in just 5 weeks at the luxurious Langham Huntington Hotel in Pasadena, California, it took the creative efforts of the filmmakers, the dog trainers (which are hidden on-set), and plenty of treats to keep the dogs focused, particularly during the Quinceanera scene when 27 dogs were on the set at one time. Having directed shows like Arrested Development, Gilmore Girls, and Ugly Betty, Spiro did not realized that even the "simplest shot could be the most challenging." In one particular scene, Pedro (Papi's brother) is telling the four puppies about the peanut butter closet rumored to be at the hotel. Since the dogs had to be looking at their trainers, he positioned them behind a set of suitcases (situated behind Pedro).
Perhaps you're wondering how long a dog will be on set. A typical day is 12 hours, however, no dog is filmed continuously and they have time to play, eat, rest, etc.  During filming, treats were used to keep them focused on what they needed to do. As with professional actors, dogs have stunt doubles, however, in this particular film, they were rarely used.
As an animal lover and a passionate advocate of adopting and rescuing animals from the local shelter (as opposed to obtaining them from a pet store), I wanted to know how the animals were cast and where they came from.  Interestingly enough, 95% of the dogs used in Beverly Hills Chihuahua 3 were rescues.  Birds and Animals Unlimited of Hollywood visited local shelters to find dogs with personalities that fit, and regardless of their past, many were given a second chance.  Through training, redirection, and treats, these dogs that may be overlooked by those looking to adopt, now shine as Hollywood stars. Interestingly enough, it only took 3 months for most of the dogs to be trained (2 of which is basic dog training, 1 of which is film-related training).  At the end of the film, viewers are encouraged to support pet adoption.
In a film where the dogs are the stars, I can imagine how difficult it must have been to maintain a sense of realism.  The film-making process involved initially shooting all of the dogs live action. They then collaborated with a studio in Hong Kong that "animated" their faces to create the effect of them talking. After computer modeling was completed, the lips are moved over the teeth, mouths, and muzzles to create the effect of them talking. Additionally, they created subtle eyebrow expressions for the dogs. Spiro had to be very specific about how many lines he chose, since each shot where a dog is talking cost $2,000.  He wanted them to look like dogs, rather than cartoon characters, and for each shot that features a dog speaking, there were 25 exchanges between the two where subtle changes were made.
Beverly Hills Chihuahua 3: Viva La Fiesta is now available on Blu-ray and DVD.
For film-related activities and recipes, just click on the photo below.

No compensation was received for this post. I attended a press event which helped facilitate this post.
Latest posts by Caryn Bailey
(see all)