{Sponsored}
So much of my inspiration for food and adventurous palate has been the result of my travels. In my 20s, I spent quite a bit of time exploring Europe, and during a visit to Switzerland I found myself at an authentic fondue restaurant. Deemed the national dish of Switzerland, fondue is simply melted cheese served in a communal pot that is then served with dipping bread using long-stemmed forks.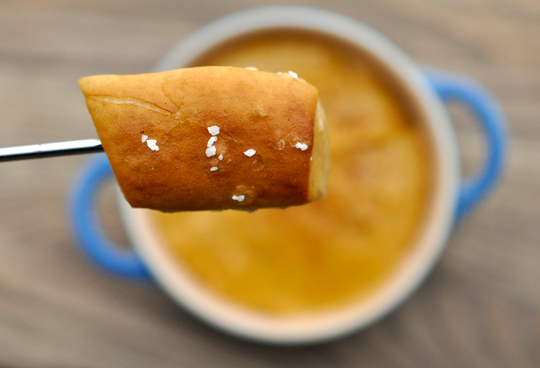 With the Big Game and the end of football season just one week away, my inspiration for today's recipe stems from my love for all-things cheese. Traditional cheese fondue is made with a blend of cheeses, wine, and seasoning, and is actually quite easy to make. For this Beer Cheese Fondue, I used a blend of Gruyere and Sharp Cheddar Cheeses, a Pale Ale beer, and a touch of Cayenne to give it a spicy kick. Flour or cornstarch will help prevent the cheese from separating and a fondue pot or slow cooker will ensure this Beer Cheese Fondue is melted consistently and stays that way.

I purchased all of the ingredients for this touchdown recipe at my local Walmart. My particular store has a section dedicated to artisan cheese, and here is where you'll find a variety of aged cheddars and my favorite cheese in the world, Gruyere. A mild-flavored beer like a pale ale will pair nicely with the gruyere and the cheddar without overwhelming the cheeses.

Pretzels Bites With Beer Cheese Fondue
Ingredients
5

ounces

Gruyere

shredded

8

ounces

Sharp Cheddar

shredded

1

cup

Pale Ale

1

T

Flour

Saltand Pepper to taste

Optional Cayenne pepper
Instructions
Cook beer in fondue pot until boiling

Reduce heat to a simmer

Add cheese slowly until melted

In a separate bowl, combine flour with 2 T pale ale

Whisk flour mixture into cheese mixture until smooth

Serve with pretzel bites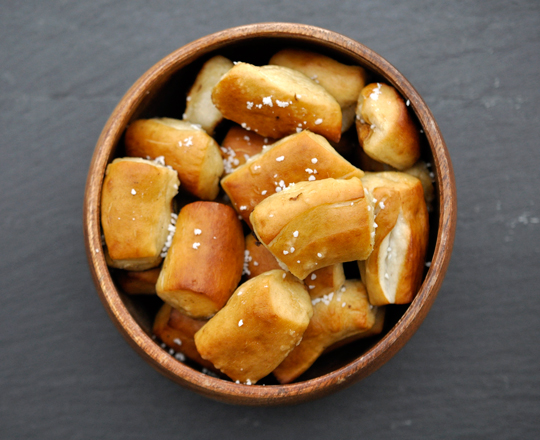 My favorite way to eat cheese fondue is with cubed bread. But since this Beer Cheese Fondue is being whipped up for the Big Game, I decided to serve it with an Easy Pretzel Bites Recipe. Simply use your fondue forks to dip these soft pretzel bites into the warm Beer Cheese Fondue. While Pretzel Bites are relatively easy to make, they do take time. You could prepare and cut the dough in advance of the Big Game, then bake when you're ready so that the pretzel bites are warm upon serving.
Looking for additional Game Time Recipes? Check out some of my favorites from my fellow Walmart Moms. You can also visit Walmart.com for inspiration for your next Game Time Celebration.