This giveaway is now closed.  Thanks for stopping by.  The winners are Molly Capel, Ed Nemmers, and Nicole I.  Congrats!
I am the first to admit that I'm not an expert on sleep, particularly when it comes to children.  We co slept with my son until he was a year and a half and while he finally made it to his crib, on any given day or night you will find him curled up between my husband and I in our bed.  Maybe we can get a little help from Elmo!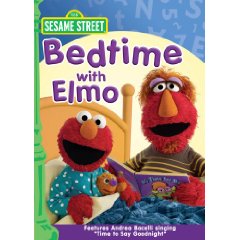 Genius Products and Sesame Workshop just released Bedtime With Elmo! It's bedtime on Sesame Street and instead of going to sleep, Elmo wants to play (I'm wondering if he and my little boy collaborated on this one).  Here is a little more information about this new release from the site:
It's bedtime on Sesame Street! Just like all little kids, Elmo and Abby would rather make funny faces and sing silly songs than go to sleep. Luckily, Elmo's dad Louis knows just how to deal with extra glasses of water and little monsters who are afraid of the dark. Parents will love the practical strategies Louis uses to get Elmo and Abby to go to bed, and children will love snuggling under the covers with this timeless DVD. Featuring the special extra of Andrea Bocelli singing "Time To Say Goodnight" to Elmo.
Do you have trouble getting your child to sleep?  Here are some bedtime tips!
–Establish a Consistent and Positive Bedtime Routine
Help your child transition to bed by having predictable activities that take place at the same time each night, such as going to the bathroom, brushing teeth, getting into pajamas and reading stories. Children can be comforted by routine and benefit if their bedtime schedule is followed as regularly as possible.

-Quiet Playtime
Help your child wind down from the day by getting him into pajamas earlier than usual and engaging in relaxing activities like reading, playing a quiet game, doing a puzzle, or drawing together. Give him extra long cuddles before putting him to bed!

–Sharing Special Moments
Talk to your child about her day before going to sleep. Ask her to choose a favorite part of the day and discuss why it was special. Encourage her to think of something that she is looking forward to doing tomorrow as she falls asleep.

-Bedtime Stories
Help your child choose a favorite book at bedtime. After reading the story, ask him what he thinks his favorite character might do to get ready for bed. Talk about ways his bedtime routines might be similar or different. Remind him that everyone needs a good night's sleep to feel rested and energized in the morning!

-Glimmer of Light
Help your child feel safe when sleeping in the dark by placing a small night light in his room or hallway. You can also let him keep a small flashlight under his pillow to help him feel safe. Talk to him about how he is feeling and let him know that while it is okay to be scared, reassure him that there is nothing to be afraid of in the dark and you are always close by if he needs you.

-Sweet Dreams
Provide your child with a quiet, cozy and comfortable bedroom for her to sleep in. Your child should look forward to sleeping in her room and feel safe and secure. Allow her to have her favorite blanket or stuffed animal nearby for comfort when going to bed. You can also set up a CD player to play soft calming music or lullabies as she falls asleep.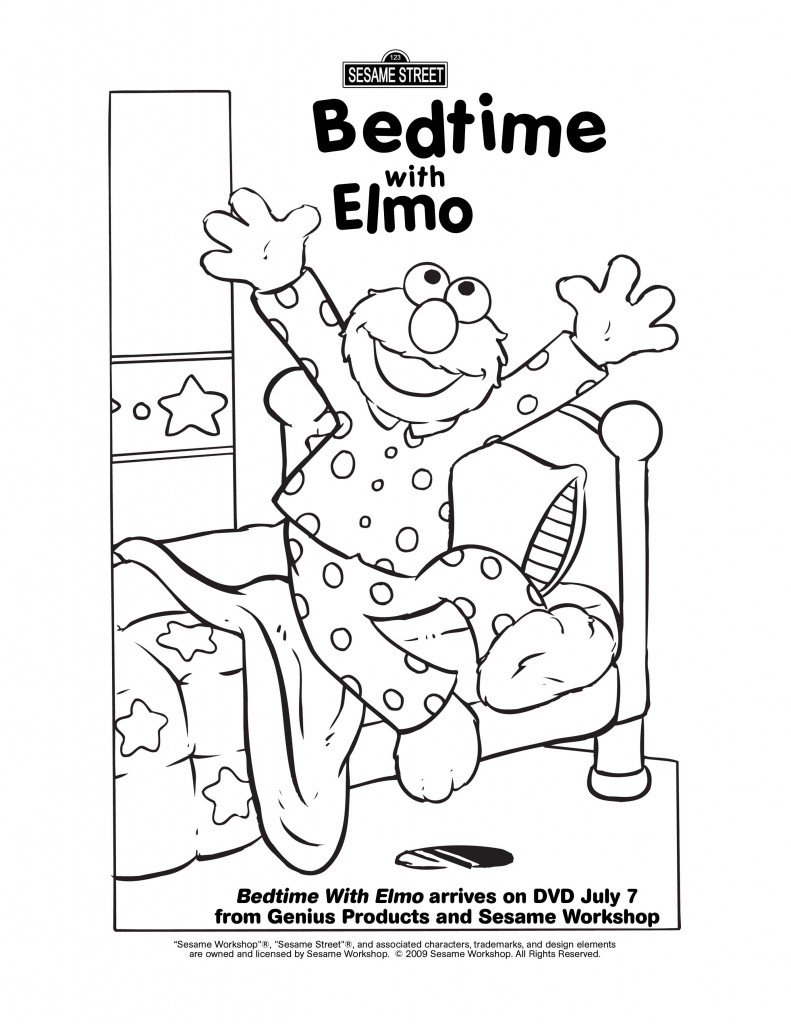 Win It! Three of you will win a copy of Bedtime With Elmo on DVD!  Simply leave me a comment with a tip on how you get your children to go to sleep peacefully.  Comments will close on July 23, 2009 at 10 PM PST. One comment per person, please (unless you do the extra credit). US residents only. Duplicates and comments not including the above information will be disqualified. Comments are moderated. If you don't see your comment in a reasonable amount of time, send me an email. Bloggers and non-bloggers may enter. If you don't want to leave your email address, please be sure to check back for my announcement on the winner. Please note that winners must respond within 48 hours of being announced/contacted or another winner will be drawn.
Want an extra entry? Do any or all of the following and receive an extra entry for each one.
Be sure to leave me a separate comment for each additional entry.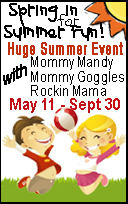 Add the "Spring In For Summer Fun" banner to your sidebar and leave me a comment (be sure to visit the main party post for more details on extra entries)
Follow me on Twitter AND tweet about the contest. Be sure to use the hashtag #SummerEvent
Enter Tanya and Amanda's giveaways
Subscribe to my feed via email or reader.
Blog about this giveaway. It doesn't have to be a separate post. Just include a blurb about it when you blog about other giveaways.
Place my button on your site. If you have difficulty, please let me know.
Click on one of the very cute buttons below and digg, stumble, fav, etc. Just let me know what you did in the comments!
Latest posts by Caryn Bailey
(see all)