This giveaway is now closed.  Thanks for stopping by.  The winner is Deborah Wellenstein. Congrats!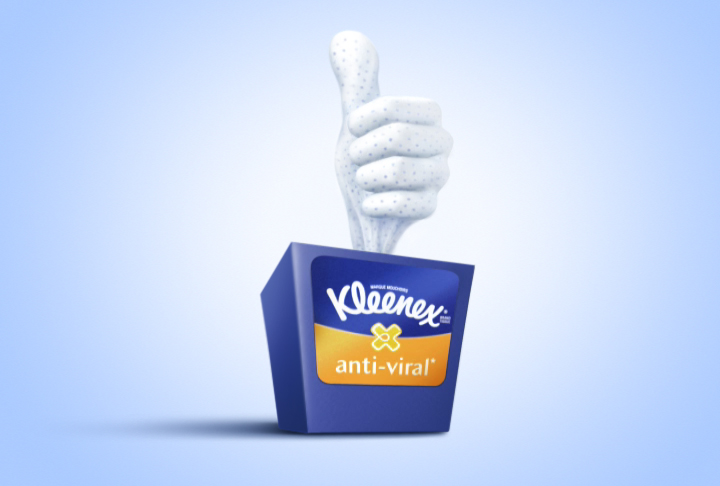 Despite the fact that we're not officially in the midst of cold and flu season, Swine Flu and other viral and bacterial illnesses are very much a presence in our country.  Hand washing and antibacterial gels are a staple in our household.  Here are some facts you may not know about the cold and and flu.
It is estimated that there are more than 125 million workdays missed by parents who stay home with a sick child
One sneeze can spray 100,000 infectious droplets into the air at more than 200 MPH
Cold and flu viruses can live up to 24-hours on hard surfaces and up to 3 hours on your skin
Rhinovirus is most active from late fall, spring and summer
Up to 189 million school days are missed each year due to a cold
If and when you do get sick, you may want to consider the all-new Kleenex Anti-Viral Tissues.  I haven't tried them yet, but these "super" tissues can actually kill viruses.   Here is a little more information from the site:
The blue-dotted, moisture-activated layer indicates it's a Kleenex Anti-Viral Tissue
Tissues are fragrance free
The middle layer of Kleenex Anti-Viral Tissues contains active ingredients that kill 99.9% of cold and flu viruses
They are extremely soft and gentle enough even for small children
Some of the things we do to "Battle the Bug" include ensuring we eat properly, take vitamins, and avoid crowded, enclosed places when we can.  Here are some more tips to help you out this year:
Wash your hands before you eat, after you use the bathroom, after you play with a pet and when you come in from playing outdoors
Get a good night's sleep every night. Sleep can help strengthen the immune system
Dispose of used tissues in the trash as soon as possible
Win It!
Simply head on over to the
site
and leave me a comment with one way you're Battling the Bug all year long.  Comments will close on July 22, 2009 at 10 PM PST.   One comment per person, please (unless you do the extra credit). US residents only. Duplicates and comments not including the above information will be disqualified. Comments are moderated. If you don't see your comment in a reasonable amount of time, send me an email. Bloggers and non-bloggers may enter. If you don't want to leave your email address, please be sure to check back for my announcement on the winner. Please note that winners must respond within 48 hours of being announced/contacted or another winner will be drawn.
Want an extra entry?
Latest posts by Caryn Bailey
(see all)