{Sponsored}
I love a leisurely, home-cooked meal, and my little foodies often indulge my ambitions by complimenting me on my stellar culinary skills. But let's get real for a moment. "Helping" my kids put together a diorama and shuttling them to soccer, swim, scouts and every other activity they've dabbled in does not leave a lot of time for elaborate meals during the week. Simple meals are ideal, preferably ones that can be prepared in under 30 minutes.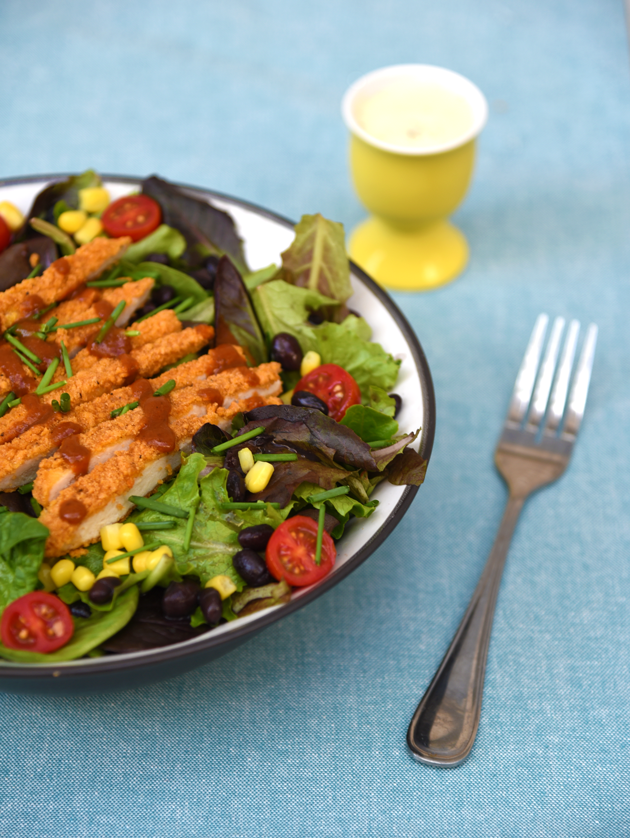 While my kids's exposure to fast food has been minimal, they still enjoy the classics…macaroni and cheese, a simple burger and breaded chicken tenders/nuggets. Admittedly, I sometimes shudder when my daughter asks for chicken nuggets because they are typically fried. Fortunately, there is a solution parents can feel good about. Foster Farms recently introduced their line of Baked Chicken Products, which include Chicken Breast Tenders, Chicken Breast Fillets and Chicken Breast Nuggets. Located in the freezer department of your local grocery store, Foster Farms chicken is baked, fully cooked and never fried. The chicken is 100% all natural white meat chicken that does not contain added hormones or steroids and has 50% less fat and 25% fewer calories than comparable products.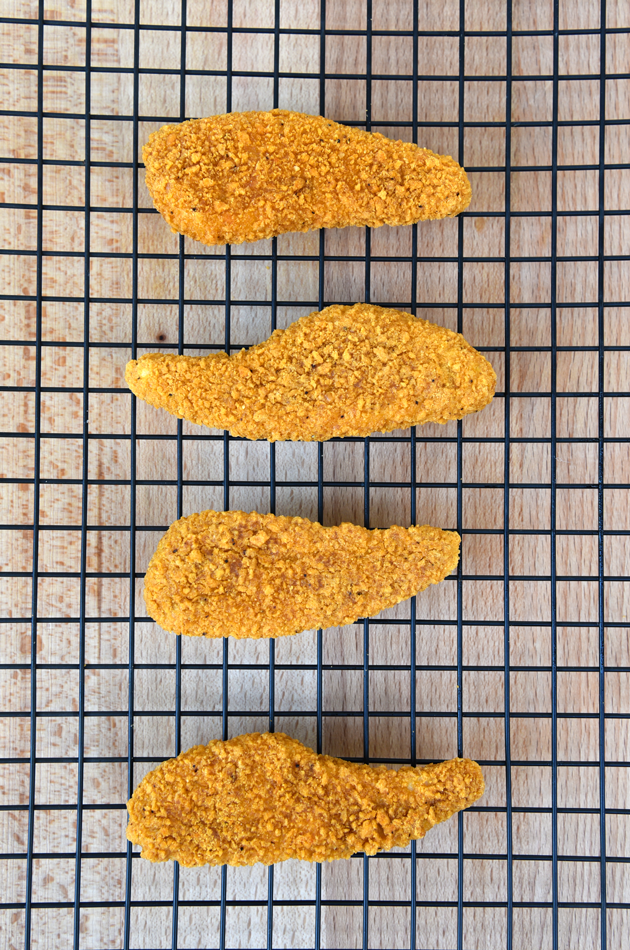 Barbecue Chicken Salad
Many families feel like they have to sacrifice quality and flavor when they opt for convenience. I baked a batch of Chicken Breast Fillets and Chicken Breast Tenders for dinner last night and my kids absolutely loved them. Plus my kids didn't have to wait an hour for dinner to be ready since Foster Farms' fully-cooked chicken can be heated and ready in about 12-15 minutes (actual cooking times vary by product). The chicken is crispy on the outside but retains its moisture (because nobody likes dry chicken!). I also appreciate the fact that the chicken was not greasy, which is often the case with the breaded chicken you find in restaurants.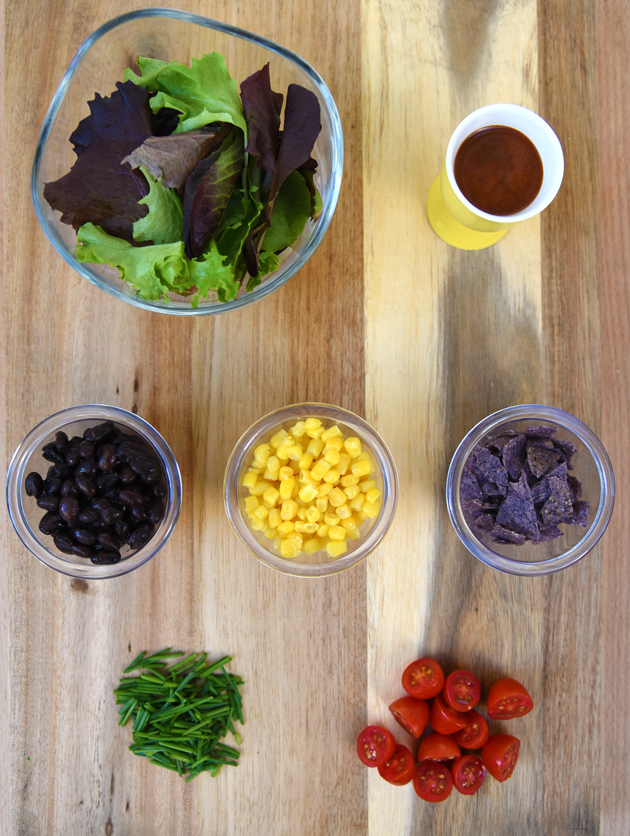 Last night I used Foster Farms Baked Chicken Breast Tenders in a Barbecue Chicken Salad. My kids are the rare type that actually like fresh veggies, so I suspected they would enjoy this hearty dish. I also included enough tortilla chips and ranch dressing to disguise just how healthy this salad is.

Barbecue Chicken Salad
Ingredients
6

Foster Farms Baked Chicken Breast Tenders

4

cups

Spring Mix Salad

3/4

cup

Black Beans

3/4

cup

Frozen Corn

Thawed

20

Cherry Tomatoes

Halved

1/4

cup

Chives

1/2

cup

Jack Cheese

Optional

1/4

cup

Barbecue Sauce

1/4

cup

Blue Corn Tortilla Chips

1/4

cup

Ranch Dressing

Optional
Instructions
Bake Chicken Breast Tenders for 12-15 minutes, or until thoroughly heated

While chicken is cooking, toss lettuce with black beans, corn, tomatoes, and chives

Top salad with sliced chicken

Drizzle barbecue sauce over chicken

Top salad with tortilla chips and shredded cheese, if desired

Serve salad with Ranch Dressing and additional Barbecue Sauce, if desired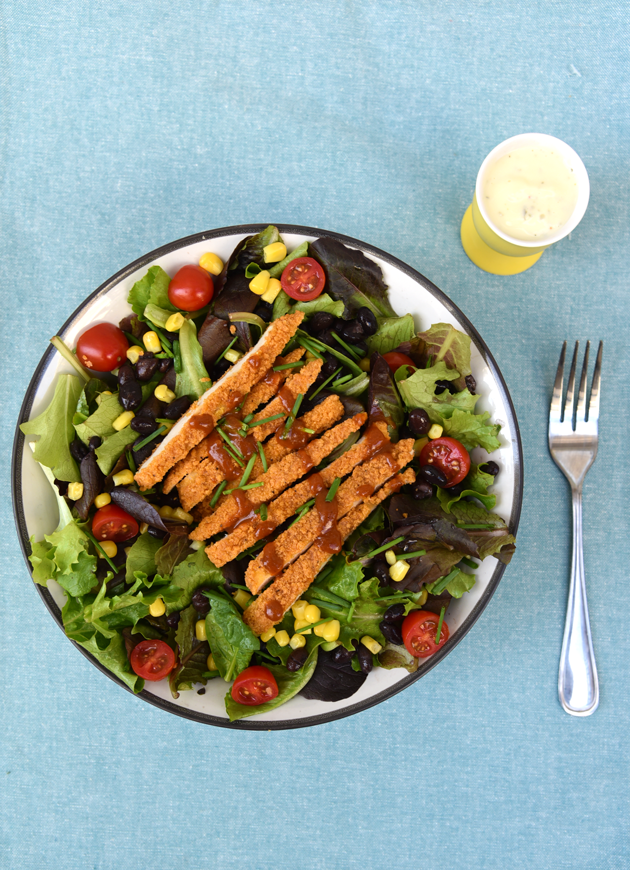 This Barbecue Chicken Salad is absolutely delightful, hearty, and incredibly easy to prepare. While the chicken is cooking, you could chop up your favorite vegetables and toss them together with fresh greens. Drizzle a sufficient amount of barbecue sauce and Ranch dressing and you have a quick, healthy, delicious meal in under 30 minutes.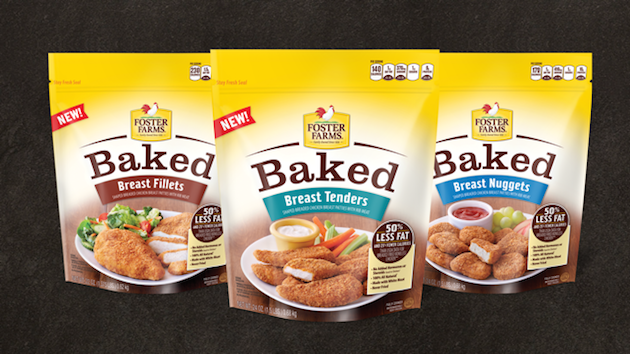 Win It!  One of you will win $70 in Foster Farms Coupons for free Baked Breast Fillets, Breast Tenders or Breast Nuggets (7 Foster Farms Baked Never Fried chicken Coupons valued at $9.99 each). Please note that the Foster Farms Baked Chicken products are currently only available on the West Coast at participating retailers. To enter, simply complete the Rafflecopter form and leave a comment with one thing you like about the new Baked Foster Farms Chicken Products. Comments will close on May 20th, 2017 at 11:59 pm PST.
US Residents only. Duplicates and comments not including the above information will be disqualified. Comments are moderated. If you don't see your comment in a reasonable amount of time, send me an email. Bloggers and non-bloggers may enter. If you don't want to leave your email address, please be sure to check back for my announcement on the winner. Please note that winners must respond within 48 hours of being announced/contacted or another winner will be drawn.