I don't typically expect to eat a gourmet meal at a theme park.  I'm ok eating pizza and sandwiches because I know that this is what's to be expected.  But more and more theme parks are recognizing that visitors desire a wide variety of food options, including creative, healthy, and ethnically diverse meals. And given the fact that I tend to be somewhat of a foodie, I would choose a smoked salmon sandwich with an arugula salad over pizza any day.
Last night I headed to Universal Studios Hollywood for a unique culinary experience.  The Studio's Executive Chef Eric Kopelow whipped up an amazing sampling of their menu options including hearty soups, artisanal sandwiches, and desserts that I would expect to see at a swanky New York bakery.  For the evening, I completely forgot I was at a theme park.
The International Cafe opened in 2010 as part of NBC Universal's Healthy at NBCU initiative to provide guests with healthy food choices in a casual, European bistro-style setting.  Some of their menu selections include a shrimp cobb and Greek salad, a gourmet roast beef sandwich with brie and roasted pears, a "caprese-style" plate featuring heirloom tomatoes with mozzarella and basil, and an Espresso Hazelnut Brownie.  All items are made fresh, on-site. Prices are reasonable, considering the fact that the cafe is located inside the theme park. Salads and sandwiches are $6.99-$7.99 and pastries are $0.99-$5.29.
Last fall, the International Cafe received the Sante Restaurant Award for innovation and outstanding achievement in culinary service and hospitality.  This prestigious award was created to recognize excellence in restaurant food, wine, spirits and service hospitality.  The Sante Restaurant Award is the only peer-judged national restaurant and hospitality competition in North America and the cafe is the only establishment located within a theme park to be recognized for this award. Needless to say, it is quite an honor for the International Cafe to receive such an award.
Here are just a few photos of last night's tasting: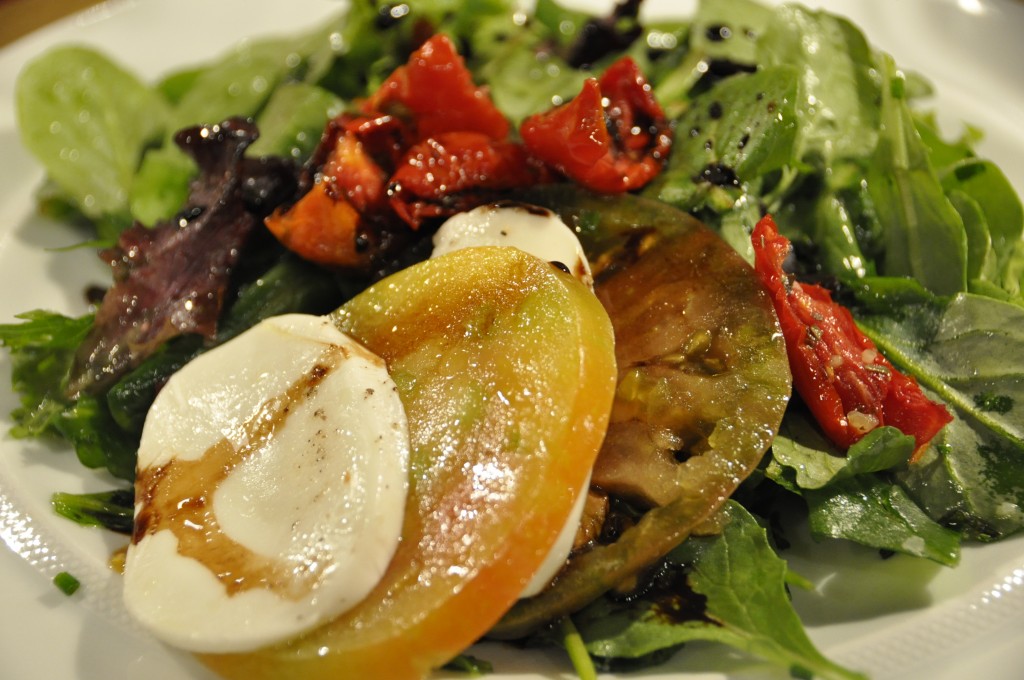 Arrugula salad with virgin olive oil, buffalo mozzarella cheese and heirloom tomatoes, balsamic vinaigrette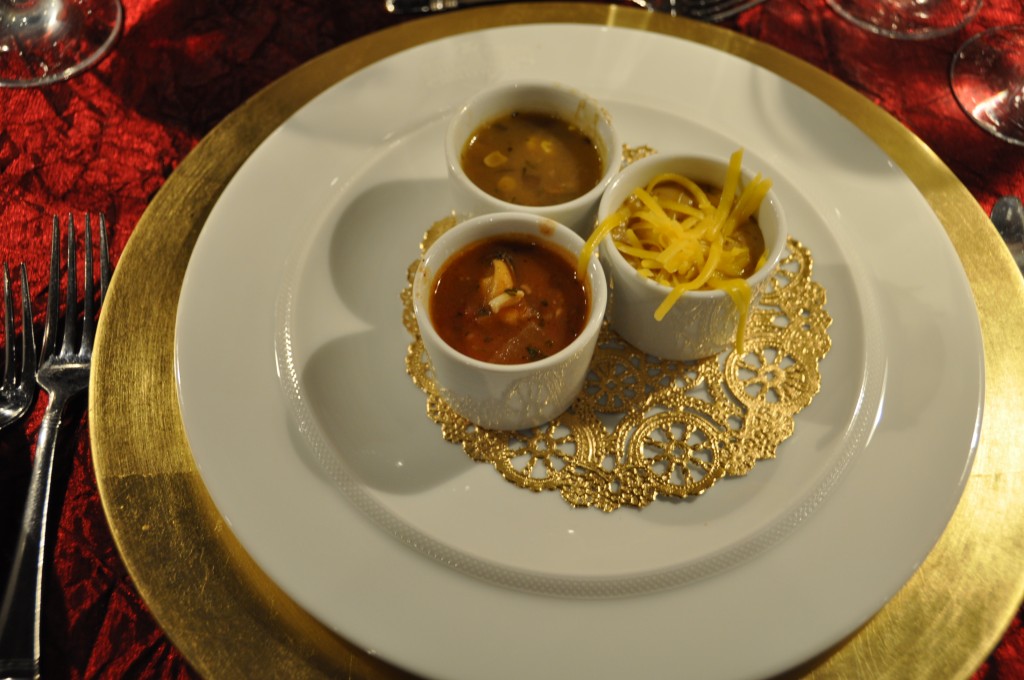 Roasted cauliflower with cheddar, New York clam and mussel chowder and chanterelle mushroom and corn bisque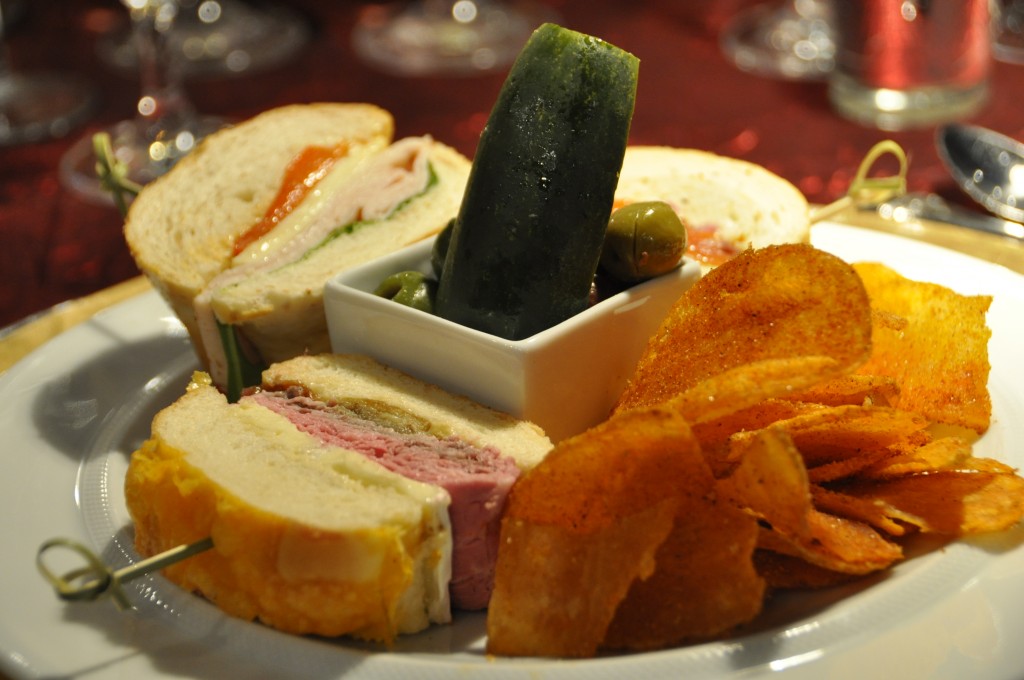 Shaved roast beef with brie cheese and roasted pears, peppercorn aioli
Smoked salmon with pickled onions and cucumbers, roasted garlic sauce
Oven roasted turkey with muenster cheese, roasted garlic sauce
Homemade bbq potato chips
House made garlic dill pickles and marinated olives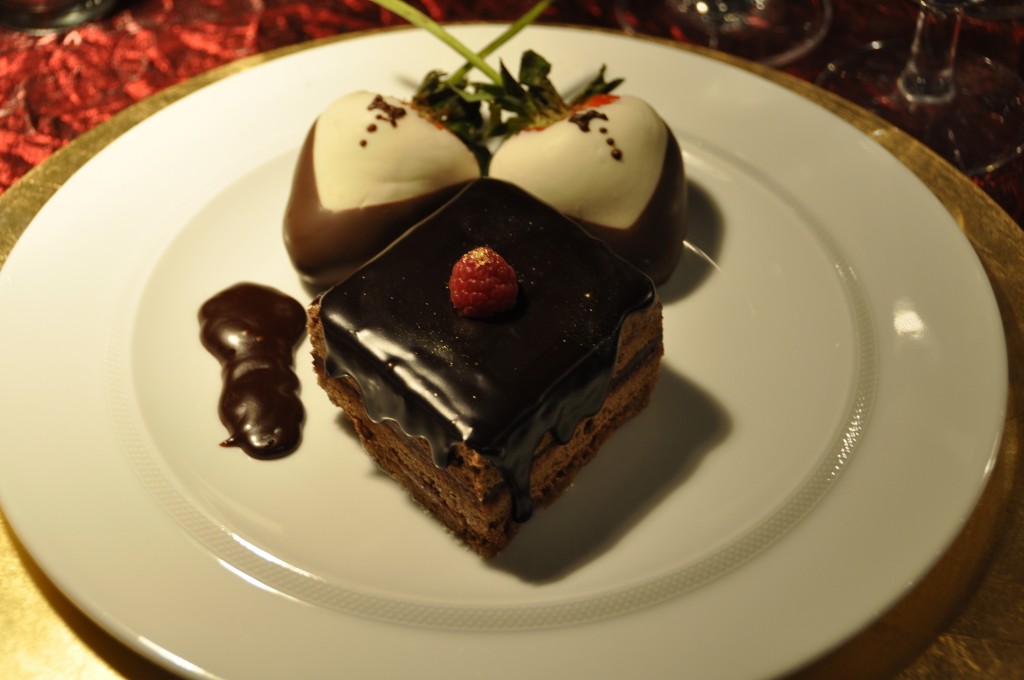 Chocolate Enchantment – layers of chocolate cake and chocolate mousse drizzled with chocolate ganache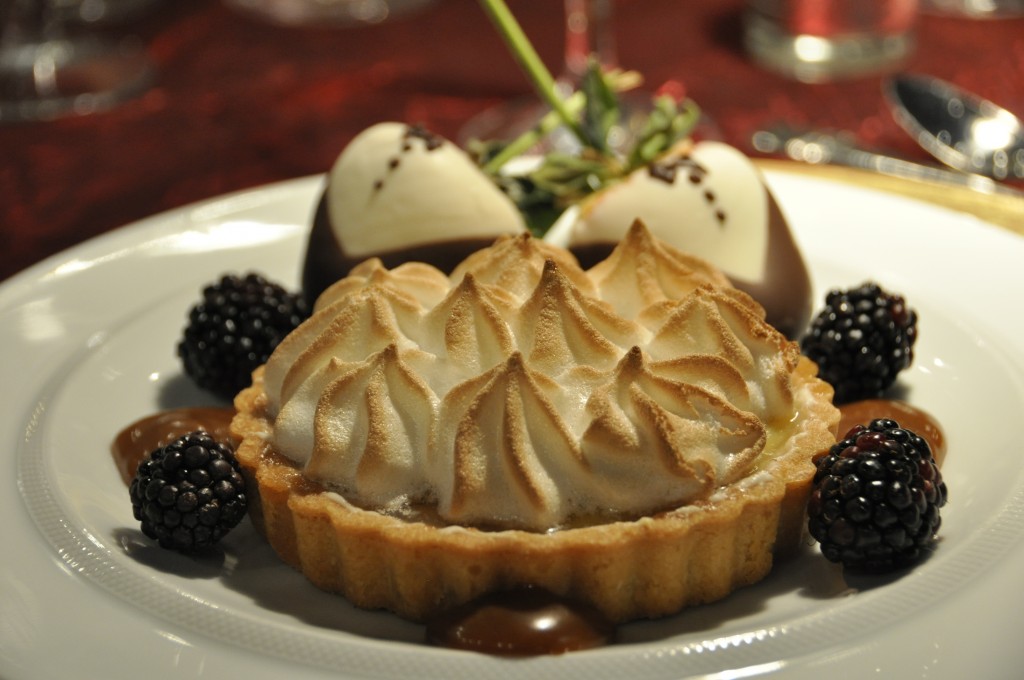 Banana Meringue Tart – pastry shell filled with banana cream, caramel and topped with toasted meringue
The food was incredible.  Chef Kopelow took something as simple and ordinary as a sandwich and created a gourmet delicacy.  He managed to take cauliflower, a vegetable I refuse to eat, and create a rich, flavorful soup that I actually ate.  These days, I'm more adventurous than I used to be and committed to trying everything except the roast beef (which I don't eat).  I can honestly say that there was not a single item I didn't like, although I definitely have my preferences.  My favorite dish was the smoked salmon sandwich.  I loved the savory flavor infused into the sandwich by the pickled onions, tempered by the cucumbers and dill sauce.  The chocolate cake was rich and smooth without coming across as overly sweet.  Overall, I was highly impressed with the cafe.  With gourmet food items as an option, I don't know that I'll be eating pizza at the theme park anymore.
The International Cafe is located adjacent to the theme park's "Streets of the World" film locations and is open during regular park operating hours.
No compensation was received for this post.  I was invited to a banquet, courtesy of Universal Studios Hollywood, which helped facilitate this review.
Photo Credit: Rockin' Mama. All rights reserved.

Latest posts by Caryn Bailey
(see all)