So much of what I remember about growing up in a Puerto Rican family involves the meals we shared together during holidays and get togethers, and the day-to-day infusion of culture into our immediate family's evening meals.  My grandmother owned a restaurant in New York, which is where my father gleaned his cooking skills.  Arroz con pollo (and/or gandules), platanos, and mofongo were regular dishes in our home, often preceded by the savory smell of sofrito infiltrating our home.  It wasn't Christmas if one of our family members failed to make pasteles, and coquito and arroz con dulce always satisfied my sweet tooth.
This month, we celebrate Hispanic Heritage Month, a 30-day celebration that commemorates the history, culture, and contribution of Hispanic and Latino Americans in the United States.  The celebration begins September 15th, as this day holds special significance as the anniversary of independence for many Latin American countries including Costa Rica, El Salvador, Guatemala, Honduras, and Nicaragua. Within this time period, there are a number of historic moments including the day Christopher Columbus arrived in America.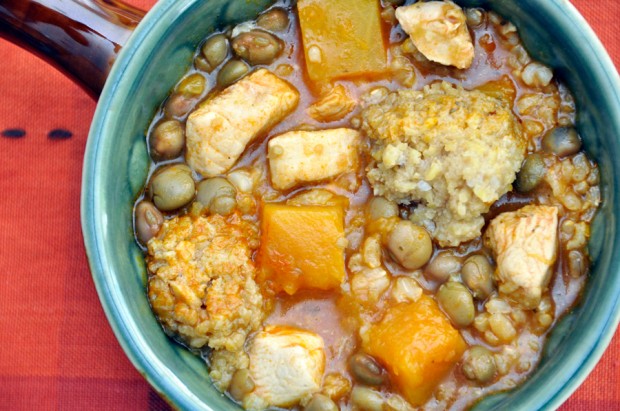 As a mom to 2 biracial children, I'm always thinking about how I can help them learn about and feel connected to their culture.  We often tell stories of their grandparents and extended family members but the primary way I've been able to share my Puerto Rican culture with my children has been through food. While we're still experiencing a Fall heat wave, I thought this would be the perfect time to share my family's Asopao de Gandules Recipe. My mother recalls eating this hearty soup during the bitter cold winter months in New York each year. Along with featuring Puerto Rican's mainstay dishes of rice and beans (gandules or Pigeon Peas in this instance), this soup is flavored with sofrito and includes squash, frequently eaten during this time of year.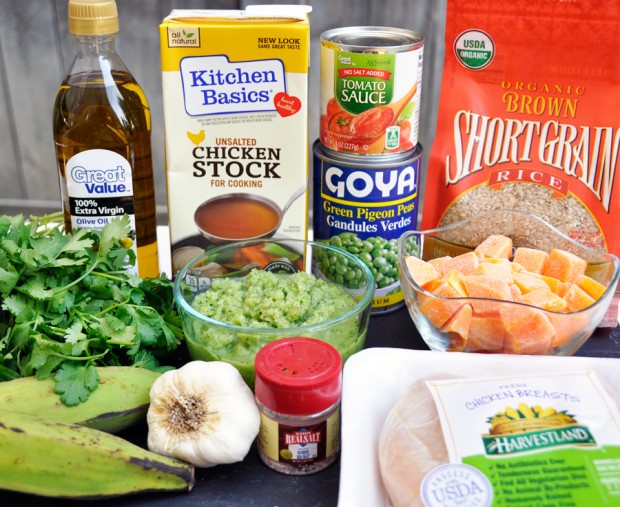 Despite the fact that the recipe calls for a number of Hispanic ingredients, I found an expansive selection in the Latin section at my local Walmart and everything, including the gandules, was purchased in-store. While Calabaza is the type of squash most traditionally used in this dish, it can be difficult to find outside of a specialty market.  Butternut or acorn squash can be substituted for calabaza in most recipes and we found that doing so did not significantly alter the authentic flavor of this dish. Before you gather your ingredients, be sure to have sofrito on-hand.  My father's sofrito recipe can easily prepared with just a few ingredients and a food processor.
Here is our Asopao de Gandules Recipe:
Asopao de Gandules Recipe
Ingredients
1

large green plantain

1

garlic clove

crushed

Dash of salt

1 15-

ounce

can of gandules

drained

1

quart

of chicken stock

1

tablespoon

of olive oil

1-2

chicken breasts

thawed and cubed

1/4

cup

sofrito

1/2

cup

tomato sauce

1

cup

short-grain brown rice

1

cup

squash

cubed

1

teaspoon

salt

to taste
Instructions
Peel and shred plantain in a food processor

Add garlic and salt

Form dumplings, approximately 1/2 tablespoon in size

In a large stock pot, combine gandules and chicken stock and heat until boiling

In a skillet, heat olive oil and sauté chicken breast for 2-4 minutes

Add sofrito and continue to cook 2-4 minutes

Add tomato sauce and simmer over medium heat for 5 minutes

Add chicken and sauce into the stock pot

Add dumplings, rice, squash, and salt into the stock pot

Simmer for approximately 30 minutes, or until the rice is cooked and the soup has thickened
Vegetarian Option: Substitute vegetable broth for the chicken stock and omit the chicken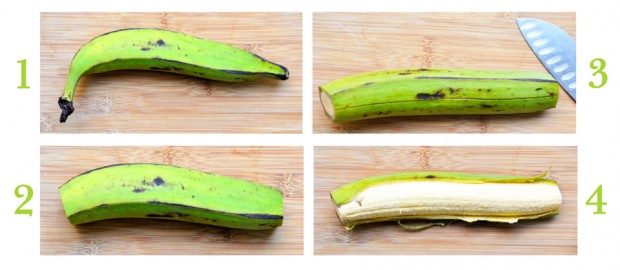 Notes about Peeling and Using Green Plantains: Notorious for being difficult to peel and use, here is a quick visual demo that will teach you how to peel a green plantain correctly every single time!
1. Soak the plantains in hot water for 3-5 minutes, particularly if you have stored them in the fridge
2. Cut off both ends of the green plantain and discard
3. Using a sharp knife, slice the plantain lengthwise
4. The peel should begin to be easily removed from the plantain, often in sections
Making the dumplings: This is perhaps the most challenging part of making the soup. Green plantains, depending on their stage of ripeness, don't have the same texture as conventional bananas.  They are traditionally used as a vegetable in Puerto Rican dishes as they are not sweet like bananas.  If you find you're having difficulty forming the plantains into dumplings, you can add a few drops of olive oil (one at a time).  Set each dumpling into the soup and do not stir. As the plantain cooks it will retain its dumpling shape.
I was pleasantly surprised at how much my kids enjoyed this soup.  They have eaten arroz con pollo numerous times and they told me this soup reminded them of our traditional Puerto Rican dish. As we talked about the differences between green plantains and bananas during our meal, my kids began to get very excited about fried platanos which I suppose will be our next cultural meal! How do you celebrate Hispanic Heritage Month?  I'd love to hear your traditions and recipes.
Latest posts by Caryn Bailey
(see all)