This giveaway is now closed.  Thanks for stopping by.  The winner is Amanda.  Congrats!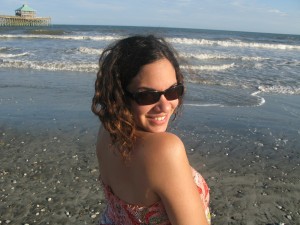 Last night we got back from being away for almost two weeks.  It's been quite a whirwind between the blog events I attended and then our family vacation without a break in between.  I've barely had two seconds to process it all.  Why is it that coming home from a vacation feels like I actually NEED a vacation?  It's not that it was stressful.  It was just…busy.
I can't wait to tell you all about General Mills.  I have to quickly tell you that I'm a complete geek when it comes to museums.  When I found out that we were having dinner at the Mill City Museum and would have some time to tour it, I was over the moon (that's a British phrase in case you're curious. I lived over there for almost a year so some things never leave ya)!  Who would have guessed that the history of flour milling could be so interesting (I told you I'm a geek!)?  The presentation has won several awards (it's that good!). But back to the point of all of this.
From Minneapolis, we headed to the South where my husband's family lives.  We spent time in Alabama (I could tell you the name of the city but you would never even know how to find it), Savannah, Georgia, and Charleston, South Carolina.  See?  A whirlwind.  We got a little taste of everything (oh…and the food wasn't bad either).  My husband made sure that I was able to have tea with my mother-in-law in Savannah and scheduled a massage in Charleston.  So I guess I did relax just a bit.
Traveling is always a bit stressful.  I'm not a huge fan of flying (don't ask me why…it has to do with control…or shall I say LACK of control), hotels tend to be mediocre (except for the gorgeous min-suite in Savannah and the hotel on the beach in Charleston), the food, being that I'm highly picky and pregnant (bad combination), is always hit and miss, and I don't enjoy living out of a suitcase.  I'm not the carefree type that makes do with what she's left behind.  So I packed carefully this time, knowing I'd be gone for nearly 2 weeks. If you can believe it, I fit two weeks of my life into a small, carry-on suitcase.  Now that, my friends, takes skill (thank you Jason).  Whenever I pack for a long trip, I try to focus only on the essentials.  What can I do without? is a question I ask myself all of the time.  One of the things that made my cosmetic routine beyond easy was a Solavie Desert Hair Care duo pack I received to review. This eco-friendly line of hair and skin care products was designed to simplify your regimen.  It "addresses the body's response to nature and the conditions within different environments"  as opposed to skin type (interesting).
I live in California, which is pretty much the desert, so it was only fitting that I should try that line.  The Desert Hair Duo Pack includes a combination hair/body wash and nourish/style product, which really equates to four products combined into 2 packages.  Living in sunny California means I'm exposed to dry heat and gusty winds (Santa Ana's anyone?) which means my hair and skin are predisposed to dehydration, irritation and stress.  Can I add dryness and itchiness too?  The goal of the Desert line is to draw moisture into the hair and skin and keep it there.  As you may know, I have thick, curly hair that dries out easily.  I used to highlight and straighten it a ton, but now that I'm pregnant and have a toddler, there is no time for that.
I found that the hair and body wash left my hair soft enough that I didn't have to use the nourish/style in the shower (although you can).  Instead, I used it afterward so I could comb through and style it.  It basically left soft curls and there was none of the "crunchiness" that often comes with using gels and mousses.  Oh, and it smells fabulous!  To me, it smells like roses, which makes sense since the first ingredient in the product is Rose Oil. None of the ingredients are unrecognizable (hooray!) and overall I was satisfied with how my hair looked and felt after using both products.
Right now, you can only purchase the products online (Whole Foods anyone?).  The Desert Hair Duo Pack retails for $24.79.

Win It! One of you will win a Desert Hair Duo Pack from Solavie.  Simply head on over to the site and take a look around.  Come back here and leave me a comment with the type of environment you live in and which of the 6 you'd most benefit from.  Comments will close on September 20, 2009 at 10 PM PST.  One comment per person, please (unless you do the extra credit). US residents only. Duplicates and comments not including the above information will be disqualified. Comments are moderated. If you don't see your comment in a reasonable amount of time, send me an email. Bloggers and non-bloggers may enter. If you don't want to leave your email address, please be sure to check back for my announcement on the winner. Please note that winners must respond within 48 hours of being announced/contacted or another winner will be drawn.
Want an extra entry? Do any or all of the following and receive an extra entry for each one.
Be sure to leave me a separate comment for each additional entry.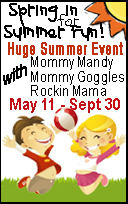 Add the "Spring In For Summer Fun" banner to your sidebar and leave me a comment (be sure to visit the main party post for more details on extra entries)
Follow me on Twitter AND tweet about the contest. Be sure to use the hashtag #SummerEvent
Enter Tanya and Amanda's giveaways
Subscribe to my feed via email or reader.
Blog about this giveaway. It doesn't have to be a separate post. Just include a blurb about it when you blog about other giveaways.
Click on one of the very cute buttons below and digg, stumble, fav, etc. Just let me know what you did in the comments!
Latest posts by Caryn Bailey
(see all)