This giveaway is now closed.  Thanks for stopping by.  The winner is Stephanie V.  Congrats!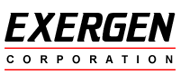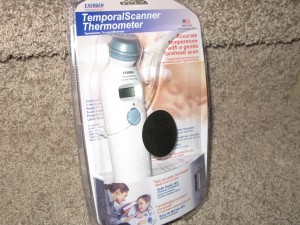 There are times when a product I'm about to review, comes at just the right time in my life.  My son is FINALLY over Rotavirus (which by the way is THE worst childhood illness we've experienced in his 22 months of life) and while it's been a miserable 2 weeks, I'm really glad I had an Exergen TemporalScanner Temporal Artery thermometer in the house.  As a nurse, you'd think that I was an expert at every thermometer on the market.  Well…surprise, surprise.  Up until we received this thermometer, I took my son's temperature the conventional way…under the arm or rectally.  Taking a squirmy toddler's temperature when he's sick is difficult and often requires multiple attempts to ensure an accurate reading.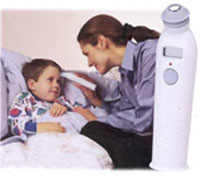 I've never actually used an ear thermometer, but according to a Harvard Medical School study, the TemporalScanner was proven to be more accurate.  I have always been told by doctors in my field of expertise that ear thermometers vary in terms of accuracy.  Accuracy is dependent upon both the product and the user.  When my son is sick, I want accuracy and I want it as soon as possible. I don't want to have to take his temperature 3 times (which I've done) until I THINK I have it right. The TemporalScanner provides an accurate temperature in two seconds.  Here is a little more information about the thermometer from the site:
The TemporalScanner thermometer is a non-invasive system with advanced infrared technology providing maximum ease of use with quick, consistently accurate measurements. Advanced, patented technology measures temperatures with a gentle stroke across the forehead.
Using the thermometer is very easy and it doesn't require a license (hehe).  Once you've inserted the battery, place the probe flush with the center of the forehead.  Depress the scan button and slide the scanner across the forehead towards the temple.  Release the button and read the temperature.  Here is a little video I did with my son: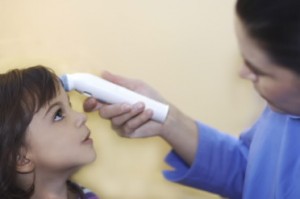 When my son first saw the thermometer, he didn't want anything to do with it (as is typical of sick toddlers).  So I let him play with it and watch mommy and daddy scan each other's foreheads.  Of course, he then wanted his forehead scanned too!  One of the things I should mention is that we started scanning without taking the protective plastic cover off (don't do that!).  I thought tempeartures of 82 degrees were just a tad low! So…read the manual or go on the website and THEN use the thermometer (not the other way around!).  I like that it's quick, non-invasive and accurate.  I took my son's temperature several times and got the same reading (plus or minus a few tenths of a degree).
There is an entire science involved with why the temporal artery provides the most accurate reading, but I'll let you read all about that on the site.  The TemporalScanner retails for around $50 and can be found at retailers nationwide including Walmart (it's less than $30 here) and Babies R Us.
Win It! One of you will receive an Exergen TemporalScanner!  Simply head on over to the site and take a look around. Come back here and leave me a comment with a fact about the thermometer that was not mentioned on the site (there is a lot of information you can comment on).  Comments will close on April 19, 2009 at 10 PM PST.  One comment per person, please (unless you do the extra credit). US residents only. Duplicates and comments not including the above information will be disqualified. Comments are moderated. If you don't see your comment in a reasonable amount of time, send me an email. Bloggers and non-bloggers may enter. If you don't want to leave your email address, please be sure to check back for my announcement on the winner. Please note that winners must respond within 48 hours of being announced/contacted or another winner will be drawn.
Want an extra entry? Do any or all of the following and receive an extra entry for each one.
Be sure to leave me a separate comment for each additional entry.
Follow me on Twitter AND tweet about the contest.
Subscribe to my feed via email or reader.
Blog about this giveaway. It doesn't have to be a separate post. Just include a blurb about it when you blog about other giveaways.
Place my button on your site. If you have difficulty, please let me know.
Click on one of the very cute buttons below and digg, stumble, fav, etc. Just let me know what you did in the comments!
Profuse thanks to Exergen and the Family Review Network for this review opportunity.

Latest posts by Caryn Bailey
(see all)