{Sponsored}
Now that my children are old enough to sleep through the night (and mostly in their own beds), the sleeplessness that characterizes early motherhood is waning.  These days, my sleepless nights have a different culprit. I'll admit that I haven't always had the best sleep routine.  When I worked as an RN, I routinely got 6 hours of sleep.  I was younger at that time and my body seemed to handle it better than it does now that I'm in my 30s.  The reality is that back then (and now), getting insufficient sleep is a detriment to my physical and emotional health which is why I've committed to taking Downy's Tuck In. Turn Off. Challenge.

According to the Centers for Disease Control (CDC), insufficient sleep is a public health issue, and the consequences can be deadly.  Motor vehicle accidents due to falling asleep at the wheel, medical/occupational errors, and industrial disasters have all been linked to sleep insufficiency.  We have all heard that it is vital to get enough sleep for both physical and psychological health. In fact, a regular lack of sleep can contribute to common health problems including hypertension, diabetes, depression, and obesity.
So why are we not getting enough sleep?  
For many Americans, their lack of sleep can be attributed to a sleep disorder.  However, recent polls from the National Sleep Foundation have found that insufficient sleep can also be attributed to our lifestyle.  I personally can identify with working late in our bed at night or keeping my mobile phone on my nightstand to "check that one last email." The benefits of sufficient sleep are proven and include improved mood, attention, and athletic performance as well as an ability to maintain a healthy weight.  With just a few simple changes in our family's sleep routine, I can ensure we are all getting sufficient, restful, restorative sleep.

Before you take the Tuck In. Turn Off. challenge, I encourage you to take the National Sleep Foundation's Sleep Sleepiness Test to determine how sleep you are.  Then check out their easy tips for achieving better sleep.  You can even track your sleep with their official sleep diary.
So how am I working to achieve sufficient sleep? Here are my best tips (most of which have been adopted from the National Sleep Foundation) for a better nights sleep:
1. Establish a regular sleep schedule. My kids go to sleep and wake up around the same time each night and day, so why can't I do the same? Because I work from home and our schedule is pretty regular, this is doable for us. According to the National Sleep Foundation, this routine should be maintained on weekends, something we haven't always been good about.
2. Turn off all electronics 30 minutes before bedtime. I'm guilty of checking that last email or posting that last Facebook status update…in bed…right before I'm to fall asleep.  And I wonder why I toss and turn for 20+ minutes. Technology is stimulating both visually and mentally.  Part of my commitment means unplugging and unwinding before bedtime so that I can fall asleep quickly.
3. Take a warm bath. Admittedly, I don't always have time for this but on those nights when I'm feeling stressed or uptight, this always helps me relax enough to fall asleep. Add some scented oils like lavender to enhance relaxation.
4. Asses and modify your sleep environment. Early on, I realized that unless it was completely dark in our bedroom, I would wake up in the middle of the night (particularly when I had to get up early for work).  I've since implemented a few changes including dark shades and a sleep mask.  Make sure your sleep environment is not too hot or too cold because that will also contribute to sleeplessness.
5. Exercise at least 3 times per week. I rarely ever have a sleepless night when I exercise.  There is something physically and mentally relaxing about putting your body through that routine (endorphins).  Purpose to incorporate a regular exercise into your daily routine to get a better night's sleep.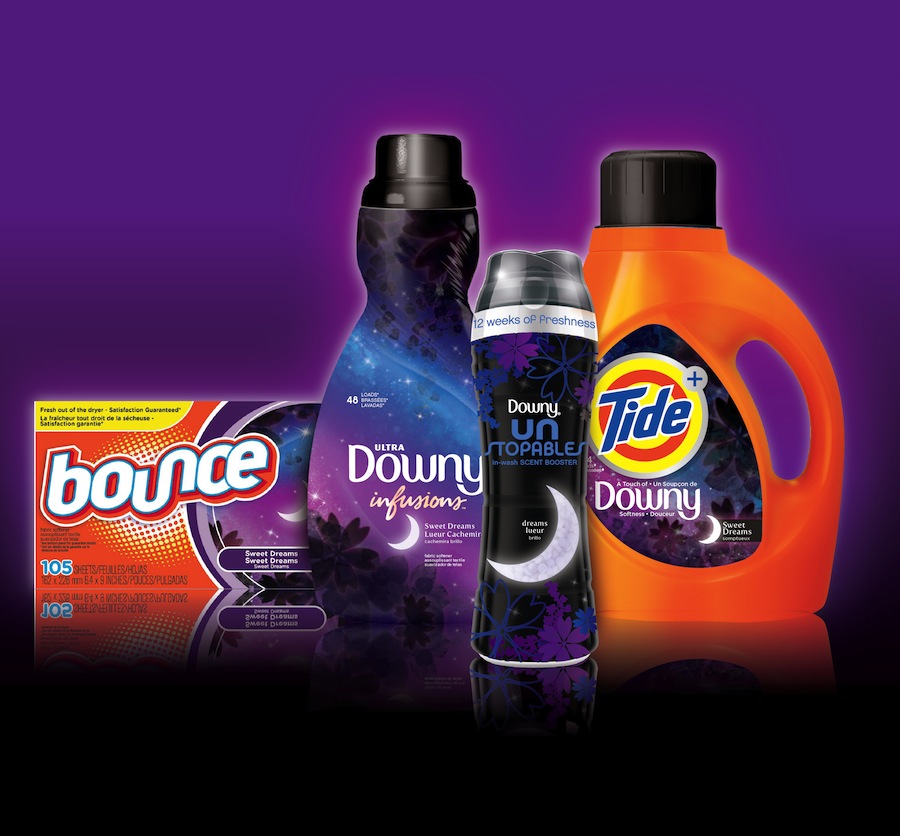 As part of Downy's commitment to helping America achieve better sleep, they've introduced the new P&G Sweet Dreams fabric care regimen, designed to help you create the ideal sleep environment. Their product line, which includes Tide plus a touch of Downy Sweet Dreams Laundry Detergent, Downy UN-Stoppables Dreams Scent Booster, Downy Infusions Sweet Dreams Liquid Fabric Softener, and Bounce Sweet Dreams Dryer Sheets, are infused with lavender, designed to help create that relaxing sleep environment.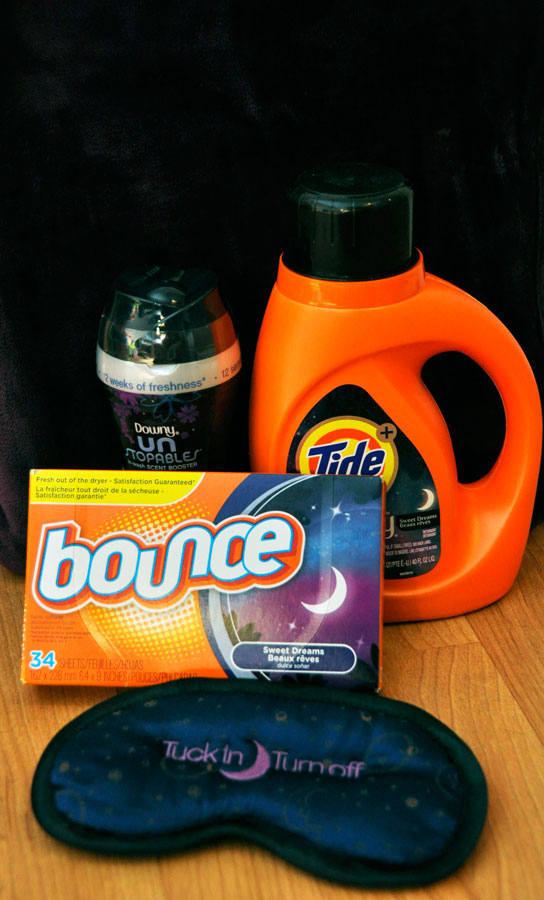 I personally love that the scent is subtle and doesn't overwhelm the senses. Fresh, clean bedding is a must, but nobody likes sleeping on stiff sheets which is why I like the added softness the products provide.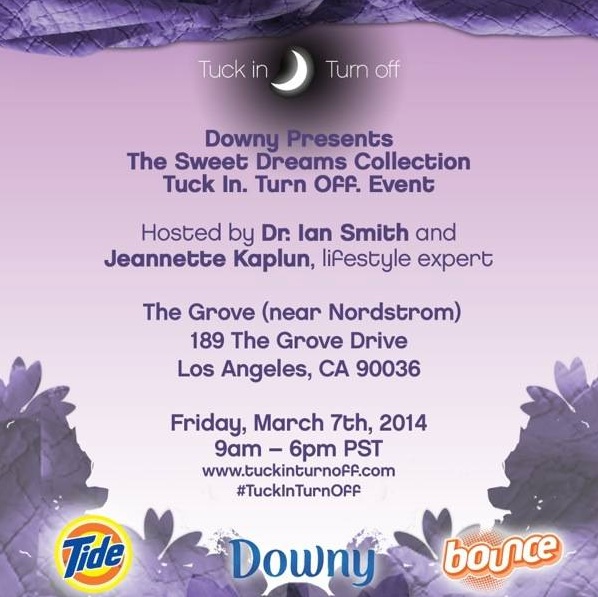 If you're local, I encourage you to come out to The Grove this Friday, March 7th to hear from physician and wellness expert Dr. Ian Smith and lifestyle expert Jeannette Kaplun as they discuss how to relax and fall asleep as well as how to create a relaxing sleep environment with the new Sweet Dreams Collection.
For more information, or to take the Tuck In. Turn Off. Pledge, visit TuckInTurnOff.com.
Win It! One of you will win a Sweet Dreams Collection Kit including the full product line, a blanket, and a sleep mask. To enter, simply complete the Rafflecopter form and leave a comment with your best sleep tip. Comments will close on March 13, 2014 at 11:59 PM PST.
US Residents only. Duplicates and comments not including the above information will be disqualified. Comments are moderated. If you don't see your comment in a reasonable amount of time, send me an email. Bloggers and non-bloggers may enter. If you don't want to leave your email address, please be sure to check back for my announcement on the winner. Please note that winners must respond within 48 hours of being announced/contacted or another winner will be drawn.
Latest posts by Caryn Bailey
(see all)