{Sponsored}
The shift in focus to the Holidays seems to occur overnight. Yesterday we were carving pumpkins and handing out Halloween candy…today I'm taking fervid notes on the Black Friday ads that were released as I prepare for my holiday shopping. Some of my holiday shopping will be guided by wish lists. My challenge is always to gift something unique and personal…a gift that will be remembered long after the Christmas tree has been taken down. That's why I think photo gifts are so great.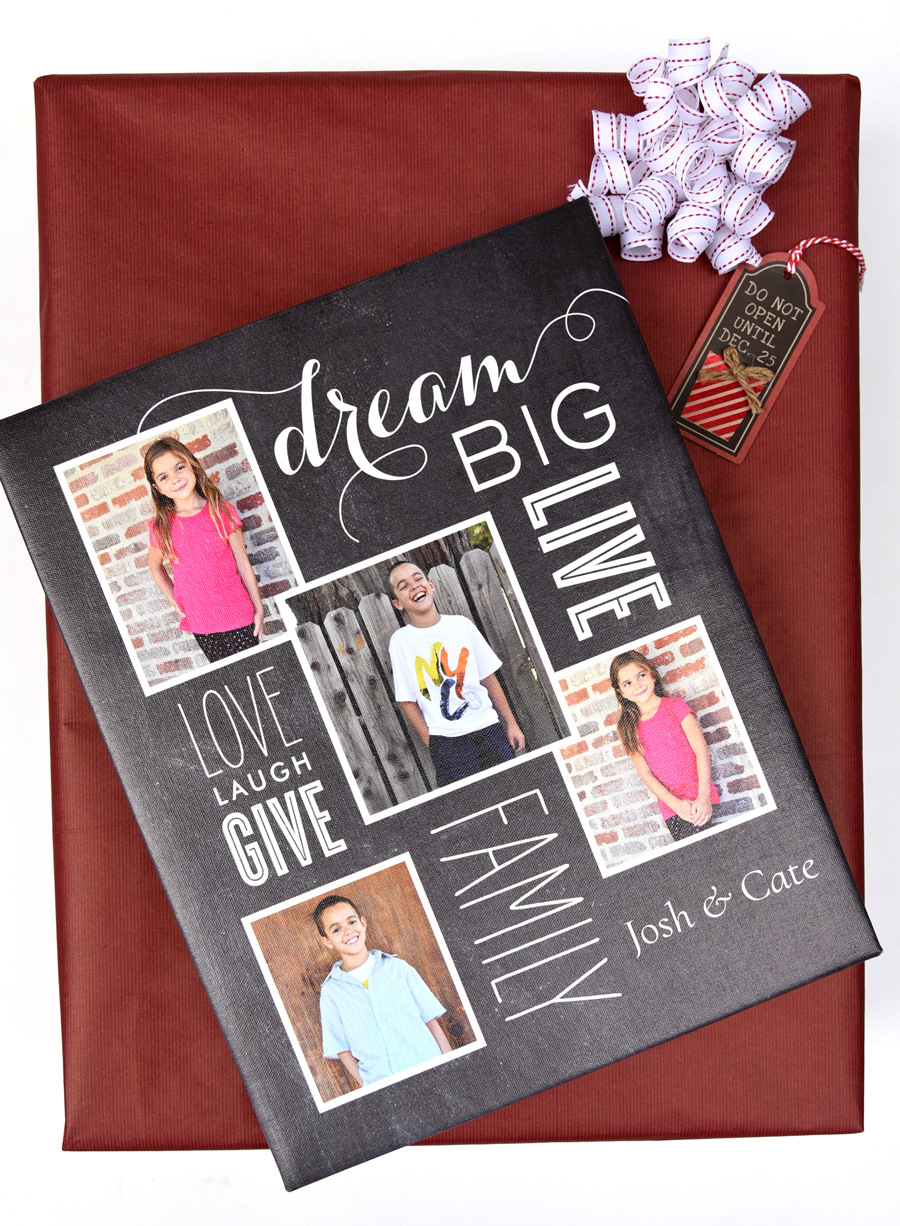 As in previous years, I'll create my personalized photo gifts at my local Walmart Photo Center. This year, Walmart.com has created a guide to help you pick out the perfect photo gift for your friends and family. When you visit the new Walmart Photo Center, you'll notice a brand new experience complete with a Customizable Gift Builder, 3-D Rendered Previews to see your gifts in real-time, Shelf Animation to preview your cards and mugs from every angle, and an expanded assortment of designs and templates to help you create the perfect gift.
Great Photo Gifts from Walmart
When you shop for the holidays at the Walmart Photo Center, you'll have the tools to create perfect photo gifts. To help inspire you, here are 5 Photo Gifts You'll Love:
Photo Book: This is one of my favorite gifts to give those that are closest to me. I take a TON of photos throughout the year, and compiling them into a book is a great way to capture the best moments. Walmart offers several different options including mini photo books, flip books, and premium layout books. And if you happen to be running short on time, you can opt for same-day or one-hour service.
Photo Canvas: Do you have a family portrait you'd like to display in your living room? A photo of your child to place on your desk? Walmart's canvas options vary in size and are printed with museum quality, archival, water-based inks on a durable laminated canvas fabric. You can opt for a laser cut edge or rounded corners and a frame or a wood panel. I personally love the idea of creating a set of canvases to arrange and display as wall decor.
Mobile Phone, Tablet, and Laptop Cases: Personalize your favorite device with your favorite photo. The cases are available for a range of devices including iPhones, iPads and more. Some designs allow for multiple photos.
Ornaments: Every year, one of our family members gifts us a personalized ornament to celebrate the coming year. Walmart's Personalized Photo Ornaments come in a variety of beautiful designs and can be customized with a photo and a message.
Personalized Blankets: Warm up this holiday season with a personalized photo blanket created by you! Available in fleece, plush, sherpa or woven, Walmart offers over 99 designs to choose from. My top choice for families is the 12 Patch Heirloom Collage Quilt which is hand-stitched and customizable with a message.
This year, I opted to gift family members with a Photo Canvas from Walmart. Depending on the size of the canvas and how many photos you'd like displayed, it is possible to order and pick up your photo gifts within 24 hours. You can upload your own design or use a template on the site. There are over 50 different designs to choose from, depending on the style and color scheme you prefer. Sizing varies and runs as small as 8″x8″ and as large as 24″x36″. I found that in my area, 11″x14″ and 16″x20″ are the most popular sizes and can be ordered and received on the same day. Select a frame design and begin creating your photo canvas.
The site is relatively intuitive to use and there are tips and guides to help you create the perfect canvas. Simply upload the photos you'd like to use, arrange them and add your own personalized text. I recommend uploading a high resolution image to ensure the photos are clear when printed on the canvas. Preview your canvas when your creation is complete and Walmart will send you an email (or text, if desired) to alert you that your photo gift is ready for pick-up.
Select a style for your photo canvas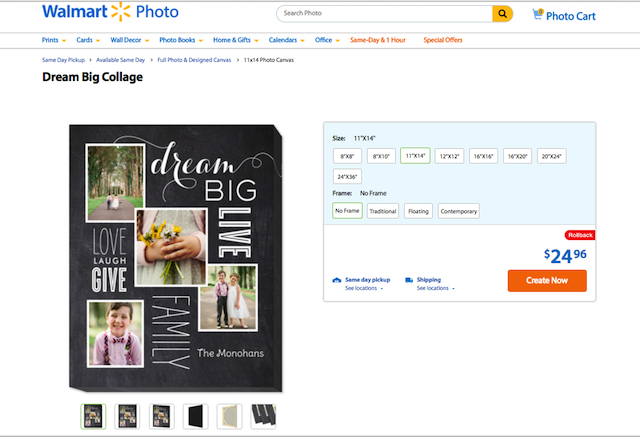 Upload photos from your computer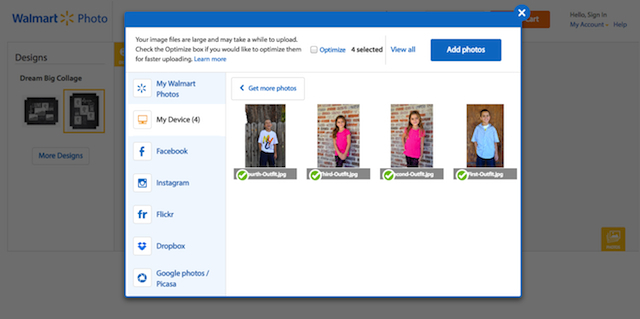 Arrange photos and personalize text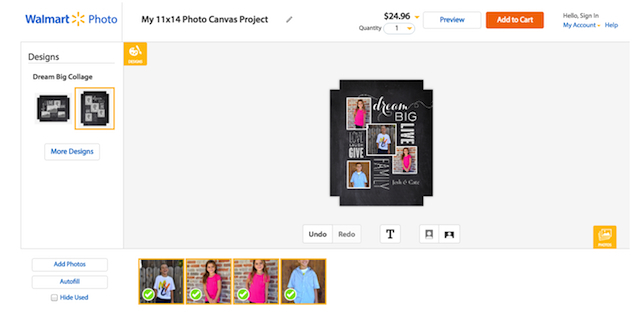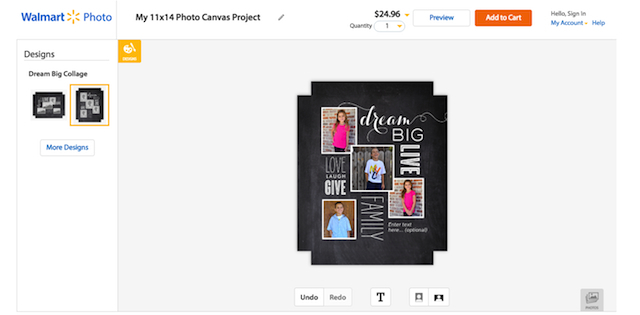 Preview photo canvas before placing your order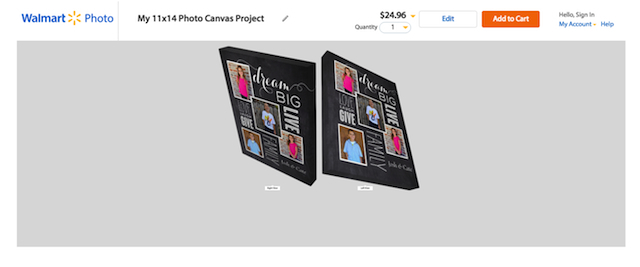 At present, Walmart has a rollback on their Photo Canvas',  which makes purchasing personalized gifts affordable and easy. My 11″x14″ photo canvas was just $24.96 before tax. I was so impressed with the quality of the canvas and I'm already thinking of images I want to display from our vacations this year.
For more intricate photo gifts, I recommend allowing time to create and then have your order processed. If you are short on time, you can opt for Walmart's Same Day or 1-Hour Photo Gifts. You can view the entire gift guide here!
Latest posts by Caryn Bailey
(see all)