'Tis the season for the largest Christmas celebration ever at Knott's Berry Farm! Each year, the park undergoes a whimsical holiday transformation to celebrate the wonder of the season. The winter wonderland shines with thousands of twinkling lights and a picture-perfect backdrop that radiates the spirit of Christmas. Knott's Merry Farm's timeless classics, including Merry Christmas, Snoopy!, Charles Dickens' A Christmas Carol, and O. Henry's A Gift of the Magi are perfectly complemented by more modern Peanuts-inspired holiday shows such as It's the Merriest Christmas Show Ever, Charlie Brown and A Peanuts Guide to Christmas. Take a stroll through Calico and experience a magical snowfall…then warm up with hot chocolate at Santa's Christmas Cabin. After all, it is the merriest time of the year! While at Santa's Christmas Cabin, take a photo with Old St. Nick, then fuel up on one of Knott's Merry Farm's decadent holiday treats!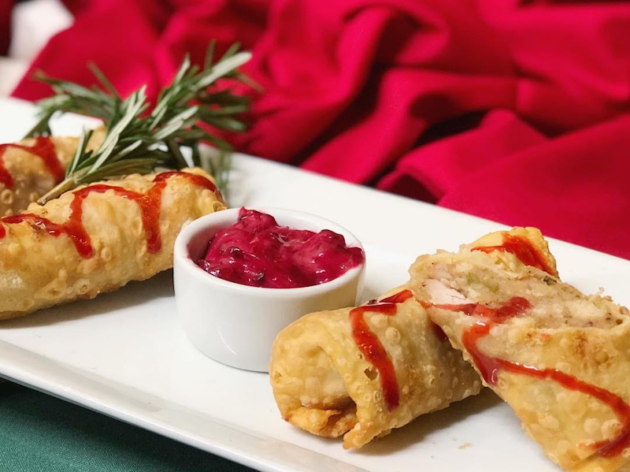 Holiday Egg Roll
Do you love a good turkey dinner? These bite-sized egg rolls feature turkey and stuffing wrapped inside an egg roll, then deep fried to crispy perfection. Don't forget to dip it in their famous cranberry aioli. Santa's Christmas Cabin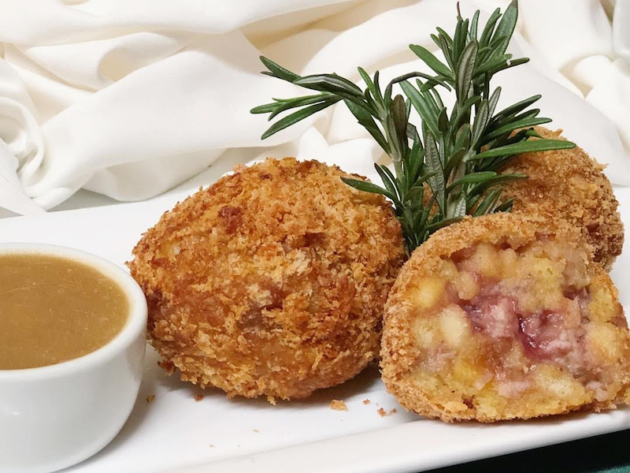 Turkey Dinner Bites
This fan-favorite was brought back from two years ago, and is reminiscent of a potato bomb. Filled with turkey, stuffing, potatoes, and a cranberry sauce center, it features a bread crumb coating and is deep fried. Santa's Christmas Cabin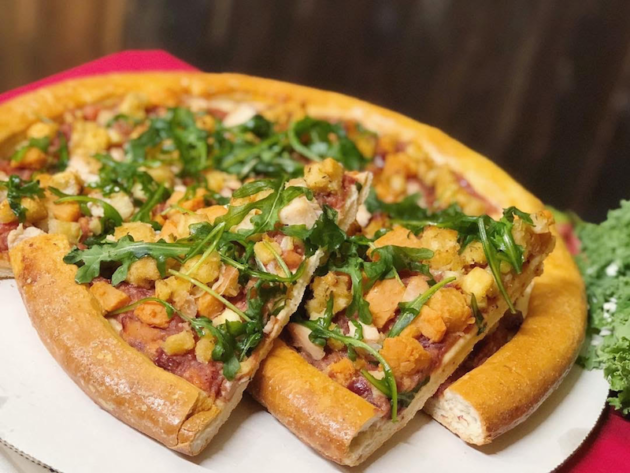 Holiday Pizza
When you can't decide between pizza and stuffing, opt for this Holiday Pizza, available at Wagon Wheel Pizza (and included on the meal plan!) This pizza is topped with turkey, yams, stuffing, sweet potatoes, gravy, and cranberry sauce…a complete turkey dinner in one bite!H
Holiday Elote
The most famous and photo-worthy food at Knott's this season is the Holiday Elote. The tri-color corn-on-the-cob is achieved with red Hot Cheetos, Zombie Takes, and Cotija cheese and a boysenberry mayo. Santa's Christmas Cabin
Turkey Poutine Fries
Knott's famous fries are served with turkey, gravy, cheese, and cranberry sauce. Calico Fry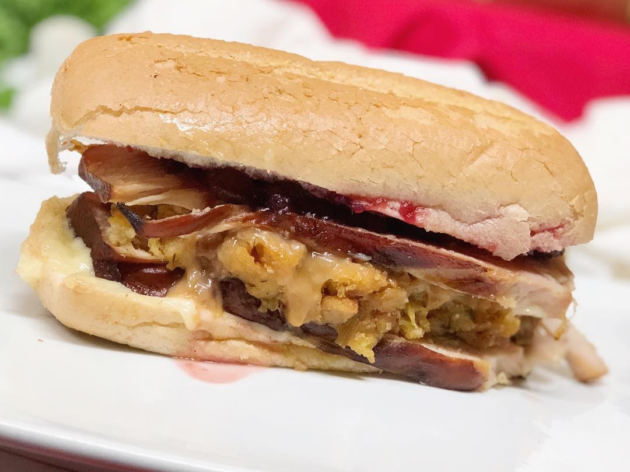 Turkey Sandwich
Enjoy all of your holiday favorites, including turkey, stuffing, and cranberry sauce, on a toasted Hoagie bun. Boardwalk BBQ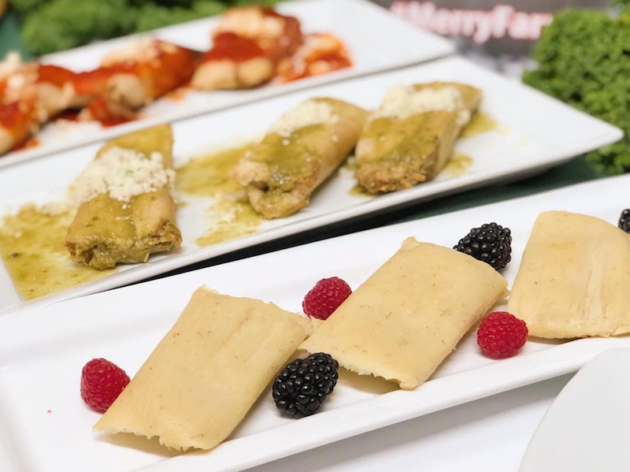 Famous Tamales
Christmas in California is not complete without tamales!  This year, Knott's will offer three varieties, including chicken, beef, and sweet corn elote. Find them at Santa's Christmas Cabin and Cantina. 
Holiday Peppermint Churro
The best place to enjoy a Churro is at Knott's because they are made on-site! This year's themed churro is stuffed with Bavarian cream and peppermint, topped with cinnamon and sugar, and dipped in white chocolate with sprinkles. Gourmet Churro
Famous Boysenberry Pie
The bakery at Knott's features a selection of handmade pies, but their signature Boysenberry Pie is my favorite! Enjoy a slice at the park or take home an entire pie to enjoy this holiday season. Bakery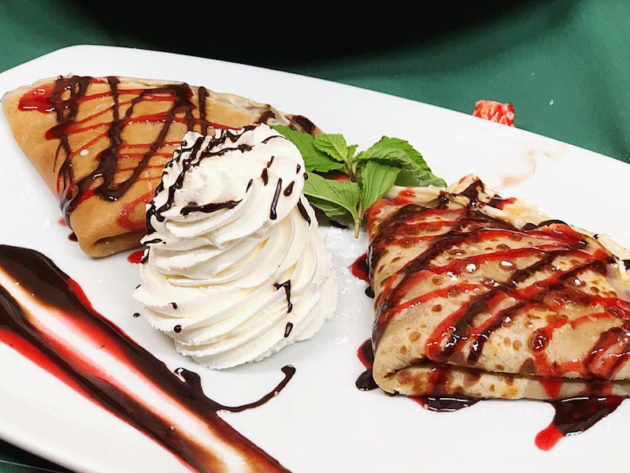 Seasonal Crepes
Traditional sweet crepes with Knott's boysenberry twist can be found at Santa's Christmas Cabin. Each crepe is made to order and topped with chocolate sauce. Also available in Strawberry. 
Peppermint Cheesecake
Knott's cheesecake on a stick has become one of the park's hallmark desserts. Traditional New York Cheesecake is dipped in peppermint-flavored white chocolate, then topped with sprinkles and crushed peppermints. Each Peppermint Cheesecake is made to order and available at the Bakery and Santa's Christmas Cabin
DoughKnott's 
Enjoy a selection of fresh, holiday doughnuts at the bakery. Varieties include Boysenberry, Chocolate, Cinnamon and Sugar.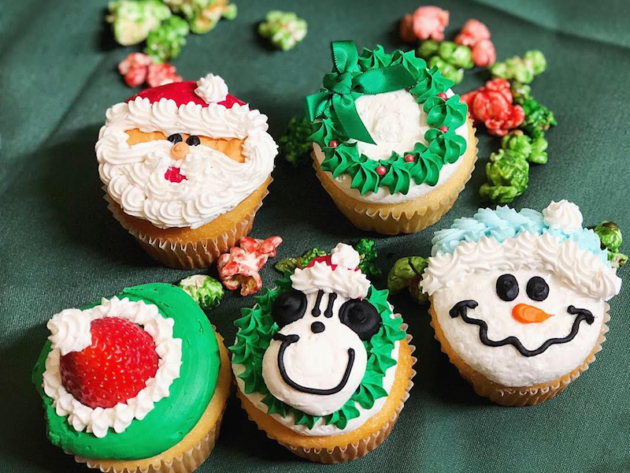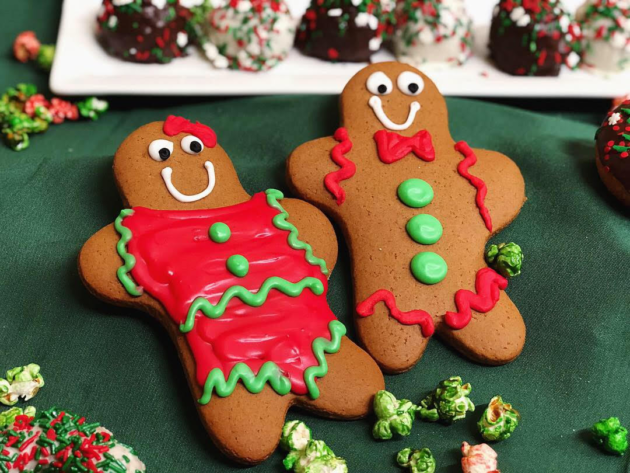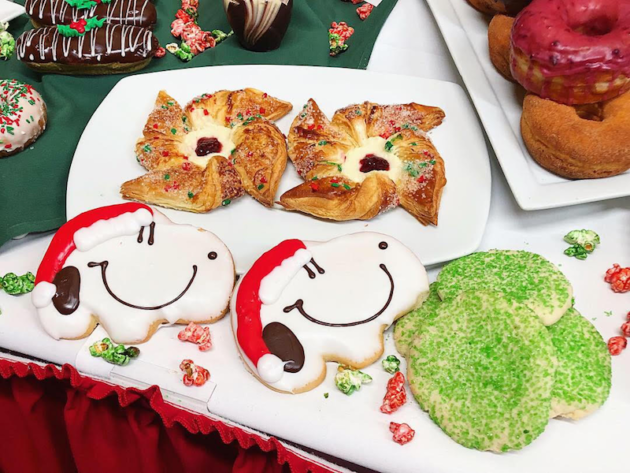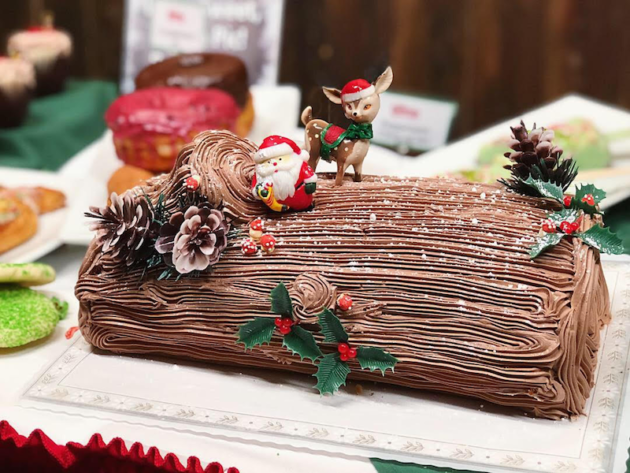 In addition to the 12 holiday foods listed above, you can enjoy a selection of sweets, including customizable holiday cakes, a customizable yule log, holiday danishes, cookies, macarons, cupcakes, eclairs, and rice krispies at Knott's Bakery.
Knott's Merry Farm runs through January 6, 2019. Give the gift of Knott's with a 2019 Season Pass and you will enjoy one free visit to Merry Farm in 2018. The 2019 Season Pass includes unlimited visits to Knott's Berry Farm without blackout dates, including their signature events such as their Peanuts Celebration, the Boysenberry Festival, Ghost Town Alive, and Knott's Spooky Farm.