This giveaway is now closed.  Thanks for stopping by.  The winner is Nad.  Congrats!
Superfoods are all the rage these days. Web MD lists yogurt as one of the top 10 superfoods.  Superfoods are packed with vital nutrients that fight disease.  And of course, they are all natural.  I try to make a daily habit of eating yogurt once a day (and we do the same with my son).
I'm lactose intolerant, yet I can eat yogurt without any problems (perhaps because it's in a different form and has live cultures that are good for the gut).  For some reason, I've had a huge craving for dairy products this pregnancy.  And because dairy can be high in fat, I always try to choose lowfat or nonfat options.  I really like Yo-Plus' Peach and Strawberry varieties of lowfat yogurt.  Each serving contains 110 calories, 1.5 grams of fat and less sugar (about 5 grams).  And now, Yo-Plus has just come out with an even lighter version called Yo-Plus Light.  The lighter version is made with nonfat milk (as opposed to lowfat milk) and contains 70 calories and 0 grams of fat.  It's available in three flavors:  Strawberry Banana, Key Lime Pie, and Honey Vanilla (although I'm not crazy about Key Lime Pie).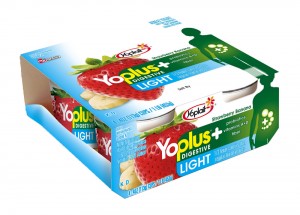 Yo-Plus contains the probiotic culture Bifidobacterium, "a live, active culture clinically shown to support digestive health."  It contains 3 grams of fiber per serving (another digestive boost) and is a great source of calcium, vitamin A and vitamin D.  Right now you can download a coupon for $1.00 off from their website.
Yo-Plus and Yo-Plus Light yogurts are a great snack, particularly if you're on the run (I've been known to take a yogurt with me in the car…shhhh….).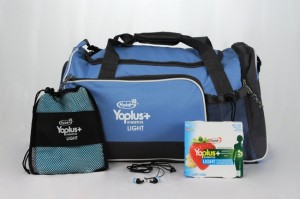 Win It! One of you will win a  "Get Healthy" gift pack which includes a sports bag (it's cute!), a sports towel, ear buds and two coupons for any flavor of Yo-Plus Light Yogurt!  Simply leave me a comment with the flavor you're most interesed in trying and one way you maintain an active lifestyle (I like to walk/jog in the stroller with my son….when I'm not 7 months pregnant!).  Comments will close on October 27, 2009 at 10 PM PST.  One comment per person, please (unless you do the extra credit). US residents only. Duplicates and comments not including the above information will be disqualified. Comments are moderated. If you don't see your comment in a reasonable amount of time, send me an email. Bloggers and non-bloggers may enter. If you don't want to leave your email address, please be sure to check back for my announcement on the winner. Please note that winners must respond within 48 hours of being announced/contacted or another winner will be drawn.
Want an extra entry? Do any or all of the following and receive an extra entry for each one.
Be sure to leave me a separate comment for each additional entry.
Follow me on Twitter AND tweet about the contest.
Subscribe to my feed via email or reader.
Blog about this giveaway. It doesn't have to be a separate post. Just include a blurb about it when you blog about other giveaways.
Click on one of the very cute buttons below and digg, stumble, fav, etc. Just let me know what you did in the comments!
Profuse thanks to MyBlogSpark for this review opportunity.  But I actually had some Yo-Plus in the fridge…just sayin'….
Latest posts by Caryn Bailey
(see all)