This giveaway is now closed.  Thanks for stopping by.  The winner is Richelle F.  Congrats!
One of the things I find challenging about parenting is feeding my toddler. In fact, since my son was a baby I've found mealtime a bit difficult.  My goal has always been to provide him with fresh, healthy, all-natural, organic (when possible) foods.  From the simple pureed fruits and cereals he first started with, to the whole foods he eats now, fresh, natural, and complete are key descriptives in what he eats.
My son eats yogurt daily.  He loves it and it's a superfood, filled with calcium and pro-biotics.  We started him (around six months) with YoBaby's Plain Whole Milk Yogurt.  Once he got a bit older, we introduced him to the flavored yogurts and now he eats the variety that includes both fruit and cereal.  The reason why we initially settled on YoBaby was because it was one of the only brands that offered organic, whole milk yogurts for babies.  I actually really like the YoBaby Plus Fruit & Cereal because I could give it to him with maybe a scrambled egg and it would be a complete breakfast meal.
Recently, we had an opportunity to try out a new product from the YoBaby line called YoBaby Meals.  If you have babies or toddlers who don't like eating their veggies (um, who isn't raising their hands right now?) then you definitely want to give these a try.  I sat in on a webinar a couple of weeks ago with Dr. Greene and learned a lot about how children imprint on foods (more on that in another post).  One of the things he did advocate was the incorporation of fruits and veggies together, particularly for children who did not want to eat veggies.  YoBaby Meals combine yogurt, fruit, and a veggie purée…and they're good!  They're available in three flavors Pear & Green Bean, Peach & Squash, and  Apple & Sweet Potato.  My son had a chance to try all three flavors (courtesy of the company) and I sampled a few  bites right along with him (since I make it a point to know what he's eating).  Of the three, my son preferred the last two (he's not easily fooled when it comes to green beans).  I had a little bit of difficulty getting him to eat the Pear & Green Bean variety but it doesn't taste bad.  It's just not as sweet as the other two.
The meals are larger in size than the YoBaby single yogurts (6 ounces versus 4 ounces) and my toddler can eat the entire cup in one sitting (unless we're talking about green beans!).  They pack in 1/3 of a toddler's protein and calcium needs and include essential nutrients like Zinc, Vitamin A, and Vitamin D. And just like their other products, the meals are organic and made without the use of antibiotics, synthetic growth hormones, and pesticides. I'm sure that this 6 ounce serving could actually be a meal for a smaller baby, but it's a snack for my toddler.  A 6 ounce cup retails for $1.29 and the meals area available at select natural and grocery retailers nationwide.  I had a tiny bit of difficulty finding these (I was only able to get them locally at my Whole Foods market).  I recommend checking out their website for a retailer near you. The site also offers coupons for many of their products (although not specifically for the meals at this time).
Win It! One of you will win an adorable YoBaby gift pack including the following:
1 YoBaby travel bowl with lid and utensils
1 YoBaby organic cotton bib
1 Eric Carle growth chart
5 free YoBaby Meals coupons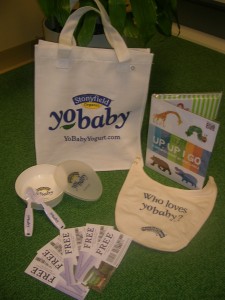 Simply leave me a two-part comment with something ELSE you liked or learned on the site and how you get your baby or toddler to eat veggies!  Comments will close on October 22, 2009 at 10 PM PST.  One comment per person, please (unless you do the extra credit). US residents only. Duplicates and comments not including the above information will be disqualified. Comments are moderated. If you don't see your comment in a reasonable amount of time, send me an email. Bloggers and non-bloggers may enter. If you don't want to leave your email address, please be sure to check back for my announcement on the winner. Please note that winners must respond within 48 hours of being announced/contacted or another winner will be drawn.
Want an extra entry? Do any or all of the following and receive an extra entry for each one.
Be sure to leave me a separate comment for each additional entry.
Follow me on Twitter AND tweet about the contest.
Subscribe to my feed via email or reader.
Blog about this giveaway. It doesn't have to be a separate post. Just include a blurb about it when you blog about other giveaways.
Click on one of the very cute buttons below and digg, stumble, fav, etc. Just let me know what you did in the comments!
Latest posts by Caryn Bailey
(see all)