This giveaway is now closed. Thanks for stopping by. The winner is Simone. Congrats!
FYI: This post contains information about breastfeeding.
I'm mentally preparing for baby number 2. My thoughts are too often consumed by whether this little one is a "he" or a "she," when really I should just be enjoying every moment. I'm thinking about my maternity leave and preparing our son's room to eventually accommodate another child. I'm thinking about my upcoming surgical delivery and who will be with my son while I'm in the hospital. I'm thinking about my sister-in-laws upcoming wedding and how I won't be able to attend…and how my husband will be gone when our little one is less than a month old. All of this consumes my thoughts at any given time. But do you know what I don't worry about? Nursing.

This week is World Breastfeeding Week. And I thought that this would be a perfect time to share with you about a product I recently received, courtesy of Pumpin' Pal. My son received breast milk for almost 15 months. One of my fondest memories of my son's first year + of life was the time we spent nursing. But to be honest, it wasn't easy in the beginning. I struggled for weeks getting the latch right. I battled with soreness and engorgement and plugged ducts and mastitis. As a lactation educator and nurse with almost 10 years experience working with moms and babies in Obstetric and Neonatal environments, I thought breastfeeding was the LAST thing I'd have to worry about. I was so wrong. Ironically, teaching and doing are not the same thing. If it wasn't for my extremely supportive and patient husband, a dear friend and lactation consultant whom I had worked with, and my commitment to nurse my son, I may have given up. It really was that difficult. But, with support, and a very handy pump, we persevered. My son is so healthy and smart, and I have to attribute some of that to nursing.
I knew I'd have to go to work at some point (which will be the case with baby number 2 as well). So I bought a pump in preparation for my eventual return to work. Never did I imagine I would be using it within the first month of my son's life. I pumped all the way until I weaned, at approximately 15 months. For some women, they shudder at the thought of using a breast pump. I had a different perspective. That breast pump was what helped me through my bouts with mastitis and engorgement and what ultimately allowed for my son to receive breast milk for as long as he did.
There are numerous pumps on the market (and perhaps one day I'll write a post about my thoughts on this). There are also numerous products to help make pumping as painless as possible. One of the things I did not have with my son until the very end was a device to help me pump hands-free. Can you imagine all the things I could have gotten done, had I been able to pump hands free?
Pumpin' Pal International is a company "dedicated to improving the breast pumping experience by making it as comfortable and productive as possible with Pumpin' Pal accessories for pumping moms." Pumping is inconvenient. It's time consuming. It feels unnatural. It separates you from your baby. But, like I said earlier, my perspective had to change. I had to look at all the positives…all the benefits of pumping. I had to realize that pumping allowed my husband to give my son a bottle (a bonding experience that he may have missed out on), allowed me to go back to work and help provide for our family, and allowed my husband and I to have the occasional date night.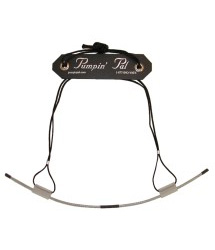 I received a Hands-Free Pumping Strap and various sized angled pumping flanges, courtesy of the company. The first thing I noticed (after the fact that the products are BPA-free) was their affordable pricing. The Hands-Free Pumping Strap is actually very easy to use (yes, I tried it on, but no, I'm not lactating yet!). I like that it's compatible with most breast pumps (and mine in particular). It can be used by most women, regardless of their size or shape (something that cannot be said for other hands-free devices). It's also easy to use (just watch the demo video). The only thing I cannot attest to is whether or not milk spillage occurs (a problem I've had with other hands-free devices). I will be sure to let you know my thoughts on this one aspect as soon as the little one arrives.

The other product I received was a set of angled pumping flanges in various sizes. I'm really impressed with the design of these flanges. I've yet to see angled flanges but this makes sense. I remember having to sit hunched over, while pumping to ensure I didn't waste or lose a drop of milk. They're available in 3 sizes and I thank the company for recognizing that women are diverse in their anatomy. Some of the benefits of angled flanges include the following (from the site):
Eliminates constriction of milk ducts caused by traditional flanges
Promotes better flow
Reduces irritation to the nipple area
Helps users to sit back in a more comfortable, natural position while pumping
Considerably more comfortable than traditional flanges
Can be used with hands-free systems for the ultimate in relaxed and productive pumping
Especially effective for new moms and C-section moms
Aids in the prevention of mastitis and other breast infections caused by plugged ducts

While I did try these for comfort, I did not try to pump with them (I'm pregnant and that's not a good idea at this point). I can't wait until our little one arrives. I'm most looking forward to eliminating the shoulder pain I had when I pumped for my son.
Win It! One of you will win a set of your own! Simply head on over to the site and take a look around. Come back and leave me a comment with something you liked or learned on the site. Comments will close on August 29, 2009 at 10 PM PST. One comment per person, please (unless you do the extra credit). US residents only. Duplicates and comments not including the above information will be disqualified. Comments are moderated. If you don't see your comment in a reasonable amount of time, send me an email. Bloggers and non-bloggers may enter. If you don't want to leave your email address, please be sure to check back for my announcement on the winner. Please note that winners must respond within 48 hours of being announced/contacted or another winner will be drawn.
Want an extra entry? Do any or all of the following and receive an extra entry for each one.
Be sure to leave me a separate comment for each additional entry.
Follow me on Twitter AND tweet about the contest.
Spread the word about this giveaway. I'll let you decide what you want to do! : )
Click on one of the very cute buttons below and digg, stumble, fav, etc. Just let me know what you did in the comments!