"Collect moments, not things" is one of my favorite quotes. My own childhood was filled with campfires and s'mores, fishing and beach days, and exploring art museums across Europe. And on every single trip, my mom challenged me to learn something, a tradition I've carried over with my own kids. Over the holiday weekend, we spent some time in Santa Barbara where I showed my kids where I began my higher education, walked Stearns Wharf, and immersed ourselves in all-things STEM at the MOXI, The Wolf Museum of Exploration + Innovation.
Partner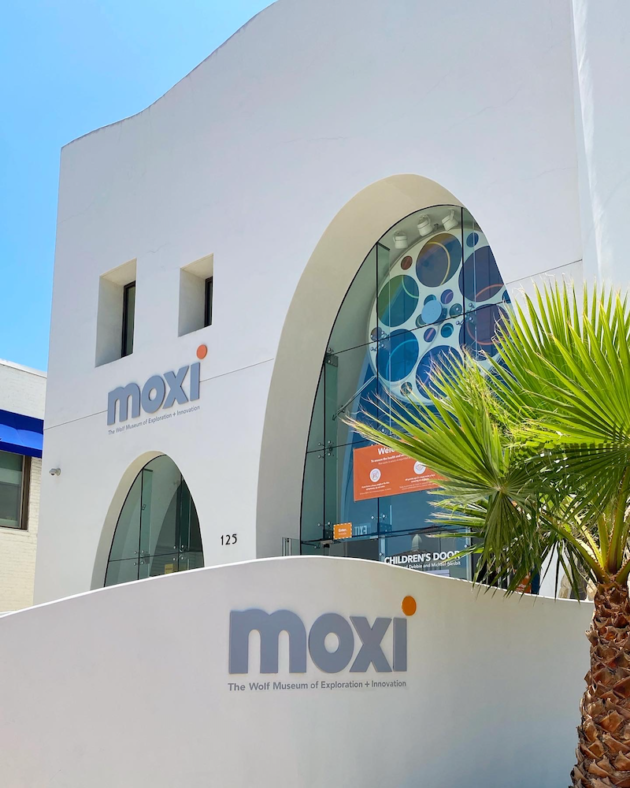 MOXI, The Wolf Museum of Exploration + Innovation
When we walked into the MOXI, we were immediately struck by the beauty of the spacious building, which was designed by renowned architect Barry Berkus and resembles the structure of a sandcastle. The museum is located at the end of State Street, also known as the Funk Zone, and boasts 25,000 square feet of hands-on exhibits, rotating art installations, the Innovation Workshop makerspace, and a multipurpose Exploration Lab.
We have frequented numerous museums, but this one is very striking in both appearance and exploration. MOXI's mission is "to ignite learning through interactive experiences in science and creativity," and I appreciate that these experiences can be enjoyed across the lifespan. The museum was founded by volunteers who had a dream of providing opportunities for learning outside the traditional classroom, and with their rotating exhibits, provides countless opportunities for discovery.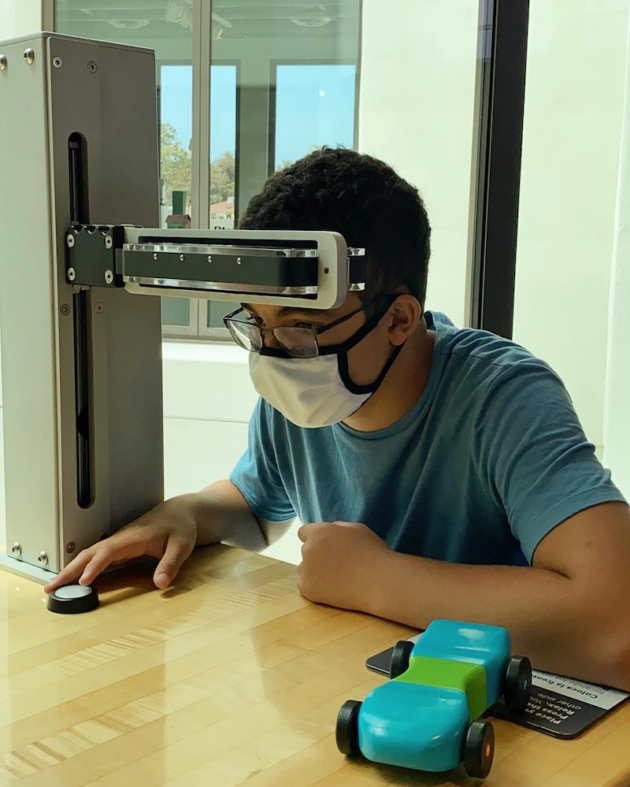 What to See and Do at the MOXI
The museum is situated on three floors, so when you enter, if it feels crowded, start on the third floor and work your way down. The exhibits are arranged by "track" or theme (there are seven) which are all related to science, technology, engineering, arts, and math.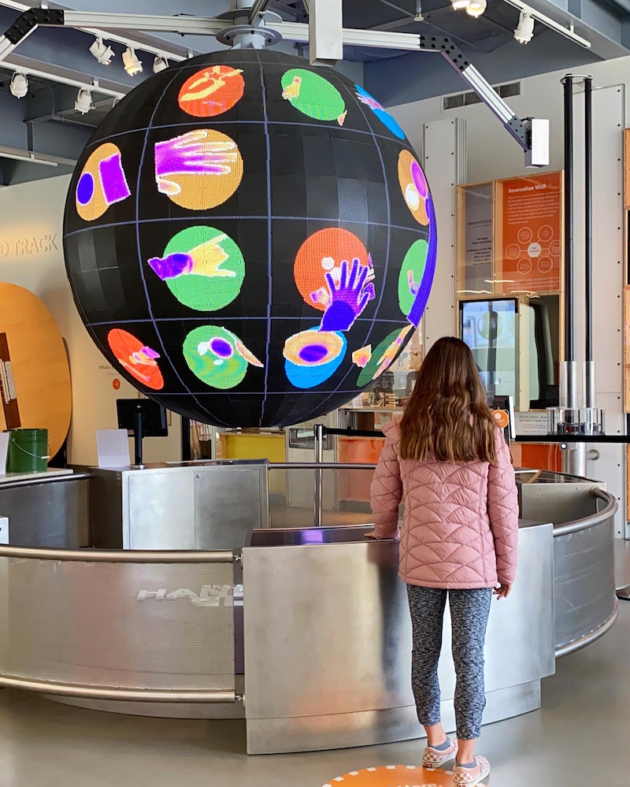 Tech
When you enter on the first floor, you'll immediately notice the Sheldon Family Handprint Globe. Here, kids use their hands to create imagery on the digital LED sphere. At the Innovation Workshop, kids can design and test their own creations using everything from popsicle sticks and glue to a 3-D printer and a laser cutter.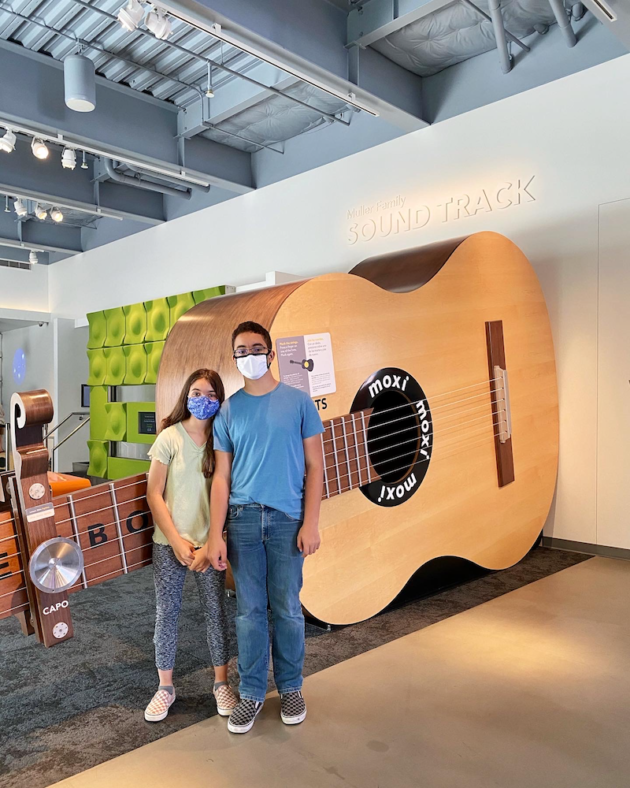 Sound
Another icon of the MOXI is the Giant Guitar, where kids can pluck the strings to explore resonance and tone. My kids' favorite exhibit was Reactable, an electronic musical instrument that allows users to create their own digital music. My son plays two instruments and found this exhibit to be particularly captivating. Quiet Quest challenges kids to walk across a gravel path as quietly as possible. All three of these exhibits are on the first floor.
Speed
Build It. Test It. Race It. is the most popular exhibit at the MOXI. Kids begin by designing and building their vehicle to race on their giant racetrack. They can then adjust their design and rebuild their car to increase its speed. Adjacent to this exhibit is the Roll It wall where kids use rubber tracks and clips to create a marble coaster. The great thing about this exhibit is that it can provide a challenge, even for older kids. My own spent a good amount of time perfecting their "coaster." Also on this floor is an exhibit my daughter absolutely loved called Hang Time. The exhibit uses a high-speed digital camera to capture motion as kids jump. The slow-motion replay helps kids understand the mechanics of motion. All three of these exhibits are located on the second floor of the MOXI Museum.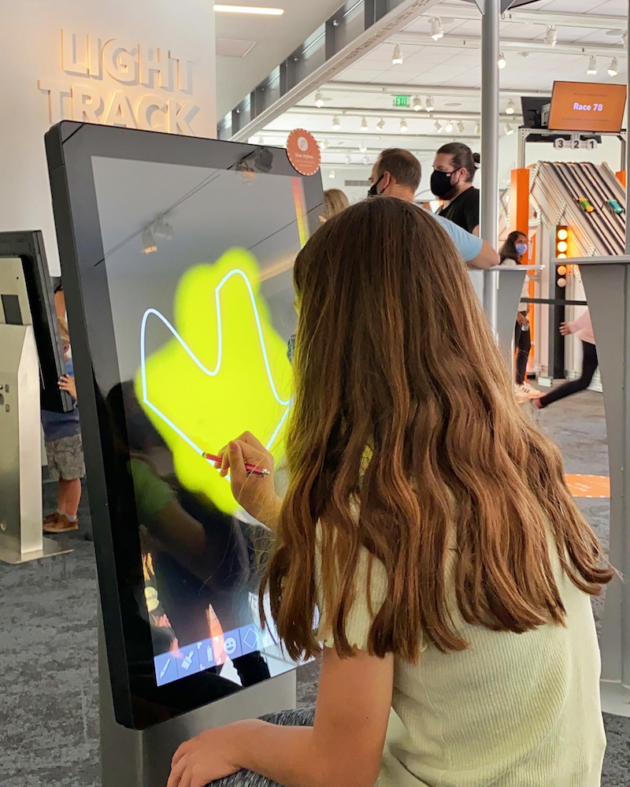 Light
The use of light is exhibited throughout the museum and when you enter, you'll notice a stunning large window with the Color Mixing Machine. At this exhibit, kids can mix colors on translucent, colorful wheels while learning about color and light waves. Light Patterns can be likened to the classic toy LiteBrite. Kids can make their own designs using light transmitted through colored plastic pegs. Painting with Light allows kids the opportunity to express their creativity through the use of color and light. The designs created are projected onto a large wall in front of them to be displayed and seen by visitors. Be sure to commemorate your visit by taking a family selfie at Mosaic Faces. Once you've taken a photo at their kiosk, the exhibit generates a version of that image made up of hundreds of other photos. All of the above exhibits are located on the second floor.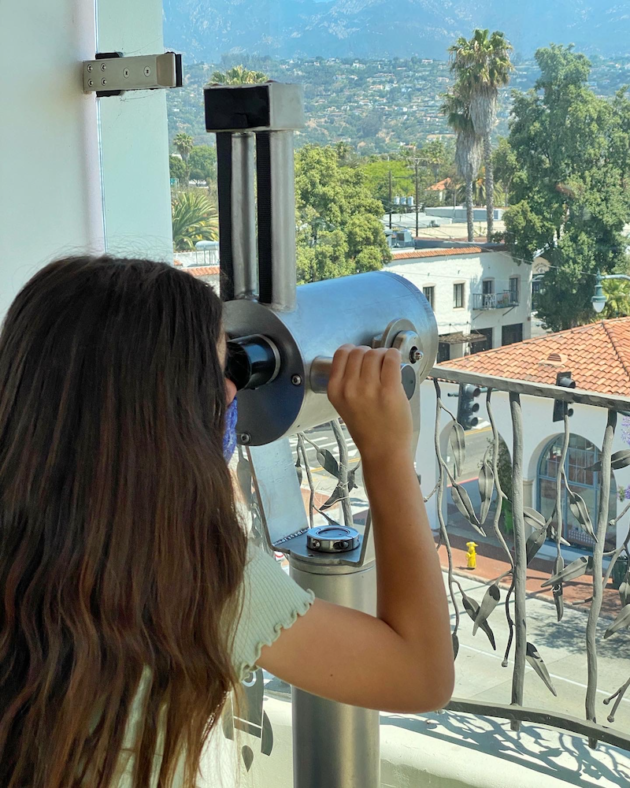 Sky Garden
Head up to the third floor for beautiful, breezy views of Santa Barbara with the mountains and the sea in the distance. My kids were fascinated with the Heartbeat Drum, which helps kids understand the relationship between their heartbeat and music. When they place both hands on the drum handles, the drumstick beats in rhythm to their heartbeat. The faster the heartbeat, the faster the drum will beat.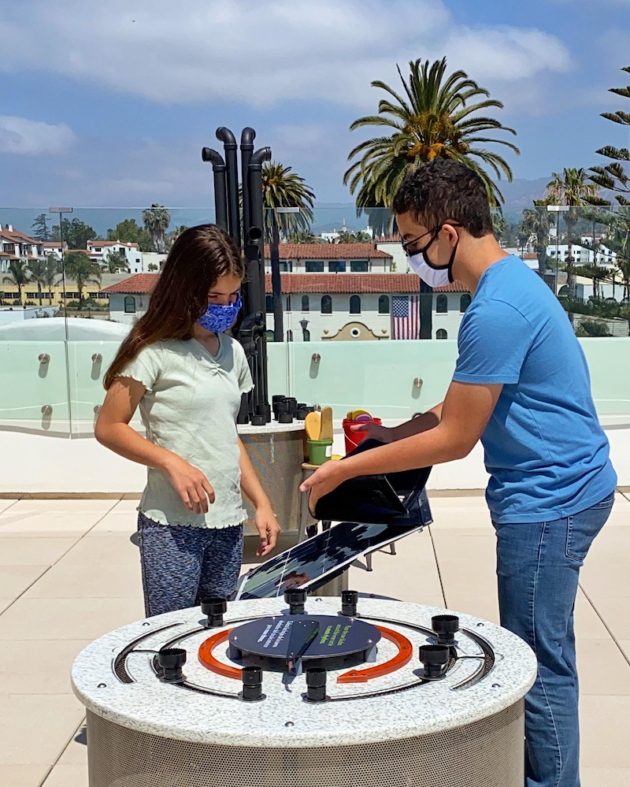 The Hole Saws exhibit teaches kids about solar energy, rhythm, and sound. Kids start by arranging the hole saws in the center ring to create a rhythm as they are struck by a spinning striker arm that is connected to a solar-powered motor in the center of the tabletop. Also located on this level is White Water, a large-scale white water landscape that features three main attractions: the Rapid Raceway, the Whirlgig Circuit, and the Splash and Flow Basin. Kids learn about the physics of water. It should be noted that kids may get wet. Before you head downstairs, be sure to visit the Lookout Tower, which features five different viewing instruments including a telescope and a thermoscope, which allows kids to see infrared.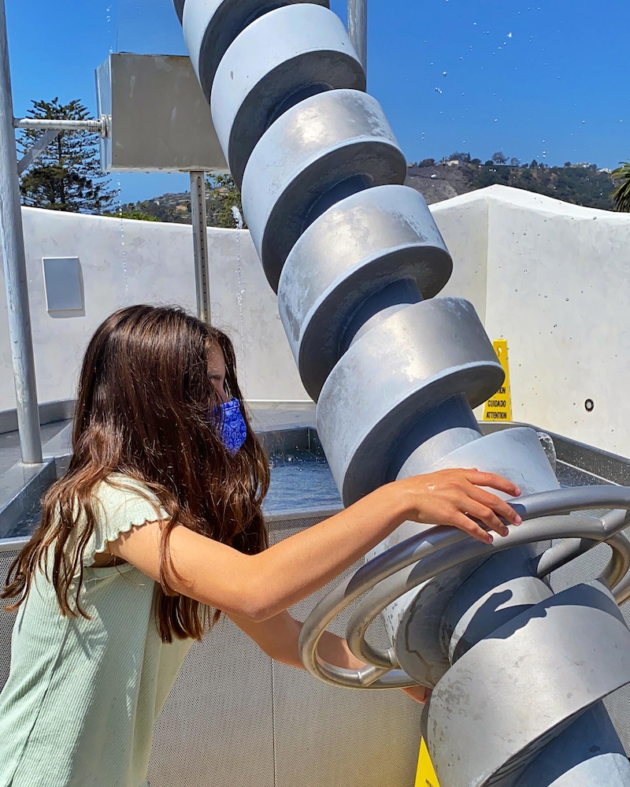 This is by no means an exhaustive list of the exhibits at the MOXI museum, but ones I highly recommend seeing during your visit.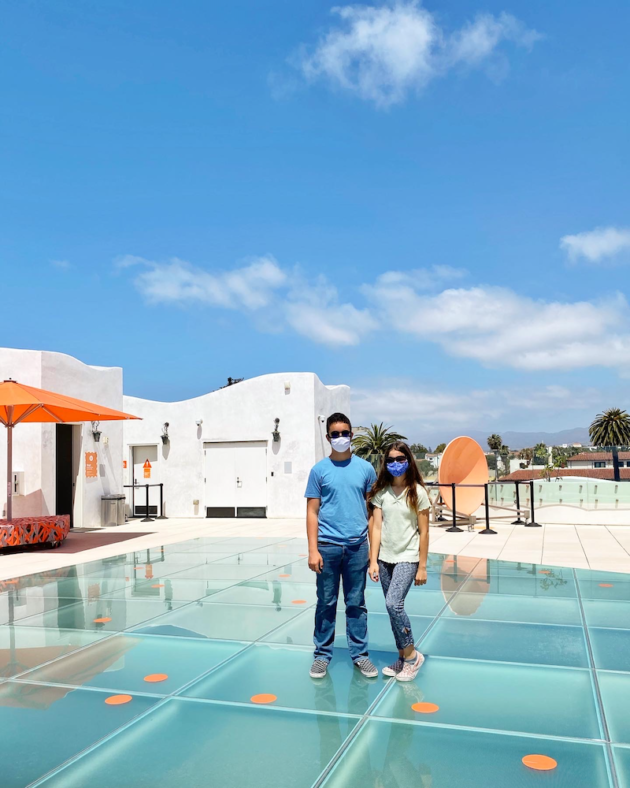 Before Your Visit
The MOXI is currently open Thursday-Sunday from 10 AM – 5 PM. Capacity is limited due to COVID-19 and reservations are recommended for all visitors via their website. Masks are required for visitors over the age of two, and you must follow all physical distancing and one-way pathway guidelines. Ticket prices are as follows:
Adults (13+): $16
Children (3 – 12): $12
Children (2 and under): Free
Members: Free
If we lived closer, we would purchase a membership because the museum is fantastic and there is always something to explore. And while you can definitely see the entire museum in one day, I would have loved to spend more time at the MOXI.
The MOXI, The Wolf Museum of Exploration + Innovation is located at the following address:
125 State St, Santa Barbara, CA 93101
The museum has two accessible parking spots at the rear of the building which can be accessed off of Kimberly Avenue. Those spots fill quickly, so your best option for parking is in one of Santa Barbara's lots, the closest being City Lot #13 located adjacent to the train station across from the railroad tracks.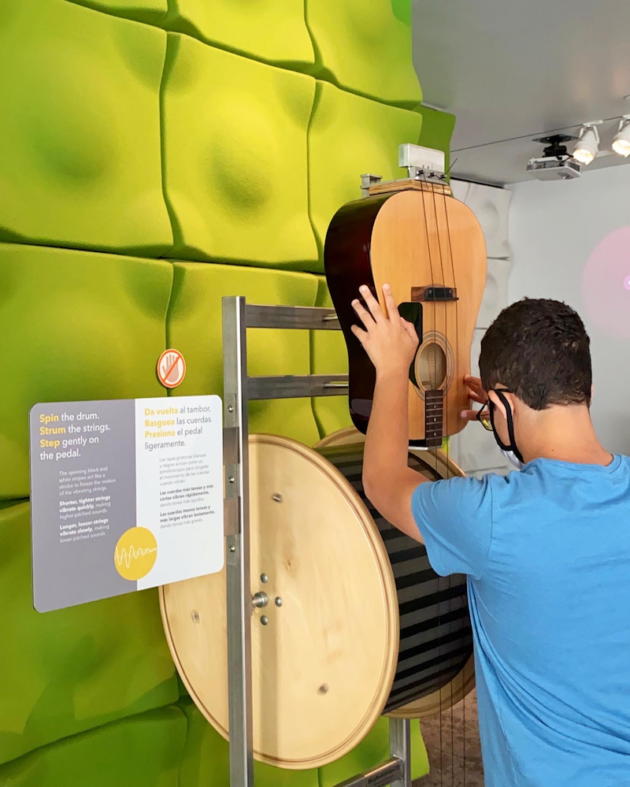 MOXI at Home
If you are not able to visit the MOXI due to distance or prefer to enjoy activities at home due to the pandemic, be sure to visit MOXI.org for Activity Guides which include activities related to exhibits at the museum. You can also purchase a [email protected]: Innovation Workshop Maker Kits to enhance your child's at-home learning. These curated sets will inspire your child to test ideas, solve problems, express his/her creative thinking, and more. Visit their online museum store for additional information.